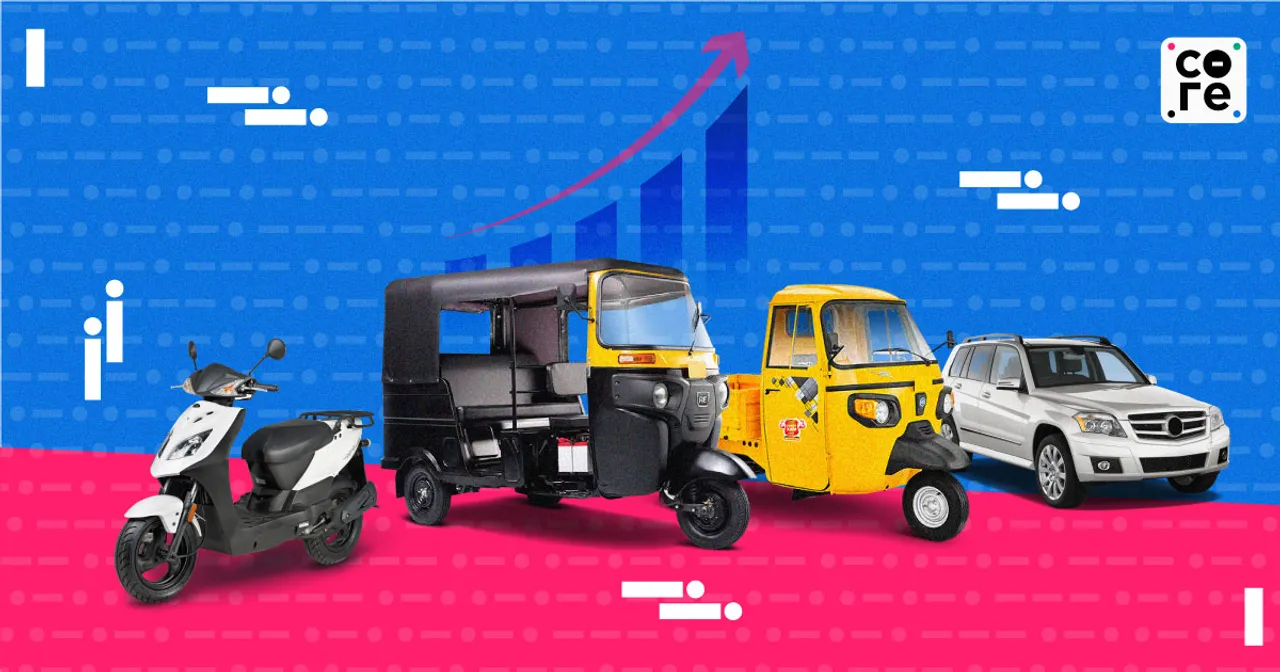 The Indian automotive industry is experiencing a favorable phase and is running in high gear, owing to the festival season, among other factors. After record-breaking sales in August, September showed even stronger growth trends, with a substantial year-on-year increase of 20%. 
Manish Raj Singhania, President of the Federation of Automobile Dealers Associations (FADA) and also the managing partner of Ralas Motors, said that the increased sales indicate a continuity of demand. Singhania told The Core "There is a requirement for vehicles in the market and even though PV peaked in the last financial year, every month we were seeing single-digit growth, but with the advent of Onam and Ganesh festival we have started seeing double-digit growth in passenger vehicles too. So, that really shows that a lot of good new models are coming in."
Leading automakers including Maruti Suzuki, Toyota, and Hyundai all zoomed ahead in sales. Fueled by stronger SUV sales, Maruti Suzuki reported total sales of 181,343 units, marking a 2.8 percent increase in September. Similarly, Toyota and Hyundai, among other major players also reported their highest-ever monthly sales, making September a celebratory month for the automotive industry.  
According to vehicle retail data released by the Federation of Automobile Dealers Association (FADA) for September, two-wheelers (2W) surged by an impressive 22%, while passenger vehicles (PV) showed an increase of 19%. Commercial vehicles (CV) also saw growth at 5%. However, it was the three-wheeler (3W) segment, that stood out with 49% growth, thanks in large part to the growing popularity of electric vehicles (EVs).
Singhania said that original equipment manufacturers were coming up with "great launches" across the board addressing different consumers. "I mean Indian market is now very specific. There are a lot of consumers with specific requirements specific needs, those kinds of models are being launched, and obviously EV though at a very small level, but it has also come into play," he said. 
Soaring Three-Wheeler Vehicle Sales Indicate A Boost For Electric Vehicles
Three-wheelers achieved an all-time high in retail records in September and August as well. In September, sales peaked at 1,02,426 units, with a 49% year-over-year increase and a solid 5% growth compared to the previous month, when sales reached 99,907 units. In March, the segment grew 69% year-on-year. It grew 57% in April, 79% in May and 79% in June, according to FADA data. Singhania said that there was a latent demand that could be boosting sales of three-wheelers. "It's a very good source of employment, a three-wheeler owner earns anywhere between 15 to 40,000 per month, net profit. So, there was a demand for three-wheelers," he said.  
Not only this year but even in 2022, three-wheeler sales saw an uptick as compared to other segments. Rajesh Menon, Director General, of the Society of Indian Automobile Manufacturers (SIAM) said, "During the period July to December 2022, which covers all the festive months, sales of passenger vehicles, commercial vehicles, three-wheelers, and two-wheelers saw a growth of 30.5%, 27.2%, 68.7%, and 9.9% respectively,  compared to the corresponding period in 2021." 
According to Singhania, the three-wheeler industry has seen an upward trend in sales as those who migrated to their hometowns during the Covid-19 pandemic and were unable to go back to urban areas were now buying three-wheelers to support themselves and earn money. 
The demand for electric three-wheelers has also added to the increase in sales. Singhania said, "The three-wheeler industry was regulated by a permit system. For ice engines, you always required permits, to deploy the vehicle in the market for commuting purposes. But with the advent of electric vehicles, the central government did away with the permit system. So this requirement was already there." 
In semi-urban and rural regions, the absence of strong public transportation systems also contributed to an increase in the use of three-wheelers. "On top of that, the kind of earnings that a three-wheeler customer is able to get through electric vehicles, these are the flag bearers of change in India, they have realised the profitability and workability of electric vehicles and are now in their utilising it in full capacity," Singhania said. 
ALSO READ: Post-Covid Recovery, EV Interest: Why 3-Wheeler Sales Are Zooming Ahead
Improvement On Supply Side
Despite facing challenges in supply chain management in the past, the situation has significantly improved in this financial year. Menon said, "Supply side constraints has eased out to a large extent although the commodity prices continue to remain higher compared to pre-covid levels"
The PV segment sold 332,248 units in September this year compared to 279,137 units in the same period the previous year. Explaining how the situation this year is different from last year in terms of PVs, Singhania said, "Last year, what happened, dealers had demand and we did not have vehicles. We could not address what the customer was requiring. This season what we are seeing is that the dealers are lapping up vehicles, they are picking up whatever is being given to them so that they are able to address the surge in demand during festival times." 
However, he added that OEMs needed to be careful to avoid playing a bad role as building that entry-level stock at the dealership could be bad for the overall health of the auto retail tree. "To a certain limit, these vehicles should be made. What is important is that the manufactured vehicles which are actually required by the customer, we are able to deliver these vehicles during festival times. A happy customer can be a multi-fold increase in your retail or references over a number of things."
Festive Boom
Attributing the increased sales due to the rising demand in rural areas, Singhania said that the rise in two-wheeler sales also suggests a positive shift in rural fortunes despite the unusual monsoon patterns and crop loss. 
"This is the first time when two-wheeler sales have breached the pre-COVID level for a particular month. So compared to September 2019, we are up by almost 2.5%. Now overall the expectation is that we will have a good quality of crop across the length and breadth of India, which would actually put money in the hands of farmers. I think these numbers if they're able to reflect this kind of growth in the month of September, we can see further greater growth in the coming months where buying starts. And eventually, farmers start getting money from the government at the support prices," Singhania said.
With the festival season coming up, the growth momentum is likely to continue. Menon said,  "We therefore expect the sales momentum to continue in the ongoing festive season on the back of robust consumer demand and a positive overall economic outlook."
ALSO READ: Indian Household Savings Depleted By Debts Dependence, Investment In Physical Assets