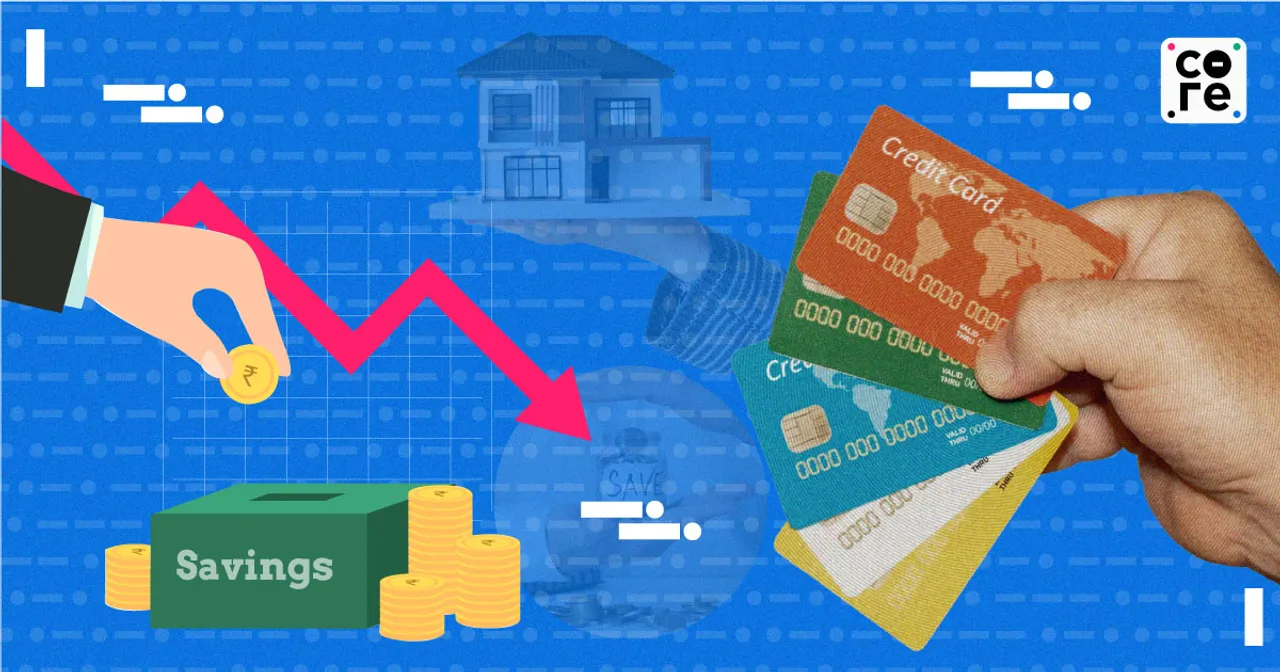 Thirty-one-year old Joyatika Ghosh, a software engineer based in Delhi, took out loans for her wedding in 2020 as many in India do. Ghosh's husband also took a personal loan during that time as well. Since the wedding, the couple have been struggling to keep up with their monthly expenses that include house rent, monthly instalments for the two loans and also the expenses to sustain their lifestyle in the capital city. To get rid of the monthly instalment  for her personal loans, she took another small ticket loan that helped her pay the monthly house rent.
"Every month, when I receive the salary, by the next few days, we have hardly anything left in our savings. Currently, I have two loans, a couple of EMIs for a few appliances we bought after marriage. We are setting up our home, but can't buy everything together," said Ghosh. 
The couple has had at least five loans that they are paying in instalments for since they got married. Because of the lack of money to buy even household items by paying in one go, they have been rotating their loans. Once one gets over, they take out another consumer loan to buy the next thing they need.  Ghosh told The Core that they bought the AC and a king size bed on EMI in 2021. Once they were able to complete the instalments for the AC, they bought a microwave on another EMI. 
Ghosh isn't alone. Young individuals are even choosing to pay their monthly home rent by taking loans. Digital lending platforms like Cred and other housing apps like MagicBricks and NoBroker provide the options of paying house rents using credit cards or taking small ticket instant loans. However, the processing fees for the same varies from 2% to 4% and the interest rate also varies from 20% to 40%. 
"I always use my credit cards to buy stuff online, be it garments or gadgets or at times, even for ordering food online. Usually at the end of the month, it becomes a little difficult to spend much. At that time, the credit card is the best way out. Also, during the festive season, the expenses go up as we have to buy dresses and other stuff. So, it is not possible to pay from the savings account," said Harshal Singh, a marketing professional based in Gwalior. 
This comes even as Indian household savings touched a half-a-century low. It fell to 5.1% of the country's gross domestic product in 2022-23, as against 7.2% in the preceding fiscal year, showed data released by the Reserve Bank of India (RBI) in September. 
The Ministry of Finance said that this was not a cause for concern as Indians were investing more in physical assets than in financial ones. But factors like inflation and an increasing dependence on debt to manage even the most basic expenses seem to be contributing to the way Indians spend their money and how much they save. 
Youngsters Stuck In A Credit Loop
Like Ghosh and Singh, more Indians are taking the route of easy consumer credit and digital loans for even the basic necessities. Let alone putting in money into saving schemes, data shows that many are stuck in a loop of EMIs and loans. 
According to an Equifax report on digital lending, Bangalore Urban, Mumbai, Pune, Thane, and Hyderabad were the top five districts in terms of disbursement amount and that people took loans for their house rent and security deposits.
A generation of Indians began to work from home during the pandemic. Now that they've been asked to return to work, sometimes in a different city than they live in, they find themselves in a financial crunch. 
Mukesh Bubna, founder & CEO of Monexo, a digital lending platform told The Core, "Migration is a major cause behind the spike in lending. As we restore to normalcy, several young individuals are relocating to these cities for their jobs. Now, they need to pay a hefty amount for their home rent and security deposit in the first month. It is not easy for all to arrange that money, especially considering someone has just relocated. Thus, they opt for personal loans." 
Many borrowers use personal loans to consolidate high-interest debt from credit cards or other sources into a single, more manageable loan with a potentially lower interest rate. "At times, it becomes difficult to pay the credit card bill and the tenure for the credit card payment is not more than a few months. So people prefer taking a small-sized personal loan to repay the credit card. Eventually, they get a longer tenure to repay that loan," said Pramod Kathuria, co-founder of EasiLoan. 
The dependence on credit is not just limited for necessities like rent or medical emergencies. Indians are taking loans to travel, keep up their lifestyles and often living outside their means by taking credit. 
Some experts in the field believe that this extreme dependency on a credit cycle is a post-Covid phenomenon in India.  Arijit Sen, certified financial planner and co-founder of MerryMind, a financial planning firm, told The Core, "The concept of 'You Only Live Once' has become too prominent among youngsters, so they are taking loans even to maintain their lifestyle. Right from buying homes to buy an expensive car, they are taking loans." 
India's consumer price-growth has remained above RBI's range of 2%-6% for 14 of the past 20 months, reducing the ability of households to save. With per capita real income increasing and access to banks, Indian households have seen debt levels increase following aggressive lending tactics by banks after the pandemic led to a spike in liabilities. 
"The rise in financial liabilities with falling asset levels is also a sign of rising inequality and there are significant determinants with favourable impacts on private as well as household saving rates in short as well as long run. Further, as inflation accelerates, the uncertainty about the future value of their accumulated savings and expected real rate of return discourage households and other private agents from saving," said Disha Sahgal, economist, ANZ Bank. 
RBI governor Shaktikanta Das during his monetary policy speech on October 6, expressed his concerns over the risks of "very high growth" in personal loans and urged lenders to strengthen their internal surveillance mechanisms and address the build-up of risks. "In the last couple of years, year-on-year growth in retail credit has been close to 30% in most institutions. On average, unsecured retail growth has been 23%. In the context of the rest of the credit growth, which is anywhere between 12-14%, it looks to be an outlier. It's our intention to inform banks that this is an outlier level of growth," said J. Swaminathan, deputy governor of RBI.
More Investments In Physical Assets 
India has been known for its saving capacity and Indians mostly maintained a better savings rate as compared to the global average, according to research by Crisil in 2021. While the savings rate for India stood at 29.3% in 2020, that for the US and UK were 18% and 16.5% respectively, showed the World Bank Data. However post pandemic, there has been a shift in saving patterns too. 
RBI data shows that in 2021, the share of financial savings increased from 45% in fiscal 2016 to 52%, while that of physical savings fell from 55% to 48%. RBI has not released the exact data on the physical savings in 2022-23, but as per the recent SBI report, physical savings is nearly a 70% share in total household savings in FY23, up from 48% in FY21.
Dharmakirti Joshi, chief economist at CRISIL Ltd told The Core, "The likely shift from financial savings to physical savings could be transitory and to some extent driven by pent-up demand which should correct going ahead. After the pandemic struck there was a sharp jump in financial savings/GDP and physical savings to GDP dropped. Temporarily in FY21, net financial savings were higher than net physical savings. This was corrected after the pandemic-related restrictions were gradually removed and in FY22 financial savings dropped to normal levels and physical savings went up," added 
Economists pointed out that in recent years, the government also launched several schemes such as Pradhan Mantri Awas Yojna or Housing For All Schemes, DDA MIG and LIG schemes to encourage people to buy homes.  
According to Sen, people invest in physical assets as they get a sense of security and there is also a sense of possession involved. Markets fluctuated immensely during and after the pandemic. There has been a fear of volatility among risk-averse investors. Thus, they have been hesitant to invest in stocks, mutual funds, and other market-linked financial assets. Since there is no benchmark for everyday price fluctuations for the physical assets, it attracted investors.
Aman Gupta, 32, a marketing professional based in Delhi was among those who have chosen to put their money in a physical asset. He recently bought a house in his hometown Patna.  "The rent I get from the house in Patna will help me pay  my home rent in Delhi. The amount of savings I had before helped me buy that house in my hometown. I just had a minimal amount of loans and it will be over in a few months. Then, my income from that house will help me pay a majority of my rent here and then I can take care of my other bills and EMIs," he said.  
However, this means that people are also emptying their financial savings completely to invest in physical assets. Twenty-nine-year-old Hyderabad-based banker Debolina Sanyal recently bought an apartment in the outskirts of the city. She said that she and her husband have exhausted most of their savings to complete the down payment.  
"We have not only exhausted most of our savings to buy the house, but from now onwards a major chunk of our salary will be spent on the EMI of this house. We have thus curtailed our other lifestyle expenses," said Sanyal.
Sanyal said that they decided to take the risk of the house loan — despite knowing it would put great financial strain on them — because it was easier to do so at a younger age. 
"Now, we don't have kids, so the financial responsibility is less, so we didn't mind taking this risk. With age, the financial burden will go up," added Sanyal. 
Read Here: 'Nothing To Their Rescue': Why India's Lower Income Housing Segment Is Struggling