Tata Motors has moved fast to grab an 80% share of India's electric vehicle (EV) market. The company has already sold 34,000 EVs in the first half of 2023, or 72% of the market. While electric vehicles constitute 15% of its overall sales, the company plans to sell 10 lakh EVs by the end of the decade. 
This is interesting for a company that, in some ways, is bogged down by its legacy and sometimes has the disadvantage of launching a fresh start. The company currently sells the Tiago EV, Tigor EV, and three versions of the Nexon EV. 
Currently, the market leader, Tata Motors, plans to introduce four new models by 2024. 
While passenger vehicle sales recorded a year-on-year dip of 3% in the second quarter of FY2023-24, Tata Motors said EV sales registered a growth. Shailesh Chandra, the managing director of Tata Motors Passenger Vehicles and Electric Mobility said, "Our EV business continues its strong momentum and has posted growth of about 55% year-on-year. In Q2 FY24, we extended our innovative twin-cylinder CNG offering to Tiago, Tigor, and Punch, which have been well received by the market. This quarter also saw the launch of the new generation Nexon and Nexon EV, which have received an overwhelming market response." 
With an early mover advantage, already being a market leader, and leveraging other companies that are part of the Tata Group, Tata Motors has solid plans to continue to dominate the Indian EV market. 
Why The EV Rush? 
While EVs have been around for a long time, innovation and interest in the space have accelerated over the past decade. EVs are emerging as the preferred clean technology for the future of mobility. The economics of EVs have also improved significantly, while advancements, especially in battery and charging technologies, are expected to reduce costs further.

The automotive industry, globally, is at a tipping point. In the last few years, discussions have shifted from "will EVs become mainstream?" to "the future of transport is electric". By the end of 2021, more than 15 countries had come forward and committed to the complete phasing out of ICE vehicles. Regulatory targets across many countries in the European Union now aim for a ban on ICE vehicles by as early as 2030-2035. Responding to climate change, mitigating pollution levels in urban centres, and reducing dependence and spending on fossil fuels have been the primary drivers behind governments pushing the electrification agenda.   
India has been taking rapid strides towards green energy and electrification recently. At COP26, Prime Minister Narendra Modi announced a net zero target for India by 2070. The transport sector is one of the biggest emitters, and the electrification of vehicles will be crucial in helping India achieve this goal. As part of the National Electric Mobility Mission Plan 2020, the government has already started setting the stage for the rapid uptake of electric vehicles through the launch of various demand drivers and ecosystem enablers. 
Overall, EV adoption rates in India are expected to reach 10-12% by FY26 and 30-35% by FY30. It is estimated that 11-13 million EVs will be sold annually in India by FY30, led by electric two-wheelers whose penetration is expected to reach 35-40% by FY30. Growth expectations show that electric three-wheelers, electric four-wheelers (shared), and e-buses will see substantial EV adoption over the next decade (between 15-25%) driven by favourable economics, increased vehicle options, and the government's push towards electrification.
How Are EVs Doing In India?
Overall EV sales in January 2023 witnessed a month-on-month decline of 1.6% to reach 1,00,562 units. On a year-on-year basis, however, EV sales in January 2023 doubled from those in January 2022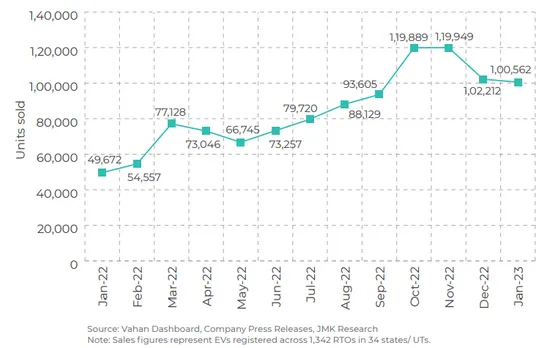 Electric cars (E-Cars)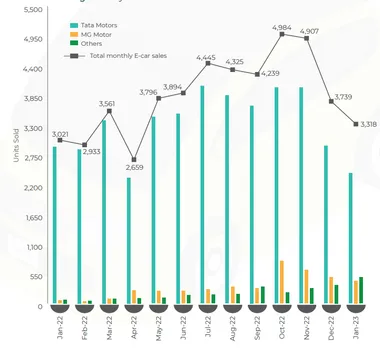 A Ford India Plant Gets A New Focus 
It took Tata Motors roughly three years to hit the 1 lakh milestone. 
The journey from its first 10K to 1 Lakh EVs was a steady growth with the last 50k achieved in only nine months. Chandra said, "Such fast-paced growth will create significant employment across categories of workforce in new technologies while improving our air quality, reducing our oil imports, and making India a key hub for EV and EV component manufacturing.
Part of Tata Motors' growth plans is a Ford India manufacturing plant. Tata Passenger Electric Mobility Limited (TPEML), a subsidiary of Tata Motors Limited (TML), acquired Ford India's Sanand vehicle manufacturing plant in 2022 after Ford's exit from India. This includes the entire land and buildings (Sanand Property), the vehicle manufacturing plant along with machinery and equipment, and the transfer of all eligible employees for a total consideration, exclusive of taxes, of Rs 725.7 crore.
What Lies Ahead? 
With a strong chief financial officer, PB Balaji, guiding Tata Motors Limited and the generation of free cash flow, particularly at Jaguar Land Rover (JLR), the company is expected to become debt-free by 2025. A positive financial outlook is crucial to a re-rating trigger. While original equipment manufacturers (OEMs) are known to have debt-free balance sheets, Tata Motors has a significant amount of debt because of the acquisition of JLR and muted profitability.  
The company has unveiled a three-phase EV strategy that includes different body styles at accessible price points to meet the evolving needs of consumers. The company showcased future concepts like Curvv, Harrier EV, Sierra EV, and Avinya at Auto Expo 2023. 
Tata Motors plans to introduce EVs in the luxury car segment as well. Jaguar wants to become an entirely electric brand by 2025, and Land Rover will introduce six entirely electric models over the next five years.
By 2025, JLR wants to be debt-free. By 2030, JLR wants to sell 100% of its full battery electric vehicle (BEV) powertrains, which account for about 60% of its overall sales.
JLR Portfolio Development Responding to EV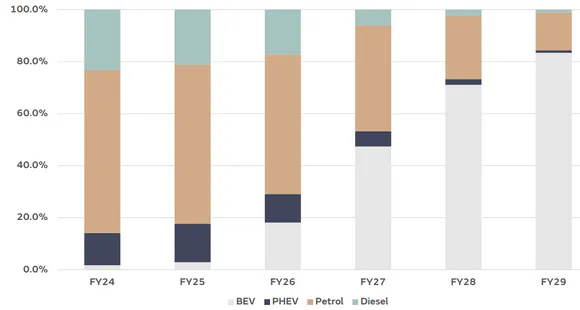 BEV mix increases in FY26 with the introduction of MLA BEV and then accelerates rapidly as EMA and JEA programs are launched.
Tata Motors also plans to expand its charging infrastructure to every corner of the country, enabling seamless mobility and ending range anxiety. Increased investments are expected to create a robust supply ecosystem for EVs. The company wants to empower the Indian consumer to make sustainable choices without compromising on performance or reliability.
Building Synergy Across The Group
Tata Motors has a strategic plan to continue to dominate India's EV landscape by building synergy across the Tata Group. Tata Chemicals is playing a crucial role by constructing energy storage systems and manufacturing lithium-ion cells. Meanwhile, Tata Power has surged ahead as the undisputed leader in the charging infrastructure sector, boasting an impressive 50% market share. 
Another key player is design and technology services provider Tata Elxsi, which is developing a cloud-based IoT platform that could offer all automakers a universal technology stack, effectively providing Tata Motors with a versatile tool that transcends EVs and extends to passenger vehicles (PVs) and commercial vehicles (CVs).
Tata Motors has also inked crucial Memoranda of Understanding (MOUs) with key players such as IoCL, HPCL, IGL, and the Government of Maharashtra to pioneer the development of EV charging infrastructure.
Also Read: How A Husk-Based Energy System Is Providing Power In Bihar's Villages
TATA EV Universe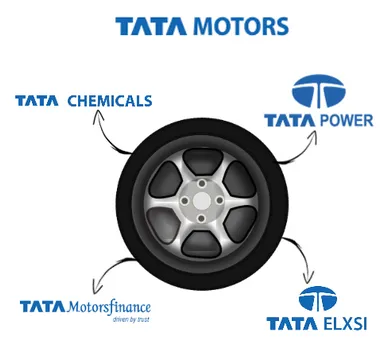 Factors That Favour Tata Motors 
The company has an early mover advantage in India's electric vehicle market as one of the pioneers in the EV space. The Tata Nexon EV has carved out a market for itself and altered how Indians think of EVs. In FY 2021, it held a market share of 65% of all sales. 
The company's EV division, which currently accounts for 71.4% of the market, has seen volume growth of 218% since the previous year. It has also launched its EV in more than 50 cities across the nation and installed more than 100+ charging stations.  
The Tigor EV, Nano EV, Tiago EV, and Nexon EV are the company's current four available vehicles. Tata Motors also provides the state and union governments with electric buses in the bus segment. In the long run, they hope to produce an estimated four lakh electric buses. 
It also has market share dominance, being the undisputed leader in the industry with a share of 58.1% in the medium and heavy segments. Sales of a range of medium- and heavy-duty commercial vehicles, including trucks, tractors, buses, tippers, and multi-axled vehicles, are available. It is also the market leader in the light commercial vehicles category with a market share of 45.9%, despite the fact that the pandemic caused a decline in mining and construction, which slowed down sales in both of these segments. However, given the increased government spending on infrastructure, recent sales growth is anticipated.
Challenges Ahead 
While Tata Motors has grand plans to expand in the EV segment, there are several challenges that it needs to overcome, from debts to production costs. 
Tata Motors has a sizable debt load that has been steadily growing over the last few years. It has a debt of Rs 1.35 crore as of FY21. The debt is anticipated to rise as they have a CAPEX plan of Rs 3000-3500 crore in FY2022-23. However, it plans to become debt-free by 2025.
It may have a first-mover advantage in the EV section, but the Indian auto industry is intensely competitive, and Tata Motors does not have a significant pricing advantage in the segment of passenger cars. Commercial vehicle buyers have much less bargaining power when it comes to pricing. The commercial vehicle industry caters mostly to the government and large-scale purchasers, and it typically sets the terms for its suppliers. 
The increasing inflation of commodity prices is yet another disadvantage. Margins have suffered as a result of the rise in steel and aluminium prices. 
The JLR segment, which generates a sizable portion of the company's revenue, has been negatively impacted by the semiconductor chip shortage, which is a significant issue for automakers. 
The wholesale sales of JLR were 30,000 units less than expected because of the shortage of semiconductors and the effects of COVID-19. 
The company will continue to prioritize the production of JLR for the supply of available chips while the current supply constraints persist and, where practical, will change chip and product specifications to lessen the impact.  
Also Read: MSME Export Woes: Traders' Monopoly, Logistics Impacting Growth Post Pandemic