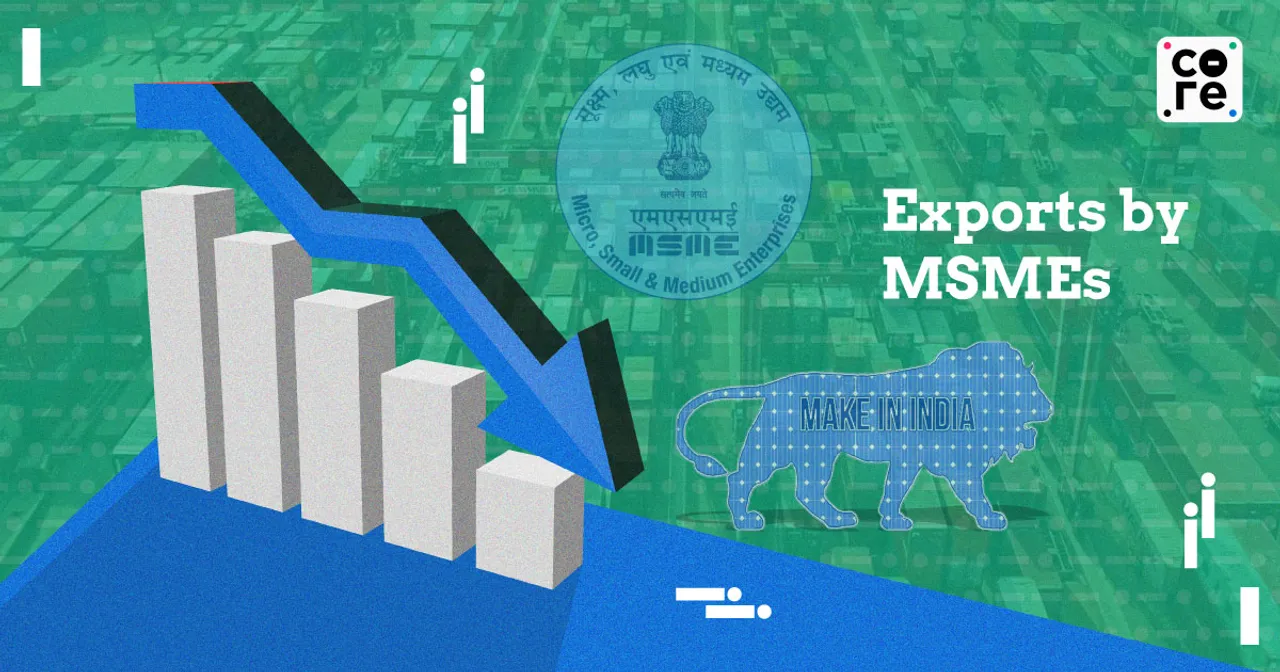 Suparna Chatterjee, aged 45, owns MAB Boutique, a unisex fashion hub in Kolkata. Her business was thriving as she exported goods to neighbouring countries like Bangladesh. However, the Covid-19 pandemic hit, affecting her business and many others across the country. The financial impact was significant, aggravated by closed borders that disrupted her international exports. Chatterjee told The Core that the subsequent challenges were even more difficult.
Traders increased their rates substantially to send goods from India to Bangladesh. "Previously, if I could send one box of garments at Rs 600, now it costs me Rs 1200. I can't even bypass the traders to export goods. If I plan to go myself or send my employees to countries like Bangladesh, we won't be allowed at the customs to carry more than a few pieces. And if we pay the price the traders are asking for, then there is barely any profit margin," Chatterjee said.  
Chatterjee said that her company's exports have reduced by nearly 40% post-Covid. This holds true not only for her, but also for many other micro, small, and medium enterprises (MSME) business setups grappling with similar issues. While she put other MSME businesses in touch with traders, she said they were also unable to afford the cost of exporting goods. 
There has been an estimated growth of 13.84% in the country's overall exports including merchandise and services in the financial year 2022-23, data shared by Minister of State in Ministry of Micro, Small and Medium Enterprises  Bhanu Pratap Singh Verma in the Rajya Sabha showed. However, the share of exports of the products manufactured by the MSME sector continued to decline year-on-year. According to the data from the Directorate General of Commercial Intelligence and Statistics (DGCIS), the share of the MSME-specified products in exports declined steadily from 49.77% in FY 2020 to 43.6% in FY 2023. However, the value of MSME exports increased from $154.8 billion in FY20 to US$ 190 billion in FY22. 
In 2020, then Minister of Micro, Small and Medium Enterprises Nitin Gadkari had set a target of increasing the share of products manufactured by the MSME sector in exports to 60% in five years. Despite the government's plans to boost exports from this sector, businesses continue to face challenges that are a fallout of the pandemic. Compliance with regulations and tax registration are among the key issues faced by MSMEs and start-ups, hampering their revenue targets through export.
The Udyam Registration Portal saw a seven-time increase in registrations between 2020 and 2023. The Udyam Registration Portal has had more than 2.18 crores MSMEs registered since its inception in September 2020 till August 2023 with an employment of 12. 84 crores as of August 8, 2023, as per the data of the Ministry of Micro, Small & Medium Enterprises.  While the total number of registered MSMEs in the portal was at more than 28 lakhs in 2020, by the end of FY22 it stood at more than 51 lakhs.
This also includes 30.96 lakh informal micro enterprises on the Udyam Assist Platform with employment of 38.57 lakhs. Udyam registration is a general certification that allows micro, small, and medium enterprises to register themselves with the government. 
Monopoly Of Traders 
According to MSME founders, a significant factor leading to the decline in export shares was the monopoly of traders in cross-border operations. These traders or export trading companies offer essential services for exporting firms, including warehousing, shipping, insurance, and billing on the client's behalf. However, multiple MSME founders point out that these traders were charging exorbitant prices since the resumption of cross-border business after the pandemic. 
"Every business faced challenges during the Covid outbreak, so after we started again with the export, the traders started charging immensely high (prices). Otherwise, they say that they will charge on the basis of the number of items and that would cost even more for us. In that matter, we have to increase the price of the items for the customers outside India and it affects the demand," said Chatterjee. She said her business had a good market in Bangladesh, but now exporting goods is a challenge leading to reduction in the volume of goods exported. 
Startups are struggling to set up reliable distribution networks, manage transportation, and handle warehousing in foreign markets. Shaily Mehrotra, CEO and founder of Fixderma, a cosmetic manufacturing brand, told The Core, "Startups and MSMEs typically have limited financial and human resources. Engaging in export activities requires investments in research, marketing, logistics, and compliance. Startups might struggle to allocate sufficient resources to all these areas, potentially leading to suboptimal performance." Fixderma exports to more than 30 countries including Indian neighbours like Nepal, Bhutan, Bangladesh.
Competition With Established Players
Aside from the hurdle of setting up distribution and warehousing, MSMEs are also faced with the challenge of competing with established players in foreign markets. Consumer behaviour has also changed in the post-pandemic world. Several MSME founders highlighted that the offline market even in other countries is almost dead for them. Covid has made customers more accustomed to online shopping, so now the MSMEs involved in the exports need to compete with the existing market players. 
Chatterjee said, "If we have to make our presence prominent in the e-commerce market in other countries, then we have to pay a huge tax and thus we have to increase the price of the items. Now buyers won't be willing to pay more prices for such items as they can also buy similar items from other local manufacturers. Thus, we are also failing to compete with the same."  
 Building a brand presence in a foreign market requires marketing and promotional efforts and founders believe that startups and MSMEs often find it challenging to establish credibility and awareness in a new market where they might not have an established reputation.
Payment cycles are also a hurdle for MSMEs. To establish an online presence they need to set up a payment cycle that will be convenient for cross-border online transactions. 
"Exporting often involves longer payment cycles and potential risks related to currency fluctuations and non-payment. Startups might struggle to secure financing or manage cash flow effectively in the face of such uncertainties," said Mehrotra. 
Impact On The MSMEs
Global market conditions, economic downturns, and political instability can impact export performance thereby making it challenging for the MSMEs to sustain in the international market. Startups may find it difficult to predict and adapt to such external factors.
"Given the current slowdown in trade, we can expect a spike in working capital demands among the MSMEs. From my point of view, rethinking how we evaluate credit for supply chain financing and freeing up funds for the entire value chain on both the payables and receivables sides will be crucial," said Nirav Choksi, CEO & co-founder at CredAble, a fintech company that offers financing solutions for MSMEs. 
Founders Seek Government Intervention 
Currently government schemes for MSMEs focus on the growth and development of the MSME sector in the country in areas of credit support, new enterprise development, formalisation, technological assistance, infrastructure development, skill development and training, and market assistance to MSMEs. The founders The Core spoke to said they have sought the intervention from the government to address the challenges faced in terms of traders' monopoly and tax compliances. 
How can export rebates help MSMEs? Choksi said, "We are optimistic that timely interventions from the government to infuse more liquidity into this sector will help elevate the growth of MSMEs and enable them to adjust well to the overall trade environment. Providing adequate financial support to MSMEs along with introducing reforms around export rebates and registration processes will help in boosting MSMEs' share in the overall exports." 
The MSME sector, despite being a significant contributor to the Indian GDP, failed to get the adequate benefits from the existing Production Linked Incentive (PLI) schemes that eventually affected their export capacity. Currently, the MSME sector contributes around 30% to India's GDP
"The declining share of MSMEs in India's exports can be attributed to the poor performance of MSMEs in the past few years. MSMEs faced acute stress during the Covid-19 pandemic, and are only slowly emerging from it. Apart from it, MSMEs have not materially benefitted from the government's flagship PLI scheme which have majorly been used by large domestic as well as foreign players to boost domestic production capacities and exports," said Aditi Gupta, economist, Bank of Baroda. 
 Also Read: 2 Lakh Transactions, More Sellers: ONDC CEO T Koshy On The Biggest Challenges And Future Plans For The Network