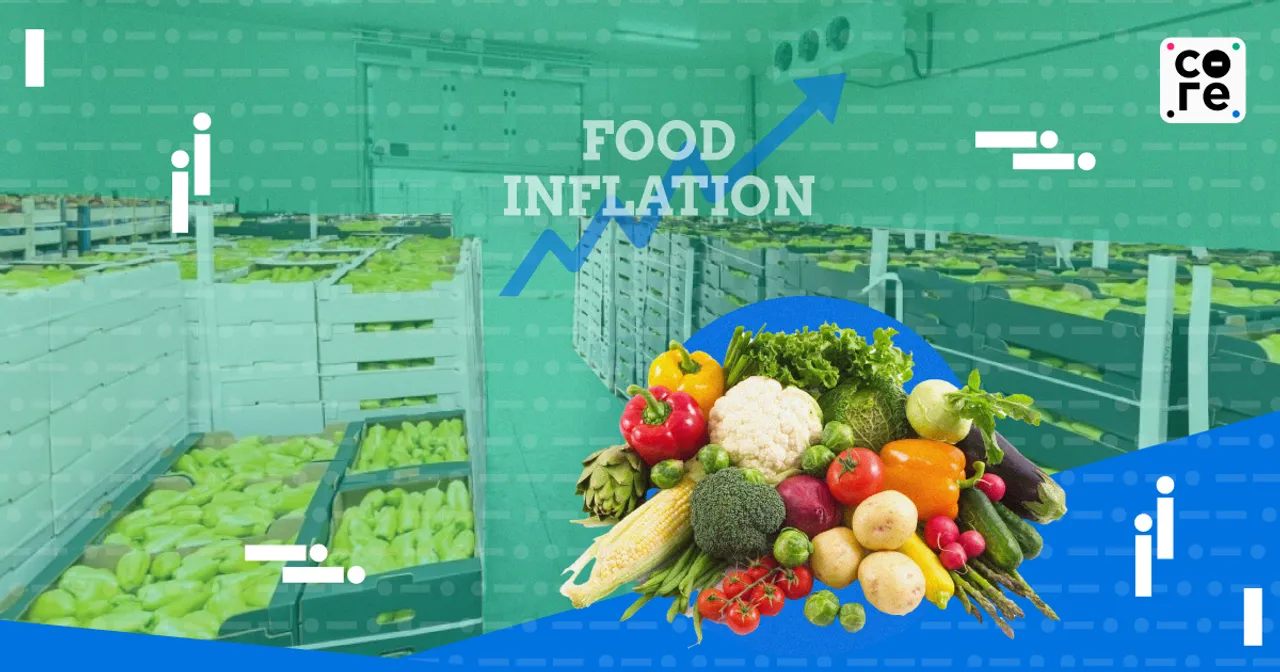 India, the largest producer of fruits and the second largest producer of vegetables in the world, does not have enough cold storages to store its produce. 
For years now, Indian farmers are struggling with the lack of cold storage facilities for vegetables and fruits. India also has low per capita availability of fruits and vegetables due to post-harvest losses as a consequence of less cold storage facilities. The Core spoke to various stakeholders to understand the issue with storage of perishable produce. A cost-heavy business model deters investors from pumping money, as consumers do not want to pay a premium on essentials. There is also a lack of policy support to build and maintain adequate cold storage chains. 
Take the case of Raji Reddy from Ramayampet village in Telangana. In 2021, Telangana had a good harvest but several farmers had to burn their produce for non-availability of storage facilities. The 68-year old farmer was also one of them and had to resort to distress selling of the vegetables produced in his farmland. 
"We didn't have cold storage facilities and how much could we sell within that short time? We can neither store it nor sell it. When we have no other choice, we are forced to sell it at a very nominal rate," said Reddy. 
Reddy said that it was not the first time when farmers from his village had to resort to distress selling, or even worse, burning their produce. Due to the lack of  proper cold storage facilities nearby, they are forced to either sell their produce at a cheaper rate, use up most of it through private consumption, or burn them in the worst case situation. 
The story is not much different in north India either. The 74-year old farmer, Ram Bali, from Aalapur in Uttar Pradesh had a similar experience of distress selling. "The cold storage available here is mostly for potatoes. However, there is a disparity in the amount of potato production and the availability of cold storage space. Not only do we have to travel more than 10-15 kms to reach the cold storage, sometimes, it becomes difficult to get space in the storage too," said Bali. 
Small farmers find it even more difficult to access storage facilities because most of them are owned by private players. Without proper access, most small farmers end up selling their produce cheap.  "There is a very tight competition and often a lot of us fail to avail the space. It has often happened that we sold potatoes at Rs 5-Rs 12 per kg. If we could have stored them in the cold storage, we would have been able to sell them later at Rs 25-Rs30 per kg," said Bali. The Core spoke to a few other farmers from Uttar Pradesh and found that several of them don't produce other vegetables like tomatoes, cabbage, chillies on a mass scale because of lack of cold storage facilities in their area.
"We produce tomatoes, chillies, cabbages in small quantities so that we can sell them on a daily basis. We could barely store them for a day or two in small refrigerators, a couple of us have in our household, but it is not possible to store them beyond that," said a farmer from Ayodhya, requesting anonymity. 
The Core spoke to industry experts and economists and found that lack of cold storage facilities have not only put farmers in a crisis situation, but also contributed significantly to food inflation. Only recently the whole country was reeling under the impact of tomato prices shooting up to Rs 200 a kilo. 
For a country that is still largely agrarian, why is there a lack of basic infrastructure related to agriculture? 
Loopholes In Existing System 
The major challenges in the existing cold storage logistics in India are the lack of infrastructure scale and their location. "There is a huge shortage of multi temperature, state of the art modern warehouses like developed nations – 90% of Indian cold storages are dedicated to potato storage and 60% of cold storages are located in four states only – Uttar Pradesh, West Bengal, Gujarat and Punjab," Debjani Nandy, chief supply chain officer of cold storage company Siddhi Cold chain, told The Core,
Different fruits and vegetables need different temperature requirements. Vegetables like tomato and leafy vegetables like cabbage would require different capacities, in terms of both temperature as well as volume, compared to what is required for storing potatoes. "Most horticulture products need different temperatures – leafy vegetables, bananas, and other fruits need different temperatures. Almost 33% of India's cold storage is in Uttar Pradesh and caters only to potatoes," Samit Jain from Pluss Advanced Technologies, a cold-chain logistics company, said. 
Cold storages in India are concentrated in a couple of states and those states are the highest producers of potato. Hence, the infrastructure is built to cater to the needs of those states. As per the recent data of the National Horticulture Board (NHB), Uttar Pradesh and West Bengal accounted for more than 50% of the total potato production in 2021-22.
Not only location and scale of cold storage facilities, but the distance of cold storage centres from the farmlands is another major challenge for farmers. A country which is one of the highest producers of vegetables and fruits, also needs a proper transportation system.  A study by IKEA released in March 2023 found a gap of 84% in the need for refrigerated vehicles. As per the study, named Assessment Of The Cold Chain Market In India, India needs 70,000 refrigerated vehicles to transport fresh fruits and vegetables (FFV), but there are only 11,000 such vehicles operating in the country as of date. The study also revealed that for FFV, cold chain infrastructure in India (CCI) consists mostly of cold storage units for single commodities like potatoes, onions, and grains, while a significant gap exists in packhouses, reefer vehicles (refrigerated vehicles) and ripening chambers. 
Why No Storage For Agricultural Produce? 
Economists and industry experts stressed on the fact that it is surprising to see that while on the one hand, even the remotest corner of India has been able to get a cold storage for ice creams, the same has not been the case for the FFV storage. And the reason is in uninspiring investor interest. 
"Setting up and managing a cold storage facility also requires huge investments and thus the focus on effective return on investment (ROI) becomes paramount. Additionally, skilled labour and effective round-the-clock monitoring, safety and security processes, and consistent and effective quality checks also make this a high-value, high-investment process which may or may not always be feasible by smaller or unorganised players," said Swarup Bose, founder and CEO, Celcius Logistics, a cold storage company. 
Several founders of cold storage companies echoed similar sentiments. According to them, the sector has failed to grab the interest of investors and is also struggling to maintain the existing infrastructure. "Setting up and maintaining cold storage facilities demands a significant upfront investment, which can be a hurdle for many enterprises, especially small and medium-sized ones," Jain said.
Founders of cold storage companies said that vegetables and fruits are considered as low-value products. Creating customised cold storage for them needs more investment, which would add up to the final price of the vegetables. "Since these are low-value products, the cost of cold chain set-up and operating cost can't be absorbed in the final products. People won't be comfortable to pay a very high price for fruits or vegetables in India, just because it has been preserved in cold chain" Sunil Nair, CEO of cold storage logistics company SnowMan, said. 
India is still struggling to have proper storage facilities for basics like fruits and vegetables, but things like medicines and ice creams have storage facilities in remote corners of the country. This is mainly because people are willing to pay a premium on them and the cost of maintaining the infrastructure can be passed on to the final buyer. However, consumer sentiment works differently for agricultural produce.
Low return on investment and lack of growth prospects have dampened investor sentiment. The historical growth rate of cold storage (including bulk and hub storage) for FFV in the country between 2014- 2020 is approximately 2.7% as 90% of this market is informal, highlighted the IKEA report.
"Some of the reasons for lack of investments in cold storage are high initial costs, land acquisition issues and low return on investment for cold storage facilities can be slow, making it less attractive for short-term investors," said Paras Jasrai, Senior Analyst, India Ratings & Research. 
Experts said that some schemes provide about 35% of the total cost to farmers for setting up a cold storage, but the rest of the cost has to be borne by the farmers, which also is high enough. 
"Due to the low salvage value of cold storages and the PUF panels and due to losses during dismantling. Financing options for these solutions are limited. Currently, India needs a cold storage set up in every district for FVV. But it is not possible for farmers to afford that. Even with government support of any kind, setting up cold storage for vegetables like tomato, cabbage and others needs a huge amount. Affording the remaining 65% also becomes a challenge for the farmer," Jain said.
According to them, the government lacks proper schemes that could attract more investors in the segment. Along with offering subsidies to the farmers, the government should also provide some incentives to investors to encourage investment. 
"There is no subsidy on the operations for the third party logistics. The investors are not finding financial sense apparently, if they are coming here only for fruits and vegetables," Nair said.
Experts suggest that the government could consider offering monetary incentives like subsidies or loans with low interest rates for building and the upkeep of cold storage facilities. For example, the objective of schemes like Mission for Integrated Development of Horticulture (MIDH) is to integrate the cold chain and preserve infrastructure facilities from the farm gate to the consumer. 
Policy-Level Intervention
Economists believe that the lack of cold storage facilities for FVV is contributing significantly to food inflation. India's investment in research and development (R&D) in agriculture is declining as a percentage of GDP. As per 2022-23 data from the Department of Science & Technology Research and Development Statistics, India's investment on agriculture R&D was at a multi-year low of 0.43% of GDP in FY21 and this ratio remained stagnant since FY10. 
"Poor cold storage infrastructure leads to massive post-harvest losses, which directly affects the income of farmers. This, in turn, reduces their purchasing power, affecting the overall demand in the economy. Skyrocketing vegetable prices due to wastage can lead to inflation (which is what happened in July-August 2023 and earlier time periods as well). Moreover, it affects India's potential to export fresh produce (due to export bans/restrictions on key commodities), losing out on significant foreign exchange," said Jasrai. 
A Private Public Partnership (PPP) and/or a co-operative model could help address the issue. Experts also said that the government should incentivize the Farmer Producer Organizations or FPOs to provide cooling service as a business model.
"If we look at the co-operative model of Amul, every villager with a cow can contribute and earn by selling the milk. Similarly, we need a model like that for vegetables and fruits, where even a small farmer can avail the facility of the cold storage and is not forced to go for distressed selling," Jain said. 
Amiya Patra, vice president, All India Agricultural Workers' Union recalled how farmers from West Bengal didn't go to pluck tomatoes from their field last year as they had no facility of cold storages. And eventually, the yields were left on the field for the cattle to eat. 
"We have reached out to the government several times in the last few years stating the problems the farmers are facing due to the lack of proper cold storage facilities. The government has acknowledged the issue but hasn't addressed the problem as such. Due to the lack of cold storage facilities, farmers are forced to sell at low prices and eventually , there is hardly any profit margin for them," said Patra. 
All India Kisan Sabha (AIKS) secretary Amal Halder also highlighted the lack of policy will. "We need multi purpose storage facilities for storage of different types of vegetables. In West Bengal, we have hardly a few such cold storage facilities in Singur, Howrah and Kolkata, whereas the capacity of these storages can't match the amount of vegetables yield. Moreover, these are mostly owned by private companies, so it is difficult for poor farmers to afford them," said Halder. 
Both Patra and Halder agreed that instead of relying completely on private players, the government needs to ensure that even poor and small farmers can avail multi-purpose cold storage facilities in their respective areas. 


Also Read: 'Private Sector Has to Buckle Up': Blue Dart Founder Tushar Jani On India's Logistics Industry