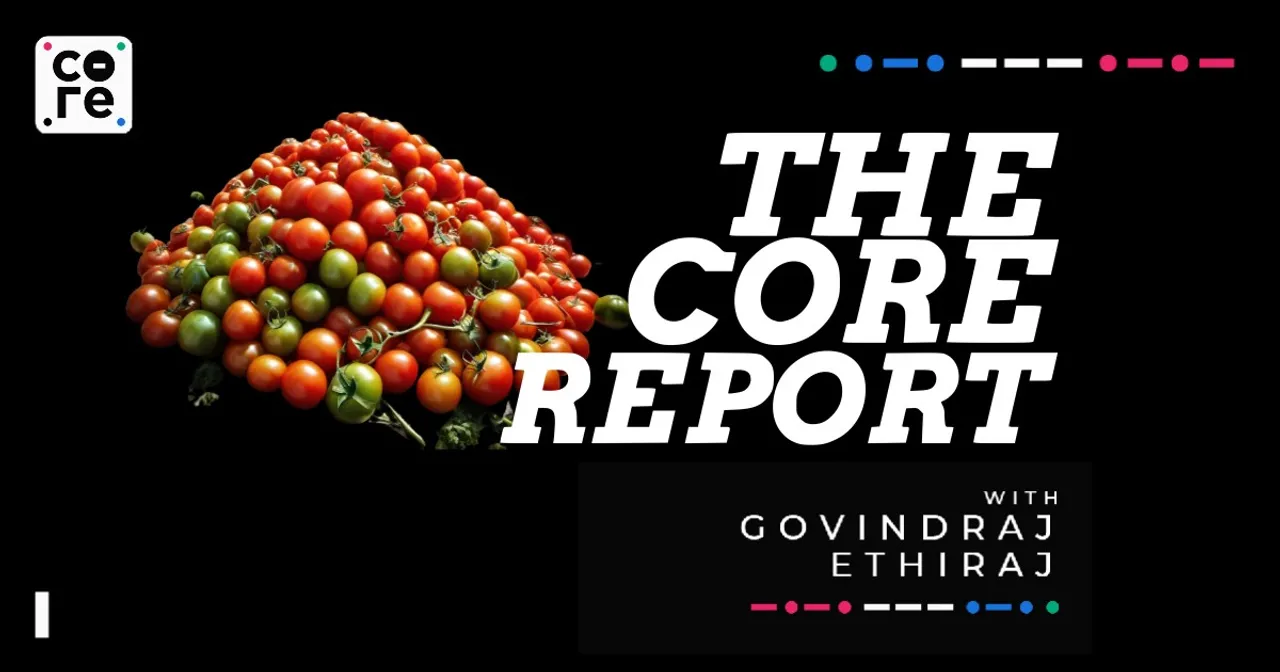 On today's episode, financial journalist Govindraj Ethiraj talks to Dipti Deshpande, Principal Economist at Crisil.

---
Our Top Reports For Today
[00:00]

 

Stories Of the Day
[01:00]

 

Global markets steady as they brace for longer term uncertainty in middle east, oil under $90 a barrel.
[02:37]

 

US Economy was supposed to slow down right now. But it's not happening.
[07:17]

 

Vegetable prices are spiking because of climate shocks and poor storage. What can be done? With Crisil's Dipti Deshpande
[17:29]

 

India's air conditioners will consume more electricity than all of Africa.
[19:36]

 

Mumbai's deteriorating air quality is a public health crisis, like Covid and deserves a similar response.
---
NOTE: This transcript contains only the host's monologue and does not include any interviews or discussions that might be within the podcast. Please refer to the episode audio if you wish to quote the people interviewed. Email [email protected] for any queries.
---
Markets Brace For Longer Uncertainty
Stocks rose ahead of tech earnings on Tuesday even as treasuries stabilised amid growing speculation that the recent selloff was excessive.
Brent crude is under $90 a barrel, lower than the day before as markets continued to wait and watch.
Treasury 10-year yields slipped as much as five basis points to a one-week low of 4.80% before paring the move, reported Bloomberg.
Bitcoin topped $35,000 and the euro swung to a loss against the dollar as data showed the French and German economies struggling.
Treasuries steadied after crossing 5% following predictions that the Federal Reserve will need to lower interest rates. 
Wild swings in government debt are unsettling investors as a resilient economy makes it hard to work out when the Fed will halt rate hikes. And more on that in a bit.
Brent crude is under $90 a barrel, lower than the day before as markets continued to wait and watch.
In the middle east, the Israeli army continues to await orders for a full blown ground invasion into Gaza, keeping world markets also on the edge for another day. 
Tanks and troops are massed on the border, waiting for orders even as the Israeli military said it had hit more than 400 militant targets in Gaza overnight and killed dozens of Hamas fighters, Reuters is reporting.
Earlier, Israeli Chief of Staff Lieutenant General Herzi Halevi said they wanted to dismantle Hamas and that they were well prepared for ground operations in the south.
Predictions And More
Even as the world watches the developments in the middle east with baited breath, the United States economy continues to surprise.
Earlier this year, economists and Federal Reserve officials predicted that the U.S. economy would be slowing down by now as higher interest rates would cut into spending and investment.
The opposite is happening, reports the Wall Street Journal adding that recent  economic data suggest the economy is accelerating despite higher borrowing costs, the resumption of student-loan payments, and wars in Ukraine and the Middle East. 
Not surprisingly, analysts, many of whom were predicting a recession this year, are pushing up their forecasts. 
Goldman Sachs economists last week raised their growth estimate for the third quarter ended on Sept. 30 to an annual rate of 4% from 3.7%. 
By the way, inflation in the US has eased to 3.7% in September from a recent peak of 9.1% in June of last year. 
Moreover, the labour market actually got stronger over the course of the third quarter. Employers added 336,000 jobs in September, up sharply from 227,000 in August and 236,000 in July.
That hiring is fueling new spending, said the WSJ quoting upward local retail and food service sales data . Even manufacturing, including factory output, was up in September, after declining in August.
Big banks such as Citigroup and  JPMorgan Chase  reported strong earnings this month, and executives say their outlook on the economy has improved. Even American Airlines, grappling with a rising oil bill, said last week it expects travel demand this holiday season to be stronger than last year's.
All this of course suggests that forecasts in general and specific are going off course, for various reasons of course. One of them of course is that consumers are not behaving as one would think they would.
The challenge of forecasting accurately and thus building business cases and business models around them is thus becoming more challenging.
Many companies around the world were not fully ready for the massive surge in post pandemic demand. 
I am not in a position to draw any parallels to India at this point as we have our own share of projections.
Though what I could say is that all our predictions and projections, unlike in the United States, are on the bullish or even hyper bullish side and you need to work backwards or forwards from there, if you are still with me that is.
Still on the subject of predictions, Germany's economy is projected to dislodge Japan's as the world's third largest in 2023, helped by a slide in the yen against the dollar and the euro, Bloomberg is reporting.
The International Monetary Fund's latest projections estimate Germany's nominal gross domestic product at $4.43 trillion this year, compared with $4.23 trillion for Japan. 
That would leave Germany lagging only the United States and China in terms of economic size.
The projections come as the yen remains within striking distance of the 33-year low against the dollar.
From One Mesh To Another
Speaking about predictions, this is one not many could have predicted, or perhaps had., Minerals and oil major Vedanta has a new CFO who is returning or fleeing perhaps from struggling education tech company Byju, in barely 6 months.
Vedanta  on Tuesday also said its current CFO had resigned amid a major structural overhaul announced last month.
The CFO who is returning from Byju's after a six month stint during which he apparently achieved a lot in trying to find and put together the education company's missing numbers. The company is yet to file 2021-22 results.
Nevertheless, the returning CFO thanked the founders and colleagues at Byju'S for helping him assemble the 2021-22 audit in three months. "I appreciate the support received during a short but impactful stint at Byju's," he said. 
Byju's is yet to file its FY22 results with the Ministry of Corporate Affairs (MCA). As regulatory compliance, private companies are required to file their annual results with the MCA by September of that year. 
Byju's FY21 (2020-21) results came 18 months after the financial year ended.
Vedanta has announced a plan to split into six separate businesses last month, a move aimed at shoring up the group's financial performance even as it fights bloated debt. 
In earlier years, Vedanta had touted consolidation as a way to go and is now doing the opposite, as circumstances forced a change in strategy.
Why Vegetable Prices Are Rising
You could blame the weather and climate shocks as the biggest culprit.
But there are many other reasons as well behind rising vegetable prices, including of course rising demand, thanks in turn to changing dietary habits.
Price spikes in vegetables have been led by tomato, onion and potato. You might recall that in September, prices per kg of tomato shot upto Rs 300 and crashed to Rs 10. And farmers were even dumping them on roads.
India is the second largest producer of vegetables after China. 
Yet, despite high production levels, growth has decelerated in recent years and falls short of demand, according to government estimates, says rating agency Crisil, adding vegetable inflation has been the most volatile in the food category.
"Population growth and demographic transition, income growth, and the accompanying change in dietary preferences are some structural factors behind the surge in demand. While vegetable production — including per capita production — has expanded, it hasn't kept pace with the surge in demand," the study said.
It noted that, apart from losses due to weather disturbances and pest attacks, post-harvest wastage during storage and transportation further reduces the stock available in the market.
"Unfavourable risk-reward dynamics and price uncertainty also discourage vegetable growers," the study determined.
Vegetables have a 15.5 percent weight in the food index, the highest after cereals and milk, and remain the most volatile component. 
Demand, conversely, is soaring due to population growth and demographic transition, increased income and changing dietary habits.
I reached out to Dipti Deshpande, Principal Economist at Crisil and began by asking her why vegetable prices were spiking more in recent years than ever before?
---
The Real Price of Air Conditioning
It's not just vegetables prices but demand  for electricity thanks to air conditioning is also zooming.
India's demand for electricity for running household air conditioners is estimated to expand nine-fold by 2050 and will exceed total power consumption in the whole of Africa today, the International Energy Agency (IEA) said on Tuesday, reported the Business Standard.
In its latest World Energy Outlook, IEA said India will see the largest energy demand growth of any country or region in the world over the next three decades.
It projected India's energy supply to rise from 42 exajoules (EJ) in 2022 to 53.7 EJ in 2030 under stated policy scenarios.
Oil demand is seen rising from 5.2 million barrels per day (bpd) in 2022 to 6.8 million bpd in 2030 under stated policy scenarios. 
The IEA also said that in the last 50 years, India witnessed over 700 heatwave events, which have claimed over 17,000 lives. 
Air conditioner ownership in India has been steadily rising with growing incomes, tripling since 2010 to reach 24 units per 100 households.
"The impact of cooling needs on electricity consumption is already clear," the Paris-based agency said.
"Electricity demand is sensitive to temperatures, and in India's case there is a sharp increase in demand as temperatures cross the 25-degree Celsius threshold..
Electricity consumption due to space cooling increased 21 per cent between 2019 and 2022, and today nearly 10 percent of electricity demand comes from space cooling requirements.
"Household air conditioner ownership is estimated to expand ninefold by 2050 across the IEA scenarios, outpacing the growth in ownership of every other major household appliance including televisions, refrigerators and washing machines," it said.
This is obviously good news for air conditioner manufacturers but challenging from an energy management point of view.
You could add air purifiers to this list though they consume lesser electricity but will and do run concurrently in many Indian cities already. More on air purity coming up.
Mumbai Air Quality
Speaking about strategy, In 2017, my colleagues at IndiaSpend, the data journalism initiative, set up a low cost sensor based air quality monitoring network, mostly in Delhi and northern India and then a few other cities including Mumbai.
The objective of the project called #Breathe was to collect and display real time data on a map on our website. Even as the skies and the environment got hazier, people for the first time could see what the numbers were saying about the environmental disaster we were living in, through numbers. Among other reasons because the Government, centre or state barely had any monitoring systems of its own and surely not as spread out as ours were, in residential areas where it really mattered.
Our studies and data showed many things which became apparent for the first time. One of course was how bad it was everywhere in the city of Delhi and neighbouring areas like Gurgaon. Second, what caused changes if any. Time of day, wind speeds and so on.
And most importantly, we contributed in our own way  to make the issue of air quality a page one headline issue and AQI itself a data point that we all look at now, apart from temperature.
Waking up everyday in Mumbai, I am feeling a sense of deja vu from 6-7 years ago. We experienced bad days last year too but this year it seems to have entrenched itself, the pollution, almost like a iron-like grip around our very throats and lungs.
Even as the local administration has watched.
The public outcry in the last few days has seen a hubbub of activity with the BMC, Mumbai's civic authority saying it will crack down on some 6,000 construction sites and control the emitting of dust and other particles by them.
It sounds like a fantasy, given that most if not all activities related to building and construction in the city of Mumbai have never in history been regulated or barely sought to be regulated. Including the mushrooming of them with little or no regard to town planning and the carrying capability of surrounding infrastructure.
Nevertheless, all is not lost, at least yet.
Air pollution, particularly involving particulate matter of 2.5 microns or PM2.5 is a public health crisis and should be treated as such.
The BMC did a good job of responding to Covid in 2020 and 2021, down to tracking every passenger arriving into the city from outside India and enforcing testing and follow up. Apart from a host of other measures like jumbo Covid centres to house affected people who could not get access to hospitals.
If Mumbai pulled through Covid better than most of the country, it was because the smartest and most experienced civic administrators in the country got together and came up with solutions, some good and maybe even some harebrained. But it all worked.
Fighting the problem of air quality, which can mail or kill citizens over time, needs similar thinking and response and not assume the problem will quite literally blow over the next morning.
Mumbai need not go the way of other cities, in paralysis because of cross purposes in decision making and decision makers as well as multiple stakeholders.
The city needs to wake up, before it goes to sleep, permanently, figuratively speaking of course.
Spotify Reports Jump In Subscribers, Revenue
Speaking about life and living, it's only fair we report on Spotify's numbers, since we live on this platform too and many of you do listen here as well.
So Spotify beat expectations on both the top and bottom lines in the third quarter with a net income of 65 million euros in sharp contrast to the year-earlier period loss of 166 million euros.
Revenue touched 3.36 billion euros — 11% higher compared with Q3 2022 and above Wall Street expectations of 3.3 billion euros. 
Total monthly active users (MAUs) touched 574 million in the quarter — a 26% improvement compared to the year-ago period. The net additions of 23 million users represented the company's second largest Q3 net addition performance in its history.
Premium subscribers hit 226 million, also surpassing Wall Street expectations of 224 million, jumping another 16% year-over-year, says Yahoo News. Spotify expects Premium subscribers to increase to 235 million in the fourth quarter.
That's it from me, have a great day ahead.