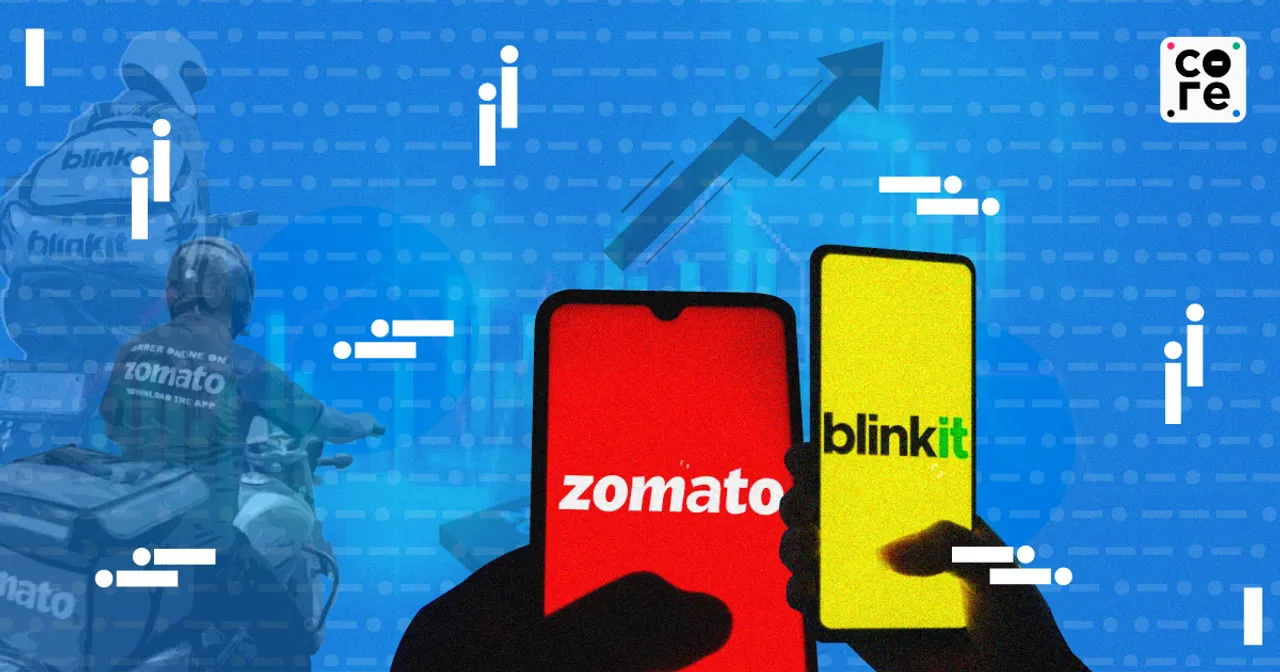 Food delivery aggregator Zomato is on a steady path of growth. If its robust numbers are anything to go by, then the company's steps towards diversification are working to its advantage. Its acquisition of instant delivery service Blinkit, the introduction of in-the-farm supply solution Hyperpure, and positioning itself as a one-stop shop for all of its customers' requirements, among others, is helping the company to keep its growth momentum alive.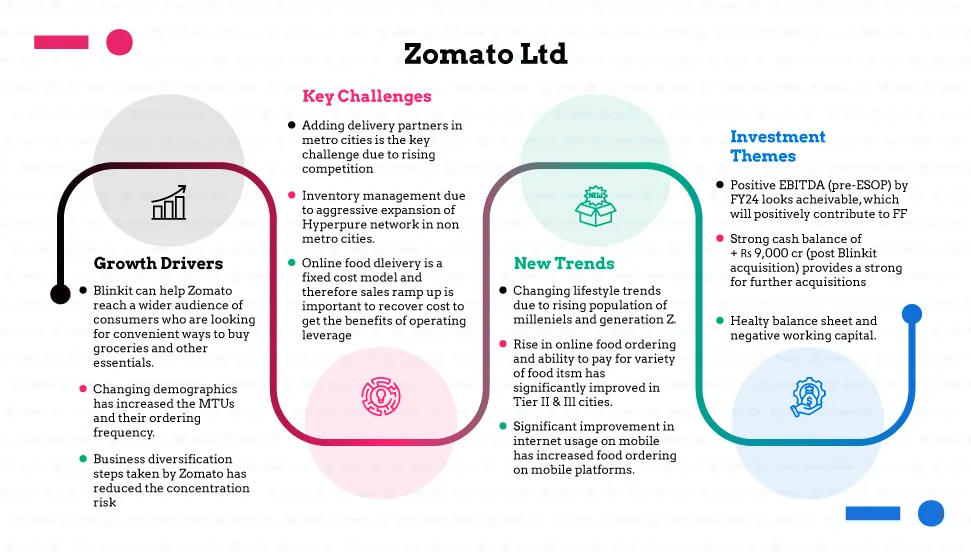 Zomato reported a net profit of Rs 36 crore for the quarter ended September (Q2), up from a net loss of Rs 251 crore in the corresponding period last year. Its revenue from operations stood at Rs 2,848 crore in Q2 of the financial year (FY) 2023-24, a growth of 72%, compared to Rs 1,661 crore in the same period a year ago. 
Zomato is confident that it can continue to deliver over 40% year-on-year (YoY) topline (adjusted revenue) growth for the next few years at least. Their profitability is expected to sustain going forward. 
There are multiple factors driving Zomato's growth story. The company began seeing demand recovering in February this year which continued into the first quarter (Q1) of FY24. Q1 usually tends to be a seasonally stronger quarter for the company. Growing adoption of their Gold programme, which led to a higher ordering frequency, now contributes over 30% to its gross order value (GOV) in the food delivery business. Ensuring delivery partner availability in a quarter impacted by adverse weather (both extreme heat and untimely rains) also contributed to the numbers. 
Demand Recovery
 There has been some recovery in demand in recent months, a significant improvement over the sluggish growth they saw over the last few quarters ( reflected in the fairly low YoY GOV growth of only 14% in the last quarter). However, the quarter-on-quarter (QoQ) growth of 11% makes it believable that YoY growth has bottomed out and the company should see increasing YoY growth from now onwards. 
Zomato's mission now extends beyond food delivery. It involves reinventing convenience and fulfilling its promise to be a one-stop shop for all its customers' needs. Zomato appears to have a bright future in the Indian market, thanks to its solid foundation, well-defined vision, and proven track record of execution. Zomato holds a dominant market share of over 35%, making it the top online food delivery company in India. In 2010, the company was launched as a platform for searching restaurants, and then it expanded into a food delivery service using apps.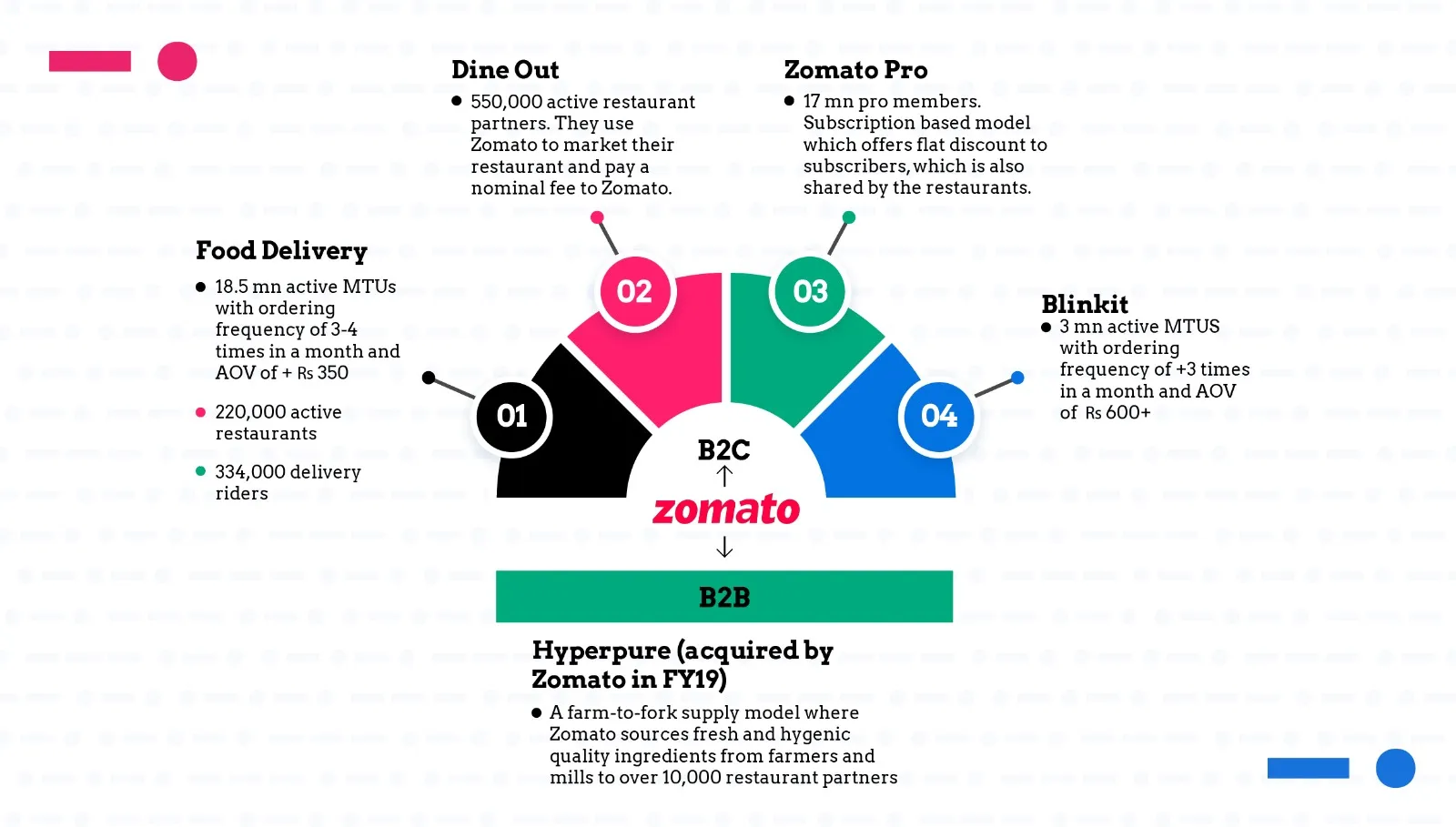 Food delivery and dining-out services are among the company's business-to-consumer offerings. Customers can use these services to search for restaurants, order food delivery, reserve a table, and pay for their dining out. Meanwhile, the company's business-to-business segment brings in money from Zomato Pro, a customer loyalty programme, and Hyperpure, which supplies restaurants with premium ingredients and kitchenware. 
Higher ordering frequency is being driven, according to management, by the Gold programme's growing adoption (3.8 million members in Q2FY24, up from 2.0 million in Q1FY24).  The introduction of platform fees (INR 2-5 per order, with an attachment rate of nearly 100%) and an increase in ad monetisation led to a slight increase in take rates. Management stated that marginal price increases are mainly driving volume growth in the ad monetisation sector. 
Furthermore, by highlighting the seasonal impact during the first few weeks of the quarter, management attempted to lower growth expectations for food delivery from Q3FY24E.  
Blinkit Brings A Turnaround
The acquisition of Indian instant delivery service Blink Commerce Private Limited (Blinkit), formerly Grofers, stands out as the game changer for Zomato. This would help Zomato to reach more cities and provide speedy commerce services, making them a strong competitor in the market. The acquisition, worth Rs 4,447 crore, was a step towards diversifying Zomato's business. Blinkit became a wholly owned subsidiary of the company with effect from 10th Aug 2022.
Blinkit GOV grew 28.9% QoQ to INR 27.6bn. The high growth witnessed was due to the low base effect (business disruption in Q1FY24) in the previous quarter. Quick commerce adjusted revenue was INR 5.05bn. 
Management guided for net store addition of 100 stores (net) in FY24. Most of these store additions are expected to increase polygon density in existing geographies. The management estimates that by Q1FY25E, the adjusted EBITDA margin will break even. The management acknowledged that seasonal factors will cause AOVs to fluctuate, but the improvement in the GOV mix in favour of high ASP categories (books and electronics, among others) was the reason for the uptick in Q2FY24 (up 4.2% QoQ).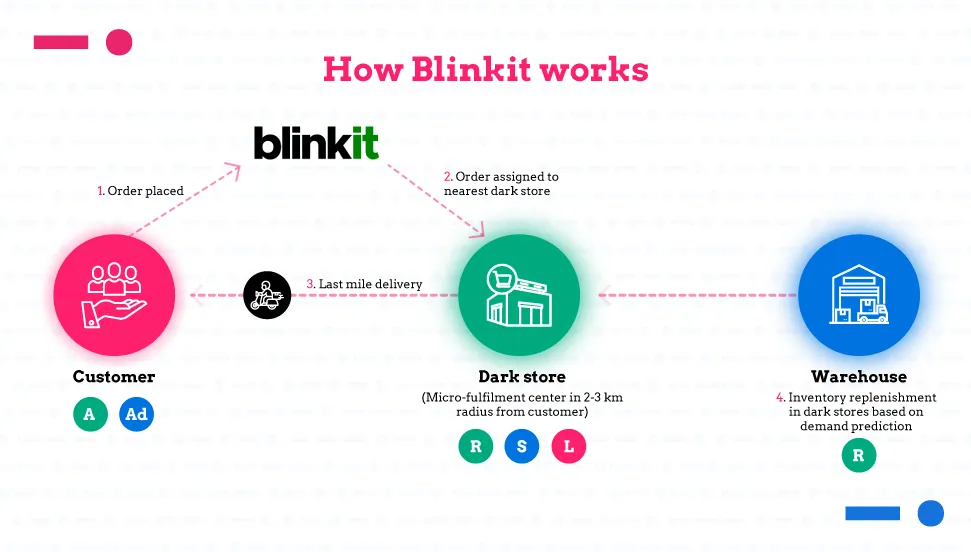 Though Blinkit is present only in 15 cities, the company would have access to over 1,000 Zomato cities post-acquisition. Only Flipkart Supermart has a delivery network of 1,800 cities and Blinkit could become the second-largest player in India post acquisition. 
Moreover, Zomato has about 319,000 food delivery partners, and the majority of food orders arrive on weekends (Saturday- Sunday) or during holidays, underutilising the delivery partners during the weekdays (Monday- Friday).  During the week, Zomato's delivery partners could be used to deliver groceries. 
Through the acquisition, Zomato gains ready infrastructure and systems as well as a natural extension to the food delivery business. The company would also be able to better utilise its existing delivery fleet. The deal would also give Zomato a higher order frequency and larger addressable market and most importantly, faster growth in GOV. 
Blinkit is projected to generate Rs 2,797 crore in revenue, with an expected compound annual growth rate (CAGR) of 51.4%. This growth is driven by the anticipation that the number of monthly transacting customers will rise from 3.2 million to 6.6 million, indicating a 27.3% CAGR. Consequently, this will boost the GOV from Rs 5,280 crore to Rs 16,220 crore, reflecting a remarkable 44.4% CAGR. 
Hyperpure Adds To Growth Numbers
Apart from Blinkit, Zomato has provided valuable assurance to restaurant partners and customers about the quality of the ingredients used through the development of Hyperpure. This has strengthened their overall supply chain. Zomato's intention to diversify and adjust to shifting customer needs is demonstrated by its plans to launch cloud kitchens and printing services.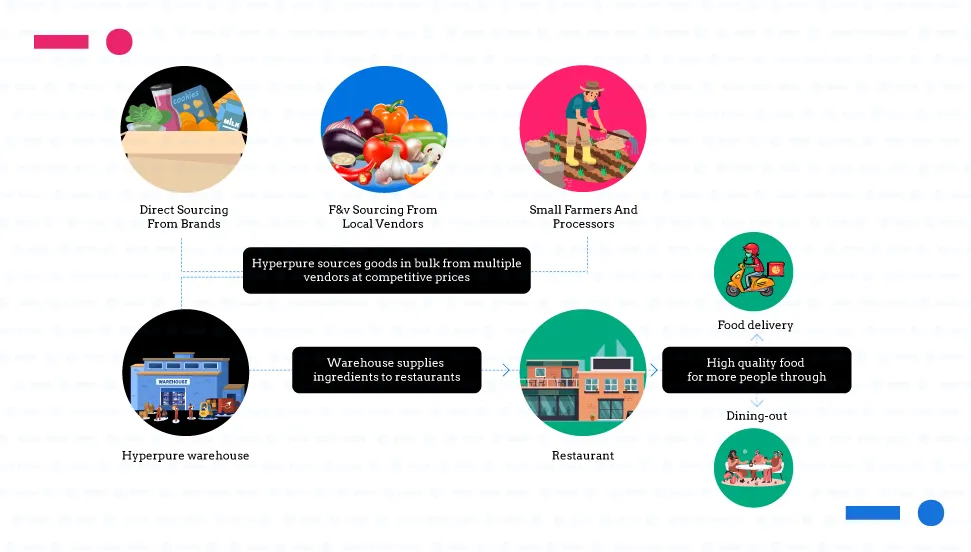 In August 2018, Zomato introduced Hyperpure, an in-the-farm supply solution for Indian restaurants. The company sources fresh, hygienic, quality ingredients and supplies directly from farmers, mills, producers, and processors to supply to its existing restaurant partners, helping them make their supply chains more effective and predictable. 
The supply ingredients include fruits, vegetables, groceries, dairy, poultry, meats/seafood, bakery items, gourmet, packaged foods, and beverages. A 'Hyperpure Inside' tag is placed on the Zomato page of restaurant partners who order supplies through Hyperpure. This tag is to reassure patrons about the calibre of ingredients used in the said restaurants. 
In 2019, Hyperpure opened a 30,000-square-foot warehouse in Bengaluru, designed to handle 4,000 metric tonnes of cargo each month. In Delhi, a bigger 40,000-square-foot warehouse opened for business in March 2019. By FY25, the company aims to expand its network to 20 cities, from the current 10 cities where Hyperpure services are available.
Hyperpure grew ~21% QoQ and 123% YoY in Q2FY24 to INR 7.5bn, driven by growth across their core restaurant supplies business as well as the newer quick commerce opportunity that they had begun tapping into a couple of quarters ago. In the restaurant supplies business, they increased the minimum order value threshold, below which restaurants were not allowed to place orders on Hyperpure. 
 This led to two things - 
1. The smaller, unprofitable restaurants were eliminated. 
2. The average order value on their platform went up, driving both growth in revenue and improvement in profitability. 
As the Hyperpure business grew, Zomato saw some efficiency gains in their overall supply chain costs which led to further improvement in profitability in the quarter. 
Zomato's Cloud Kitchen
Blinkit's experience in the dark stores could help Zomato in setting up a cloud kitchen Currently, the average delivery time on Zomato's food delivery network is 30-40 minutes. The company is planning to expand the cloud kitchen concept (in line with Blinkit's dark stores) to reduce the delivery time to 10-15 minutes. The operational experience of Blinkit in dark store management is expected to help the company in the cloud kitchen business. 
The "delivery-only" configuration of the cloud kitchen functions as a dark store for food delivery—it does not offer dine-in or takeout. Depending on the demand for the menu items in that particular area, each location will have a unique menu. Zomato's back-end data of over 1,000 cities will be used to determine supply-demand or pricing gaps for particular food items, and this information will be used to select the locations.  According to Zomato's management, the majority of these kitchens will be found in India's heavily populated tier I, II, and III cities.  
This cloud kitchen concept on the lines of Blinkit's dark stores could significantly reduce the delivery time for Zomato from 30-40 minutes to 10-15 minutes.
A Convenience Game-Changer?
A new printing service in Gurugram has been introduced by Zomato. With the help of the service, customers can upload documents to the Zomato app, have them printed, and delivered in ten minutes to their homes. At present, the cost of the service is Rs 9 for monochrome printing and Rs 19 for colour printing per page. The service was introduced at a pilot level in Gurugram, but is not live currently.
Zomato is attempting to broaden its product offerings beyond food delivery with the addition of the printing service. The company has been making investments in fresh ventures like fast commerce and grocery delivery to position itself as a one-stop shop for all of its customers' requirements. Zomato can take advantage of the growing market for quick and on-demand printing services by offering the printing service.
Restaurant Partners And Dine Out Segment
The foundation of the food delivery industry is restaurants because they guarantee the availability of a wide range of food options in the area. Higher monthly transacting users (MTUs) on the platform would be enabled through a larger number of restaurant partners. In FY23, Zomato had 215,000 restaurant partners (205,000 in FY22), and from 2,025 orders in FY19 it increased to 3,280 orders in FY23. The number of orders per restaurant increased.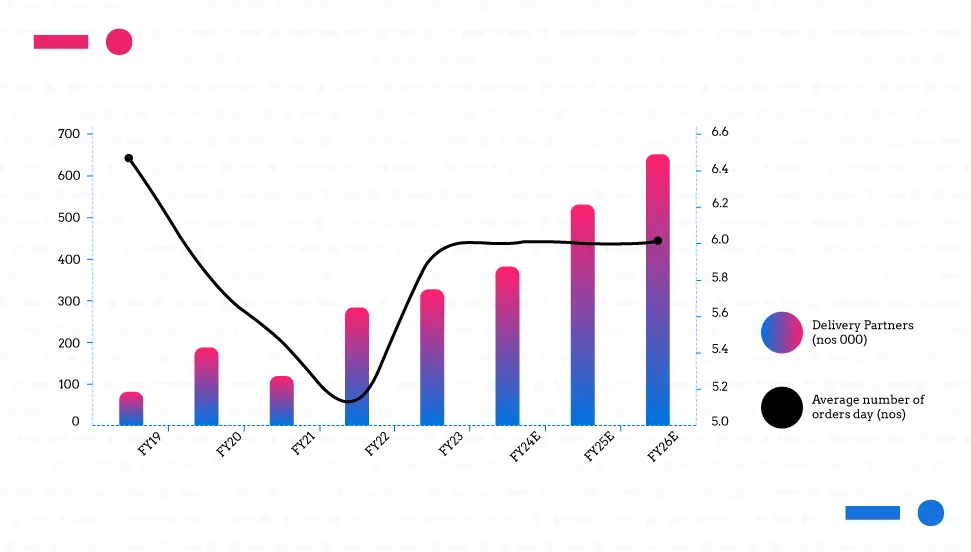 An average delivery partner per restaurant ensures faster delivery of food. Zomato has maintained 1.6X delivery partners in FY23 (higher than 0.9X in FY19). The company will expand its restaurant partners to 407,000 by FY25, most of whom are expected to come from non-metropolitan cities.
The company's dine-out segment, however, is yet to recover to pre-Covid levels. Unlike its food delivery business, Zomato's dining-out services are recovering slower from the aftermath of the Covid-19 pandemic, which included lockdowns in India. The second wave of the pandemic has also had a negative impact on the company's dining-out services. 
Over the long term, management hopes that they continue to find new opportunities and build new businesses so that they are able to attract and retain high-quality talent by providing them with steep growth opportunities.
Sectoral Factors Working In Zomato's Favour
With limited disruptions from companies like Amazon and weaker offerings from direct ordering companies like DotPe, Thrive and Open Network for Digital Commerce, among others, the industry structure is likely to remain a duopoly of Zomato and Swiggy due to limited networks in Indian cities. 
The duopoly is likely to remain dominant in the foreseeable future, in part because of its moats of network effects, branding, last-mile delivery, customer user behaviour (convenience and addiction), and broad geographic reach.  Zomato's astute acquisition of Blinkit has yielded revenue outcomes, and they predict that it will have a favorable effect on the company's EBITDA (earnings before interest, taxes, depreciation, and amortisation) as well.
In conclusion, Zomato's calculated actions in the dynamic food delivery and restaurant services sectors demonstrate a clear plan for sustained expansion and leadership.
Also Read: Auto Companies Must Cater To Consumer Demand To Fix Piling Inventory Issue