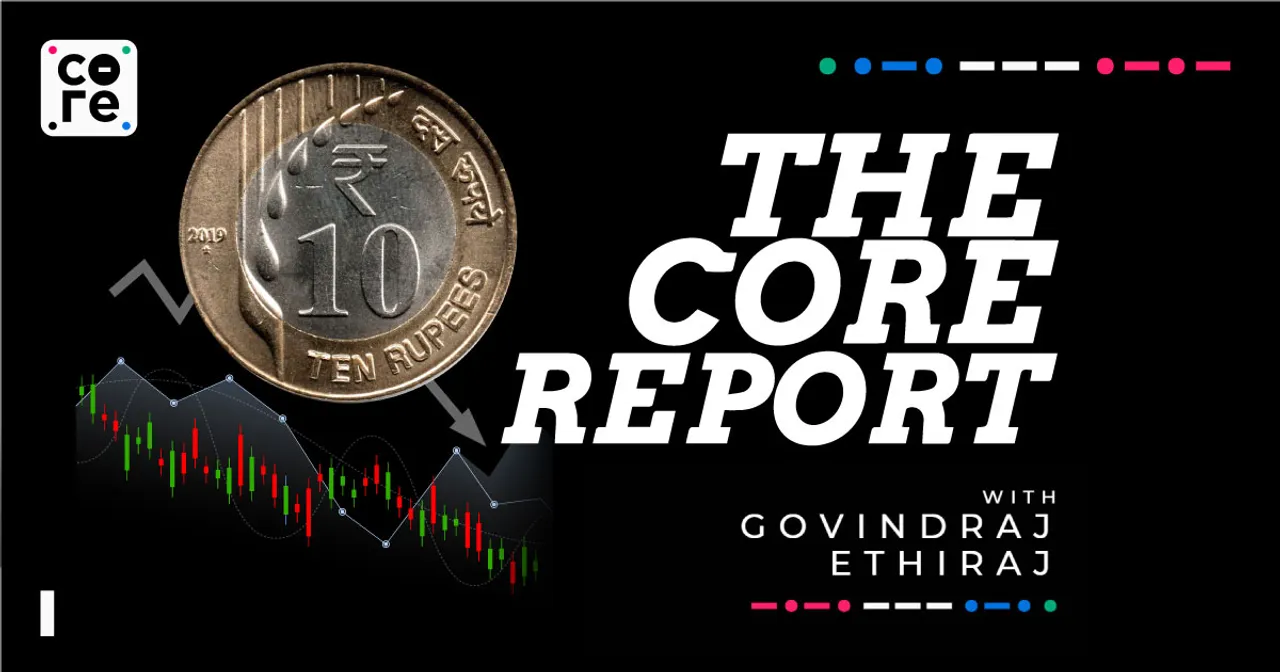 On today's episode, financial journalist Govindraj Ethiraj talks to Anindya Banerjee, VP - Currency Derivatives & Interest Rate Derivatives at Kotak Securities Ltd as well as Joydeep Goswami, Chief Strategy and Corporate Development Officer for Biotech company Illumina.

---
Our Top Reports For Today
<00:50>

 

Rupee falls to a record low against the dollar. We find out why.
<05:33>

 

India's corporate profit cycle strongest in 15 years, says Standard Chartered.
<09:10>

 

How increased disease surveillance could get us better medicines and faster 
<19:57>

 

Scotch whiskey might get cheaper
---
TRANSCRIPT
NOTE: This transcript contains only the host's monologue and does not include any interviews or discussions that might be within the podcast. Please refer to the episode audio if you wish to quote the people interviewed. Email [email protected] for any queries.
---
The Indian rupee is falling, against the dollar
This is a good gift time to send any dollars my way that you may have wanted to, since you will obviously have to send less of them
The rupee closed at 83.15 a dollar, the lowest close ever, down 0.23 percent from its previous close of 82.96. Earlier in the day, it opened at 83 and touched a low of 83.16 per dollar. 
Meanwhile, in intraday it is still 0.2 percent away from its record low. Last time, the Rupee hit a record low intraday of 83.29 on 20 October 2022. 
Forex markets were closed on Tuesday and Wednesday.
Various reasons are driving this. 
Rising US bond yields and a fall in Chinese currency is one. More specifically, US bond yields have surged to a 15-year peak thanks to strong economic data that dispelled assumptions of a US Federal Reserve pause or reversal in interest rate hikes. The US 10-year yield climbed to 4.31 percent, while the UK 10-year gilt also reached a 15-year high.
The rise in yields is making investors nervous, because past surges have at times proved destabilising for markets, said the Wall Street Journal.
Moreover, the markets seem to have concluded that there is no recession imminent in the US.
To get a sense of what is going on I reached out to Anindya Banerjee, VP - Currency Derivatives & Interest Rate Derivatives at Kotak Securities Ltd and began by asking him how we were seeing the dollar-rupee dance. I also threw in a question on the sinking rouble and whether that would affect India's trade.
---
Meanwhile, the stock markets, which have been trading weak for some time now, settled lower on Thursday. 
The BSE Sensex fell 388 points to end at 65,151 level, while the NSE Nifty50 was down 100 points down at 19,365.
Standard Chartered joins the line of bullish banks
Where was Standard Chartered all this while or in the last few months when all other banks were putting out bullish reports, I wonder. Anyway, one has finally arrived.
India's corporate profit cycle is the strongest since the 2004-08 cycle, the bank has said.
The benchmark Nifty index EPS grew at an average 20% between FY 2021 and FY2023 and is expected to grow by a further 19% and 17% in FY 2024 and 2025 respectively.
Standard Chartered further says it expects the current equity cycle to be analogous to the 2003-2008 bull cycle when output growth rose sharply, inflation stayed stable and improvements in productivity drove a rise in investments. 
So all good news of course, with another historical twist and perspective which always helps when bull markets take a breather as they are, even if temporarily.
Some other interesting data points.
Domestic consumption has played a significant role, contributing around 60% to overall growth, while investments, vital for enhancing productive capacity and ensuring long-term growth, also made a substantial contribution of around 30%. 
As of the end of the March 2023 financial year, India's GDP stood at USD 3.4trn while per capita GDP has more than doubled to USD 2,600 (as per IMF estimates), vs. just USD 1010 in 2008. 
According to the IMF, India's share of global GDP growth is also expected to surpass that of France and the United Kingdom by 2028, making India an increasingly key driver of global economic growth.
Moreover, says Standard Chartered or StanC, a transition into an upper middle-income economy would bring about transformative changes to the economic landscape. Living standards would improve and consumption patterns would likely change as income rises, attracting further foreign direct investments. 
And finally, StanC quotes a 2023 United Nations report to say that India has one of the highest working age populations in the world. 68% of the population is part of the working-age group, defined as being within the age of 15 to 64 years, while 26% of the population is within the age of 10 to 24 years, making the population of India one of the youngest in the world. 
India's working-age population growth has outpaced its dependent population, which can result in increased savings potential as more people work and add to savings rather than draw on them during retirement.
StanC also says a gradual shift to a multi-polar world is likely to benefit India. Or put differently, companies are shifting out of China as we know and that could lead to more manufacturing in India, helped also by Make In India initiatives.
Moreover, India's fixed investments have recovered quickly post the pandemic, with the investment rate now back to FY 2012 high of 34% of GDP . 
Most of the pick-up in investments has been driven by increased government capex through large-scale infrastructure investments in expressways, railways, renewables, electrification, urban metros, airports, and irrigation (see Fig. 5). 
StanC also says it is seeing initial signs of a revival in private capex driven by deleverage corporate balance sheets and improved bank lending to investments amid a broad-based pick-up in capacity utilisation. 
Finally, on the external and macro front, India's external debt-to-GDP remains low at 18.4% for FY 2023, tracking below its 10-year average of 21.6%.
And credit growth has risen to a decade high of 15% yoy for FY 2023. India's corporate balance sheet post the painful deleveraging cycle of 2010-2020 and stable asset quality is good news.
Also, capacity utilisation has risen to 74% in Q3 FY 2023, above the long-term trend, something economist Dr Brinda Jaghirdar also highlighted to us just the day before.
Increased disease surveillance can help lives.
As Covid was raging, a point that kept emerging including through the words of philanthropist Bill Gates was the need for increased disease surveillance. To spot infections diseases as they emerged and thus get the machinery to cure and potentially vaccinate against that disease up and running faster.
Illumina, a $32 billion biotech major has worked on surveillance projects around tuberculosis in India, including in understanding multi drug resistance to it.
Using next generation sequencing as it is called, scientists are finding the key to respond faster.
All this could in general lead to faster disease or illness identification, response and more targeted medicines or medication.
I caught up with Joydeep Goswami, Chief Strategy and Corporate Development Officer for Illumina, visiting India right now to open a new office in Bangalore and began by asking him to tell me about what was happening in TB surveillance before moving on to overall disease surveillance.  
---
Cheaper Scotch?
If all this news on falling rupee and pound is depressing you, by the way, did you know that it is Rs 106 to a pound, reports are emerging that India may agree to slash tariffs on British cars and scotch whisky even as the UK is willing to relax some visa rules for Indian professionals, Indian officials said.
The important point is of course that while scotch whiskey consumption usually defies slowdowns and recessions, tipplers could surely enjoy a little more knowing that they were paying a little less.
India and the UK have softened positions on most of their points of contention as both nations try to wrap up trade talks ahead of expected national polls next year, sources told Bloomberg.
 Prime Minister Narendra Modi and his British counterpart Rishi Sunak are pushing to double bilateral trade by 2030 through a pact that slashes tariffs and increases market access. 
The two governments hope to wind up the trade talks before year-end, Indian and British officials said, Bloomberg said.
Yes, all this means that it's some time away before prices come down, if they do but the knowledge of it may also be of some help to some.
---
And before I go, some news from space.
Chandrayaan-3 entered the final leg of its mission on August 17, following a controlled separation of the lander and rover payloads from the propulsion module.
The lander named Vikram and the rover named Pragyan underwent a successful separation from the spacecraft's propulsion module at around 1:15 pm on August 17, the Indian Space Research Organisation (ISRO) said. 
The separation process marked the beginning of the most crucial stage of the Moon mission, launched from Sriharikota on July 14. 
The key objectives of the mission, as outlined by the space agency are to demonstrate a safe and soft landing on the Moon, and a demonstration of the Pragyan rover collecting lunar data for scientific experiments.