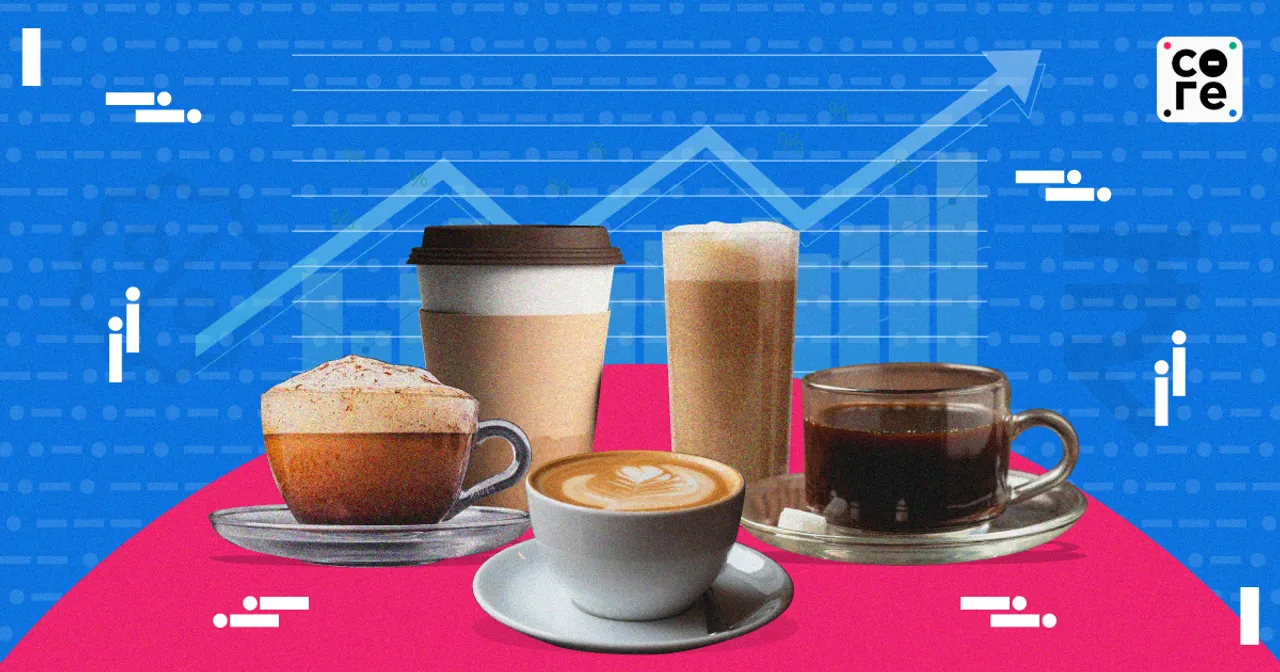 Recently, renowned coffee chain Starbucks had a record-breaking quarterly revenue of $9.2 billion in Q3 FY23. While these earnings are a result of the brand's sharp recovery in China, where comparable sales surged by an impressive 46% during the third quarter, there is an evident growing coffee culture in India as well. From 'chai pe charcha' to 'let's discuss it over coffee', a lot has changed in the beverage preferences of Indians. What factors contributed to this surge in sales? How have coffee preferences evolved in India? Let's find out.
In FY 2023, Tata Starbucks, joint venture between Starbucks Coffee Company and Tata Consumer Products Limited recorded a revenue of Rs 1087 crore, marking a substantial increase of 71% from the previous financial year's Rs 635.7 crore. On the evolving coffee culture and TATA Starbucks' continued growth in India, Deepa Krishnan, director-marketing, Category, Loyalty, and Digital at Tata Starbucks, told The Core, "Currently operating more than 350 stores, spread across 47 cities — the country is one of the fastest-growing markets for Starbucks globally. India is a strategic growth market for Starbucks, and our accomplishments here are closely tied to the strong relationship we share with the TATA group." Starbucks' partnership with TATA has extended over a decade, dating back to 2012, when TATA Starbucks was inaugurated in India through a 50-50% joint venture.
What Is Driving Up Coffee Sales?
Krishnan attributes the increased sales to the brand's relevance in the country and its ability to resonate well with the consumers. "As an inclusive and people-positive brand, we not only provide world-class coffee but also foster a sense of comfort, connection, and community through every cup, conversation, and interaction at our stores," she said. 
Tata Starbucks' ability to innovate over the years has also contributed in increasing its appeal to customers. According to Krishnan, by combining their global expertise with a keen understanding of local preferences, Tata Starbucks struck a balance that appealed to a wide range of consumers, especially working professionals. "Our aim was to create a unique 'third place' experience for customers – which is neither their home nor office, but an alternative warm, welcoming space where customers can be the best version of themselves," Krishnan added.
The exponential rise in coffee sales across India has benefited other coffee brands. Third Wave Coffee and Blue Tokai both entered the business after Starbucks and have together managed to set up about 150 stores in the last three years. Blue Tokai has plans to expand by adding 200 new stores within the next three years. 
Costa Coffee experienced an 83% year-on-year increase in sales, reaching Rs 32 crore ($3.9 million) during the three months ending on June 30, 2023. Devyani International Limited, the coffee chain's Indian franchise also opened 11 new Costa Coffee sites. Canadian multinational coffeehouse Tim Hortons, which at present has 16 stores spread across Delhi NCR, Mumbai and Punjab is planning further expansion to open 120 stores by August 2025 in order to tap into the regional markets.
At the heart of this coffee boom lies the ever evolving coffee preferences of consumers, particularly with younger generations. The coffee market in India is witnessing a year-on-year growth both in terms of consumption and production. The coffee industry is projected to generate a revenue of approximately US$0.92 billion in the year 2023, showcasing an annual growth rate of 2.06% (CAGR 2023-2025). Domestic consumption trends show growth from 50,796 MT in 1981 to 115,000 (prov.) in 2011 as per government data. Coffee consumption in India reached a total of 1235 thousand 60-kilogram bags in 2022-23.
To understand specific coffee choices and individual tastes driving up these sales, we spoke to baristas, coffee lovers and enthusiasts as well.
Coffee- 'An Emotion, Not A Concoction'
For Indian coffee lovers, the beverage is synonymous with different emotions and occasions. The path towards developing a fondness for coffee differs across different age groups and regions. Ayush (23) from Sehore began drinking black coffee during his weight loss journey. Manjeet (47) from Meerut also began to drink coffee after her dietician's recommendation. Preeti (25), who lives in Ahmedabad, on the other hand discovered her love for the drink with homemade Kerala coffee. 
The variety of blends available all around for coffee also add to its growing popularity. Babilesh (25), a coffee enthusiast from Bengaluru said, "I started enjoying coffee when I had a cup of cappuccino in a coffee bar in Doha called 'Flat White'. The intensity of flavours and comfort I received from that one cup is where it all started."
Just like any other beverage, the relationship with coffee may not always be an instant affair. Some people find their perfect cup of coffee quite early on, and some prefer to experiment before sticking to a style. 
For Ishita (26) it went from the "most atrocious drink one can ever drink" to "taking life altering decisions with a cup of coffee in hand". "I had a sip of coffee when I was 13 from my mother's cup and I did not like it at all. Then I remember I had a math exam, and I had to pull like an all-nighter and I had heard if you drink coffee, it will be easier for you to wake up. So I thought I will treat it as a medicine, chug it and not sleep. My mother made it very milky and she added extra sugar, and I really liked the taste. It was different. It was nice." Talking about how her taste in coffee has evolved over the years, Ishita said, "When I started out, it was just 3 ingredients: milk, sugar and coffee. Then I got into college and I met people who had different tastes, which got me introduced to new sorts of coffees. I am still not a fan of black coffee but I think I am getting there."
Customising Coffee: Choices And Preferences
While instant coffee has been popular all over India for years, and filter coffee in the southern parts, Indians are now brewing their own coffee at home. Be it Blue Tokai or Third Wave, they sell their best blends in the form of beans or a grind of your choice. 
Tata Starbucks' Krishnan said, "We provide consumers with the world's finest brews, spanning the coffee-rich terrains of Latin America, Asia Pacific, Europe, to India's Tamil Nadu and Karnataka regions. Our commitment to creating diverse, unforgettable coffee experiences is presented through innovations like the Diwali Blend and India Espresso Blend. Our portfolio also covers the full coffee spectrum: Dark Roast, Light Roast, and Blonde Roast — ensuring our consumers are spoilt for choice."
According to Gurmeet Singh, a barista, who has previously worked at Tata Starbucks in Delhi,  Java chip Frappuccino, Latte and Cappuccino are among the most popular choices of coffee. "People like new variations in their coffee. So in Americano people mostly ask for Hazelnut syrup and for a beverage like latte cappuccino they go for vanilla caramel and hazelnut," Gurmeet said.  
According to baristas while some customers stick to the same flavours, others diversify depending on their moods. Gurpreet Singh, a barista with experience at Blue Tokai Coffee Roasters in Gurugram said that coffee shops offer a range of options to cater to these preferences. "For example, if you go to any place, the barista will ask you a few questions like, which roast, single origin or blend, whether or not you want some sugar or syrup, do you need an extra shot in your coffee etc. The darker the roast the chocolatier it will be, the lighter the roast and more fruity it will be." According to him, Vietnamese iced coffee and Trioccino are two most popular drinks at Blue Tokai. He said Matcha Latte, Peppermint Mocha and Salted Caramel coffee were among the flavour that have become popular in recent years. 
Vijay Sharma, a barista faculty trainer, who has previously worked at Cafe Coffee Day and Costa Coffee believes that consumers nowadays prefer to consume bittersweet combinations of coffee which are not too strong nor too light. But old school consumers still go for bold and strong flavors. "Coffee like Geisha, Bourbon,Catui Ratnagiri are examples of newly specialized coffee that provides a splendid taste profile. Some consumers also go for vegan options like plant based milk, alcohol infusion crafted beverages like coffee cocktails."
Instant Coffee: A Convenient Alternative
While bigger coffee brands have gained popularity in India over the years, instant coffee hasn't lost popularity. Ayush, who likes a simple cup of coffee said that his favorite brand was 'Nescafe'. Even though Manjeet enjoys visiting cafes in the city, she has stuck to a hot cup of coffee as her morning energy drink and has a strong liking for 'Bru'. Ishita also relies on instant coffee to curb her coffee cravings. When asked about her favorite brand, she chose 'Nescafe's gold blend' for its strong, nutty smell and grainy texture. For Yashi too, everyday is a Nescafe day.
The profitable results for instant coffee businesses in India this year are a testament to its popularity. "India is one of the fastest growing markets for Nescafe and offers a huge opportunity for penetration-led growth, both through in-home and out-of-home consumption," Nestle's Head of Coffee Strategic Business Unit Philipp Navratil, had said in a statement on his India visit, earlier this year. According to Navratil in May 2023, Nescafe reached a significant household penetration of 46 million in India. Tata Coffee also announced a rise in its consolidated total income for the quarter ending June 30, 2023, reaching Rs. 708 crore, a 6% growth in comparison to the same quarter of the previous year.

Transition From Chai To Cappuccino
In a country where chai has dominated the beverage preferences for ages, coffee is gradually creating a niche among consumers. "When TATA Starbucks debuted in 2012, India was largely a tea drinking nation, with coffee reserved for occasional moments. Today, coffee boasts versatility. Amidst a new wave of coffee enthusiasts, diverse occasions now beckon for coffee enjoyment, be it catching up with friends, holding working meetings, or simply just some me-time on weekends," Krishnan said. 
Chai is still a preferred beverage and hence finds its way in coffee house menus to match local preferences, with a touch of modernity. "Recently, we (Tata Starbucks) have launched a range of local innovations nationally - including a new Picco cup size and local favorites such as filter coffee and masala chai," she added.
Expressing his views on coffee's growing popularity, Gurpreet said, "While tea remains a beloved beverage with deep cultural roots, coffee's appeal lies in its ability to align with modernity, social experiences, and personal preferences."
The positive response from the customers has led to the opening of 71 stores across 15 new cities in the last fiscal year — marking the highest annual store growth to date for Tata Starbucks. 
ALSO READ: Too Little, Too Soon? Revamping Its Look Should Have Been Air India's Last Priority