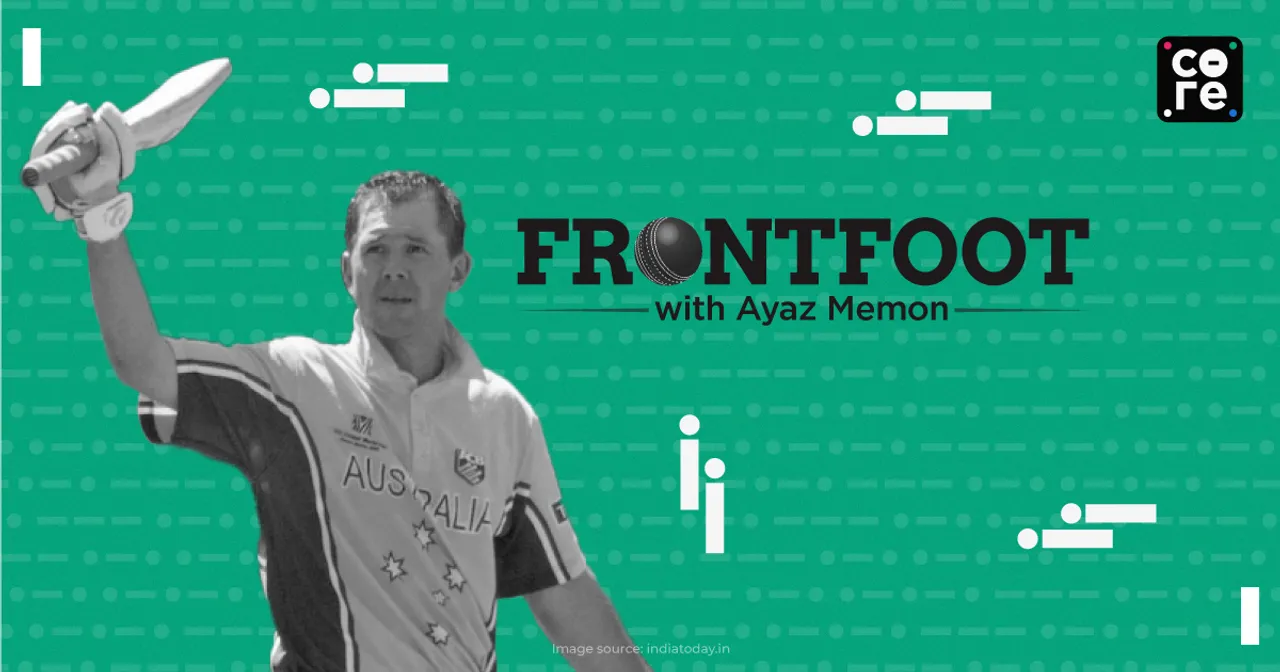 The memories and wounds of the 2003 Cricket World Cup final in Johannesburg, South Africa may still be fresh for many cricket fans. It was when team India, which had been picking up pace and winning handsomely, faced an agonising defeat at the hands of the Australian team. 
"Australians were the benchmark," veteran sports journalist Ayaz Memon said. "Players like Dravid, Tendulkar and Ganguly used to covet scoring runs or taking wickets against Australia because they knew Australians were the best," he said. Recounting that fateful final on March 23, 2003, Memon explained that Australia was a formidable team with the players they had in their ranks, despite Shane Warne being pulled out. "It was almost like a roll call of honour," he said. 
In India, Tendulkar was the dominant batsman of the tournament until he (and everybody else) was upstaged by Ricky Ponting in the final. Before facing them in the finals, India had also lost badly to Australia in a Pool A match. This, Memon pointed out, gave Australia a "psychological hold" over India and put the team under pressure. 
In the latest episode of Frontfoot, Joshua Thomas, The Core's Executive Producer (Podcasts), spoke to Memon about the 2003 Cricket World Cup final and the lessons that came out of India's crushing defeat. "India has learned so much from Australia over the years," Memon said. "The level of excellence that they showed on the field was something that all teams across the world aspired to reach and certainly the Indians did."
Here are edited excerpts from the interview: 
Today we are going to be talking about the 2003 ICC World Cup Final, which was one of India's worst defeats to my memory. But India's journey to the final was pretty stellar. But before we came to the final, there was one Pool A match where India played Australia, which was a low scoring match, but Australia won by a large number of runs. Were there any lessons from this match that might have changed the outcome of the final? 
Look, it turned out to be a disastrous campaign for India against Australia in this match, the Super Six match before the final, and then, of course, also the final. So to being thrashed by nine wickets in the earlier match at the Centurion and then in the Wanderers Stadium at Johannesburg to lose by 125 runs – It just showed how dominant Australia were against India. And let us not forget that Australia were then the reigning champions. They had won in 1999 and were a formidable team. Just to kind of read out the kind of players they had in their ranks, Adam Gilchrist, Matthew Hayden (openers); Ricky Ponting, captain at number three. Devastating player if there ever was one. Damien Martyn, Darren Lehmann,Michael Bevan, Andrew Symonds,Brad Hogg, Brett Lee, Glenn McGrath, Jason Gillespie, it is almost like a roll call of honor. The only guy missing there actually, was Shane Warne. And he was originally picked for this World Cup but then had to pull out because there was some banned substance that he took, which he had claimed was for medicinal purposes or his mother had kind of put it by mistake into his water or whatever else he was consuming. But be that as it may, the ICC ruled that he cannot participate in the World Cup, which is unfortunate for him, more particularly than just for the team. But even without the great Shane Warne, the Australians were a dazzling team and a deadly team. It was not easy to beat them. And India realised it to their cost in this match at the Centurion and then again in the final at Wanderers, Johannesburg.
So leading up to the final, were there any changes that were made to the team? Because almost all the matches India played, we won by a large margin from what I saw. And did Sourav Ganguly's captaincy play into any of this? Because I am just curious whether all of it was just riding on Tendulkar's shoulders?
Tendulkar was the dominant player, the dominant batsman of the tournament till, of course, he and everybody else was upstaged by Ricky Ponting in the final. But were they missing anybody? 
Look, I think in the selection, the problem for India was only at the start when there was a controversy about VVS Laxman not being included in the squad. VVS Laxman had been in terrific form for India right from the 1999-2000, making runs in Australia, in India, in Australia again. And not just making runs, making runs, making huge scores and making them in great style. The only thing which was held against him was that he had some knee problems. So he was not the swiftest man on the field. And it was thought that this might hurt India. His not being as quick on the field as limited overs cricket demanded. So there was Yuvraj Singh, there was Mohammad Kaif, Dinesh Mongia. All these young guys were coming apart from Sourav Ganguly, Tendulkar, Sehwag, Dravid – the old guard, so to speak. Sehwag was not really the old guard, but he had been around for a while. But Laxman not being there had created a flutter and a controversy. And when India did not do really well at the start of the tournament, then it seemed there was a lot of criticism about the selectors because Laxman had been left behind. 
But then India picked up pace and started winning and winning handsomely and then beating most teams, except, of course, Australia in this match at Centurion, where we got licked. India got licked, having scored only a paltry 125 and Australia reached that target in what, in just about 22…in the 23rd over losing only one wicket. So, a very comprehensive win for Australia in that match. And that gave them a psychological hold, I would imagine, when the two teams met in the final. It gave Australia a psychological hold over India and it put India under pressure.
Well as they played in other matches, including beating England and before that, Pakistan and so on. Running up against a formidable Australian team who they had lost to by nine wickets earlier, obviously had a psychological aspect to it. And it played out, I'll tell you how. And that perhaps is something that is an interesting lesson to remember. Even, for instance, Ganguly, he won the toss in the final and he chose to bowl first. Yes, there was a bit of a cloud cover over Johannesburg, but otherwise it was a flat track. And then he was a little concerned about if the wicket was fresh, what the Australian fast bowlers could do to his batting lineup. Because remember, in the earlier match when they had met, India had been bowled out for 125. And that kind of played on his mind. And he asked Australia to bat first in the final hoping that the fresh wicket or newish wicket kind of a thing his bowlers would be able to exploit better. It did not quite work out that way in the final. Australia got off to a good start or a flying start through Adam Gilchrist and Matthew Hayden and then Ricky Ponting. It was just his show after that — 140 runs of 121 deliveries hitting the ball to all parts of the ground. 8 sixes in his innings. If you were at the ground like I was, it was a sight to behold. The way he kind of batted, there was just nothing anybody could do to stop the flow of runs from his bat.
 And these are bowling figures. When you read it, what happened to the Indian bowlers in that match…Australia made 359 for two. Just two wickets fell and a scoring run rate of 7.18 which even now, 20 years later…Yes, many teams score 350 plus now even 400 plus. But at that point in time, scoring over 5, five and a half, 6 runs per hour was considered extremely difficult. Look at the bowling figures…I will just give you the bowling figures — Zaheer Khan, he had been the premier bowler of the tournament. The highest wicket taker. Zaheer Khan (7 overs 67), seven over sixty seven runs; Javagal Srinath, seasoned and fine bowler (10 overs 87) ten over eighty seven runs; Ashish Nehra (10 overs 57) ten overs fifty seven runs; Harbhajan Singh (8 overs 49) eight overs, forty nine runs and so on. It just showed how dominant the Australian batting was against India's bowlers. And also how Sourav Ganguly had misread the pitch. 
Maybe the result of the final would have been the same. But if India had batted first and notched up a score of maybe 302 or 280 something, we would have had a fighting score. Then you are confronted with a score of 359, which you have to overhaul – then it just becomes…
Your heart just sinks…
Your heart sinks. And then when you lose Tendulkar in the second ball , Tendulkar, who has been your mainstay, then not only does your heart sink, but the team also sinks along with it. So,yes, it turned out to be no contest. Let's face it. India finished with 234 thanks to Sehwag making 82 — swashbuckling style. But not much else to commend from the Indian batting apart from 47 by Dravid, 24 by Yuvraj Singh. But not enough to bring India anywhere close to 359.
But all those batsmen. So, Sehwag, Dravid, that you just mentioned, after Sachin got out, the batsmen that followed him, they played to their best. So in the face of that, how do you keep your morale up or keep the spirit going? 
I think the key when you are chasing such a big score, 359 to overall, you need very good partnerships at the top. That means your opening partnership or the second wicket partnership has to be really substantial. In this case, India lost their first wicket at four, which is Tendulkar, which is a major blow. And then the second wicket at 58, Sourav Ganguly. So you might say, yes, Ganguly and Sehwag put on some runs, 50 something, but soon after that, Mohammed Kaif got out. And then when you are three down with what, just about 50-60 runs, 59 actually, you still got 300 runs to make. It is a Himalayan mountain to climb. And as it happened, that India just was not good enough. 
And you have to give credit where it is due. First to the Australian batting — they were inspired. Their mental outlook was different. And the way they played was in a really inspired fashion. They were obviously intent on repeating their success of 1999 and take home the World Cup again. And the way Glenn McGrath and Brett Lee bowled. One was hostile and quick — that was Brett Lee and he was a very fast bowler. And then Glenn McGrath, very clever, very canny. His tussles with Sachin Tendulkar is always part of cricketing folklore. And he got Tendulkar in the first over. So it shows how good Glenn McGrath was. And that day, of course, he got the better of Tendulkar. 
So, overall batting and in bowling, Australia were just too far ahead of India. And just to add a footnote here, Australia won in 1999, Australia won in 2003. And then subsequently in 2007, they were to win the World Cup again. So to complete a hat trick of wins. So that's how good the Australian team was.
And just on a side note, what makes the Australian team so good? Because their skill is just almost unrivaled, at least in this time. Is there something about what they do versus what we do that is different? 
Certainly they have a very strong cricketing culture, a strong competitive cricketing culture which other teams have started imbibing. I mean, India has learned so much from Australia over the years. Players like Dravid, Tendulkar and Ganguly used to covet scoring runs or taking wickets against Australia because they knew Australians were the benchmark, they were the best. It was always the dream of Indian players to go and beat Australia in Australia, which happened subsequently.
After this World Cup, India beat Australia in 2004, not in the series, but in a dispatch. And subsequently, many years later in 2018, India beat Australia for the first time in Australia. And then again in 2020- 2021, India beat Australia again. The second time running in Australia itself. So that was test cricket. Of course, in between, India had beaten Australia in triangular ODI series and so on… in the T20 World Cup. But the point I am trying to make is that Australia was always seen as the benchmark. And the level of excellence that they showed on the field was something that all teams across the world aspired to reach and certainly the Indians did.