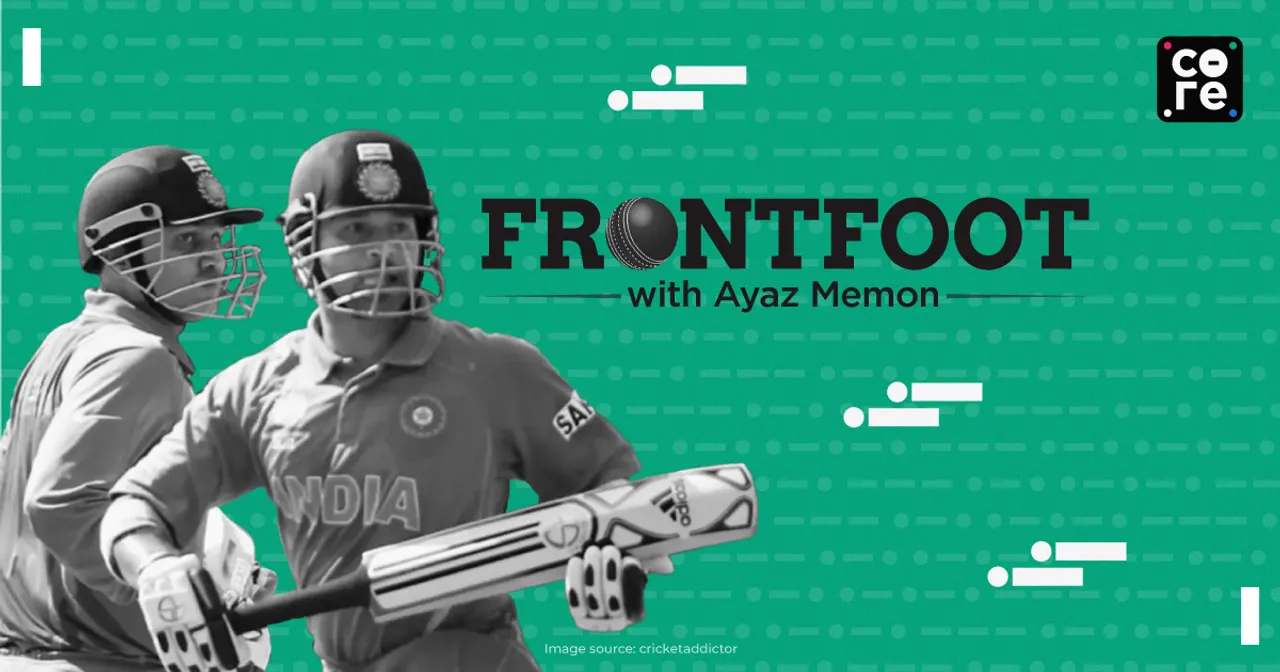 Flashback to March 1, 2003. The stage was set at Centurion Park in South Africa, and memories of that historic day in 1983, when India won their maiden World Cup, were still afresh in the minds of millions of fans. Just like in '83, India found itself facing a formidable opponent in Pakistan. 
The atmosphere was electric, awaiting a high-stakes drama between the historic rivals on the pitch. Amidst the cheers and tension, there was one name that echoed in every conversation – Sachin Tendulkar. With the ball swinging, the contest between Tendulkar and the iron chain of the Pakistani bowlers became a spectacle within the spectacle. Every delivery was a heartbeat skipped, every stroke a collective gasp.
As the world gears up for the International Cricket Council (ICC) World Cup 2023, this time hosted by India, we look back at the iconic win. 
In this episode of Frontfoot, The Core's Joshua Thomas, Executive Producer (Podcasts) spoke to renowned sports journalist Ayaz Memon to understand what defines one of the cricket world's greatest rivalries.
"India-Pakistan rivalry in cricket, in fact, in any sport, is between two arch-rivals. But in terms of intensity, fervour, the viewership — not just the entire Indian subcontinent but the entire cricket world focuses on such matches because it just has so much flavour", Memon said. 
Recalling the 2003 finals, which he personally witnessed at Centurion Park in South Africa, Memon said, "for the first time, the Centurion stadium was packed to the gills. Pakistan had run up a good score, 273 for 7. And remember, we are talking of 2003, 20 years back when scores of 300 plus were very, very rare." 
How did India put up to this challenge and what was master blaster Tendulkar's magic in this clash which has etched its own chapter in cricketing lore? 
Here are the edited excerpts from the interview: 
Today, we are fast-forwarding to the 2003 ICC Cricket World Cup, and specifically discussing the India versus Pakistan match, which was quite a nail-biting match, from what I remember. And I had read that some places in the country even declared a holiday so that people could tune into the match. 
Before we get into the match itself, I wanted to talk about what is special about the India-Pak rivalry and whether it is in the spirit of sportsmanship or it is a bitter one?
India-Pakistan rivalry in cricket, in fact, in any sport, is between two arch-rivals. It has become like that for geopolitical reasons, socio-cultural reasons, whatever you might call it. But it is a fascinating rivalry which has had its major ups and downs. Frankly, it is very different from, say, the Ashes contest between Australia and England, which has been played out over a longer period. There's a lot more legacy and tradition attached to it. But in terms of intensity, fervour, the viewership—because not just the entire Indian subcontinent but the entire cricket world focuses on such matches because it just has so much flavour. I would like to say rich flavour, which it is, though sometimes it can get a little out of hand. But I think one has to take that as part of the course, given the peculiar geopolitical situation that India and Pakistan find themselves in. 
So, for instance, in the Ashes between Australia and England, the two countries are separated by thousands of miles. Here, they are kind of joined at the naval, as they say. So there is a lot of that which plays out. But having said that, it is not just bitterness. The bitterness is more in the rivalry on the field. And when I say bitterness in the rivalry on the field, it does not mean that people get into fist cuffs or they fight each other beyond the cricket part.  Yes, there are occasions when, as I said, it spins a little out of control. It has happened that there have been altercations on the field, but that has happened also with India and Pakistan playing other opponents. 
But by and large, if my memory serves me right, I can tell you of matches played in the last 50 years. So one is, of course, the very inconsistent pattern of cricket that we have seen between India and Pakistan. So it started in 1952, not long after Partition. That was test cricket. Once a series in India first, then one in Pakistan, then one more in India in 1960-61, or 1961-62. And then after that, for 17 years no cricketing contact between India and Pakistan till 1978, largely because of political reasons–because in 1965, in 1971, there were wars between the two countries. Even in 1948, there was a skirmish in Kashmir, immediately after the Partition. So those have had a negative impact on cricket relations between India and Pakistan. But cricket relations were revived in 1978 when the Janata Party was in power. Even after that, it has been inconsistent with the pattern. Sometimes there has been a smooth flow, sometimes not. But having said that, now the pattern that has emerged is the bilateral contests between India and Pakistan are subject to the political climate in the subcontinent. 
But when the ICC tournaments are concerned, that is where the World Cup fits in, there has been consistency since 1992, the first time India and Pakistan played each other in an ICC tournament. And subsequently, in every World Cup, they have met each other in some match or the other, whether earlier in the tournament or the knockout stages or wherever. So there has been a pattern, and obviously, the audience has grown and the legacy is being built up, the tradition is being built up. 
This is the most anticipated, most looked-forward-to rivalry in cricket. And I can tell you this year's World Cup, the 2023 World Cup, is going to be played in India. And after a lot of to-and-fros, haan and naa, between India and Pakistan, Pakistan will come to India and play. And the match is scheduled to be played in Ahmedabad. And what I gather is that–what has been said in the media so far–no tickets are available for the match and no hotel rooms are available in Ahmedabad for that match. So it tells you the attraction, the appeal of the India-Pakistan match. 
And the important thing about the 2003 contest, apart from the result, and we will talk about that in the matches, it was played when I was in South Africa; a number of people descended to South Africa to watch this contest, just perhaps this contest alone. India-Pakistan played in 1992 in Australia, in 1996 in India in the quarterfinal, and in 1999 in England. Yes, lots of people from the Indian diaspora, from the Pakistani diaspora came and watched those matches, but not in such huge numbers as we saw in South Africa. For the first time, the Centurion stadium was packed to the gills and there were almost two camps available. One could see in the Centurion ground, the Pakistani supporters on one side and the Indian supporters, obviously a larger number because there are more Indians in this world, they were on the other side. And it was a fantastic contest. There was a lot of noise, there was a lot of, as I mentioned, brouhaha before the match and a lot of cheering and supporters backing the sides at the ground itself. And what we got, I think, was one of the fantastic matches.
Look, in a match, there has to be one loser and one winner. India was the winner in this match. And because primarily they outgunned, outclass Pakistan, Pakistan had run up a good score, 273 for 7. And remember, we are talking of 2003, 20 years back when scores of 300 plus were very, very rare. Hardly ever you got to see scores of 300 plus in ODIs, which is now commonplace. 273 for 7, Saeed Anwar playing a smashing knock of 101. And actually, he was the guy who put Pakistan into a position from where they could hope to win. They got runs on the board–273 for 7 but they ran into a very inspired Indian batting lineup, inspired team. And led by who else–Sachin Tendulkar. He had been the dominant batsman in the tournament, in the sense of making runs. But in this match, he just seemed to have kind of transcended to another level. 98 runs is what he made. He missed his century by only a couple of runs. Towards the end of his innings, he was hobbling a bit because of a pulled muscle or some other injury. But before that, he had done his job. He just took the dreaded Pakistani attack and I say that with due deliberation, because when you have bowlers of the calibre of Wasim Akram, Shoaib Akhtar, Waqar Younis, Abdul Razzaq, and Shahid Afridi, it is not an easy attack to tame. But that is what Tendulkar did. First, starting extremely well, in fact, with a blast. The opening partnership, 53 runs between him and Virender Sehwag, then 53 between Tendulkar and Ganguly, who was the captain. And then another partnership, a century partnership, with Mohammed Kaif, 102 runs. And then, of course, you had Rahul Dravid and Yuvraj Singh getting together and making 44 and 50 and leading the team to victory. But Tendulkar got out after scoring 98 when the score had been at 177. And remember, these 177 runs when Sachin got out, came in only at 27.4 overs, which shows the pace at which he was scoring. And what stood out, in that knock was the mastery of Tendulkar and his innovations and his improvisations. Shoaib Akhtar kind of–as they say, using boxing parlance in cricket– uppercut him over the third man for a six, a stroke which was then emulated by Sehwag. And it just gave no opportunity for the Pakistani bowlers or the Pakistani team to settle down. 
They may have thought, at the innings break, that they had perhaps a decent enough score to defend 273 but it just did not work out. It was not their day. It was not their day because the Indians were completely charged up and played like a team possessed. Waqar Younis, the Pakistan captain, who was leading Pakistan in that match looked completely hapless as Tendulkar and company went about their task. 
You mentioned that the bowling lineup that Pakistan had was one of the most, as they say, a scary lineup- Wasim Akram, Shoaib Akhtar. Are you saying Sachin managed to just take down these bowlers like a knife-through-butter? Or did the bowlers make any mistakes?
No, I think, the biggest advantage of this Pakistani attack was their pace and, of course, their skills. Wasim Akram was a maestro at swing bowling. Shoaib Akhtar would usually come in and bowl at almost 100 mph, give or take a few miles here or there, but consistently quick. Waqar Younis is always a dangerous bowler. So this was a very formidable bowling attack. Shahid Afridi, a leg spinner, Abdul Razzaq, again, a clever bowler. So you had to be on top of your game.
Yes, the pitch was a little batsman-friendly. Remember, Pakistan had also made 273. But when you are chasing 273 against this kind of attack, first there is the psychological hurdle you have to overcome. And I am chasing 273. These are my bowlers. These are the bowlers I am facing. So if you start eschewing all risks and start playing yourself and try and kind of settle down, you may take so much time that the asking rate climbs up and then you are forced into taking high risks and maybe even playing reckless strokes. So in hindsight, the remedy was to start scoring runs right from the start and build a tempo which would put pressure on the Pakistani bowlers. So that is what Sachin and Sehwag did. They started in a very strong manner and they kept going. Certainly, as a couple of wickets fell at the other end, Sachin still kept going, just maintaining the same momentum. Because if you allow that momentum to kind of wither away, then the pressure comes back at you. And then when you are chasing a big target against bowlers of the calibre of Akram, Akhtar, Younis, Razaaq and Shahid Afridi, it does not get easy. So once you have got on top of the batting, you have to ensure that you stay there because this is a strong Pakistan team. 
Talking about batting partnerships. If Sachin is the star, and you have your batting partner, how does Sehwag or Ganguly, how do they support Sachin in that? Are they, sort of, just redundant in the scheme or how do they support Sachin as a star batsman?
I think the keyword is supported. I think that when you are in the top order, there's nobody who's redundant. Otherwise, you won't belong in the top order as a batsman. So whether it is Tendulkar or Sehwag, Sourav Ganguly or Rahul Dravid or Yuvraj Singh, their job is to score runs. And if they are in good nick, or one of them is in good nick, the job of the other person is to play the supporting role. That was the thought process. Though, in limited overs cricket or ODI cricket or white ball cricket or in T20, certainly more pronounced, it is expected that from both ends you will make runs. 
But when Sachin was in such roaring form, then automatically the others kind of decided in the dressing room or the middle, that we now need to ensure that he keeps going at the pace at which he is scoring. And for that, we need to ensure that wickets do not fall from the other end so that the Pakistani bowlers or the opposing bowlers start getting an opening to come back into the match. So that is how, as they say, the jugalbandi of batsmanship goes. And it is not easy to keep a batsman like Virender Sehwag, who is a naturally aggressive batsman, to mellow down. He is not a mellow batsman as you know, he was matching Sachin's stroke for stroke at the start till he got dismissed.
So Sehwag got out and then suddenly even Sourav Ganguly got out. He got out through the first ball. So that caused a bit of a stutter and it seemed that India might run into a bit of a problem. But Sachin was in sublime form and he found a very good partner in Mohammad Kaif. Mohammad Kaif was a youngster. He and Yuvraj Singh were just about starting in their international careers. Kaif, Yuvraj, Zaheer Khan–these were all the young brigades who have come up at the turn of the century for India. And Mohammad Kaif is not as gifted a player, maybe, as Sehwag, but a very strong and very stable head on his shoulders. He was not the nervous, fidgety kind or gave in to extravagance or needless flamboyance. So he held his ground and he stuck around with Sachin playing the perfect foil for Sachin. And Sachin was in such outstanding form that the ball found the sweet spot of his bat almost every time. There was nothing edgy or nervy about Sachin's batting that day. He was in command, an absolute master. And with Kaif giving him that support, the victory margin or the lead started getting whittled down very rapidly. 
Till, of course, Kaif got out on 155 and then Sachin himself, as I mentioned, nursing a bit of an injury, at 177. He was not in comfort at all. But by that time, India had brought the lead or the margin of victory down to under 100. And then you had Mr Reliable–Rahul Dravid there and young Yuvraj Singh, who loved strokes. Yuvraj finished a very strokeful half-century. Rahul Dravid had a very solid 44. And, yes, as it happened, the victory was achieved fairly easily. In the final analysis, India won this match quite comfortably with, I think, almost 5 overs to spare.