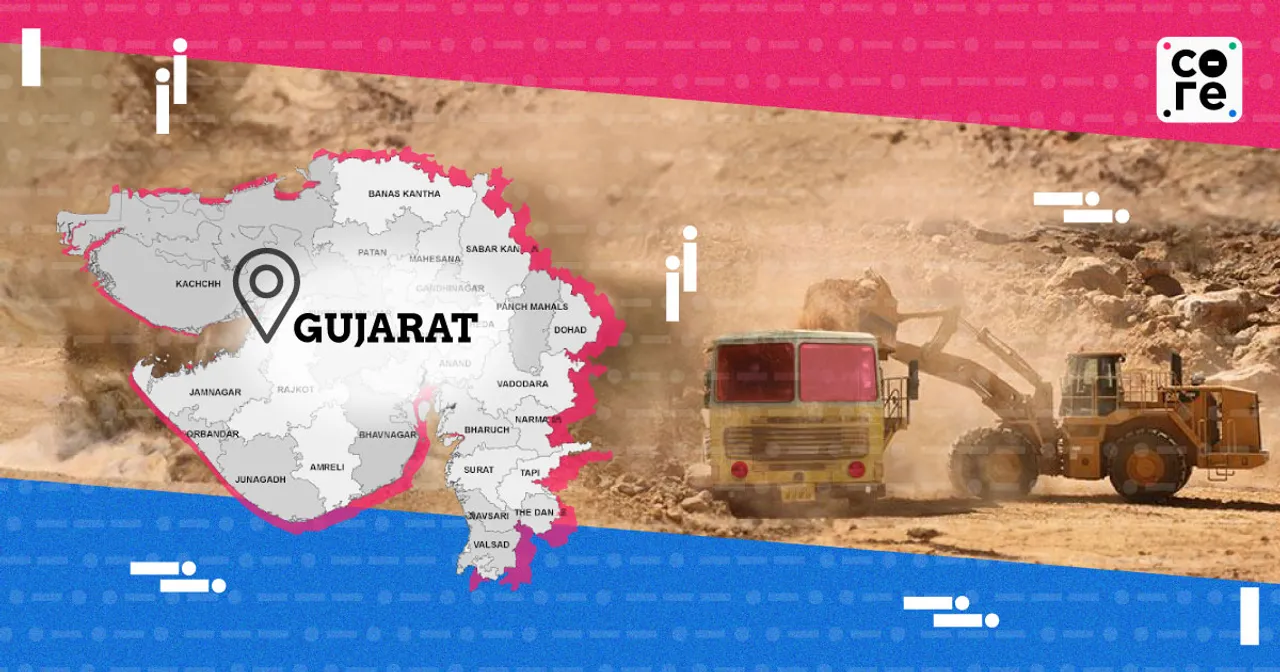 "Bauxite mine no dhandho pati gayo. (Bauxite mines business is over.),"  says  a labourer sipping a cup of mid-day tea at a highway tea shanty near Bhogat village in the Jamnagar district of Gujarat.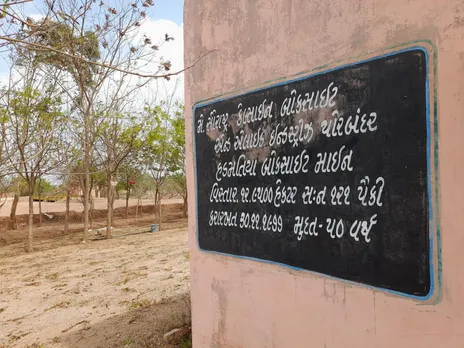 He used to work in one of the mines in the area but was now in search of work on private contractor rolls in a nearby soda-ash plant of the Ghadi Detergent brand at Kuranga village. 
He worked in the bauxite mines for more than 15 years and earned Rs 350-400 a day, but had been rendered jobless. He is the sole bread earner of a family of three and doesn't mind moving away from the region if he finds daily wage job opportunities.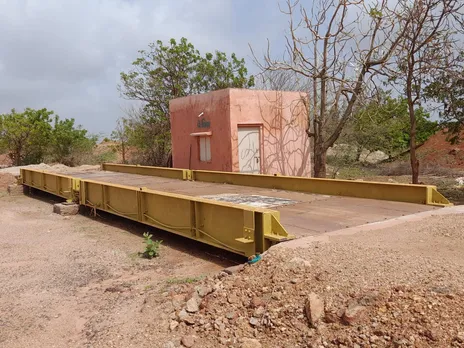 This is the story of more than 50,000 daily waged labourers who were directly or indirectly employed by the bauxite mining businesses in the area. 
The Hadmatiya Bauxite Mine, leased to the Saurashtra Calcine Bauxite and Allied Industries Ltd (SCABAL), situated in the Devbhoomi Dwarka district in Gujarat on the west coast of India, was once abuzz with activity. 
Today, operations have ceased and the mining project lies deserted. Massive equipment for mining and other logistics lies still even as the site offices remain closed. Shanties built for labourers who worked in the mines lie abandoned too. 
But this is not just the story of Hadmatiya MIne.
Several bauxite mining projects in Gujarat in and around the Porbandar, Jamnagar, and Devbhoomi districts have shut down.
Gujarat had a thriving mining industry for more than four decades. But a combination of several factors has changed that. The key reasons are depleting mine reserves, changing royalty rules and imposition of export duty on mined bauxite. The mined bauxite from this area can be categorised into two groups: plant-grade bauxite and non-plant-grade bauxite. Plant-grade bauxite is primarily sought after by the abrasives and refractories industries, constituting a premium category mostly intended for internal usage.
On the other hand, non-plant-grade finds applications in the manufacturing processes of cement and metals. Exporting plant-grade bauxite is prohibited because it is for captive use, while export of non-plant-grade bauxite is allowed.
The Domino Effect 
Moreover, the shrinking of bauxite mining has a domino effect on logistics and shipping trade. Trucks were used to transport mined bauxite to the nearest ports and shipping vessels would transport them to other destinations. Now all that has stopped too. 
Bhupatbhai Ahir, a small-time logistics business operator, told The Core, "This has badly affected our business operations, most of the mines and plants are shut. Our fleets are lying idle and our manpower is without jobs." 
Ahir said that the fleets of trucks were deployed to transport bulk cargo and did not have any other purpose. "Many operators in the trade have brought trucks on bank loans, with the business almost negligible, such operators are left with no option but to pay monthly instalments. 
The Beginnings Of Bauxite Mining In Gujarat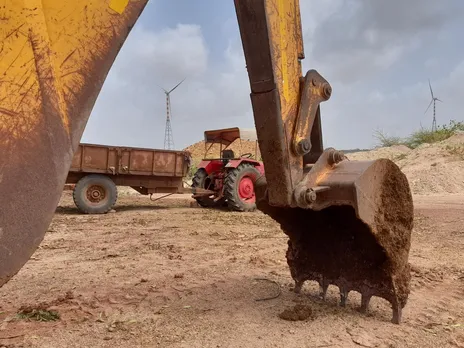 Gujarat is the second largest producer of bauxite in India. In 2021-22, Odisha accounted for 73.13% of the total output of bauxite, followed by Gujarat (8.97%) and then  Jharkhand (8.04%). Bauxite mining in Porbandar, Dev Bhoomi Dwarka and Jamnagar districts is four decades old. 
Bauxite mining was not open till the late 1970s when a bill from the Gujarat government allowed the mining of bauxite for captive consumption through a bill issued for five years from 1979-83. The government indicated that a mining license will be given to those who have a forward integration in the form of a manufacturing plant to use the mined proceeds.
The first calcine bauxite plant in the area came up in 1974 with the intervention from the Centre, where halted sanctions for mining leases were directly passed by the authorities of the Prime Minister's Office. Since then, there has been no looking back. The triangular coastal mining area of Porbandar, Devbhoomi Dwarka and Jamnagar saw 127 mining leases approved. Today all 127 mines and mine pits stand marooned. 
Padamshi K Raichura, the managing director of SCABAL, told The Core that it was multiple factors that have led to the situation that the bauxite mines of Gujarat are in today. He said, "If you see the matrix of the money we pay through the government directives, it is royalty plus 15% duty on exports plus, 30% district mineral fund on royalty plus 18% GST on royalty. How is it possible to operate a business in a situation, where the reserves are dwindling and you have such a heavy cherry-topped tax structure?"
Fluctuating State Government Policies
The fluctuating (Gujarat) state government policies also created uncertainty in the business. In 2007, the state government issued a policy restricting exports of bauxite. It was aimed to encourage value-addition for non-plant grade bauxite. 
However, soon the industry realised that demand for value-added products produced from non-plant-grade bauxite was limited compared to the mining yield ratio of plant and non-plant-grade bauxite.
Plus the freight cost component for shipping value-added products of which application was more or less with aluminium manufacturing plants was not viable.
Secondly, a major application of the value-added products was in the cement industry, where such captive value-added products are manufactured at the end-user facilities with their own mining resources of limestone and bauxite. 
After much persuasion and engagement with the state government authorities and officials, exports of non-plant-grade bauxite were allowed via another set of state government policies as directed in 2014, which involved 22 steps of clearance from several government departments.
This frequent policy fluctuation and the final policy of restarting exports with 22 sets of clearances compelled a majority of mine operators to shut their businesses because they incurred huge losses and continuing the business became unviable.  
Royalty On Mining Proceeds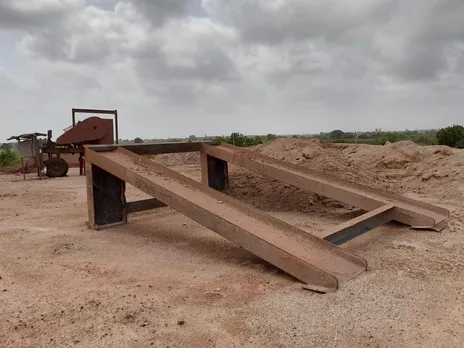 The Gujarat government increased royalties imposed on bauxite. This put further financial pressure on the already struggling mines.  
Until 2007, the royalties levied by the Gujarat government on plant-grade bauxite was Rs 300 per ton and for non-plant-grade bauxite was Rs 80 per ton. It then revised the royalty for non-plant grade bauxite, raising it to Rs 120  per ton.
The royalties have been further revised over the years. As of today, the royalty for plant-grade bauxite is set at Rs 750 per ton for captive consumption, whereas the royalty for non-plant-grade bauxite is at Rs 300.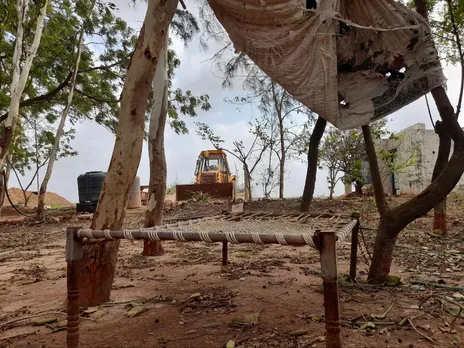 The mining fraternity fought a decade-long legal battle against the amount of royalties to be paid from 2007 to 2017 and received a verdict in their favour. 
The Supreme Court ordered the Gujarat government to charge royalty according to the norms of the Indian Bureau of Mines (IBM) and was asked to return the excess royalty charged between 2007 and 2017 at Rs 120 per metric ton, for non-plant grade bauxite. However, in complaints made to several government bodies, the miners have claimed that the excess royalty collected has not been refunded.
There was an immediate directive from the Gujarat government in 2016-17, which read that royalty applicable on the highest quality plant-grade bauxite needed to be paid for exporting non-plant grade bauxite. This meant that whether you deal in plant-grade or non-plant-grade bauxite, the royalty structure remained the same. 
The new directive also said that to get refunds of the excess royalty, the miners had to obtain an end-user certificate from the buyer or the shipper to ascertain that what was exported was non-plant grade bauxite.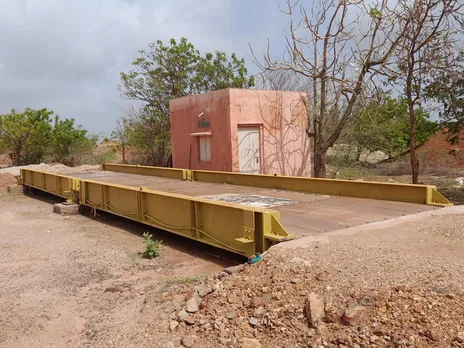 ALSO READ: From Chai To Cappuccino: Exploring the Growing Coffee Culture and Preferences in India
Duty On Exports 
During the Union Budget of 2014 presented by then finance minister Arun Jaitley, the export duty on bauxite was doubled from 10% to 20% to curb the outflow of non-plant grade bauxite. Jaitley had said that this was "considering the need to conserve our natural resources". Mining lobby body Federation of Indian Mineral Industries (FIMI) had criticised the move saying it would only lead to the piling up of the material in the country. 
Two years later, during the Union Budget of 2014, Jaitley announced that the export duty of bauxite was reduced to 15%. This export duty continues to remain till today. 
Raichura said, "The business has been completely hammered, in the year 2014-15, in a combined capacity from across this area, we had exported 78 lakh (7.8 million) tonnes of non-plant grade bauxite and were aiming to settle at 1 crore (10 million) tons of exports in following years but in the year 2022 we have hardly managed to export 50,000 tons of non-plant grade bauxite." 
Raichura claimed that there were business entities that used bauxite that had lobbied for a ban on exports of non-plant grade bauxite. But they used  5 lakh metric tonnes of total bauxite from the 250 million tons of bauxite mined in the area, which was hardly 2% of the mined proceeds. 

This has led to inventory cost pressure on the bauxite miners and exporters.
"It is practically and logistically not viable for them to ship the cargo from the west coast to the east coast. Secondly, the kind of non-plant grade bauxite available in this region may or may not have the kind of stringent quality parameters they are actually looking for, so they haven't taken the kind of off-load for which they lobbied. Thirdly, with them not taking the required cargo, huge inventories of non-plant grade bauxite are lying stacked across the pits, further putting inventory cost pressure and marginalizing several to remain either defunct or get out of trade. This lobbying by the corporate giants and mammoths to ban exports of non-plant grade bauxite has brutally damaged the business rising on the horizon which had captured a significant size of market share in the world markets and we were fantastically competing with China," Raichura said. 

In November 2022, the FIMI sought withdrawal of export duty on bauxite saying it would lead to the utilisation of low-grade bauxite and also the reopening of closed bauxite mines. It said that India was in competition with exporting countries such as Australia, Guinea, Indonesia and Malaysia for the export market share, but it was not feasible to export bauxite with the current duty imposed on it. 
Road Ahead 
According to Raichura, the directives made in the Union Budget 2022 Finance Bill make it difficult for miners to conduct business. 
"Miners can only export 50% of the captive consumption from the mined proceeds, meaning, if we as a company have extracted 1,000 metric tons of bauxite from our mines, of which 150 metric tons which is a plant-grade material is used in our own plants, we can only export 50% of the captive usage, meaning we can only export 75 metric tons of the 850 tons balance lying with us, which will skyrocket our operations and inventory cost, how is business viable in such situation?" asked  Raichura.
Because of the shutting down of many bauxite mines, consumers and end-users like refractories, steel and cement plants have started importing plant-grade and non-plant-grade bauxite. 
Bharatbhai Makhecha, the proprietor of Bharat Abrasives & Chemicals Industries, a mine proceeds-selling entity from Porbandar, said, "Presently imports are largely happening from Africa, but it is four times the cost by the time material reaches your works site." 
It costs nothing less than Rs 40,000 per ton as against Rs 22,000 rupees per ton pricing for bauxite from this west-coast area of India. 
Plants that use bauxite are also importing it from China even though the mines on the west coast of India have the potential to substitute imports. 
The Core reached out to multiple government entities to inquire about the matter but is yet to receive a response. 
A former MLA from Porbandar, Babubhai Bokhiria said, "A major factor affecting the minerals trade across the world and nation is depleting reserves. The bauxite trade is one such example. That is the reason Orient Abrasives' Porbandar unit got sold. The government has already come out with the tendering policy to explore reserves in private land, where they can tender their land and give consent for mining by participating in the auction." 
Orient Abrasives Ltd (OAL) has a unit in Porbandar, Gujarat, to manufacture fused aluminium oxide (FAO) abrasive grain and calcined products. In July 2015, promoter R L Rajghariya sold his shares to Bombay Minerals Ltd (a subsidiary of Ashapura Minechem Ltd). 
While mining bodies have petitioned the state government multiple times, there has been no effort made to address the problems and hurdles faced by the mining sector worth Rs 50,000 crore on the west coast of India. 
ALSO READ: Pay Disparity, No Increment In 5 Years: Maharashtra's Medical Interns Struggle Over Stipends