The year 2023 has seen multiple international brands entering the Indian beauty industry. While they may not be directly competing with affordable brands in this segment — as their consumer base is from different economic classes — they are affecting consumer preferences across the board. 
For the smaller cities and towns in India, the information boom coupled with restricted budgets has resulted in a segment of consumers who are aspirational but want affordable products.  
Speaking to The Core, Saahil Nayar, CEO of Swiss Beauty said, "The tier 2 & 3 consumer is becoming more and more evolved and they are not settling for substandard products. They want their makeup products to perform well and look good too."
Various e-commerce platforms and brands reported a surge in demand for cosmetics from tier 2 & 3 cities in India. E-commerce platform Nykaa's Pink Friday Sale 2022 received 57% of orders from tier 2 and tier 3 cities on its first day. More than 60% of the sales of prominent D2C brand SUGAR comes from tier II and III towns and cities as well.  
Traditionally, this market is considered price-sensitive and value-conscious. Over the past five years or so, the awareness around makeup products and techniques has led to an increase in sales as well as a change in consumer needs. 
However, these consumers continue to be cautious about price and reach for affordable brands. These brands have realised the changing needs of consumers and are extending their product ranges and making other changes to keep up with the rapidly evolving beauty landscape.
Sneha Varghese, senior manager at Future Market Insights (FMI), a consulting and market research firm said, "The makeup market in Tier 2 and 3 cities is expected to continue growing. Brands that successfully combine quality, trendiness, and affordability will likely thrive in these regions."
What's Changed? 
An information boom coupled with restricted budgets has resulted in a group of consumers who are aspirational but want affordable products, especially in tier 2 & tier 3 cities. 
Earlier, there was a difference in the way a consumer from a metro city made their beauty purchase versus how a tier 2 consumer did. The trend of the season was slow to trickle down and the product ranges were restricted for them. This is no longer true. "With lipsticks, you'd expect that consumers in smaller cities would buy more reds and pinks – the traditional ones. But now we're seeing that if nudes are the trend of the season, it is across tiers," Nayar points out. 
If we go back as much as 5 years ago, the access to information and the volume of educational content being created and consumed is nowhere near as high as today. With YouTube shorts and Instagram reels, the beauty industry has undergone a lot of change. "Their (beauty content creators') product reviews and tutorials contribute to the increased access to information. This data is evident from viewership statistics and demographics on these platforms," Varghese said.  
This change, however, is not restricted to just metro cities. The overall consumption patterns reveal a strong demand from tier 2 and tier 3 cities. The introduction of many international brands in India, their marketing campaigns and products, have made the tier 2 & 3 consumers very aware and informed. 
"They no longer want to settle," said Nayar, "even if they cannot afford these products, they want to get the next best thing that is easy on their pockets too". This is where affordable brands like Swiss Beauty, Blue Heaven, Elle 18, and Insight Cosmetics have found a gap.  
How Are Brands Innovating?
Taking cues from the changing consumer preferences, brands have made significant changes in their products – from product ingredients to packaging to marketing. There has been a shift towards more natural makeup looks as opposed to using multiple heavy makeup products.
The focus on skincare, especially ingredient-focused, is a prominent trend that has emerged. Active ingredients like niacinamide, salicylic acid and hyaluronic acid have made it into the consumer's vocabulary. The evolved tier 2 consumer now understands what ingredients in their makeup do, and which of these they should use. 
Brands have picked up on this and are now focusing on adding skin-friendly ingredients and marketing them accordingly. A couple of years ago, a foundation used to be just a foundation, but now labels boast of hyaluronic acid being infused in the foundation. 
Siddhartha Khaitan, chief financial officer at Esme Cosmetics which owns the cosmetics brand Blue Heaven, points to another example – the addition of papaya and turmeric in face washes. "Consumers are happy to take these products and they no longer need to be educated of the benefits of these ingredients either," he said. 
This consumer demand is coming not just from awareness about product benefits, but also from international brands, which have affected another change - packaging. 
"With makeup products, jo dikhta hai wo bikta hai (what is seen, sells). So, we have invested in getting our packaging to resemble the industry standards. We have reworked colours, fonts and artwork as well as the functionality of packaging too," Khaitan told The Core. 
Case in point, Blue Heaven's newly launched product range - "&".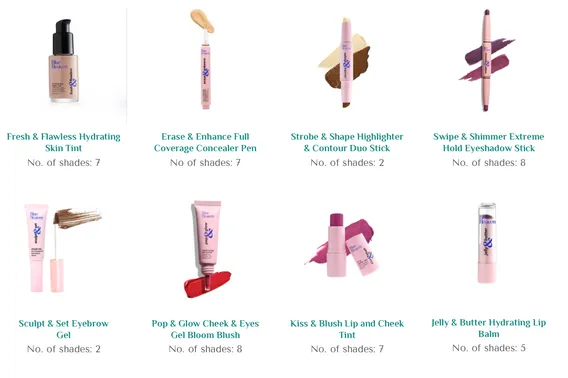 Some products in the range such as eyebrow gel, liquid blush and skin tint were unheard of a couple of years ago. The packaging too isn't what affordable makeup brands would traditionally opt for. "Brands have come out of their conventional offerings. They've recognized that their consumers now have other aspirations. They are more experimental and might even shell out a little more for better quality products," Varghese said. 
At Swiss Beauty, Nayar's focus is also on convenience. "We are trying to minimise the number of products one needs to buy. So we are combining multiple products in a single packaging," he said.  
What Else Do Consumers Need? 
The evolved consumer also places importance on sustainability, inclusivity, safety and ethics. For affordable brands that are working on thinner margins, making these switches is easier said than done.  
"It's easy to take sulphur out of products, and we've done that. But when it comes to creating a paraben-free product, the costs increase too much. Our consumers are not conscious enough to pay the higher price for these switches. On our end, we are doing what we can - minimising plastic, opting for paper packaging, reducing wastewater," said Khaitan. 
Swiss Beauty has introduced tin boxes and reusable pouches for bundled products, minimising bubble wrap, and introducing paper pallets among other things. Although, Nayar said that they haven't passed on these costs to the consumers. "It's a longer game," he said, "The revenue doesn't add up to the costs, but losing a little bit on the bottom line to create a comfortable space for my consumers is important to me." 
Is Premiumisation Hurting These Brands? 
The increase in beauty and personal care consumption in tier 2 and 3 cities has caught the attention of the bigger players too. International chains and brands like Sephora and Estée Lauder, homegrown brands such as Lovechild by Masaba and D2C brands like SUGAR – everyone wants a piece of this growing tier 2 & 3 market. 
Khaitan, however, is not worried as he believes that his consumers are very different from theirs. Within tier 2 & 3 cities, there are different social strata and the people who buy affordable are price-sensitive, he said. 
The average monthly spending on beauty products in tier 2 cities in India is Rs 500-600 per month, according to FMI data. In comparison, tier 1 consumers spend as much as Rs 1000-1200 per month.  
According to Varghese, "Although luxury brands like MAC and Chanel are making inroads into smaller cities, their primary target audience remains the affluent population. Their stores in cities like Chandigarh and Indore cater to the growing upper-middle-class population."
Currently, brands like Lakme and Maybelline are prominent in these markets as they offer a healthy mix of quality and affordability. However, Varghese said that trendiness will also be an important factor going forward – which brands like Swiss Beauty and Blue Heaven are heavily focusing on. 
So, while premium and high-end brands may enter the market, affordable brands are expecting to hold onto their price-sensitive consumers on the back of their affordability. At the same time, these brands have taken note of their changing preferences, realising that innovation is inevitable for their survival.