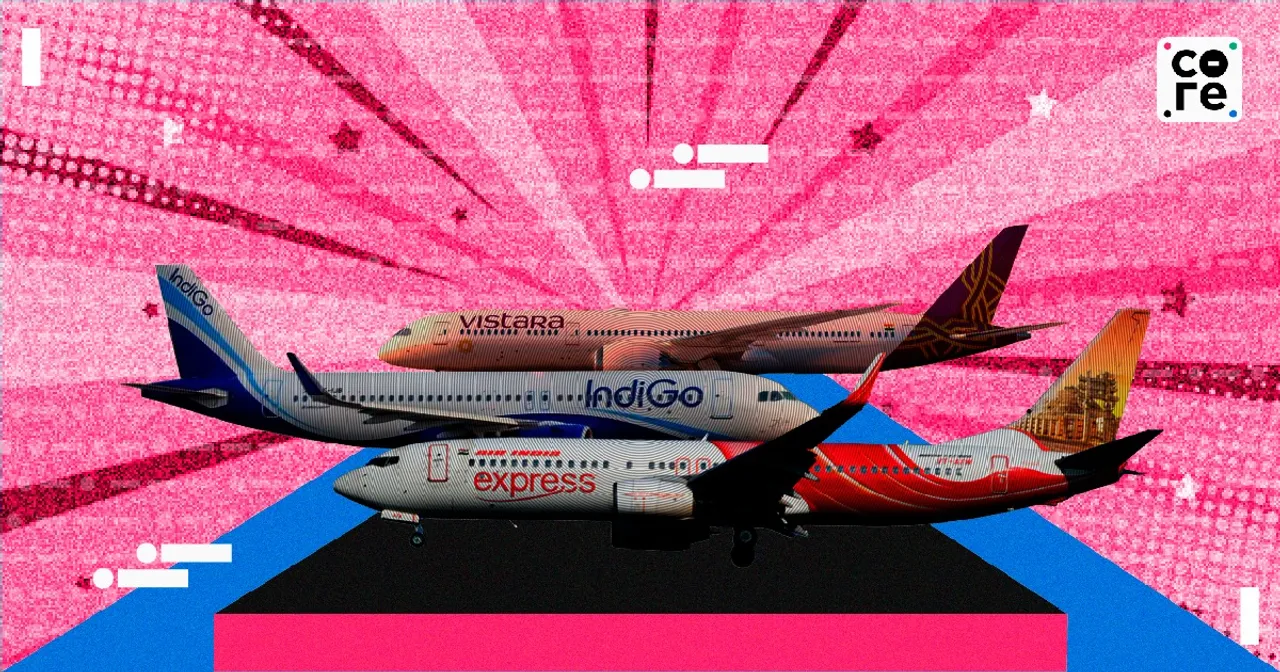 There's never a dull moment in India's aviation sector. Be it the recent Go First crisis or the expected merger between Air India and Vistara, big developments always seem to be taking place.
The Indian skies will have undergone a sea change by 2025 from those in 2019, with unprecedented consolidation and dramatic transformation.
What would we likely see if we gazed through a crystal ball?  Will India's low-fare market leader IndiGo find competition in the merged AIX Connect and Air India Express? And will the less well-capitalized players in the market survive? Here's what we could expect a few years down the line.
The New Vistara And Air India Combine
Expect some amount of fireworks as the Tata-run Air India merges with the Tata-SIA run Vistara, a move dreaded but accepted as "fait accompli" by employees of both entities. Once done, India will have a new serious international and domestic player that can wrest back some of the Indian traffic that flies overseas on Emirates, SIA and a clutch of foreign airlines in the absence of Indian carriers offering these routes. Finally, some credible competition.
For this to happen, the Indian government needs to adopt a more conservative policy in its grant of bilaterals.  Air India and the Tatas, for their part, need to offer a service comparable with the best in the world. The latter remains a big if since this requires a mindset and attitudinal shift in the former public sector entity's staff across the board, which many argue is easier said than done.
The domestic leg of the carrier will act as a hub and spoke, bringing in Indian passengers from cities across the country to fly directly to the destinations they desire.
A New Well-Funded Low Fare Player
A smoother merger, giving new and expectedly credible competition to India's low-fare market leader IndiGo, will be a new combined entity: the merged AIX Connect and Air India Express.
As things stand, AirAsia India, renamed AIX Connect in December 2022,  is currently flying with a total fleet of 28 A320 planes (of which five are Neos). It has connected 18 destinations in India since its launch in 2014 and commands a market share of 6-7%  as per Directorate General of Civil Aviation (DGCA) data.
The airline has remained loss-making and has been beset with problems from the start. Top management changes and a surprisingly low on-time performance, especially at the metro airports, hovering at 60-65% as compared to most rivals have been among the major problems. Earlier this year, it was in the news for pilot training and safety violations. The DGCA had taken some action to bring it more in line with the industry standards.
Air India Express, currently subsumed in Air India, operates with a 26 B737NG and primarily acts as a shuttle service between a clutch of Indian states and the Gulf or the Middle East including UAE, Oman, Qatar, and Doha among others. It caters to unskilled and skilled Indian labour who head to these countries in search of work.
Although cultural challenges among the 5000-odd combined staff shall remain, the network of the two is likely to be quite complementary as it has no major overlaps as of now.  The combined entity that emerges from this marriage will be a low-fare airline operating currently with 54 aircraft (A320s and B737NGs) primarily in the Indian domestic and short-haul regional routes space, and competing with the giant in this segment, IndiGo. The total capacity is currently divided half-and-half and while there may be minor adjustments, the capacity deployment post-merger is likely to remain largely the same.
The difference, however, is likely to be in the capacity deployed on metro-to-metro connections, which in the case of IndiGo is almost 20% whereas the newly merged entity will focus more intensely on metro-to-non-metro and non-metro-to-non-metro sectors. By keeping its metro-to-metro capacity low, the new entity will likely ensure it is not pitched in direct competition with IndiGo and others. In due course, the fleet will also be upgraded since barring five A320Neos, almost all the aircraft are pretty old.
IndiGo Changes Its Contours And Colours
India's largest private airline is on a solid wicket. With a market share of over 50% and demand for flying bouncing back, the last two years of red ink on its balance sheet should soon be an easily forgotten blip. The fundamentals of the airline remain strong, and unless the Indian authorities mess up in some major way, the fundamentals of the economy will fuel the airline's future.
Fortunately, IndiGo is neither in denial nor incognizant of the new challenges it faces. The airline is pretty much a changed creature from what it was in 2019. Whether the changes made in the airline are for the better or worse, time will tell, as it gears up to take on new competition.
This includes virtually a brand new team at the helm with some heavy-weight exits including former CEO Rono Datta, its chief of strategy and revenue and an old loyalist Sanjay Kumar and its head of human resources Raj Raghavan. Of these, the airline is likely to find it hard to replace Kumar's intuitive knowledge and understanding of routes, networks and fares, arguably among the best in the business.
Perhaps the most critical question the airline's board and management will now need to answer is: where do we go from here? Will IndiGo stick to the knitting or give in to the temptation of facing the new threat with all guns blazing? In other words, does it continue to doggedly focus on what it knows and does best (read: the domestic market and tier 2 and 3) or does it take the riskier path of altering its DNA, reinventing itself to become like an Emirates, a Singapore Airlines or even the new Tata hybrid. Should or will it at some stage metamorphose into a full-service airline with wide-bodied planes and caviar on board? The answer may only be known once Air India becomes a credible rival. For now, it is focused on shedding the losses accumulated during the pandemic and future growth through its A320Neos and the expected A321XLR.
The Rest Of The Pack
The Indian airspace remains full of surprises and one such surprise came when in the midst of all the gloom and doom post-pandemic, a new low-fare airline Akasa took to the skies. On August 7, 2022, Akasa launched operations with two B737 Max 8 aircraft of the 72 on order and has quickly grown to a total of 19 aircraft and 2,500 staff by May 2023, as promised. This is a record of sorts among the airlines in India. SpiceJet, AirAsia India and Vistara took five, four and three years respectively to reach the same size post-launch. Only IndiGo managed it in around 18 months. Expectations from the entrant remain high as it starts with a clean slate and none of the baggage its rivals carry.
Meanwhile, following on the heels of erstwhile Jet Airways, Mumbai-headquartered budget airline Go First recently declared bankruptcy and speculation in the industry was rife that its closest rival airline SpiceJet would also follow suit, despite the airline having survived over the years through thick and thin.
SpiceJet's management issued a recent release denying all rumours of its imminent closure and said that it was setting its house in order including bringing back some of its grounded fleet. Industry observers however argue that survival for the less well-capitalized players with a market share of below 10% in today's environment will be increasingly challenging, Watch this space for further developments.