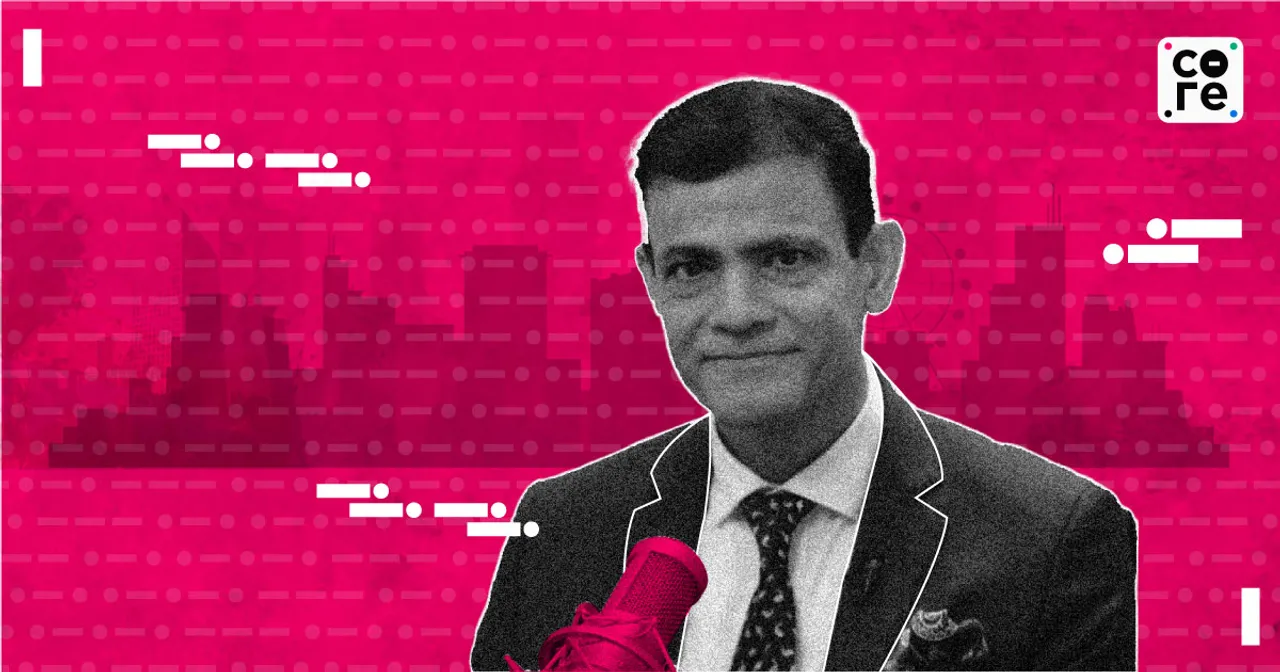 India's real estate sector has been a dynamic field with many factors that shape its demand and supply landscape. From high rates of urbanisation to evolving economic conditions and shifting demographics, Indian real estate is an interesting interplay of such ever-changing factors.  
The Core's founder and financial journalist Govindraj Ethiraj spoke to Anuj Puri, chairman of  Anarock Consulting, the real estate research and consulting firm, to understand the dynamics between the real estate industry, demand, supply and the consumer. 
Not only are renters, especially millennials, looking to buy homes, rather than rent, but also the demand for bigger homes have increased. Puri said he was surprised by the number of more expensive homes being sold now. "Before Covid, we would do one deal a month. Presently, we do three to four deals a month which are of apartments valued at more than Rs 100 crores each" he said. 
People also want better homes and the demand isn't dying down. 
"The demand for residential spaces has become more sustainable. During Covid, we thought it was a pent-up demand, but it does look like it is a very sustainable demand and people want better quality and they are willing to spend the money," Puri said while speaking to The Core.  
The key trends highlighted by Puri are the following:
Among the top seven to eight cities in India, 50% of the sale in terms of value is now happening in the Mumbai Metropolitan Region (MMR). The total value is about Rs 3.5 lakh crore per year. "Nearly Rs 175 thousand lakh crore is just MMR," he said.

Puri said, "A number of very pedigreed corporates have now come into real estate which previously they were not. Previously you had Mahindra, TATA and Godrej." Now, he said, majors like Hero, Birla, Jindal, TVS and Kirolskar have also entered the real estate sector.

There are more homes above Rs 100 crores being sold than pre-Covid. Puri said, "Before Covid, we would do one deal a month. Presently, we do 3 to 4 deals a month which are of apartments valued at more than Rs 100 crores each."
Here are some edited excerpts of the interview: 
What is the most shocking or interesting thing that you have heard in terms of deals or development in the real estate space in the recent past?
A number of things have changed or shocked me in the last three to four years. First, when Covid hit for the first time, I thought real estate was going to take a hit. Everything was moving online and I thought this was going to be a tough time for real estate. But on the other side of Covid, I think the way our economy functioned, and the way governments rallied behind the businesses really surprised me pleasantly. I think the shocking thing I have seen is that the office demand still continues to be robust. If you look at Western economies, particularly the US or Europe, they are 50% occupancy or less. 
And if you look at any of the listed companies today, if you were to take the SEZ portfolio outside, they are between 95%-98% occupancy. What is really amazing to see is this kind of demand. We are again seeing three and a half crores or four crores square feet of new demand on the office side in this calendar year. Yet internationally people are struggling to come back to office. 
So, is India diverging in that? 
Completely diverging and that is a pleasant surprise that people have come back to the offices, wanting to work from offices, and occupancy has really gone up. 
Or their bosses are making them come back?
Or their bosses are making them come back to the office. The second is in the residential area. I think lots of changes have surprised me. One is that millennials who used to rent are wanting to buy. Second, people are wanting bigger houses. Just before Covid, the houses were getting smaller. Suddenly they are moving bigger. 
They want better quality, more infrastructure, more open spaces, more ventilation. They want projects of good quality developers. Lots of other things like plots. If you come out and sell, overnight they sell. Villas, bungalows, and second homes in places like Alibaug, Lonavala, and Goa amazingly going and getting sold. 
The one big thing that really surprises me is the value of homes that are being sold above Rs 100 crores. Before Covid, we would do one deal a month. Presently, we do three to four deals a month which are of apartments valued at more than Rs 100 crores each.  
This will mostly be in Mumbai.
Largely, Mumbai and a little bit of the National Capital Region as well, which will be more like Rs 25-30 crores and above. Previously, you would not find those many. Today, you find a lot more that are selling in NCR as well. 
Clearly, the demand for residential spaces has become more sustainable. During Covid, we thought it was a pent-up demand, but it does look like it is a very sustainable demand and people want better quality and they are willing to spend the money.
There are a couple of things here. One is there seems to be a clear aspiration dot. Second, is wealth creation which now people are willing to spend and demonstrate in some ways like the 100 crore deals. The aspiration part could be the desire to live in a bigger home. Or is it driven by something else? The third is about millennials who till now intuitively or counterintuitively always assumed that they did not want to buy. What is connecting these three things here? 
I think there are three dots that are connecting each other. One is the need. More than the aspiration.  it is the need today. To say I need something that is slightly bigger because even if I have to work one day a week from home, I need a study, I need a proper area. If another event like Covid was to come in, I need to get my parents in. I need to have the nanny at home for the small kid. So, it is the need today to say that I need a little bigger than what I used to live in.
The second is on the millennial side, they used to rent. Many building societies, during Covid, differentiated if you were an apartment owner versus if you were a tenant. If you were an apartment owner, the rules were a lot more flexible. You could bring in domestic help, friends, and relatives. If you were a tenant, they were very strict. You could not bring any of those external guys into the building. The tenant then said, "I do not want to live like a second citizen in the building and I want to go out and buy." 
That is why the millennials who were renting previously are now buying. I think the biggest thing is social security where their partners or parents are saying: you should have a roof over your head which you should own. That is where I think it is the need, the circumstances that have led these guys today to not just rent but to own and buy. And third is they are seeing the value of the property starting to go up as a result of which they may think that perhaps it is better for us to buy today than miss this cycle.
Tell us about the demand-supply now. Of course, it is not the same across the country, what are the key trends that stand out?
Clearly, Mumbai Metropolitan Region (MMR) has outstripped everyone. I have not seen this kind of sale in terms of quantity and value. If you were to look at the top 7-8 cities, 50% of the sale in terms of value is now happening in the MMR region. In these 7-8 cities, the total value of the sale is about Rs 3.5 lakh crore per year. Nearly Rs 175 thousand lakh crore is just MMR. Imagine all the other cities put together.
People curse Mumbai so much, yet buy property there.  
Yet, they are buying property here. But I must say that the properties have become a lot more affordable. Whilst we are saying that the property prices are going up. I think what is happening in MMR is that the infrastructure has been put in a lot of the newer belts like Panvel, KDMC(Kalyan Dombivli Municipal Corporation). Here you are able to buy an apartment that is less than a crore of rupees of decent developers with full infrastructure that is available. So clearly from an affordability perspective, infrastructure has brought down the land cost in the northern part of Mumbai. Second, the value of the properties have risen but they have risen slower than the income levels. So, over the last 20 years, if you had to compare the two, the income levels have gone up way higher than the value of the property and hence today the property, if you were to compare in the last two decades, is the most affordable this year and last year across India. 
But MMR rates are roughly twice the next cheapest city or the next city.
You are right. On average, MMR is about Rs 1.75 crores per unit on an average. Some are like Rs 10-12 crores, some are Rs 50-60 lakhs. If you were to take out MMR, it would be Rs 75-80 lakhs per unit across the other cities. So, clearly, MMR is somewhere we have seen the value, the volumes really go up compared to the other cities.
You are saying that the supply is matched with demand in MMR at this point, and then we will come to the other six cities. 
Supply and demand are very much matched. There is another big change that has happened. This goes back to the Real Estate Regulatory Act, which is 2014, and then demonetisation and then GST. Then we sort of had the debt crisis as a result of which the developers have become very conscious that if we are launching a project, we have to complete it. And it is the first time we are seeing that projects that are launched are getting completed quickly within the given timelines. 
Secondly, for projects that were incomplete earlier, new developers are coming in and taking over and completing them. Now, why are they coming in? Suddenly, property prices have gone up and there is profit now in those stuck projects.  As a result, new developers are saying we can come in, we can make money and complete it and give it to the home buyer who had bought it 10-12 years ago. And then we still have surplus to sell so that we can make a profit out of it.
Tell us about the other half of the value.
In terms of NCR, we have seen that the supply is far lesser than the demand. But the reason for that is there was a lot of supply that was incomplete which players are coming in and completing. For example, Amrapali. NBCC has stepped in and is now completing all 5,000-6,000 units of Amrapali, Greater Noida Expressway. Similarly, others are coming in and picking up. For JayPee, Suraksha has come in and they are picking up. As a result of this,  the old supply is getting delivered and the new supply is far lesser than the demand. 
In Bangalore we are starting to see a change where the supply is ahead of the demand and the reason for that is that in the last six months, we have seen the demand slightly shrink in Bangalore. That may be an outcome of what we are seeing in the tech world where job losses are starting to happen.  So we are seeing a little bit of nervousness that has started to creep in in Bangalore. But other than Bangalore, it has not yet spread to the other IT cities—Pune or Hyderabad. The biggest continues to be MMR, followed by NCR, Bangalore and then the rest of the cities. 
We saw this whole phenomenon a couple of months ago where a lot of people were complaining about rising rentals in Bangalore. What caused that to spike?
I think there were two things for that. One, when people left during Covid, the rentals really really came down. And then these guys were not coming back to work. The corporates have forced them. As a result, all of them had to come in immediately and the landlords then decided to bring back the rentals to where it was pre-Covid. While we are saying that the rentals have gone up but it has only gone up to where it was before Covid. The reason is whilst they may be working from home for a day or two, the corporate has said that they have to come back to the city where they are operating.   
What is driving supply? Obviously, the availability of land is one and the developer and their financing and so on. What else are you seeing from a slightly more macro perspective in terms of how property investment is taking place from the supply side?
I think one big change that we are seeing is the consolidation of the developers and that consolidation of developers is happening because home buyers are saying that they are only going to buy it from a good quality developer. As a result, C-grade developers are sort of struggling to sell. If you are struggling to sell, and the banks are not willing to support and there is no private equity wanting to invest in residential, how do you complete?
 They have been forced to go to the A-grade developer and say that, can you please inherit my project or can we do a joint venture and that is where we are seeing the consolidation. Just in pure numbers-–in 2017, the listed players and the leading unlisted players' total sales were 17% of the overall India Resi/ Recee sale. It has come to 32% by March 31, 2023. So the 17% has gone up to 32%, our thought is it will go up to 45-50%. And my thought is that it is not only on real estate. It is across all sectors that the consolidation is taking place, from the informal to the formal.
You are seeing that guys who had behaved badly in the past or bad governance, lack of financial discipline, too much debt taken, or inability to complete on time are the guys who are moving out. As a result of which consolidation is taking place which is good for the industry because you are now getting larger players who will make sure that their brand represents delivery, quality, timeline, and overall governance for the home buyer.
This whole informalisation to formalisation and we could talk about the paints industry or some other industry. But what are the first or the second layer fallouts of this happening?
I think clearly if this just gets consolidated too much, the ability of these developers to increase the price, if there is, because previously they were all staggered. So you know, if you really consolidate you can, but I dare say that it will happen..still the numbers will be very large for them to be able to do any cartelisation. Second is that they should have the ability to expand their respective organisations because the demand is going to continue. The way that we are seeing it is..it should not happen that whilst the players on the supply side got consolidated, their inability to deliver to the extended demand. 
Third, we are hoping that there are new players and new corporates and in the past, we have seen. Hero has come in, Birla has come in, and these are all recent guys. Jindal, TVS and Kirolskar have come in. A number of very pedigreed corporates have now come into real estate which previously they were not. Previously you had Mahindra, TATA and Godrej. Now there are a lot of newer players coming in and our thought is with the consolidation, hopefully newer players will come in, hopefully existing players will expand their ability to deliver,  and hopefully, there will be no cartelisation on the pricing.
You spoke about the newer organisations. Are these because they had land and are now monetising that and that is giving them the impetus to do more or is it only their own land?
They started with their own land like the Godrej. But today they are out there expanding and buying new parcels of land. So they tried it with their own land and saw that there was a success and have now expanded this as a proper business where they are going and buying third-party lands and developing them.
If you look now at the macro picture and try to look ahead, what is going to drive both real estate from the supply side as well as the demand side? What are the signals that you are looking at for 2023-24 as you try and figure out where the best or the biggest deals will happen?
On the demand side it will largely be on how the Indian economy continues to do. It seems to be on a pretty strong footing at this moment in time. And if it continues, and employment continues, I mean resi-real estate does not have its own legs. It actually piggybacks on the economy. If the economy does well and there is a new employment generation that happens, the residential will continue to do well. So the demand primarily comes from how employment and the economy do. I think the buyer profile will become younger. I do believe that people will want to buy a little bit further from the city centre. They are quite ok to travel, but they want a little bit bigger. 
I do feel that the second home is here to stay. A lot of people thought that it was only a Covid phenomenon and second home demand was going to disappear. I think people do really want the quality of life and they are willing to invest. And some of these cities like Goa for example, to me, have crossed the threshold of being a second home, and are becoming Tier 1 cities where people are moving their work base and want quality of life. So that is on the demand side.
On the supply side, what is continuing to prompt is that the home buyer is there, the demand is there, the debt availability for good quality developers is pretty much there and we are seeing that many of these players have become listed. As a result which ability to go and access equity on the stock market is there. Look at it—Macrotech, which is the  Lodhas,  they did it. Sriram has done it, Rustomjee has done it. Several others who have been able to do it during the Covid period and then their ability to access the markets to raise the equity is where you are going to see the money come in for the new supply.
Coming back to the point you mentioned about GST and demonetisation and RERA (Real Estate Regulatory Act), all attempt to bring some order in this industry. Would you say that it is a cleaner industry today? Is it easier for people to buy in white and not break their heads? 
Hundred percent. I have been in this industry since the mid-90s. I am telling you this is absolutely becoming mature. This is becoming an industry. We were never an industry. There is a huge amount of corporate discipline now. Huge amount of governance, delivery focus, client focus, and quality focus—clearly the developers have understood that they cannot do any masti. 
The masti that used to happen is you were taking money from the home buyer, and using that to either buy a fancy car for yourself, or buy another plot of land for yourself or go on holiday. These are not happening under RERA. A huge amount of transparency has come in. And I do feel that the government, judiciary, and the media have really helped in formalising this industry because they have given thumbs up to the guys who have done a great job and on the other hand reprimanded the guys who have taken a lot of advantage of the poor home buyer — who is a poor home buyer because their entire life saving was going in that property but there was a mal intent of not wanting to deliver. 
I do feel that all that is flushed out. Yes, there will be one or two students in the class who will always remain misbehaved but largely the classroom has come into order.
What would you say in terms of the kind of data sources you have within real estate and what would you need or want to look for, particularly if you look at how people are tracking trends internationally?
We have come a long way, yet there is a fair amount of distance to be traversed as far as the data is concerned. I think one recent move that came in last week by Maharashtra RERA is fantastic. 
What they have said is we are going to rank each project, we will give marks to each project and we will give marks to each developer. We will go through the entire scrutiny on the financial viability of the project, on any legal issues, on the approval process, on the timelines and we will rank a project. To me it is fantastic. If a buyer in Maharashtra wants to buy, MAHA RERA would have actually put a mark or a number to that project and to the developer. They will start I think in April 2024, they are starting to collect all the data. To me, that is a big ability to bring in transparency.  
And it is a data point for you?
It is a data point. It is a data point for the home buyer as well. It may be 67/100 for example, if it is from 100, then I know that it is in the genre, it may not be exactly 67 but it is the genre, so ok, it is a good project for me to be able to go out and buy. But clearly, there is some distance to be traversed. I am not saying no, we got up there. In terms of transparency, if you look at the US, Canada or Australia, which are the top three countries, their data is very transparently available. I think we are moving in that direction with the registration of the properties getting online, and hence the ability of the people to access that information. Largely, I would say that the deals are really above board. There isn't all that used to happen in the past that is really not happening. So you are being able to access data that is pretty accurate, and then being able to bring it and start to produce the data set that you require.