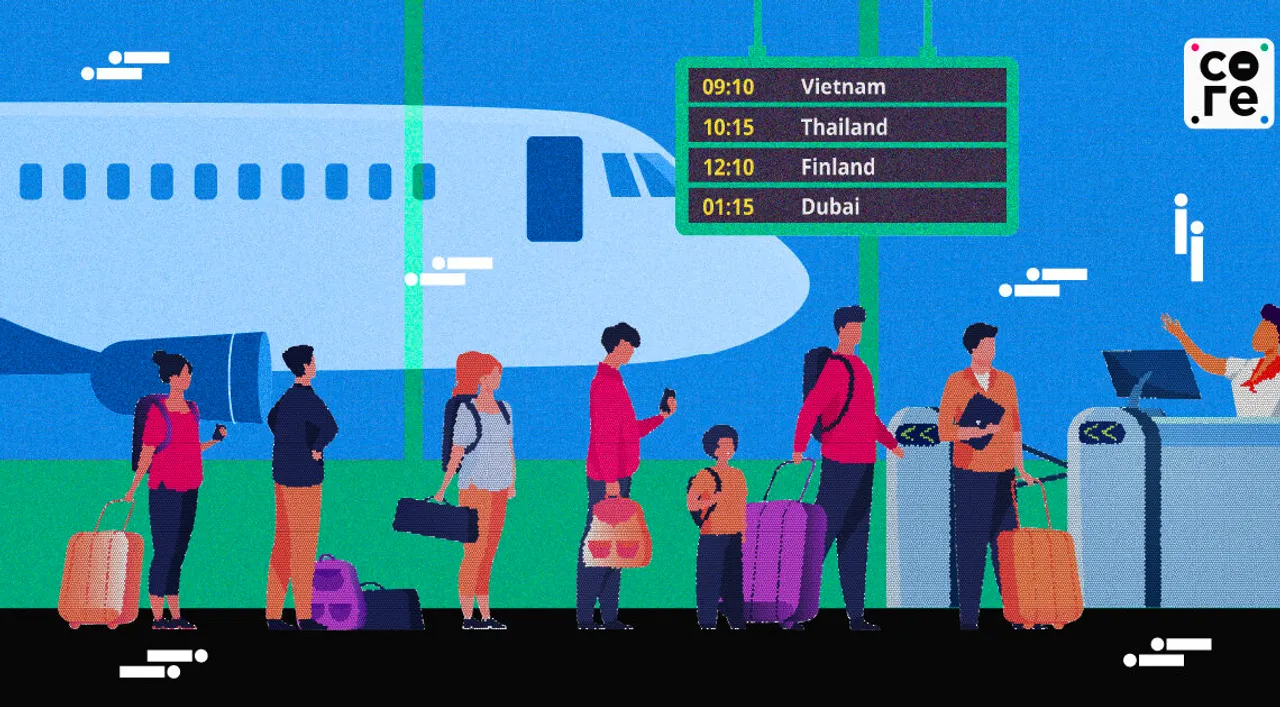 "In 2019, before the pandemic, a one-way air ticket to Toronto or New York City could set you back by Rs 60,000. The same ticket could cost you as much as Rs 1,60,000 now," said Subhash Goyal, chairman of STIC Travel Group and Indian Chamber of Commerce/FIEO, Aviation & Tourism Expert Committee. 
A similar trend of rising airfare and diminished supply of seats continues across sectors for international flights to India. "Sri Lankan Airlines which operated 119 flights to Indian cities before the pandemic, is down to 70. Also, none of the Chinese carriers are operating in India any longer," Goyal said, as an example.
And yet, outbound travellers from India are not discouraged. Travel companies and agents nationwide report a significant rise in international travel in 2023, and not just in the summer months. 
"Flights are booked to 105 per cent. There are no seats available. Based on my experience, travel is up nearly 50 per cent in comparison with pre-pandemic levels," says Reji Philip, founder and MD of Mumbai-based travel agency Cosmos Agencies. 
Philip isn't alone. Susanta Chakraborty of Delhi-based travel agency Express Solutions confirms the "mad rush for post-pandemic travel". He also told The Core that people are willing to spend more and don't seem too bothered by the airfare hike. 
Aloke Bajpai, group CEO and co-founder of online travel portal ixigo confirms "a record 63 per cent increase in international travel bookings this summer versus the last despite high airfares."  
A Case Of Revenge Travel
One wonders what is driving the surge and "revenge travel" may be part of the answer. There's a wide range of responses travel agents have to this question and they range from, 'People no longer want to save money after the pandemic,' to 'It's a spillover of 2021-22'. 
The writing is on the wall. Travel has increased exponentially despite the prohibitive costs. This though, has created some patterns, in bookings and choice of destinations.
Philip says that there is a resurgence in travel bookings through conventional travel agents. "Since visas are taking time and even getting rejected, more people are opting for traditional travel agents over online portals," he says.
Bajpai says that the rising costs have certainly impacted the decision-making process. "Substantial increase in last-minute fares is pushing travellers to book their tickets well in advance this year," he says. 
According to Chakraborty, there are takers for unusual destinations like Iceland and Finland. And in some cases, people are willing to do multiple short trips to destinations like Dubai, instead of a long European holiday. 
Bajpai shares that there has been a substantial increase in travel to eastern countries such as Cambodia, Vietnam, and Thailand. "YoY (year-on-year) increases range from 70 per cent to 240 per cent. Vietnam has become very popular post-COVID. This is also due to direct flights being started between India-Vietnam post-2019," he says. Travel agents confirm that Australia and Japan have also emerged as popular destinations this year, among Indians. 
"While Europe continues to reflect strong demand and growth despite visa challenges, we are also seeing a shift to short-haul/easy visa destinations with Japan and Singapore being favourites, and island destinations like Maldives and Mauritius followed closely by Dubai, Abu Dhabi, Thailand, Indonesia, Oman, Malaysia," says Daniel D'Souza, President & Country Head - Holidays, SOTC Travel, talking about their experience this summer. 
"Bhutan from the Indian subcontinent has also been popular. Our value deals for Vietnam and Cambodia saw strong customer interest. Other long and mid-haul destinations that witnessed demand include Turkey, Egypt, Jordan, Australia and New Zealand," he adds. 
Then there is the odd trend of decreasing prices, as revealed by Indiver Rastogi, President & Group Head, Global Business Travel, Thomas Cook (India) and SOTC Travel. "While airfares to other destinations have seen a surge, fares to Cape Town have seen a drop from Rs 65,000 in 2019 to Rs 60,000 in 2023," he says. 
Visa Woes
Some of the destination choices are marked by flight operators and new trends but visa appointments and availability greatly define where and how Indians travel to international destinations.
The long wait for US visa appointments, despite the increase in interest in the destination, has forced travellers to choose alternate destinations. "There are no slots for US visas until 2024. Canada is issuing visas only to those who have a US travel history. Most European countries like Germany, France, and Hungary have no visitor visa appointments at short notice. Even Iceland has no appointments," Chakraborty tells us adding that only UK visas are being delivered on time. There's a shortage of staff at the embassies and in the travel industry due to several agencies having to shut shop during the pandemic.
One of the reasons why destinations like Vietnam have become hotspots of Indian tourism, Philip explains, is the easy visa-on-arrival provision for Indians. Singapore, Malaysia, and Dubai have similarly emerged as popular choices due to easier visas. "Following the economic trouble, Colombo is emerging as a popular destination for Indian tourists with attractive prices," adds Philip. 
Travel companies and agents alike admit that the travel demand continues to skyrocket even as destinations are changing and see choices for the Indian traveller are limited. 
The Case Of TCS
As airfares rise and visa problems play spoilsport during the holiday season, travellers have had more discouragement in the form of the upcoming Tax Collected at Source (TCS) on foreign remittance. Earlier, the TCS applicable on foreign travel was 5%, which was hiked to 20% under Budget 2023, applicable from July 1, 2023.  Philip tells us that there was a minor rush to book travel and complete vendor payments before the July 1  deadline. 
However, last week, the government deferred the implementation of the tax to October 1. The classification of international credit card expenses abroad under the Liberalised Remittance Scheme (LRS) has also been postponed. 
There may be a lot working against Indian travellers, and yet, travel professionals are filled with hope for the next year. They also believe that it is 2024 that will give them the true picture of the travel demand in the country once the spillover of the pandemic years and revenge travel has subsided.