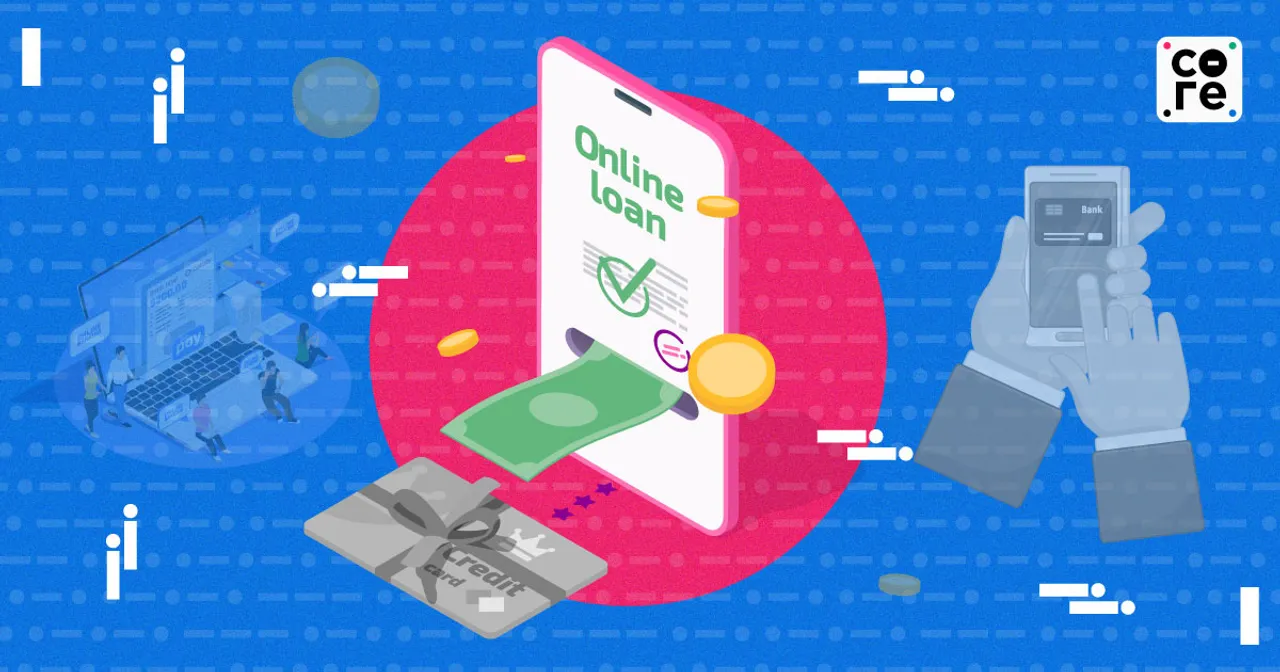 In 2022, when 34-year-old Deepak Samaddar's laptop stopped working he was in a fix. The Noida resident had already run out of credit card balance and it was the end of the month. In dire need of a laptop, Samaddar, who works in the IT sector, took a loan of around Rs 15,000 from CRED, an Indian fintech app that offers up to Rs Rs 3,50,000 in instant personal loans. 
Samddar's case is not isolated. More and more Indians are turning to the digital lending industry in times of financial need. A recent report by ​​Equifax Inc, a consumer credit reporting agency, revealed that India's digital lending industry had grown 49% in disbursements in FY 2022-23 with 71 million loans worth around Rs 92,000 crores. 
The report found that nearly  40% of the borrowers in the digital lending industry were from Tier 3 cities. 
Prashant A Bhonsle, founder of Kuhoo, a digital lending platform said, "The spike in digital lending in the fintech sector can be attributed to the power of JAM - Jan Dhan, Aadhar, Mobile. The ease and convenience at which digital lending is conducted these days, has made it a fruitful option compared to banks and their lengthier processes. People value accessibility and time in today's digital age." 
According to experts, people have been getting loans from digital lending platforms since they are able to get loans of ticket sizes as little as Rs 12,000. According to the Equifax study, the average loan ticket size was roughly Rs 13,000. 
"One needs to avail an average ticket size of around Rs 1 lakh if he or she is opting for a loan from any bank. Moreover, banks check the credit score of individuals before disbursing the loan. If someone has not taken loans before, they can't have a credit score. Thus, new borrowers prefer to take loans from such digital lending apps and it also helps them get their credit score," said Mukesh Bubna, founder & CEO of Monexo, a digital lending platform. 
Other factors that contributed to this trend were simplified user experience, flexible eligibility criteria, and speed of approval.
"While interest rates might be higher in digital lending compared to those offered by traditional banks, borrowers are willing to accept this trade-off for the convenience, speed, and accessibility of digital lending," said Rajat Deshpande, CEO and co-founder, of FinBox. 
Easy KYC  
According to the research, personal loans accounted for 72% of total loan disbursement and 83% of all loans disbursed by fintechs. Personal loans are easier to obtain from digital lenders than big banks, and was likely one of the major driving factors. Industry experts believe that the easy KYC process and minimal documentation involved also contributed significantly to higher digital personal loans. 
"Personal loans offer flexibility and quick accessibility and don't require collateral and can be used for various purposes, making them popular for urgent financial needs. Personal loan tenures range from 6 months to 60 months, attracting more people to leverage such financial tools. Though longer repayments lead to higher interest rates, flexible EMI schedules, and timely repayment improve credit scores and these days most fintech players offer prepayment options without penalty," said Mahesh Shukla CEO & co-founder PayMe, a digital lending platform. 
What Are People Taking Personal Loans For? 
According to the Equifax report Bangalore Urban, Mumbai, Pune, Thane, and Hyderabad were the top five districts in terms of disbursement amount and that people took loans for their house rent and security deposits. Industry experts said that borrowers also took personal loans for travel, credit card bill payments, and medical emergencies.
"Migration is a major cause behind the spike in lending. As we restore to normalcy, several young individuals are relocating to these cities for their jobs. Now, they need to pay a hefty amount for their home rent and security deposit in the first month. It is not easy for all to arrange that money, especially considering someone has just relocated. Thus, they opt for personal loans," said Bubna. 
Many borrowers use personal loans to consolidate high-interest debt from credit cards or other sources into a single, more manageable loan with a potentially lower interest rate. "At times, it becomes difficult to pay the credit card bill and the tenure for the credit card payment is not more than a few months. So people prefer taking a small-sized personal loan to repay the credit card. Eventually, they get a longer tenure to repay that loan," said Pramod Kathuria, co-founder of EasiLoan. 
Industry experts believe that the versatility of personal loans makes them attractive for covering a wide range of financial needs. 
​​
Changing Buyer Patterns Leading To Increase In Consumer Loans 
While personal loans accounted for the majority of the loan accounts, consumer loan disbursal by volume witnessed the highest growth of 63% from FY 21-22 to FY 22-23. Industry experts said that previously individuals above the age of 25 years would usually take consumer loans to buy products like phones, laptops, and other devices. Now, the buying pattern has changed, especially after the Covid-19 pandemic. 
Kathuria said, "Previously, for items like mobile phones, and laptops, the consumers were usually of age 25 years or more. But now, even a 16-year-old individual needs to buy a phone, laptop, etc. Thus, there has been a rise in consumer loans." 
Changing consumer behaviour in Tier 3 cities also contributed to the rise in consumer loans. 
"A large part of digital lending also goes into the agricultural sector. For buying equipment related to farming or buying a tractor or parts of tractors or other agricultural equipment and machinery, often people take loans from such platforms as these fintechs have penetrated deep into the semi-urban and rural India too," said Rajesh Shet, co-Founder & CEO at SahiBandhu, a digital lending platform. 
Disparity Between Male And Female Borrowers
The report showed a glaring disparity between male and female borrowers over the years. While it was 86% in FY 2022-23, it was 88% the previous year and the year before. According to experts, this reflected the fact that fewer women were part of the Indian workforce. 
"Gender roles often limit women's financial autonomy. Income disparities and restricted access to quality education and employment opportunities hinder their ability to qualify for loans. Legal and cultural barriers, coupled with limited property ownership, further impede women's access to credit. Unequal financial literacy and the perception of women as higher credit risks contribute to the discrepancy," said Ravi K Goyal, vice president of strategy, Propelld, a digital lending platform. 
Some industry experts believe that women are more conservative in their financial planning, they prefer to save more and cut down expenses, rather than take loans. 
Also Read: Women And Money: How Exclusion From Financial Matters Affects Women