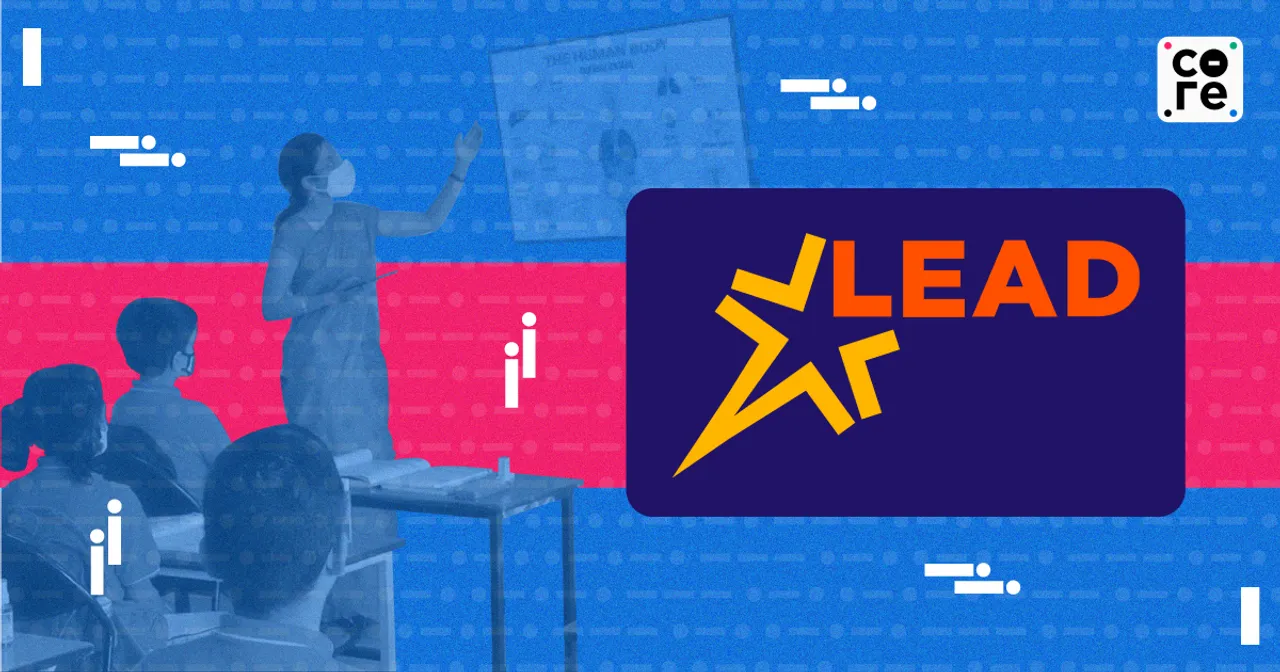 In his ten-year journey with LEAD Schools, a Mumbai headquartered integrated school management and improvement system firm, co-founder Sumeet Mehta made some big assumptions that were mostly proved wrong during these years. 
One of India's largest edtech companies, LEAD Schools aims to provide education solutions for parents, teachers and school owners that are at par with international standards. Mehta and his wife, Smita Deorah, co-founded an affordable private school (APS) in a remote village in Ahmedabad in 2012 and three others in Maharashtra. 
LEAD's first school, Shantiniketan English School (SNES), was located in a remote village 35 kms away from Ahmedabad and had 14 students. By 2017, they rolled out their technology-led school transformation plan across affordable schools, starting with around 140-odd in the first couple of years and now touching 1.2 million students in 3,000 state board and CBSE schools — a majority in the south, 500 in the north and around 600-700 in the west — the growth they have managed organically. In January this year, they also acquired Pearson's K-12 business, adding its 6,000 schools to their portfolio, which offer a strong curriculum but could do with more technology backup.
Reworking Their Approach
Mehta and Deorah had set a lofty goal of providing a high-quality education to one and all when they started out. While they painstakingly went about ensuring the schools they ran were offered better quality education than others in the same space, they soon realised how unrealistic their approach was. At the pace they were expanding, they would at best reach 75 schools by the end of their lifetimes. This model could at best have limited influence. 
ALSO READ: 'What You See With KissanAI Is Kind Of The Ultimate Learning': Founder Pratik Desai On How This AI Chatbot Is Helping India's Farmers
In 2017, when they began to provide the LEAD solution to schools, the duo assumed that the same product would be applicable to almost all schools catering to a range of incomes. Develop one strong offering and then run with it: onboard all schools across the country that need such assistance. Now, they have realised that India's education system is far more nuanced and resembles iceberg lettuce in a way but with each layer quite distinct from the next. What may work for one segment may be completely ill-suited or at least not very well suited to another. That is why, in July 2023, they introduced a new product aimed at the lower end of the school fee spectrum (Rs 8,000-12,000 annual fee), aimed at approximately 1,00,000 private schools that cater to this segment.
Another epiphany has been that nothing makes an organisation stronger than its people. So, just hiring big names or fancy CVs was not the way forward. The company needed people who were not just performance-oriented but also mission and goal aligned. In its first flush of expansion during 2020 and 2021, the company scaled up very fast and ended up hiring some senior management personnel who were part of its core team of around 30 people.
Eventually, it didn't work out with this team as they didn't seem aligned with the goals, ethos or culture of the firm. "A lot of this hiring during the pandemic was online and it is hard to judge the alignment of values and attitudes online. We now feel that it is perhaps more prudent to first look within and promote those who are already in tune with the ebb and flow of the business" explained Mehta. Now, after a rejig, the company has a strong 30-member senior leadership team that it feels can take it to the next level.
Older And Wiser
Despite some of its initial assumptions proving to be wrong, the company has seen a reasonable pace of growth and size. Its turnover last year was Rs 133 crore, and it is likely to end this year at above Rs 250 crore, a 2x growth. By the end of March 2024, the company expects to turn in a small profit as this has become the new mantra in the industry, post the recent fiascos in the K12 edtech segment.
To reach where it has so far, the company has raised US $170 million to reach its present size, a majority — close to US $ 85 million — of which has gone into content creation. This includes curriculum development and products such as books, audiovisuals and software that connects all stakeholders — the teachers, parents and students.  Of its 1,300 employees, over 300 are in product, tech and curriculum, another 300 in implementation and another 300-odd in sales and marketing with the rest in senior and core management and administration including HR. 
So, now an older, wiser and less dogged LEAD has rejigged its model and embarked on a mission to expand its net to include affordable private schools that cater one level higher (Rs 30,000 to Rs 60,000 annual fee) and one segment lower (Rs 8000-Rs 12000 annual fee), something Mehta feels they should have begun two years ago.
ALSO READ: 'Wearables And Accessories Could Be Next': Tech Analyst Neil Shah On India's Electronics Manufacturing Growth
Currently, the 3000-odd schools they currently cater to function in the middle of these two segments at Rs 12,000-30,000 annual fee (see chart). Such affordable private schools (APS), which have sprung up in small towns as an alternative to the free and poor-quality state schools, are often only marginally better than the latter. The educational outcomes in these schools, which are anywhere between 200,000 and 400,000 in number, are mostly abysmal. 
While no independent third-party assessment has been carried out on the LEAD transformation system, Mumbai-based advisory and consulting company FSG has done an assessment of  LEAD's offerings at their behest. It showed that the schools that used its system showed better outcomes, particularly in terms of students' understanding and facility with English. 
Vikas Jhunjhunwala, founder of the budget Sunshine Schools in NCR, endorses the findings. He has considered the LEAD solution for his own schools but hasn't yet bought into it. He has however seen other schools using it happy with the outcomes it has delivered. "The situation on the ground for APS is so bad that solutions like Lead are really the need of the hour" he said, adding that the business like any other has its own unique challenges.
The Way Forward
The LEAD team is well aware of the challenges it will encounter in the future. While schools in the lower segment are enthusiastic about the transformation system once they fully understand it, affordability at the price point LEAD used to offer was an issue. LEAD has now designed and re-engineered its transformation solution into a product that can serve this segment at a price it can afford.
Some schools that charge above Rs 30,000 annual fee that have the awareness that the students are not meeting their potential often have trouble admitting to parents that they are subscribing to something that will help bring their wards up to grade level. "What have we been paying you for" is the question these school managements are faced with then. "What we didn't realise was that a school's openness to accepting their current reality would differ so sharply across segments", said Mehta. He said that he has now learnt that smaller schools, newer schools, and those in smaller towns are more open since they feel they don't have access to such solutions.
Industry rivals and players in the space argue that while the LEAD team brings a lot of commitment to the table, this is not an easy segment to work in for a variety of reasons. One, driving effectiveness and ensuring quality in the way their offering is used in the schools remains a challenge despite the fact that the company's implementation teams work closely. This is because teacher behaviour and attitude need to change fundamentally and become more open to new ideas and systems even as attrition often remains quite high. "Changing old practices and habits is hard to begin with but if the incumbents - in this case, the principal and teachers - themselves change during the process, one has to start all over with the new lot," said a senior member of the Central Square Foundation (CSF) team on the condition of anonymity. This is something CSF and all those vested in improving India's learning outcomes have seen time and again across private and government schools in India. 
Another challenge is the sheer geographical spread of schools of the new target segments. While many of the lower segment schools are in the more backward states of India like UP, Bihar, Jharkhand and Madhya Pradesh and in rural Telangana, Karnataka and so on whereas the higher fee segment schools are more in more progressive states like Punjab, Haryana and other more developed states. To try and bring all these segments into its net, the company will have to expand both its sales and marketing and implementation teams substantially and smartly across India's length and breadth while ensuring that it keeps its costs of acquisition of new schools under check.
If reaching target schools isn't easy, getting them to keep to their commitments isn't a piece of cake either. Payments on time or as promised can be a problem often encountered in B2B sales in more fragmented and less regulated industries like this. Mehta says that this became a problem during and just post-COVID since many schools were stressed themselves but things have improved since. He says that the bad apples remain in the range of 10-15 percent, something they have factored into their calculations.
While the challenges remain daunting, with one ear and several feet on the ground, the LEAD team feels it has the building blocks in place to make a dent in the vast ocean that comprises India's APS space, a goal many argue is far easier said than done. Only the most agile and determined will succeed if luck and other factors beyond their control remain on their side.