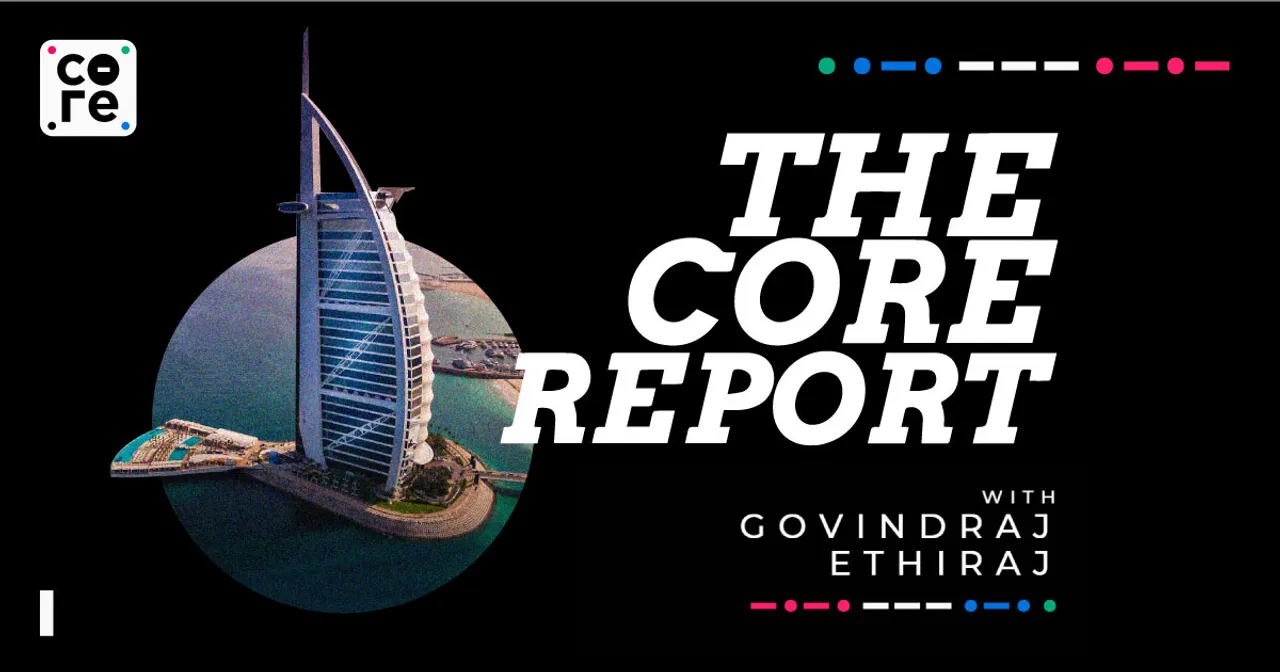 On today's episode, financial journalist Govindraj Ethiraj talks to Harsh Binani, co founder of SmartWorks, one of India's largest managed workspace platform for enterprises.

---
Our Top Reports For Today
[00:00]

 

Stories Of The Day
[00:51]

 

US Federal Reserve saves the day, Indian markets rise after two losing sessions.
[02:33]

 

Abu Dhabi may bring in $50 billion of investments into India.
[04:00]

 

Biggest ever IPO rush as companies hope to benefit from strong market.
[07:08]

 

WeWork is set to declare bankruptcy, how is India's shared office space business stacking up
---
NOTE: This transcript contains only the host's monologue and does not include any interviews or discussions that might be within the podcast. Please refer to the episode audio if you wish to quote the people interviewed. Email [email protected] for any queries.
---
FED RESERVE TO THE RESCUE
The US Federal Reserve saved the markets, once again. Stock futures rose and bond yields fell on speculation the Federal Reserve will no longer hike interest-rates. 
Treasury 30-year yields fell 10 basis points to 4.83%. The dollar dropped against all of its developed market peers.
Data is showing that US labour productivity advanced by the most in three years, helping to alleviate the inflationary impact of recent wage growth, Bloomberg is reporting. While the Fed kept open the prospect of additional policy action on strong economic growth, Federal Reserve Chairman Jerome Powell speculated that Treasury yields at lofty levels could instead help the central bank keep monetary conditions restrictive to wring out the inflationary excesses of this business cycle, said Bloomberg.
Consumer demand is high in the United States as it is in India for a range of products. 
Even Starbucks, which has over 333 stores in India beat revenue expectations in a fresh indication that lattes are doing well, despite everything else.
You may recall us mentioning in the Core Report that cold beverages now account for more than 75% of Starbucks sales, in leading markets. Which also tells you something about how consumer choices can shift. 
Meanwhile, oil is holding around $85 a barrel, much below the worrisome $90 a barrel mark, also a sign that markets are now more accustomed to tensions in the middle east and will wait to see if there is any dramatic escalation before responding.
Back home, after two sessions of losses,the BSE Sensex zoomed 490 points to end at 64,081 levels, while the Nifty50 ended at 19,133, up 144 points.
ABU DHABI MAY INVEST $50 BILLION IN INDIA
Meanwhile, portfolio and other investment flows from the Middle East and the Emirates are set to pick up. 
Bloomberg is reporting that the United Arab Emirates is considering investing as much as $50 billion in India, its second-largest trading partner, as part of a broader bet on the country.
The news comes at a time when there is some ambiguity about India's stance in the middle east conflict.
Provisional pledges from the UAE could be announced early next year, sources told Bloomberg. Any new investments would follow Narendra Modi's meetings with UAE President Sheikh Mohammed bin Zayed in July.
The countries have been seeking to bolster ties over the past decade, and aim to increase non-oil bilateral trade to $100 billion. 
Modi's recent visit to Abu Dhabi marked his fifth trip there since he took over as prime minister in 2014. The last Indian premier to visit the UAE before him was Indira Gandhi in 1981.
The fact that Modi has visited Abu Dhabi 5 times during his tenure as prime minister is not something most would have noticed or kept count.
Deals being discussed include stakes in key Indian infrastructure projects and state-owned assets, with announcements likely before Modi seeks a third term in federal elections due next year, the people said. 
Some of the investments could involve sovereign wealth funds such as the Abu Dhabi Investment Authority, Mubadala Investment Co. and ADQ, they said.
Meanwhile, if the sun shines one must make hay and of course go to the public markets.
A record number of small- and medium-sized companies going public has made India one of the world's busiest listings markets this year, Bloomberg is reporting.
So far in 2023, 184 firms have gone public in India, more than in any other full year, Bloomberg data says. 
The month of October alone saw 30 companies start trading in India, beating the US, China and Hong Kong, among others.
"The IPO landscape is witnessing a surge in activity driven by both an urge to tap the capital markets pre-or-post Indian general elections and strong economic activity, positive domestic and foreign investor sentiment toward India," said Adarsh Ranka, a partner with S.R. Batliboi & Associates LLP, a member firm of EY Global in India, told Bloomberg.
Speaking of investments, India's insurance sector is doing well, nor not, depending on the day and who you ask.
One indicator of course is Life Insurance Corporation, whose stock price was the most awaited IPO last year and for many years till then.
It listed at Rs 826 in May last year and is down 26% to around Rs 605. It has never regained its listing price by the way. The Sensex was around 54,000 then and is around 64,000 now.
Be that as it may,
Zurich Insurance Group (ZURN.S) will buy a 51% stake in Kotak Mahindra Bank's (KTKM.NS) general insurance arm for about 40.51 billion rupees ($487 million), giving the European insurance giant a foothold in India's fast-growing insurance market, Reuters reported.
This will be the largest investment by a global insurer in an Indian non-life insurer.  
Meanwhile, results season is still on and most companies are broadly holding to expectations, including downwards.
IT services major Cognizant Technology Solutions Corp has said it expects its top line to decline by up to 3.1% to $4.69 -- 4.82 billion in the quarter ended December, according to an earnings statement released on Thursday. 
For the full year, revenue is likely to remain flat or decline by up to 0.7% to $19.3–19.4 billion. 
"We have narrowed our full-year revenue guidance range, which now reflects discretionary spending pressure and its impact on our near-term revenue expectations," Jan Siegmund, chief financial officer at Cognizant, said as quoted by Bloomberg. 
News is Cognizant is in sync with other IT companies who are also looking at slowdown for the fiscal ending March 2024 as companies in the United States and Europe among other countries cut back on technology spending.
All the industry majors including Infosys, HCL Tech, Wipro and Accenture have moderated their outlook.
This is already reflected in slowing if not ceasing of hiring and some downsizing across the industry.
This in turn is expected to impact demand for discretionary products, albeit in a small way right now and potentially increase indebtedness further.
SHARED OFFICE SPACE
Multiple reports said WeWork, the NYSE-listed flexible space provider, is preparing to file for bankruptcy as early as next week. The company, valued at $47 billion in 2019, has seen its share price tank from a peak of $520. 
On a year-to-date (YTD) basis, WeWork's share price was down over 99 percent at the end of the day's trading on November 1.
WeWork has a presence in India which appears to be building the business in a fairly straight forward margin over cost of real estate and layout.
WeWork India said it clocked revenues of Rs 1,400 crore in FY23, had an EBITDA of Rs 250 crore and a profit after tax (PAT) of roughly Rs 60 crore, according to MoneyControl which adds that to ready a 1,00,000 square feet building, WeWork India spends around Rs 25 crore.
Beyond WeWork, India has been generally seeing strong demand for managed spaces.
The larger trend playing out in the co-working space business is obviously the question on the financial health of the tenants, including the IT Services majors who are shrinking even as they are bringing back people to offices, led by the largest TCS which has over 600,000 people on its payroll.
So where are the numbers settling down? Co-working or managed spaces are also a reflection of the relatively shorter term outlook of the tenant, mostly because they are calibrating business growth or of course they have decided that this model works best.
I reached out to Harsh Binani, co-founder of SmartWorks, which says it is India's largest managed workspace platform for enterprises, with a footprint of over 8 million sq. ft. across 40+ locations in 14 cities.
I began by asking him how he was seeing demand for shared office space at this point.
---
HOSPITALITY GOES STRONG
In another sign that the hospitality industry is going strong, particularly in Asia and of course India,  Marriott International Inc. reported third-quarter earnings that beat analysts' estimates, as the lodging giant benefited from a rebound in Asia hotel bookings, Bloomberg.
Revenue per available room in Asia, excluding China, increased 36% from the same period of 2022 and that measure climbed 47% in China. That helped make up for slower growth in the US and Canada.
Interestingly, Airbnb Inc. which has been eating into the business of all major hotel chains in recent years gave a disappointing outlook for the fourth quarter, citing "greater volatility" in the economic environment that it expects will slow demand for travel after a record summer season, Bloomberg reported.
That's it from me for today. Have a great weekend.
Don't forget to catch my exclusive conversation over the weekend with Satish Pai, Managing Director of the $28 billion metals Giant Hindalco.