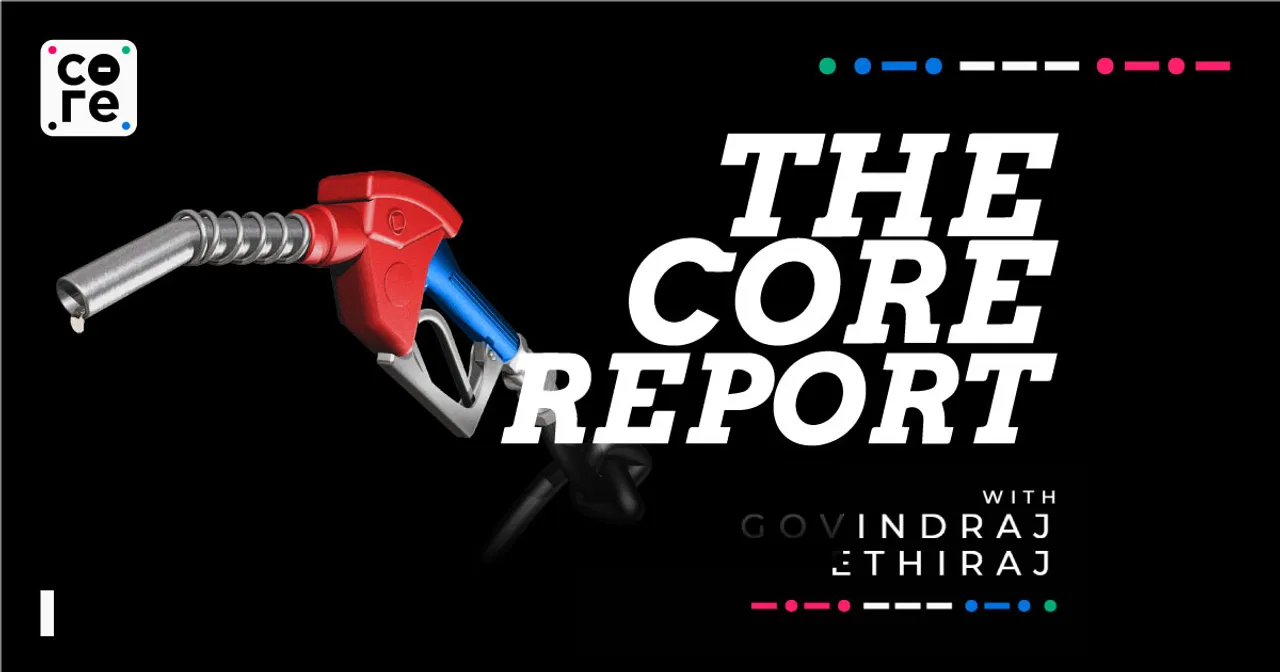 On today's episode, financial journalist Govindraj Ethiraj talks to Ashok K Bhattacharya, Editorial Director of Business Standard as well as Sanjog Gupta, Head of Sports at Disney and Star.

---
Our Top Reports For Today
[00:00]

 

Stories Of The Day
[01:00]

 

British PM Rishi Sunak follows US President Joe Biden into Israel, oil pauses around $90 now.
[02:26]

 

Rupee closes at record low again as Asian currencies reel under pressure from dollar.
[03:09]

 

Google Announces Pixel phone Manufacture In India, small loans for businesses.
[07:45]

 

India is seeing a consistent rise in self-employment levels. What does it mean? 
[17:36]

 

World Cup Cricket pulls 268 million television viewers for 11 matches even as streaming numbers hit records.
[26:38]

 

Netflix Tastes Blood..of Subscribers
---
NOTE: This transcript contains only the host's monologue and does not include any interviews or discussions that might be within the podcast. Please refer to the episode audio if you wish to quote the people interviewed. Email [email protected] for any queries.
---
British Prime Minister Rishi Sunak reached Israel yesterday and met with Israeli Prime Minister Benjamin Netanyahu amidst attempts to bring about peace and humanitarian aid to those affected in Gaza.
In Indian markets, The BSE Sensex ended 248 points lower at 65,629. The Nifty50, on the other hand, settled at 19,625, down 46 points.
In international commodity markets, oil fell as the US also eased crude sanctions against Venezuela, causing oil to drop back after spiking because of middle east war tensions. 
Brent dropped to near $90 a barrel after touching a two-week high on Wednesday. 
Oil has been volatile since the Oct. 7 attack on Israel by Hamas.
Speaking of oil, the first signs of stress are showing in airline projections, internationally and what might affect Indian airlines too.
American Airlines Group Inc. has slashed its 2023 earnings expectations, hit by jet fuel prices that have climbed more than 26% since the start of the third quarter as well as, interestingly, sagging demand, Bloomberg is reporting.
Because most tickets are sold well in advance, there's normally a lag time of a couple of months before carriers can raise fares to begin recovering higher fuel costs.
Every 10-cent per gallon increase in the price per year of fuel adds $2 billion in costs for the US passenger and cargo airline industry, according to Airlines for America.
Currencies continue to be under pressure across the region.
First the rupee. It ended at a record closing low of 83.28 against the US dollar on Monday. 
The fall was small, just 2 paise, against Friday's close of 83.26 but sufficient to send it to the record books. The rupee touched a record low of 83.29 in October 2022 but not closed there.
Malaysia's ringgit has fallen to its  weakest level since the Asian Financial Crisis in 1998, Bloomberg is reporting.  Japan's yen as it traded within a whisker of 150 per dollar, stoking concern authorities would intervene to support the currency.
Google Comes Marching In
 Alphabet Inc. yesterday announced it would start production in India of its Pixel 8 smartphones in time to reach the market by 2024, the company announced at its Google for India annual event in New Delhi alongwith a string of other announcements.
Google will partner with local and global suppliers to put together its first India-made handsets, hardware chief Rick Osterloh said at the event as reported by Business Standard. 
Two weeks ago, Google had said it would start manufacturing Google Chromebook laptops alongwith HP at a plant near Chennai. Production would have already started as of last week and the laptops are primarily aimed at the education sector, as they are in countries like the United States.
There were other announcements as well as there usually are, at this annual event.
Google also announced sachet loans on the Google Pay application to target small businesses in the country. Google India said that merchants in India often need smaller loans, hence, the sachet loans on the Gpay application. 
The company will provide front-end loans to small businesses at just ₹15,000 that can be repaid in simpler repayment amounts as low as ₹111, Google India said. Tech giant has partnered with DMI Finance to provide the loan services.
Google Pay also enabled a credit line for merchants in partnership with ePayLater helping solve the working capital requirements of merchants. Merchants can use it across all online and offline distributors to buy their stock and supplies.
Google India launched credit lines on UPI in collaboration with ICICI Bank. Google India also expanded the portfolio of personal loans on Google Pay by partnering with Axis Bank.
GOVT RULES ON IMPORTS
Speaking of Google manufacturing phones, imports of laptops, tablets and personal computers will have to go through a new Government system of "authorisation", Reuters is reporting.
This system aims to monitor shipments of such hardware without hurting market supply, government officials said on Thursday.
The new "import management system" takes effect from Nov. 1 and requires companies to register the quantity and value of imports, but the government will not reject any import requests and will use the data for monitoring, the officials said.
The policy in its current form represents several walk backs, if one calls it that, from the original announcement to licence imports in August in an abrupt and most 70s like move.
Its purpose is "to ensure that all this provides us with the kind of data and information we need to make sure that we have a completely trusted digital system," said S. Krishnan, the top bureaucrat in the electronics and infotech ministry, Reuters is reporting.
The decision provides relief for global laptop makers such as Dell, HP, Apple, Samsung and Lenovo all of whom must have begged, pleaded and cajoled the government that they were not ready for import restrictions and a full shift to India manufacture, at least not so suddenly.
NESTLE RESULTS
Results season is on, as we tell you everyday.
Consumer products major Nestle India Limited said net profits for the third quarter of the current calendar year (Q3CY23) saw a rise of 37 per cent to Rs 908.08 crore, the company said in a BSE filing.
Kitkat, Nescafe Classic and Nescafe Sunrise, supported by Munch and Milkmaid led the way, the company said. So chocolate, coffee and milk products. 
Sequentially, the net profit was up 30.03 per cent. 
Nestle India declared a second interim dividend of Rs 140 per equity share of Rs 10 each for the year 2023. The company also announced a stock split of each fully paid-up equity share of face value of Rs 10 into 10 equity shares of face value of Re 1 each.
Revenue from operations for Q3CY23 came in at Rs 5,036.8 crore, up 9.45 per cent. 
Suresh Narayanan, chairman and managing director, Nestle India, said, "...Domestic sales grew double digit, on account of mix, volume and price. Key brands continued to perform well, led by Kitkat, Nescafe Classic, Nescafe Sunrise, supported by Munch and Milkmaid. We crossed Rs 5,000 crore turnover, which has been our first in any quarter in the history of the Company and a landmark for us."
Interestingly, Nestle stated that its e-commerce channel contributed to 6.1 per cent of the quarterly sales with continued growth across product groups. 
---
India's economy is surely getting formalised. But by how much? 
The wider indicators like more bank accounts, digital transfers, tax collection net being widened would obviously point in that direction. 
However, this formalisation in terms of production is not resulting in an increase in formal employment, the Business Standard has said. 
Last week, the Ministry of Statistics and Programme Implementation released the results of the Periodic Labour Force Survey for the period July 2022 to June 2023. This is the sixth PLFS report and each tracks a 12 month period between July and June.
India has been witnessing a consistent increase in self-employment, with well over half the country's workforce being self-employed. In 2022-23, for instance, 57.3 per cent of workers in so-called usual status were self-employed, which was higher than in the previous years, points out the Business Standard, adding the structure of the labour market in India is skewed towards self-employment, which keeps earnings depressed. 
Self-employment often becomes a fallback option for workers who are unable to find work but cannot afford to exit the workforce. 
Azim Premji University's State of Working India Report 2023 says  the recent rise in rates of female labour force participation is due to a distress-led increase in self-employment. This employment trend obviously does not signify a surge in genuine entrepreneurship but reflects the scarcity of satisfactory jobs, says the Business Standard. 
The PLFS provides data on different metrics so that the policymakers can understand the proportion of people demanding work, the proportion of people among them who failed to get a job, the gender differences in employment as well as wages etc. 
The PLFS also tells the sectoral distribution of workers in the economy — what percentage is involved in agriculture, for instance. It also records the type of work people do — for instance, how many are engaged in casual labour, how many work for themselves, and how many have regular salaried jobs etc.
I reached out to Ashok K Bhattacharya, Editorial Director of Business Standard and I began by asking him how we should be looking at the PLFS numbers in an attempt to gauge the health of India's economy.
---
Disney Hotstar sees 268 million viewers for 11 World Cup Matches
Live broadcasts for the first 11 matches of the World Cup cricket tournament have been watched by 268 million viewers on linear television, Disney Hotstar has said.
Of this some 96 million young working professionals (aged 22-40) tuned in, which is 5% higher than the 2019 edition. 
The peak live concurrency for the tournament is 56 million viewers, registered during the India v Australia match in Chennai on October 8.
Earlier, Disney+ Hotstar earlier reported a historic concurrent viewership of 35 million viewers online during the ICC Men's Cricket World Cup 2023 match between India and Pakistan. This is the highest peak concurrency number achieved across all formats of cricket. 
Asia Cup 2023 earlier garnered an overwhelming response from fans, with 28 million  viewers for the India vs Pakistan match and 21 million viewers for India vs Sri Lanka, Disney said.
To understand the numbers in context, I reached out to Sanjog Gupta, Head of Sports at Disney and Star.
---
PVR SEES RECORD NUMBERS
India's biggest multiplex operator PVR INOX Ltd. posted its highest ever quarterly profit as people  returned to theatres to watch a series of Bollywood and Hollywood blockbusters.
PVR INOX sold 48.4 million movie tickets in the three months through September, a 64% jump on merged ticket sales a year ago. Quarterly profit was Rs 166 crore, from a loss of Rs 71 crore a year earlier, Bloomberg reported.
PVR INOX was created earlier this year following a merger between PVR Ltd. and INOX Leisure Ltd.. Thanks to Covid and a series of flops, trade analysts among others had pretty much written off Bollywood this year, even as recently as four months ago.
Till Shah Rukh Khan came along and did what all Bollywood heroes do, save the day.
Roughly 70% of Bollywood's revenue comes from theatrical or movie hall revenue while 30% comes from the streaming giants, one of whom we will talk about in a moment.
This quarter saw the release of some of the best-grossing Hindi flicks of all time, including Jawan — starring Shah Rukh Khan — and Gadar 2.  Hollywood contributed its bit with Oppenheimer and Barbie.
Analysts, including some The Core has been speaking to, say that such a strong run for the rest of the year is tough. But then, like in the movies, you never know when there is a twist in the tale. 
Netflix Tastes Blood
Speaking about movies and streaming, Netflix has said its effort to limit password sharing led to a 10.8% rise in subscriptions in the third quarter, a better-than-expected result that is encouraging the company to increase prices in the U.S. and other markets, the WSJ is reporting.
The streaming giant added 8.8 million subscribers in the third quarter with customer growth in every region, its largest quarterly customer gain since the second quarter of 2020.
It would of course be interesting to know how many of these have been forced to subscribe after being kicked off the well family plan and how many are new.
Netflix ended the quarter with 247 million paid subscribers, up 11% from a year earlier.
The company plans to immediately raise prices for its basic plan in the U.S., which is no longer available to new customers, to $11.99 from $9.99 and up the cost of its premium plan to $22.99 from $19.99. 
Will India follow in terms of price hikes ? Lets see, Netflix has to contend with Reliance Jio Cinema in India apart from all the other competitors like Amazon, Apple and Disney it faces off with in other countries as well.