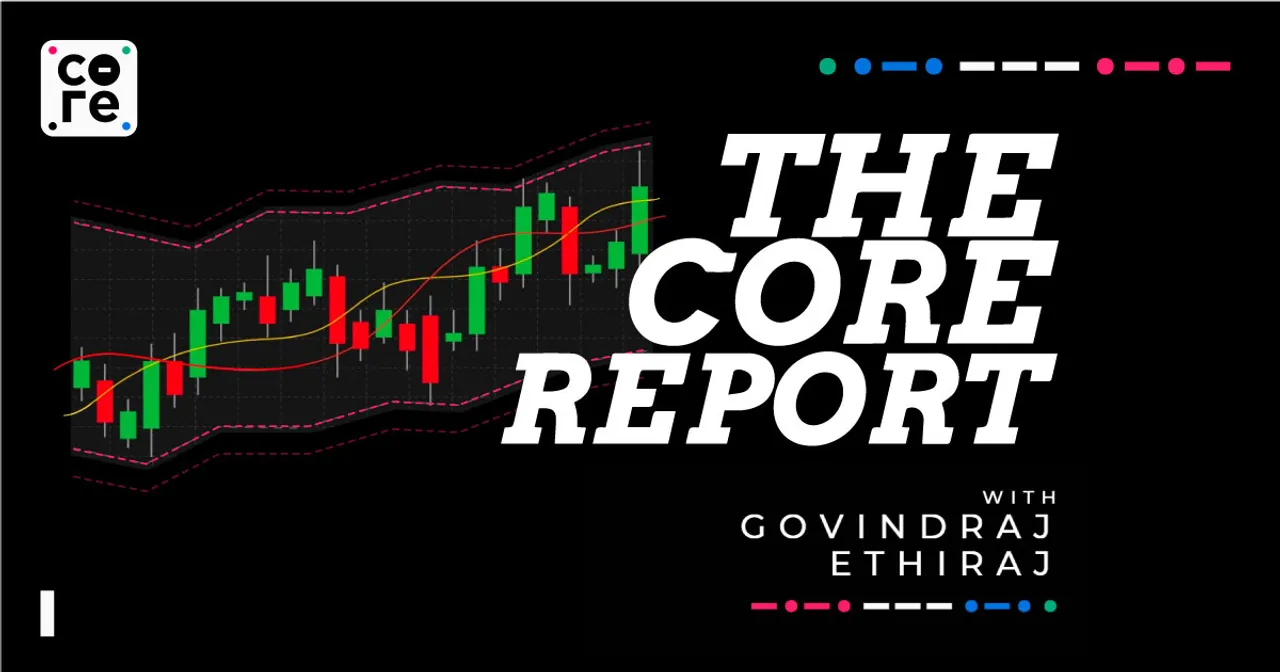 On today's episode, financial journalist Govindraj Ethiraj talks to Neil Shah, Vice President of Counterpoint Research.
---
<00:55> Are The Stock Markets Taking A Break From Their Rapid Rise?
<03:35> Foxconn & Vedanta have both said they will find new partners. But Who Could Those Be? with Neil Shah
<13:30> And hmm..Mohandas Pai and former SBI Chairman Rajneesh Kumar join a Byju advisory board
<16:22> The Government Says No Need To Revisit A 28% Tax On Online Gambling
---
TRANSCRIPT
NOTE: This transcript contains only the host's monologue and does not include any interviews or discussions that might be within the podcast. Please refer to the episode audio if you wish to quote the people interviewed. Email [email protected] for any queries.
Good morning, it's Friday, the 14th of July and I'm Govindraj Ethiraj coming to you from Mumbai, India's financial capital and most rocking city in the world !
Our Top Reports For Today
Are The Stock Markets Taking A Break From Their Rapid Rise?
Foxconn & Vedanta have both said they will find new partners. But Who Could Those Be?
The Government Says No Need To Revisit A 28% Tax On Online Gambling
And hmm..Mohandas Pai and former SBI Chairman Rajneesh Kumar join a Byju advisory board.
Markets Hit A New Peak And Might Be Stretched
We are still hitting new highs in the markets and thus must record that at The Core Report.
The BSE Sensex yesterday hit a new high of 66,064 before dropping to a low of 65,452 and ending at 65,559. The Nifty 50 also hit a record high at 19,567 but eventually settled down with a small gain of 29 points at 19,414.
The markets are looking strong but as it usually happens, things start looking a little directionless at the top.
The key driver so far and projected ahead has been earnings and higher margins in companies, benefiting from lower material costs or strong financial activity in the case of banks and non-bank institutions.
But now some leading brokerages are saying valuations are stretched at this point.
Bloomberg is reporting that both Goldman Sachs and CLSA have warned that equities are looking expensive.
Global funds may thus find better bargains in other emerging markets after pouring $13 billion into local stocks this year as domestic retail traders turn net sellers.
Goldman Sachs and Morgan Stanley, among others, have put out very long-term bullish reports just in the last two months on India. The valuation question does not of course suggest their view has changed but acknowledges that even the best things must come at a good price.
Rupal Agarwal, quantitative strategist at brokerage Sanford C Bernstein told Bloomberg that they don't think that markets are not as attractive from a valuation standpoint as they were a quarterback.
The sharp rise in the market has obviously surprised many but also moved indicators faster and further ahead than people expected.
The MSCI India Index's 12-month forward-earnings multiple has risen to nearly 21 times from 18.5 times just over three months ago, according to data compiled by Bloomberg.
That's above its 10-year average and more than 50% higher than the valuation for the broader Asian gauge.
According to Bloomberg, CLSA said late in June that valuations are "exceedingly rich" and analysts' earnings expectations are too optimistic.
Goldman's analysts argued that valuations are expensive and that there will be a consolidation in the third quarter.
National Stock Exchange data shows that retail investors seem to be now also feeling a little fatigued holding on to the stock and are selling, with net sales of $1.4 billion May, Bloomberg says.
Foxconn-Vedanta, Where Will They Go Next? 
And days after Taiwanese electronics giant Foxconn and metals and minerals major Vedanta formally announced they were parting ways from a $19.5 billion semiconductor joint venture project and plant to come up in Gujarat, both have said they will go at it independently, with other partners of course.
Neither of them has the technology to make semiconductors though Foxconn to be fair is somewhere in the ecosystem of electronics manufacture - they are the guys who make iPhones for Apple in China and elsewhere.
But the important thing to remember is that there are very few companies in the world who can provide the manufacturing capability. So it is quite likely that they will each woo or tie up with roughly a handful of possible names in the world. If someone else does not beat them first.
Interestingly, a key component of a chip is design and India already has the design capability which by the way is worth more than 50% of the value of the chip.
But that capability while it sits in India also resides within the engineers who work for companies like Texas Instruments which answer to their parents, mostly in the United States.
Nothing much you can do there except to poach I would imagine but that's a different discussion.
Amongst the really big foundries for advanced nodes which turn out the more sophisticated chips used in the latest iPhones and the like, TSMC, Samsung and Intel don't look like they are coming to India.
Also, India is looking to manufacture what is known as mature nodes which are larger than 14 NM.
There are also what are known as foundries which only manufacture chips based on the spec that you give them.
As this space hots up, it will be of course interesting to see who ties up with what and to produce what kind of chips.
To get a sense of what's at stake and who really are the likely partners, I reached out to Neil Shah, Vice President of Counterpoint Research who has been kind enough to take us through the dynamics of electronics and semiconductor manufacture in the past here at the Core Report.
I began by asking him how many potential players or partners there really were.
Modi In France
Prime Minister Modi has landed in France on a 2-day visit during which he will hold wide-ranging talks with President Emmanuel Macron and join him for the French National Day or Bastille Day celebrations as the Guest of Honour.
Like his earlier trip to the United States, this visit has strong economic overtones. India has already approved the purchase of 3 Scorpene submarines and a naval fighter deal worth nearly €3 billion ($3.3 billion) for around 26 Rafale-Marine fighters for the Indian Navy.
Byjus Gets Some Directors
And hmm..just yesterday, The Core Report made a case for a truly independent board at edtech company Byju and also for the existing management to step back till things were fixed so to speak.
The company now says it has appointed Rajnish Kumar – former chairman of the State Bank of India as well as the current board chair of fintech BharatPe – and former Infosys CFO Mohandas Pai to its Board Advisory Committee (BAC).
Earlier this month, Byju's CEO Byju Raveendran had told shareholders that it will set up the BAC to guide and advise the edtech giant on the composition of its board and governance structure.
Pai was also an early investor in Byju's through his firm Aarin Capital, but they are understood to have divested most of their holding. While Rajnish Kumar was embroiled in another startup mess at payments company BharatPe.
Mr Kumar said in a statement he was convinced of the efforts to correct the company's governance structure. Mohandas Pai said something similar.
Neither of the two is on the actual board of the company which is somewhat strange but maybe only to be expected. It also means that whatever they say or propose can be effectively ignored.
Unless the appointments had the blessings and the backing or more likely a gentle nudge from the Government in some way, informally of course.
I would think that both Mr Kumar and Mr Pai would have joined the advisory board too only in such circumstances. Or for lots of money. Though I am leaning towards the former and not the latter.
There is at least one investigative arm of the Government, the Enforcement Directorate, which has already visited the edtech company's offices a few months ago. Another arm of the Ministry of Corporate Affairs is also believed to be looking into its books with loud hints that the matter could escalate to the Serious Fraud Investigation Office were some hanky panky be discovered.
The government has an avoidable headache in the Byju's mess, given that its problems are entirely self-created and have hurt the country's image of corporate governance in an area where much sound and light has been generated of its importance to the present and future.
Of which there are many in the startup space but this was the biggest or still is. The other company that also faced governance scrutiny is of course the Adani Group with roughly the same outcome. More on this dilemma over the weekend.
Speaking of Adani Group, its flagship company Adani Enterprises, has raised Rs 1,250 crore through a local currency bond sale.
This is the first such capital raise after the Hindenburg Research report came out in January this year and led to the group's stocks being hammered.
More details of the bond issue and the subscription pattern were not available in these reports.
Meanwhile, yesterday, we discussed the 28% tax which the Government has imposed on the online gaming industry worth around $1.5 billion.
In a somewhat unusual though welcome display of candidness, Sanjay Malhotra, a key Government finance official and revenue secretary told Reuters that the
The Indian government believes social as well as economic purposes will be served as people will indulge in more productive activities if revenues (of online gaming companies) fall due to the new 28% tax.
The government via the Goods & Service Tax Council on Tuesday shocked the $1.5 billion online gaming industry, which has surged in popularity and attracted foreign investment when it announced the tax. Executives have warned of job losses and reduced earnings.
"If demand is highly elastic, and revenues go down substantially, then a social purpose is at least served," said Malhotra.
Interestingly, it was pointed out that the decision to impose the tax was taken after nearly two years of deliberation. A government panel had earlier raised concerns and proposed "de-addiction measures" such as periodic warnings and advisories during games.
"Moral angle is certainly there when we are taxing online gaming at 28%. Lot of ministers at the GST Council were of the view that betting on online gaming is a social evil, and should be discouraged," Malhotra said.
Investors in the sector include Tiger Global, Peak XV Partners (previously known as Sequoia Capital India) and TPG.
Concerns about addiction have risen in line with the rapid rise of online gaming.
Malhotra rebuffed concerns that the tax would undermine foreign investment, triggering job losses.
"Employment and investments have to cater to the needs of the society and what is good for the economy at large," Malhotra said. "No government would promote an industry only for the sake of employment and investment if the industry is not in public interest," he told Reuters.
----
That's it from me for today. Have a great weekend and before I go, do tune into the Core Report weekend. I speak with Rajesh Jain of Netcore Solutions, the man who could be called India's only successful dot-com entrepreneur and ask him about his new book and theme Proficorns, as opposed to obviously Unicorns.
Also, check out the new series Front Foot, which we are launching with well-known sports journalist Ayaz Memon where he brings out stories from the pitch which have amazing parallels with the boardroom in specific and the world of business in general.