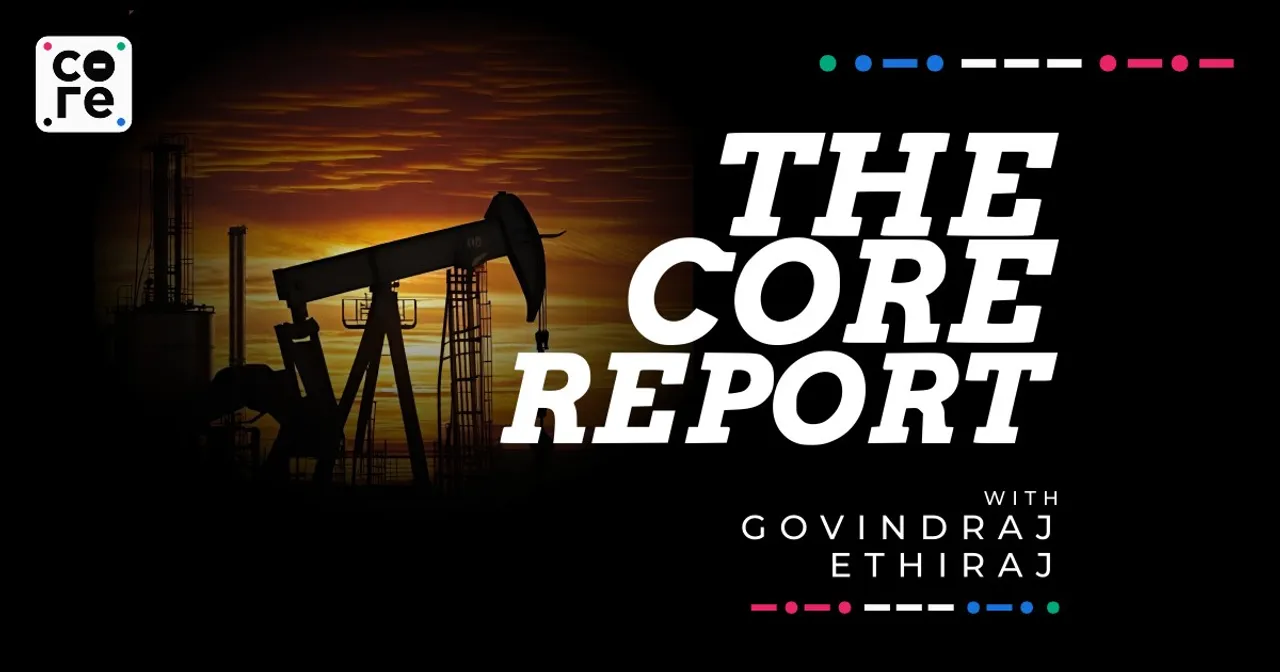 On today's episode, financial journalist Govindraj Ethiraj talks to Arunabha Ghosh, CEO of the Council for Energy, Environment and Water or CEEW as well as cricket writer and sports commentator Ayaz Memon.

---
Our Top Reports For Today
[00:00]

 

Stories Of the Day 
[01:00]

 

Risk premiums on crude oil are receding sharply a month after Hamas attack on Israel.
[04:46]

 

India's Prime Minister sets a poverty benchmark by giving 800 million poor Indians free ration. 
[08:28]

 

Air pollution cripples Delhi, even as responses are too feeble and too late.
[10:50]

 

India Inc needs to get more active in communities and business plans in climate change efforts.
[20:28] Pitch report, lessons for The Core Report audience from the World Cup series so far, with Ayaz Memon
---
NOTE: This transcript contains only the host's monologue and does not include any interviews or discussions that might be within the podcast. Please refer to the episode audio if you wish to quote the people interviewed. Email [email protected] for any queries.
---
Oil Turns Steady
A month has passed since Hamas attacked Israel and despite Israel's retaliation, ground attack and continued tensions in the middle east, the risk premium for oil has fallen.
The focus is back to demand and the sluggishness of it.
With the war yet to spill over into crucial oil-producing areas of the Middle East almost a month since it started, concerns about crude demand are resurfacing. 
US oil stockpiles rose in the most recent week of data, and factory activity in China, the biggest crude importer, moved back into contraction last month. Low liquidity has also exacerbated US oil's steep price swings, reports Bloomberg.
Brent crude is just around $85 a barrel. In general and specific, obviously this is good news for countries like India where high oil prices can cause economic havoc.
Speaking of oil and the transportation of it, there is considerable action in the cargo and shipping industry, reflecting the health of global trade.
Last month, the WSJ reported that daily market prices to move cargo from Asia to the U.S. and Europe in September were down as much as 90% from early 2022, a bad sign for ship operators since voyages are often unprofitable at current rates.
The largest container carriers, which move some 95% of manufactured goods, have apparently responded by cancelling sailings en masse this year, mainly on the route from ports in China to the U.S. West Coast, according to data from shipping platform Xeneta, quoted by WSJ. 
Last week, Shipping and logistics giant A.P. Moller-Maersk said it would cut more than 10,000 jobs. 
WSJ attributed this to the ending of a pandemic-fueled cargo boom, leaving the industry with a surplus of ships and sharply lower freight rates.
Freight rates fell 58% on year in the third quarter and are down 90% from their peak during the pandemic. 
Maersk, a bellwether for global trade, saw its third-quarter profit plummet to $521 million from $8.88 billion last year. Its main Ocean division posted a quarterly loss for the first time in many years.
Revenue in Maersk's main shipping business fell 56% on year to $7.9 billion.
India's own exports declined by 2.6 per cent to $34.47 billion in September this year as against $35.39 billion in the same month last year, government data showed last month. During April-September this fiscal, exports contracted by 8.77 per cent to $211.4 billion. Imports are falling too.
Not surprisingly, venture-capital firms that once provided supply-chain technology startups are pulling back as companies themselves run out of runway. 
Digital freight startup Convoy ceased operations in October just 18 months after topping out at a $3.8 billion valuation, the WSJ reported. Others have laid off workers. 
Back to the markets. 
Equity markets rallied for a second straight day on Friday on hopes, among others that interest rates would not rise further in the United States and money would come back to stocks from bonds 
The BSE Sensex surged 283 points to end at 64,364 levels. The Nifty50, on the other hand, shut shop at 19,226, up 92 points. 
​​Foreign Portfolio Investors' (FPIs) continued to sell though, pulling out around Rs 3,400 crore from the Indian equity markets in the first three trading sessions of November. This came after such investors withdrew Rs 24,548 crore in October and Rs 14,767 crore in September, data with the depositories showed.
Before the outflow, FPIs were incessantly buying Indian equities in the last six months from March to August and brought in Rs 1.74 trillion during the period.
The selling is obviously putting some downward pressure on the market which otherwise has been seeing strong domestic flows.
Who Is Poor?
The extent of poverty in India has been an interesting debate since it usually tends to turn political very quickly and not surprisingly.
Economists I speak to often point to analysis put out by Surjit Bhalla, now India's man and ED at the IMF analysis which points to poverty at somewhere close to 1-2% of the population. Other estimates are a little higher. None of the economists in question wish to wrestle with Bhalla on his numbers, either for the pointlessness of it all or the robustness of his argument.
Be that as it may, it is safe to say that the Prime Minister himself has set a benchmark number by announcing the extension of the PM Garib Kalyan Ann Yojna (PMGKY) scheme, which provides free foodgrains to over 80 crore poor people, for the next five years.
Five years means well beyond the next general elections due in April 2024. 
The scheme will cost Rs 200,000 crore annually to the taxpayer and also extends the same scheme which would have expired this year-end.
The word garib obviously means poor. Bhalla aligned economists may jump on me and say that is a wrong interpretation of the term. Given that qualified economists are wary of taking on Bhalla on his numbers, I cannot obviously hold a candle to this issue.  
Nevertheless, 800 million of 1.4 billion is more than 50% of the population termed as poor. Actually it is almost 57% of the population, way beyond even the worst case estimates touted by all the economic naysayers and the sceptics.
But to me, that is not the key issue.
First, we must acknowledge, as economists do and are, that India's economy is in good shape. All the numbers we refer to here on The Core Report as they come out, including goods and services tax collection and income tax collections all reflect that there is buoyancy and we are heading in the right direction at a good speed.
The key issue is that there is another half of the economy, quite literally, which is getting left behind. 
One recent indicator of this is the rural  unemployment rate which climbed to 10.82% in October from 6.2% in September, while the urban rate eased slightly to 8.44%, according to data from the CMIE.
To the Government's credit, they are responding to the real problem which is hunger and poverty and not getting into a bare knuckles street fight as Bhalla is wont to do, albeit only on the estimates of poverty numbers.
"The Government has to address the food needs of those who are getting left behind in the economic growth," one economist told me.
The other and good thing the Government is doing is the one nation, one ration card platform where anyone can get their due entitlement of 5 kg of foodgrain anywhere in the country.
This particularly helps hundreds of millions of migrant workers.
PM Garib Kalyan Ann Yojna
The PMGKY was launched during the Covid19 pandemic for a three month period and then subsequently extended. It was in addition to other subsidised food grain offerings. Last year, all schemes were merged, offering the subsidised foodgrain as free.
Air Pollution Gets Worse
The dense, thick smog that has enveloped cities like Delhi and Mumbai refuses to dissipate as local authorities are waking up too late with actions and responses that are too little.
Delhi has shut schools till November 10, effectively transferring the problem of managing pollution from the public space to the private space as often is the case.
I was in Delhi in the last three days and can testify that the air quality is shockingly poor. You can feel the acridness and staying out for too long without a mask means you will most likely develop some chest congestion or nasal blockage as I did.
Lots of people are wearing masks, so the awareness is thankfully high and in the opposite of Covidf19, people wear masks outside and take them off when they enter a closed space, like a home, office or shop.
Meanwhile, while there are no shortage of websites and tracking tables for air quality, I found one called iqair.com, an Swiss air quality technology company which obviously hopes to and profits from all of this, puts out an interesting live ranking of most polluted cities in the world.
Delhi, no surprises for guessing, leads the table right now at 317. Mumbai at 158 and Kolkata are also in the top 10. Delhi is followed by Lahore and there are three Indian cities in the Top 6.
On the same table, I found that Bern, Switzerland had an AQI of 12.
It never ceases to amaze me that those who find solutions to problems actually don't really face them themselves. 
For example, the iphone of air purifiers is perhaps the Dyson in India, along with some Japanese brands of course. Dyson is English, they started as a vacuum cleaner company and are obviously extending their technology. Not because of the severe air pollution in Wiltshire, south west England, where the company started and its current headquarters in Singapore, where it relocated a few years ago.
Blueair, another well known air purifier brand on the more premium end, is Swedish originally and now owned by Unilever.
Coming back to Delhi, the impact of air pollution on work and productivity cannot be understated.
This is not something that we can live with and work with, whether business or politicians. It demands the same scale of response as a Covid19 crisis, which cities like Mumbai - since I live here and I saw it- did quite well.
Is Business Ready For Climate Change
2023 is going to be the hottest year on record. Floods have hit Libya, India, Greece and China while  Brazil, meanwhile, is seeing one of the worst droughts. And Canada and Hawaii saw raging wildfires. 
All these, says Arunabha Ghosh, CEO of the Council for Energy, Environment and Water or CEEW, have left governments, insurers and companies struggling to find a response.
Just in the first half of 2023, natural catastrophes caused losses of $120 billion, of which only $50 billion was insured,  he says. 
For businesses, since we here are focussed more on them, the priority now has to be adapting to this new world. While it might make wise business sense, this is a hard task. 
Businesses cannot simply hope for the best. They should, instead, prepare for the worst using a calibrated approach via three broad strategies. With a focus on the well being of local communities, their lives and livelihoods in areas where businesses have their operations. This is not corporate social responsibility but strategic corporate responsibility.
Elsewhere, firms like Amazon last week said that they have now installed more than 1.1GW of 1,100 MW of renewable energy capacity across India. Amazon said it added "a new 198 megawatt (MW) wind farm in Osmanabad, Maharashtra, bringing the company to 50 wind and solar projects across India.
To put this in context, a city like Mumbai, at peak consumption, consumes around 4,100 MW of power.
I caught up with Arunabha Ghosh and began by asking him how  businesses were now responding to climate change in general and specific.
---
World Cup Cricket Enters The Last Rounds
It has been an exciting World Cup cricket series so far, not least for the surprises and upsets that we have seen all through.
One record that many will savour will of course be Virat Kohli equalling Sachin Tendulkar's record of 49 one day international centuries, when hit a century in a match against South Africa at Eden Gardens in Kolkata on Sunday.
Looking back, there are some interesting takeaways from the teams and their performance as well as the way spectators have returned to the stadium to watch, even as live streaming hit new records all the time.
I caught up with well known cricket writer and commentator Ayaz Memon to get a sense on the last few weeks, what we, as the Core Report could take away, and of course a quick prognosis of the final laps ahead.
---
Speaking of cricket, Saudi Arabia has apparently offered to invest around $5 billion in IPL if it were to be separated as a company from the rest of the BCCI. That would value it at around $30 billion, according to Bloomberg. 
This news comes on the heels of an offer from Abu Dhabi, capital of the Emirates, to invest upto $50 billion in various projects, also according to Bloomberg.
Mission Impossible Triggers New Standards For AI
President Joe Biden signed an executive order last week Monday establishing new standards and security measures regarding artificial intelligence. 
Deputy White House chief of staff Bruce Reed told the Associated Press (via Time) that AI is an issue of great importance to the president, who was "impressed and alarmed" after seeing "fake AI images of himself" and learning about the "terrifying technology of voice cloning." According to Reed, Biden's concern about AI also grew after watching "Mission: Impossible – Dead Reckoning Part One" at Camp David.
"If he hadn't already been concerned about what could go wrong with AI before that movie, he saw plenty more to worry about," said Reed, who watched the film with Biden.
In "Mission: Impossible – Dead Reckoning," Tom Cruise's Ethan Hunt fights a nonhuman villain, the sentient and dangerous AI known as the Entity. In the opening sequence of the film, the Entity hijacks and sinks a submarine, killing its entire crew.
According to AP, "Biden was profoundly curious about the technology in the months of meetings that led up to drafting the order." He met with scientists who explained the potential upside of AI, as well as its dangers.
The action items on the executive order will be carried out in the next 90 to 365 days, with those pertaining to safety and security to be addressed first, according to AP. The executive order, which the White House says "directs the most sweeping actions ever taken to protect Americans from the potential risks of AI systems," includes developing standards, tools and tests to ensure safety in AI systems; and requiring AI developers to share their safety test results and other critical information with the U.S. government. The order also directs guidance for "content authentication and watermarking to clearly label AI-generated content," as to protect people from AI-driven fraud.
That's it from me, have a safe, pollution free and good week ahead.