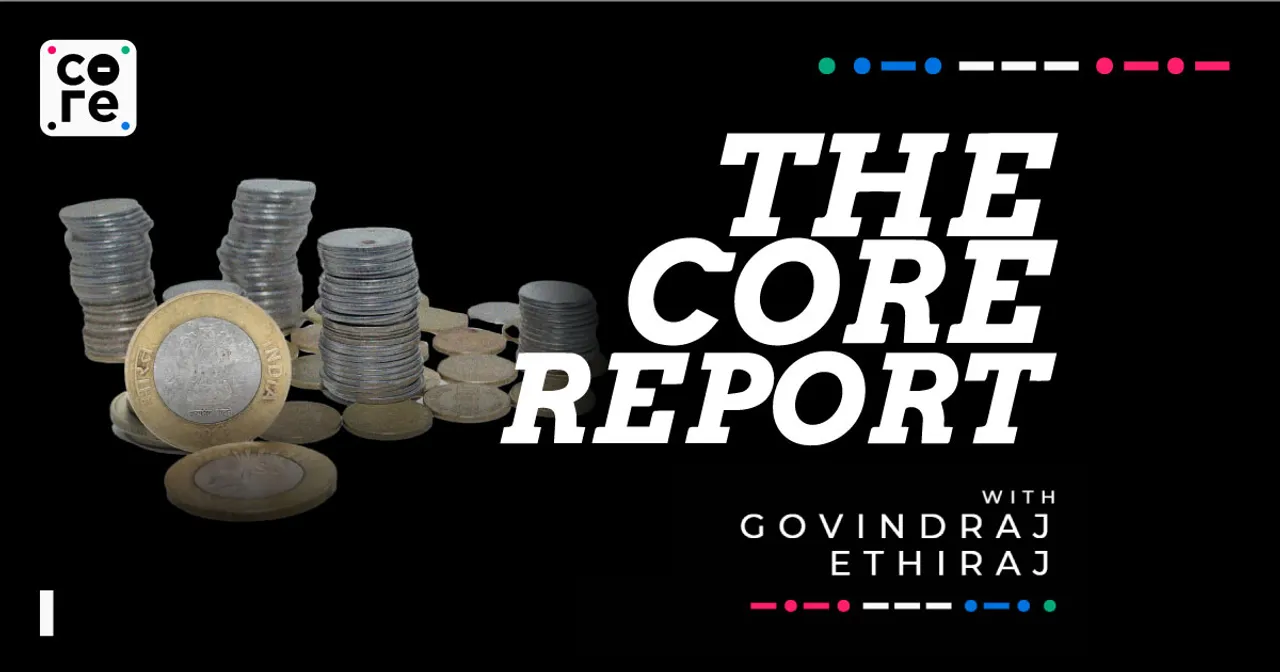 On today's episode, financial journalist Govindraj Ethiraj talks to Mukesh Butani, co-founder and chairman of BMR Advisors as well as sports writer and commentator Ayaz Memon.

---
Our Top Reports For Today
[00:00]

 

Stories Of The day
[01:00]

 

Retail inflation hits 4-month low, down to 4.87%
[04:36]

 

Why are India's personal income tax collections so high?
[12:43]

 

Indian students throng to the United States in record numbers, a quarter of all international students.
[14:33]

 

Massive orders at Dubai Air Show reflect rising aviation demand.
[15:42]

 

Perhaps the best prepared Indian team for the World Cup semi finals: Sports Writer Ayaz Memon
---
NOTE: This transcript contains only the host's monologue and does not include any interviews or discussions that might be within the podcast. Please refer to the episode audio if you wish to quote the people interviewed. Email [email protected] for any queries.
---
More sighs of relief. Retail inflation slowed to a four-month low of 4.87 per cent in October, thanks mainly due to food prices going down.
The Consumer Price Index (CPI) based retail inflation had hit a  three-month low of 5.02 per cent in September. The previous low inflation was recorded at 4.87 per cent in June.
So we are back to June, in a manner of speaking around the time food prices began their steady upward journey and then started shooting up, notably tomatoes which went to Rs 300 per kilogram and then crashed to a point in the end of September, farmers were dumping it on roads. 
The markets began strongly on Sunday in a special and customary Diwali trading session but the enthusiasm didn't last through Monday. 
The Sensex fell 325 points to end below 65,000 at 64,933 while the Nifty 50 shed 82 pts at 19,443.
The market will remain closed on Tuesday for Diwali-Balipratipada and this is also the day we will take a break.
The bulls are not taking a break though. 
Goldman Sachs has upgraded Indian shares to "overweight" from "marketweight", citing strong economic growth prospects, steady domestic mutual fund inflows and a potential supply chain shift from China.
Indian markets will continue to gain in 2024, supported by steady earnings growth and macroeconomic stability in what would otherwise be a "tricky" period in the Asia Pacific region, Goldman Sachs analysts led by Timothy Moe wrote in a note, quoted by Reuters.
Yesterday, we reported that Morgan Stanley had issued similarly bullish statements and outlook for India.
Foreign portfolio investors however continue to sell India at this point of time and have been doing so September into this month as well.
The Indian rupee inched up on Monday on expectations that the central bank would ensure that there is no fallout of the previous session's decline to a lifetime low.
Some good news on the currency front after a while. The rupee firmed up marginally to around Rs 83.29 against the US Dollar from Rs 83.34 on Friday. The Reserve Bank of India (RBI) is believed to be intervening actively. 
We are still tracking closely and will continue to do so because the Israel-Hamas war is still raging with considerable loss of life and destruction to property.
Oil is holding near $81 a barrel after slipping for three weeks. Oil has lost about 12% in the last three weeks and tensions which ran high after the Hamas attacked Israel on October 7 have eased off.
Analysts at Goldman Sachs Group Inc. told Bloomberg renewed demand concerns have driven the selloff, but that consumption has remained robust all year and will likely continue to do so in 2024. The bank also trimmed its price forecast for next year to $92.
Elsewhere, in a sign that consumption is strong, imports of palm oil and sunflower oil in 2022/23 surged by 24% and 54%, respectively to record highs on a rebound in consumption, Reuters said.
Total edible oil import in the year surged to a record 16 million tons, up 17% from a year ago. India buys palm oil mainly from Indonesia, Malaysia and Thailand, while it imports soy oil and sunflower oil from Argentina, Brazil, Russia and Ukraine.
Tax Collections
We reported yesterday that direct tax collections have been strong. So much so that personal income tax collections are up almost 31%. One way of looking at it is that incomes are that much higher this year compared to the previous.
There are a few other reasons and I will come to that.
Interestingly, corporate tax collections or the tax that businesses pay on profits rose at a lower level, around 12%. 
So what are the broader trends in tax collections and what exactly do they reflect of what is on ground. To understand that, I reached out to Mukesh Butani, co-founder and chairman of BMR Advisors, a well known tax and risk firm.
I began by asking him how he was reading the overall numbers as well personal and corporate tax numbers.
---
Indian Students Are Thronging The United States
All the visa hassles and the increased tax collections at source, not to mention scrutiny is now slowing down the flow of Indian students.
And India has also overtaken China for the first time since 2009-10 in this department.
The United States still remains the top choice for higher education for Indians, the well known Open Doors Report cited. 
For the academic year 2022-23, the number of Indian students in the US jumped 35%, reaching a record 268,923 or a quarter of some 1 million students studying in the United States.
Moreover, the undergraduate student population has also jumped 16%.  
During June-August 2023, which is typically the student visa season, the US Embassy and Consulates in India granted a record-high number of student visas. In India, consular staff granted 95,269 visas in the F, M, and J categories. This marks an 18% surge increase over the same timeframe.
The Open Doors Report on International Educational Exchange is an annual census of international students in the United States and goes back to 1919 which tells you something about the attraction of the US educational system to the world.
Open Doors incidentally is considered a comprehensive information resource on international students and scholars in the United States and on U.S. students studying abroad.
Big Orders At Dubai Air Show
Dubai's flydubai on Monday placed an order for 30 Boeing 787-9 Dreamliners worth $11 billion (Dh40.37 billion) at the Dubai Airshow on Monday, diversifying its current fleet of all-Boeing 737 aircraft.
Flydubai joins Emirates which received a mega order from Dubai's flagship carrier Emirates for 95 Boeing aircraft worth $52 billion which we mentioned yesterday.
Flydubai which flies to several destinations in India had placed its first-ever order for 50 Boeing 737 aircraft in 2008. Monday's announcement was the fourth aircraft order placed by the carrier since it was founded in 2008.
From the seller's side, Boeing stole the show on the first day, bagging both the biggest deals of the day, reported Khaleej Times.
The Dubai carrier said it was still evaluating engine options for its first Dreamliner order.
Cricket
This week will see the semi-finals and the finals of the World Cup to be played in Mumbai and Ahmedabad.
India played New Zealand in the semi finals.
Like in previous weeks, I reached out to well known sports writer and commentator Ayaz Memon to get his take on the lessons so far, beyond cricket and into business and life as well as his outlook on the games ahead.
Memon highlights the importance of preparation and practice in general and how the Indian team has done well on both counts.
I began by asking him how he was seeing the landscape right now.
---
That's it for me today. We are in Diwali season till Wednesday and are taking, along with the stock markets a holiday today so there will be no fresh episode tomorrow, that is Wednesday morning.