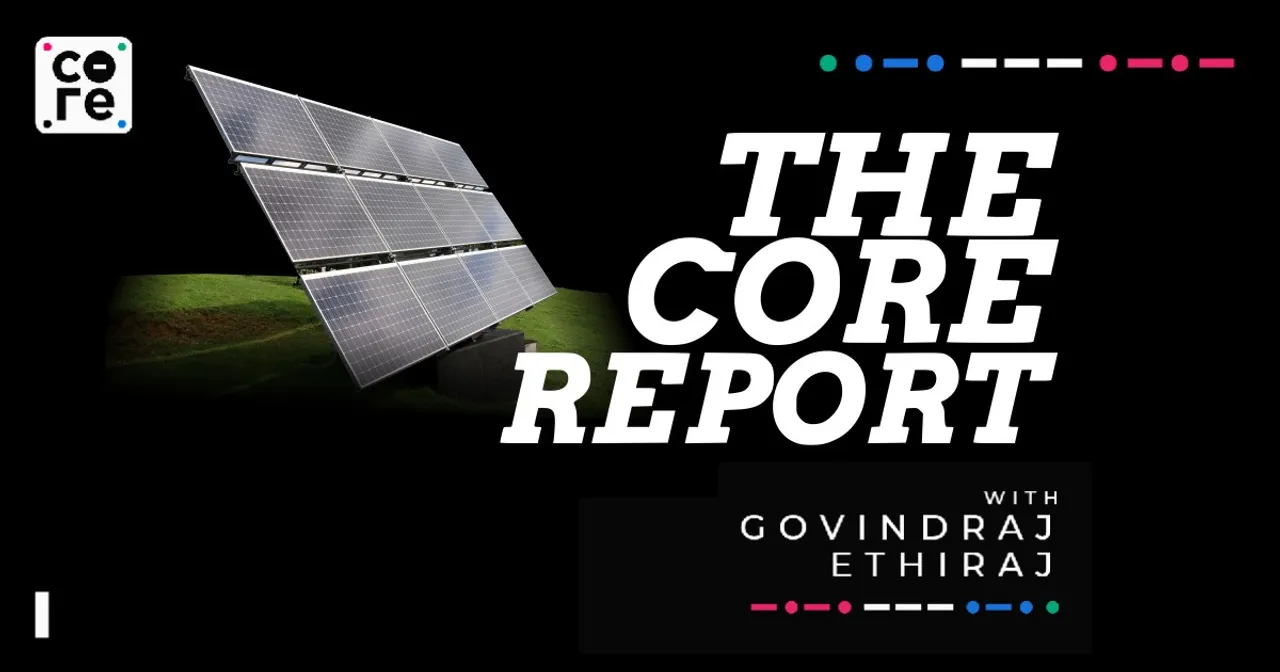 On today's episode, financial journalist Govindraj Ethiraj talks to Ashok K Bhattacharya or AKB, the Editorial Director for the Business Standard and columnist on economic matters as well as Nikhil Pahwa, founder and editor of Medianama, a technology policy analysis website based out of New Delhi.
---
Our Top Reports For Today
<00:50>

 

Reliance sets ESG targets in its annual report, highlights human rights, governance
<08:17>

 

India's import licenses on laptops, could it have addressed the problem differently? 
<16:00>

 

The Government's  new personal data protection bill may be more intrusive than protective.
<24:41>

 

Hmm..India's largest statue of the Prime Minister
---
TRANSCRIPT
NOTE: This transcript contains only the host's monologue and does not include any interviews or discussions that might be within the podcast. Please refer to the episode audio if you wish to quote the people interviewed. Email [email protected] for any queries.
Reliance Touches Upon Human Rights In Annual Report
It's a 267 page, extremely exhaustive and detailed presentation to its 3.6 million shareholders and more visual than perhaps many in the past. 
The Reliance Industries annual report to shareholders kicks off interestingly with a pledge to become net carbon zero by 2035 even chairman Mukesh Ambani emphasising  the company's transition from traditional fossil fuels to renewable energy sources. 
Chairman Mukesh Ambani says the company's 5 giga factories in Jamnagar are progressing well to establish a world class, self-sufficient green energy eco system.
He also stressed on circularity or the circular economy particularly in chemical products and said this would be driven through partnerships with innovator companies worldwide. 
Ambani said his new energy  initiatives would contribute to the global effort of limiting the rise in average temperatures. He also spoke of the imminent listing of Jio Financial Services, something we have discussed on The Core Report earlier.
Ambani also spoke of, quite interestingly, how  human rights considerations have been at the core of Reliance's DNA since inception. The principles of human rights are enshrined in our internal codes of conduct as well as our business partner codes of conduct, he said.
Human rights could of course be generic or specific to business linkages and the work done by Reliance Foundation. I am not sure whether Reliance has outlined this phrase in this manner before though.
With so much focus on corporate governance, particularly among large investors who tend to bring this up when they invest in India and with several leading infamous examples in the listed and unlisted space, Ambani is not surprisingly drawing some attention to this. 
Ambani says they emphasise the importance of Board oversight, given the fact that the company's diverse and evolving operations impact essential sectors of the Indian economy and talks about the ESG committee to ensure continued alignment to best ESG practices and compliance with applicable ESG frameworks. 
I will come back to corporate governance in a moment.
Reliance Industries has also sought shareholder approval to give Mukesh Ambani another five-year term as chairman and managing director of the company till 2029 -- a period during which he has opted to draw nil salary. Which has been the case for the last three years as well, starting 202. Ambani is 66 years old now by the way and has been on the Reliance board since 1977. 
In general of course, shareholders would be reassured to hear that Mr Ambani is in good health and charged up for the next few years.
Reliance has made it a point to talk about corporate governance.
So I thought I would pick on a few allied points. The Reliance board has 4 executive directors and 8 non executive directors.
Between sitting fees and commissions, most independent directors appear to earn upwards of Rs 2 crore a year from Reliance Industries, a not small amount.
The only woman on the board who is not Nita Ambani is former SBI Chairperson Arundhati Bhattacharya.
Amongst the 8 non-executive directors, there are two former senior Government officials, including an ex CBDT chairman and a former Finance Secretary of India. Adil Zainulbhai, formerly MD of Mckinsey India and Dr Shumeet Banerjee, former CEO of Booz. 
His Excellency Yasir Othman H. Al Rumayyan, chairman of  refining giant Saudi Aramco is still on the board perhaps in anticipation of  resuming talks to take a 20% stake in Reliance's oil to chemicals business. 
The deal, then worth around $19 billion was signed in 2019 and called off in November 2021. Reasons ascribed for the split were differences arising over valuation.
Reliance's annual report lists out the leadership of all its key businesses, which also reveals the fact that there are very few women in the top leadership positions. Am not accounting for my family here.
Several divisions like finance, digital services, oil and gas and risk are entirely male dominated, excluding the one woman Isha Ambani, a family member who is present on the digital services team, alongwith 21 men.  Retail has 16 men and 2 women, both are family or linked to family.
Oil to chemicals has 14 men and 1 woman oil and gas and the risk is entirely male. Retail has 18 men, 2 women, including once again a family member.
In rough reckoning, of the total of roughly 80 leadership positions in Reliance Group across verticals mentioned in the annual report , I could see only around 2 women who were not family or linked members. If you include them, it becomes 4.
This is not to make a case either way, given that traditional businesses like oil, petroleum and factory led positions have been male dominated, in many other similar organisations worldwide as well.
But my sense is the question of diversity is something that Reliance will have to reckon with in coming days, in all businesses and more so in consumer and retail.
By the way, Saudi Aramco has a woman on the board too, who is not a royal in the form of Lynn Laverty Elsenhans, a big name in the energy industry and earlier with Sunoco and Royal Dutch Shell. 
This was about leadership. 
The workforce gets more diverse a few rungs below evidently. Reliance says around 19% of its total staff is women and it hired some 262,000 new people in all last year.
Finally, the annual general meeting on August 28 is where the company will unveil most of its major targets, plans and strategies to get there, as it has done in the past.
I wonder if it will ever come back to physical AGMs though, at the 1,000 seater grand old Birla Matushri Sabhagar auditorium in Marine Lines in south Mumbai, though Reliance shifted its 2019 one to a college, also in south Mumbai. 
---

Speaking of energy transitions, even as Reliance emphasised a shift away from fossil fuels and chemicals, state owned and run oil and gas major ONGC has said it will set up two oil-to-chemical plants in India to convert crude oil directly into high-value chemical products as it prepares for energy transition that is shaking up the industry worldwide.
With the world looking to transition away from fossil fuel, companies around the globe are looking at new avenues to use crude oil.
ONGC already has two subsidiaries, Mangalore Refinery and Petrochemicals Limited and ONGC Petro-Additions Limited that run petrochemical units at Mangalore in Karnataka and Dahej in Gujarat, respectively.
Incidentally, all forms of fuel, from high speed diesel to motor spirit are at all time highs in consumption levels right now. So while the transition is beginning, so is the demand for fossil fuels and everything they drive.
Speaking of motor spirit, Maruti Suzuki has said it wants to double capacity in 9 years. Chairman R C Bhargava said in the annual report that it took 40 years to reach 2 million cars and the next 2 million would come in 9 years. 
The company would have 28 models of which at least 6 would be EV. In case you were wondering, yes, Maruti has been admittedly and deliberately slower to announce grand EV model plans. Similar to partner Toyota. Still betting more on internal combustion and hybrids for some years.

Was imposing import licences the only way to address the problem of trusted exporting nations?
Business Standard columnist T N Ninan called it a season for bad ideas, referring to the government's decision to licence the imports of personal computers, laptops and notebooks.
Also pointing out that this is one of the few times such a restriction has been imposed after import licences were mostly abolished more than 30 years ago. Or when we began to liberalise. Which obviously begs the question ? Which direction are we headed ?
The bottomline is there is a fairly legitimate concern on hardware coming from China as much of it in the electronics space does. India has already cracked down as have other countries on telecom hardware that powers mobile phone networks and the like.
But if that is the key concern, then could there have been other ways to address it, without a 70s like move ?
As Mr Ninan says, the reliance on economic policy tools like tariffs has given way to administrative tools like licences or to introduce some nostalgia, the grand licence permit raj.  
I reached out to Ashok K Bhattacharya or AKB, the Editorial Director for the Business Standard and columnist on economic matters. I began by asking him to define what import licences were, keeping in mind that many of us were either young, unaware or did not exist when licensing ended in India. 
---
Will the digital personal data protection bill really protect us ?
The government of India last week introduced the Digital Personal Data Protection (DPDP) Bill, 2023 in parliament.
The objective of this bill is to protect the right to privacy of citizens as the name itself suggests, including, importantly children, but some clauses might seem to call for debate before it goes through.
Primary among them is data collection by the Government itself and the self awarded freedom to do so, including from private companies. There are also some logistical challenges like asking for verifiable parental consent upto 18 years.
And finally, the Government could block access to websites on advice from a not so neutrally structured Data Protection Board. The Government already does that incidentally but this could get out of hand.
I reached out to Nikhil Pahwa, founder and editor of Medianama, a technology policy analysis website based out of New Delhi.
---
Hmm…a large statue of the prime minister.
A Mumbai-based refining infrastructure to airlines to media to protein powder company which recently acquired the bankrupt hill city Lavasa near Mumbai has said it will build a statue of Prime Minister Narendra Modi as a mark of admiration for his unwavering efforts to preserve the unity and integrity of India. There would also be a museum showcasing the new India, a Free Press Journal report says.
Significantly, the statue will apparently stand at 190 to 200 metres, compared to the 182 metre statue of unity in Gujarat and will thus be taller than Sardar Vallabhai Patel.
At this point I would pause to wonder if the Prime Minister or his office has been consulted on this matter.
Having been there and around Lavasa needs many things. 
Most importantly, people to come there and restoration of the many crumbling buildings left abandoned after the project ran into financial trouble..
The statue, if so, could surely come after that.
That's it from me for today. Have a great week ahead and see you soon.
Do send us your feedback and visit us on www.thecore.in where you will find more new in depth reports being updated everyday.