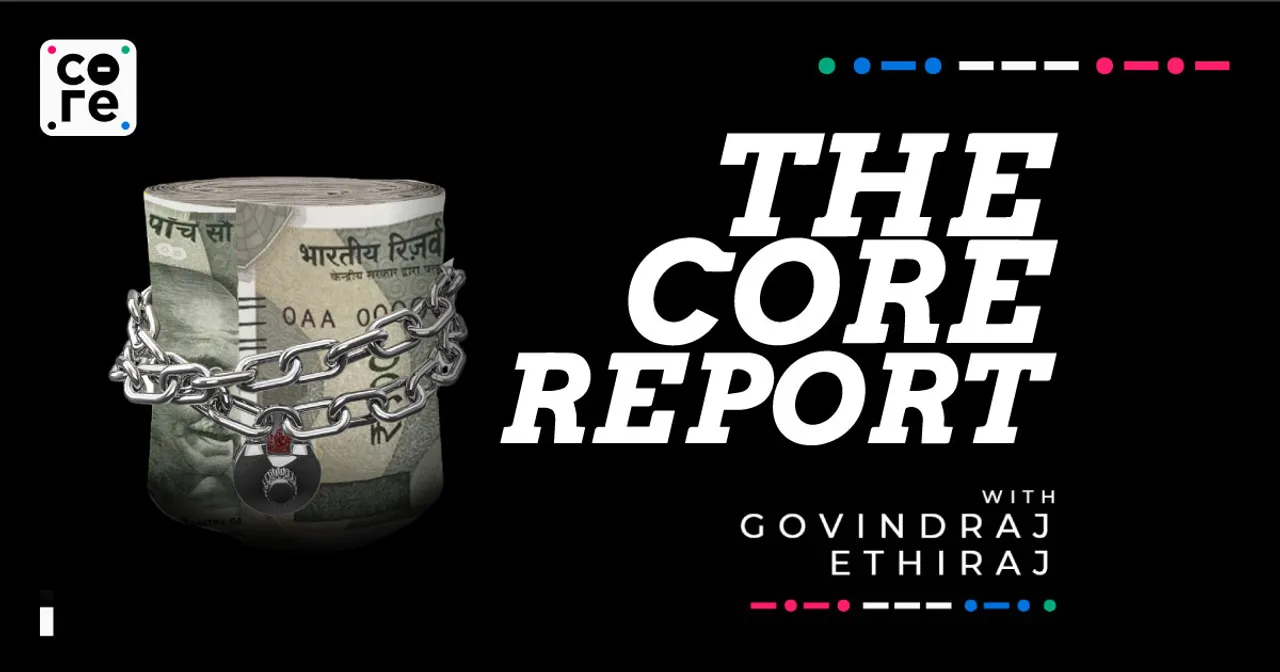 On today's episode, financial journalist Govindraj Ethiraj talks to Probir Roy, co-founder of B2B payments company Paymate and columnist on payments issues as well as Indrani Bagchi, CEO of Ananta Aspen Centre and columnist on diplomatic matters with the Times of India.
---
Our Top Reports For Today
[00:00]

 

Stories Of The Day
[00:50]

 

RBI tightens rules for personal loans, credit cards as demand and risk rise
[03:54]

 

GDP to grow on back of ebullient festive demand, says RBI
[11:10]

 

Panda diplomacy is back, America and China are talking again
[18:03]

 

Domestic air traffic continues to Grow
---
NOTE: This transcript contains only the host's monologue and does not include any interviews or discussions that might be within the podcast. Please refer to the episode audio if you wish to quote the people interviewed. Email [email protected] for any queries.
---
Markets Stay Strong
Indian markets continued a strong march though they fell back after climbing even higher on Wednesday's post Diwali holiday 742 point run.
On Thursday, the markets held a one month high with the  Sensex rising 306 points to end at 65,982.5 after hitting an intraday high of 66,358. The broader Nifty50, closed below at 19,762.5, higher by 87 points.
Foreign portfolio investors are now net buyers  in Indian markets once again, if that's a trend you track.
The Indian rupee closed lower on Thursday, weighed down by a recovery in U.S. Treasury yields and the dollar which clawed back some lost ground supported by stronger-than-expected U.S. retail sales data.
The rupee closed at 83.23 against the U.S. dollar, lower than its previous close at 83.14, which of course was a jump in contrast to the lifetime low of Rs 83.42 on Friday.
The larger point, it is weak but see sawing at these levels.
Oil prices are holding around $80 a barrel and broadly weak as demand continues to be and projected as Oil fell for the first time in five sessions after a government report showed swelling US crude inventories and a Federal Reserve official signaled interest rates may remain elevated.
Although early 2024 could be marked by high volatility for Indian equities amid the general elections, global investment bank Morgan Stanley holds its positive stance and sees it outperforming not only China but many other emerging market peers in the following year, the ET reported
India has delivered strong relative earnings, sustaining the strong market outperformance seen in 2022, while macro-fundamentals have withstood tightening financial conditions in the US.
"India is set to establish secular economic and earnings outperformance vs EM," the investment bank said in its 2024 outlook report.
Elswhere, the Reserve Bank of India said in its November bulletin the global economy is showing signs of slowing down in the final quarter of 2023 as manufacturing languishes even as the services sector activity appears to have reached the end of its post-pandemic expansion. Further, it said that going forward, tightening financial conditions is a significant risk to the global outlook."
India's economic growth has also picked up, the central bank said, noting the momentum of the change in gross domestic product is expected to be sequentially higher in October-December on the back of "ebullient" festival demand.  
RBI Tightens Rules For Consumer Lending
After putting out several warning signals and cracking down on large small loan lender Bajaj Finance just day before, the Reserve Bank of India has now tightened norms for personal loans and credit cards.
The tighter rules, in the form of higher capital requirements, will make such loans costlier and possibly or hopefully curb growth in these categories, which have outpaced the overall bank credit growth of about 15% over the past year.
The Reserve Bank of India has increased the risk weights for banks and non-bank financial companies (NBFCs), or the capital that banks need to set aside for every loan, by 25 percentage points to 125% on retail loans, it said in a statement.
The new risk weight will apply to personal loans for banks, and to retail loans for NBFCs, the RBI said, adding that housing, education and vehicle loans as well as loans secured by gold and gold jewellery will be excluded, Reuters reported.
The central bank on Thursday increased risk weights on credit card exposures by 25 percentage points to 150% and 125% for banks and NBFCs, respectively.
 High risk weightages usually have twin objectives as I would see. One of course is to reduce the systemic risk. 
The other is to make it difficult for banks to lend and people to take small loans usually at lightning speed thanks to the efficiency of fintech companies who digitally front banks and non bank finance companies.
In doing so, the RBI presumably is also addressing the social side of the problem as well.
But credit card receivables of scheduled commercial banks, which attract a risk weight of 125 per cent, has been hiked to 150 per cent.
Clearly, credit cards are being placed in the highest risk category and goes back to the social side of the problem.
Organizations like Bajaj Finance, two of whose lending products including one called InstaEMI were suspended by RBI yesterday for now, are NBFCs. 
RBI Governor Das said last month the central bank was closely monitoring some fast-growing personal loan categories for signs of nascent stress. 
Reuters had earlier reported in a detailed account on October 19 that the RBI was particularly concerned with the surge in tiny personal loans of up to 10,000 rupees, taken for three to four months.
The RBI obviously has a dilemma on its hands, on one hand it is celebrating, like presumably other policy makers, high consumption levels including driven by festivals and on the other is forced to worry about how people are funding all of it.
I reached out to Probir Roy, co-founder of B2B payments company Paymate and columnist on payments issues and began by asking him what the RBI's move reflected?
---
America, China Are Back To The Table
Lets start with the fun part.
President Xi Jinping has indicated that China will renew its "Panda Diplomacy" with the US by once again sending the bears to American zoos, signaling his intent to stabilize relations between the world's two largest economies.
"Pandas have long been envoys of friendship between the Chinese and American peoples," Xi said during a dinner with business executives on the sidelines of the APEC summit in San Francisco on Wednesday. "We are ready to continue our cooperation with the United States on panda conservation, and do our best to meet the wishes of the Californians so as to deepen friendly ties between our peoples," Bloomberg reported.
Several announcements followed the meeting, held outside San Francisco.
President Biden and Chinese leader Xi Jinping agreed to open a presidential hotline, resume military-to-military communications and work to curb fentanyl production, showing tangible progress in their first face-to-face talks in a year.
"We're back to direct, open clear direct communication on a direct basis," Biden said.
President Xi Jinping later said China wants to be friends with the US and said his nation won't fight a war with anyone. 
Xi said China "never bets against the United States" and "has no intention to challenge the United States or to unseat it."
"Whatever stage of development it may reach, China will never pursue hegemony or expansion, and will never impose its will on others," Xi said. "China does not seek spheres of influence and will not fight a cold war or a hot war with anyone."
Bloomberg reported.
Interestingly, Jinping also reportedly met with Elon Musk and other important representatives in a small gathering.
Musk expressed gratitude and applauded the fast growth of China's new-energy vehicle sector," Tesla's Weibo post said, noting that this year marks the 10th anniversary of Tesla's entry into China and its factory in Shanghai, built in 2019, has "become a crucial production and export hub for Tesla."
So what does this mean to India or from India's perspective ?
Remember, some of India's economic objectives and targets are predicated on weaker US-China relations, including the moving of manufacturing capacity to India in the well-known China + 1 framework.
I reached out to Indrani Bagchi, CEO of Ananta Aspen Centre and columnist on diplomatic matters with the Times of India and began by asking her what, in her view, prompted the almost sudden meeting and rapproachement between President Biden and Xi Jinping.
---
Air Traffic Continues To Grow
India's domestic air traffic in October 2023 rose 10.78 percent compared to the corresponding month in the previous year. Domestic airlines carried 12 million passengers in October compared to 11 million passengers the airlines carried in October 2022, data released by the Directorate General of Civil Aviation (DGCA) on November 16 showed.
Domestic air traffic in October 2023 rose by 2.37 percent when compared to September 2023.
October marks the eight straight month when domestic air traffic in India has surpassed pre-Covid levels in India. 
IndiGo continues to be India's largest airline with a share of 62.6 percent. Air India was the second-largest domestic carrier in October at a 10.5 percent share.