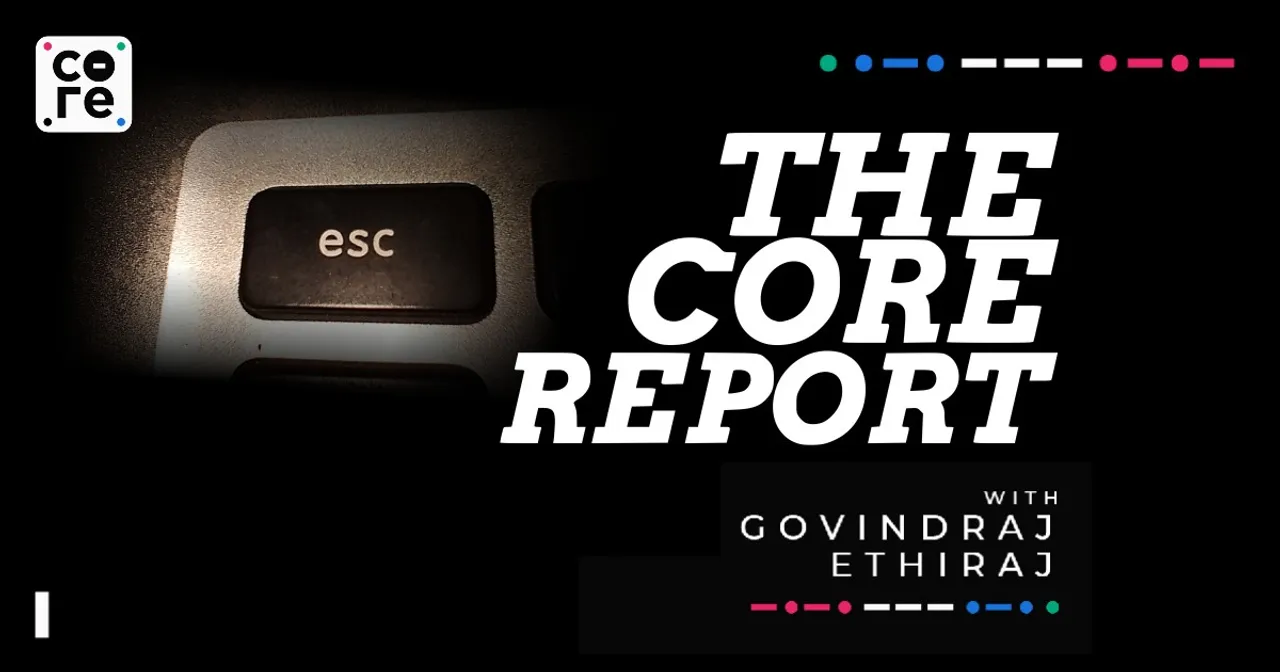 On today's episode, financial journalist Govindraj Ethiraj talks to Rajkamal Vempati, Head of Human Resources at Axis Bank
---
Our Top Reports For Today
<00:55>

 

Shooting Inflation and rising oil prices, new concern areas as brokerages put a pause.
<06:00>

 

Is the auditor always right?
<10:18>

 

Private banks and their customers grapple with massive attrition with Rajkamal Vempati
<19:05>

 

Wave and pay. Amazon's new palm identification service
<22:23>

 

A sad passing, Darius Forbes of Forbes Marshall is no more.
---
TRANSCRIPT
NOTE: This transcript contains only the host's monologue and does not include any interviews or discussions that might be within the podcast. Please refer to the episode audio if you wish to quote the people interviewed. Email [email protected] for any queries.
---
Before we dive in, a quick recap of last week. 
The RBI held rates steady in the policy review as broadly expected and also, as hoped,  revised its inflation forecast upward to 5.4 per cent for this year.
Speaking of which inflation numbers which are out today and will be high to the point of being a shock for sure though I guess what everyone is trying to see is how bad food inflation really is.
Incidentally, the RBI said last week  it expects a 'substantial increase' in headline inflation in the near term due to the recent spike in vegetable prices. 
On Friday, the Sensex ended the week down 398 points at 65,322. The Nifty closed at 19,428.
Brokerages who were largely gung ho in the last month are now beginning to sound a little more sanguine. I would be too, till the food inflation problem is sorted out. But there is an oil problem as well.
Jefferies India, for instance, said increasing crude oil prices, progress in China's equities market, and domestic inflation worries are expected to continue to weigh on the Indian equity markets in the near future. 
On a similar note, Kotak Institutional Equities mentioned that escalating food prices, the rise in crude oil costs, sluggish tax collections, and persistent inflation are expected to contribute to continued challenges.
"Goldilock position for Indian equities is getting questioned with crude rallying, China gaining some traction, rising India CPI and yields moving up," said Jefferies India in a recent note.
Speaking of oil, they edged higher last week after the International Energy Agency forecast record global demand and tightening supplies.
Thanks to which oil has now seen seven straight weeks of gains, the longest such streak since 2022.
Brent crude is now around $86.81 a barrel. By the way, last year, around May, crude oil prices had peaked at $114 a barrel, causing much worry around but as is the case, at least sometimes, prices began to ease off.
A rise in crude oil prices means a lot of other raw material prices go up for consuming industries that have benefited from lower prices in the last year, leading of course to better bottom lines and stock prices.
The IEA estimated that global oil demand hit a record 103 million barrels per day in June and could scale another peak this month.
Meanwhile, Saudi Arabia and Russia have cut back on output which could keep inventories down all over 2023 and thus driving prices even higher.
Kotak also says consumption sector volumes remain subdued, while raw material prices are beginning to rise once more, driven by a substantial surge in crude oil prices. 
"We have serious doubts about the high profitability of companies sustaining beyond the next 1-3 years given the ongoing and forthcoming disruption to business models and erosion of business moats," said Kotak last week.
Now back to inflation. We spent the last few weeks agonising over tomato prices.
The next thing to focus on, as I mentioned on Friday as well, will be onion prices, known to be the nemesis of many governments in the past.
Let me bring back to you what Pushan Sharma, Director at ratings agency Crisil told me on Friday in the context of looming onion prices.
---
Squabbling Publicly With Auditors
Auditors and audit firms are humans and areas prone to mistakes and misdemeanours as anyone.
Even in India, audit firm Deloitte has had a chequered past in its association with companies like IL&FS and more recently Byjus where it always seems to be doing the equivalent of pulling the emergency brake chain in a fast moving train and then trying to jump off before the train comes to a halt. 
On Saturday, Adani Ports belonging to the Adani Group said audit firm Deloitte's reason for quitting as auditor of the company was "not convincing or sufficient to warrant such a move" and the global firm had all the necessary information it required to conduct the process.
This is of course after Deloitte said it was resigning from the role.
Adani Ports has named MSKA & Associates, an independent member firm of BDO International, as its new auditor, it said in a statement.
Deloitte's move was amid concerns over certain related party transactions flagged in a report by U.S. short seller Hindenburg in January, but the Indian company did not wish to look into them independently, a source told Reuters on Friday.
The auditor's resignation has brought fresh scrutiny of the financial management at Adani Group. 
The group has denied Hindenburg's allegations made around alleged improper use of tax havens and other business dealings.
Commenting for the first time on the matter, Adani Ports said in a statement that in meetings with its leadership, Deloitte indicated concern over a lack of a wider audit role as auditors of other listed Adani companies.
However, it was conveyed to the auditor it was not within the remit of Adani Ports to recommend such appointments as other entities are "completely independent", the company said.
"The Audit Committee (of Adani Ports) was of the view that the grounds advanced by Deloitte for resignation as Statutory Auditor were not convincing or sufficient to warrant such a move," Gopal Krishna Pillai, Chairman of the Audit Committee of Adani Ports, said in the statement. Pillai is also a former home secretary of the Government of India.
"Deloitte was not willing to continue as ... auditor and, therefore, it was agreed to amicably end the client-auditor contractual relationship," he said.
Deloitte did not immediately respond to a request for comment, reports said. Though in its letter of resignation, contained in Adani's stock exchange disclosure on Saturday, it said it was resigning with "immediate effect" as it was not the statutory auditor of a substantial number of other Adani Group companies.
"The company did not consider it necessary to have an independent external examination" of certain allegations, which were contained in the Hindenburg report, Deloitte wrote in the letter.
Deloitte first pointed out in May certain transactions flagged by Hindenburg and gave only a qualified opinion related to Adani Ports, indicating its concerns.
Adani surely has some questions to answer in the context of these related party transactions. 
But what about Deloitte ? Unfortunately, fallible as they might be, the weight of trust is tilted towards the auditor rather than the company, whichever one that might be.
Yes, auditors could be made to bend here and there but the reason organisations work with a Big 4, Deloitte being one of them, in the first place is to benefit from the halo of trust that the audit firm enjoys.
And which confers a sense of authenticity on the numbers and accounting practices being followed.
Which in turn helps the company's standing with investors, lenders and its stakeholders at large.
A push here or a prod there usually ends up reflecting badly on the company rather than the auditor. 
This is from all the cases I have seen in India so far and over the years. 
The Adanis would be best served to come clean to their shareholders and beg forgiveness for things done and reasons for the same, if so, rather than go into the equivalent of an accounting streetfight which will leave a greater stain on the company than the auditor.
BANKS AND ATTRITION
Every once in a few months I get a call or a message from a young woman or man announcing that they are my new relationship manager in the bank.
I greet these young women and men with increasing wariness knowing fully well, statistically, intuitively and practically that they will be gone in 6 months, being the best case.
Nevertheless, they enthusiastically offer to help with any or all of my banking needs, which I don't have as such and the ones I do, i usually struggle to find resolution as I did this year end for filing taxes
India's private banks are witnessing a spike in attrition rates, especially among younger, frontline staff. According to reports, lenders are seeing one in three entry level staff quitting in a year.
The larger background to this is a strong demand for loans amid a rush to capture a larger share of the crowded market, with credit demand growing 15% last financial year and expected to expand 10-12% this year, driven by retail loans.
Reports sayHDFC Bank, the country's largest private lender, saw its employee turnover rate over the last year rise to 34%, while Axis Bank was at nearly 35%. Kotak Bank's attrition surged to about 50%, with Yes Bank reporting a 43% rate of attrition.
With entry-level relationship managers earning between Rs 30,000 and Rs 35,000, incentives to switch are far easier to provide.
Remuneration in the category has grown 8-10% annually over the past year, in line with the broader job market, but staffers try and maximise gains by switching jobs if they can.
But it's not only money that is driving attrition rates, perks like flexibility in working conditions are also playing a huge part. Most exits happen within six months of joining, a banker told Reuters.
So what can banks do in situations like this ? I reached out to Rajkamal Vempati, Head of Human Resources at Axis Bank and began by asking her what was driving such high attrition levels in banking ? And what were banks doing about it ? 
---
Incidentally, a disclosure, the private bank who I bank with and was referring to before the conversation was not Axis Bank !
Pay With Your Hand
There is a certain sense of power that flows through you when with a mere wave of a hand you can dispatch something or someone or more appropriately, get things done.
Amazon has launched a new service  where  you will be able to scan your palm at any of the company's more than 500 Whole Foods stores in the U.S., and join a service called Amazon One.
Meanwhile, a quick diversion, I don't know if you have used the Digi Yatra app by which you can whisk yourself through airports like Delhi right to security check, saving much time and the prospect of your ID card and ticket being looked up and down by a security official at the airport terminal.
In the first part, you have to scan the QR code on your mobile phone app that is linked to your ticket face down and then simultaneously look at a camera that scans your face.
Once the gates open and you enter, you have to do it again just before the security check. This time, you just have to look at the camera and the gates open. You don't need to scan the phone QR code again.  
Now, think of Amazon's palm, it's interesting of course and yet, only an extension to what we are already seeing. 
So once enrolled in Amazon's scheme, your hand is all you'll need to pay there, Amazon Fresh grocery stores, some Panera restaurants, a handful of retailers at airports, some stadiums and concert venues, and a handful of Starbucks locations, the Wall Street Journal is reporting.
This is seen as another way of crashing into the payments space, currently dominated by the likes of PayPal, Apple or Square. Apple's Apple Pay incidentally is now 9 years old and has $2 billion in revenue.
Interestingly, since Amazon hasn't succeeded at making mobile devices and operating systems, it is, in essence, trying to make them unnecessary, the WSJ says.
But Amazon One also represents its most ambitious attempt to become a full identity provider, a sort of universal digital skeleton key that can be tied to pretty much anything else—including, eventually, health records.
Companies that become the identity provider for a person also get the opportunity to sell them other goods and services, and insinuate themselves deeper into their lives in myriad other ways.
Think about it.
Anyway, Amazon One's expansion so far in 2023 has extended to retailers in nine major U.S. airports and 13 sports arenas. 
Further, at places where the company's hand-scanning sensors are installed, you can already use it to enter a venue, identify yourself as a member of a loyalty program, or verify your age at a bar. In the future, you might be able to gain access to your company's offices, a parking garage, or a gym—or sign in at a hospital or doctor's office.
Think about India's unique ID programme..
I quite like the gesture, of literally a wave to get you through. Of course there are privacy issues in all of this but am sure those with a better understanding of it will address it
The underlying technology has been around for more than a decade. It uses near-infrared light to peer through a person's hand and capture the unique pattern of blood vessels inside, as well as the surface of the palm, the WSJ reports.
Creepy isn't it but can make life a lot more simpler. The two seem to always go together nowadays.
Darius Forbes No More
This is my first obituary mention in The Core Report, of Darius Forbes, known as India's boiler man who passed away on Friday morning at the age of 97 in Pune.
And I am bringing it up for three reasons. 
First, I had the privilege of visiting the Forbes Marshall factory in Chakan near Pune just three weeks ago and spending half a day there walking around its extremely well laid out, spotlessly clean and well ventilated plant. 
Second, it is not often that one comes across a business leader whose life and times are intertwined with India's business and political history and the evolution of both. 
Third, it is my experience that there is something spiritually  uplifting about great shop floors which somehow reflect and carry the energy, enthusiasm and vibrations of those who work there and indeed the many who have contributed to its making and passed on.. 
You can see it in the focus and contentment of the faces of the men and now increasingly women hard at work. And sometimes just the near musical gentle hum and occasional steam being let off, quite literally in this case.
I can assure you that great manufacturing places with positive energy usually reflect in bottom lines and stock prices too, even a drive around Chakan where I was with the sprawling factory campuses of Bajaj Auto and Mahindra and Mahindra among countless others will tell you that.
A few words on Darius Forbes. He was born in 1926 at Bombay (now Mumbai) and moved to Madras (now Chennai) studying at the Madras Christian College School and later at The Loyola College. 
He participated in pre-independence protests and at one such in support of Gandhi's call to the British to Quit India, held near Marina beach, was fired upon – his friend who was next to him died during the firing. 
In 1943, he enrolled in the Banaras Hindu University (BHU) to study metallurgy. There Dr Sarvepalli Radhakrishnan, former president of India,who was the vice-chancellor, took him under his wing. 
Incidentally, Forbes attended Dr Radhakrishnan's talks on the Bhagavad Gita, which he has said is one of his most enduring memories.
In 1946 he returned to Bombay and joined his Uncle Mr Jeejeebhoy N Marshall's business in December that year. 
Mr Marshall dealt with steam turbines, electric motors, switches and other electrical accessories for industrial use. They also sold diesel engines, road rollers, stone crushers, water tube boilers and tractors. Darius Forbes marketed the steam engineering products for J N Marshall & Co.
In the mid 1950s, the country had a foreign exchange crisis. It was becoming increasingly difficult to import products and parts. So Darius Forbes set up manufacturing in the garage of their home in Mumbai but soon ran out of space. There already was some manufacture by local workshops. In 1957, a plot of land was purchased in Kasarwadi, on the Bombay Poona highway and in 1959, the factory was up and running.
Forbes Marshall's new factory is in Chakan, a roughly 30 minute drive from Kasarwadi, which is much closer to Pune and where Darius Forbes first set up in Kasarwadi.
The Kasarwadi factory, north of Pune, incidentally is flanked by other engineering majors like Atlas Copco and Alfa Laval, in this case both Swedish. All companies, Copco, Laval and Forbes Marshall are in somewhat allied business, air compressors, heat transfer to steam boilers and instrumentation.
 Back to Darius Forbes, those who work in Marshall remember Darius for his philanthropy rather than his engineering prowess. 
Including his setting up of a 35-bed subsidised hospital in the factory premises after encountering an accident outside and finding that the nearest medical assistance was back in the city. 
That's it for me, have a great day ahead.
We don't have an edition tomorrow morning, being Independence Day celebrations and also businesses, banks and the financial sector being closed.