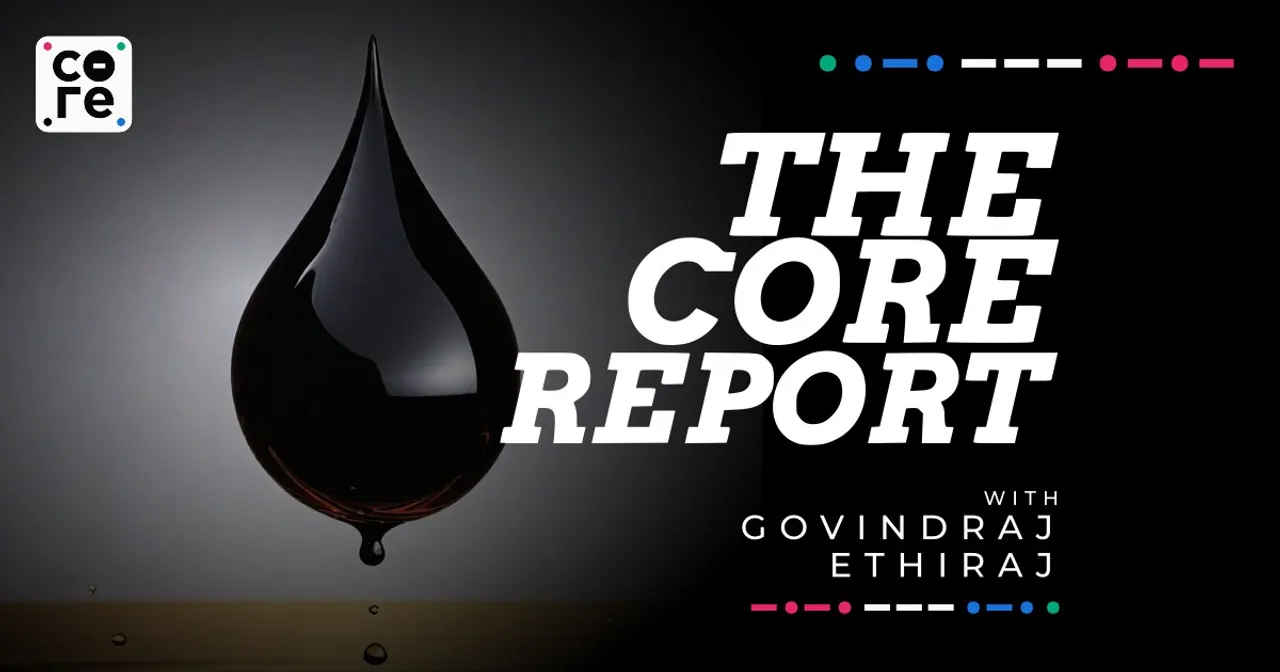 On today's episode, financial journalist Govindraj Ethiraj talks to Manisha Kapoor, CEO of Advertising Standards Council of India(ASCI).
---
Our Top Reports For Today
[00:00] Stories Of The Day
[01:10]

 

Demand or Supply, What Will Drive Oil Prices Now?
[03:43]

 

Personal Loans will get expensive, will that solve the problem?
[08:16]

 

Every product and service can't be green, even if it claims to. Guidelines to crack down on greenwashing advertising as it's known are on the way. 
[15:45]

 

Sam Altman may return to OpenAI, that will not solve the problem of AI.
[18:54]

 

Thailand goes all out again for high spending tourists.
[20:25]

 

Australia Wins The ICC Cricket World Cup 2023
---
NOTE: This transcript contains only the host's monologue and does not include any interviews or discussions that might be within the podcast. Please refer to the episode audio if you wish to quote the people interviewed. Email [email protected] for any queries.
---
The oil market is a classic case study at least at this point on the role of demand supply in markets.
And how prices can keep falling because demand is falling and supply or suppliers cannot always hold sway on the market.
In this case, bullish analysts from investment banks like Goldman Sachs are predicting that the Organisation of Petroleum Exporting Countries will raise prices and hold them, by of course moderating supply as they have done in the past. It does work.
"We believe that OPEC will ensure that Brent oil prices end up in a $80-to-$100 range in 2024 by ensuring a moderate deficit and leveraging its pricing power," Goldman Sachs analysts including Daan Struyven said in a note as reported by Bloomberg.
Still, US benchmark WTI fell 1.7% for the week, its fourth straight weekly retreat. It's down 19% from its highest close of the year in September.
Brent is currently around $80 a barrel.
Shipments from Guyana and the North Sea are set to rise next month, while US exports have been surging.
We do track oil prices closely on The Core Report because any sharp rise can affect India's economy, including of course nudging inflation numbers higher which have just managed to come down.
Back home, most finance stocks came under pressure on Friday after the RBI raised weightages on personal loans - more on that shortly - on Thursday. The BSE Sensex ended 188 points lower at 65,795 levels, while the Nifty50 ended at 19,732, down 33 points. 
The good news, which I mentioned in passing on Friday morning, is that foreign portfolio investors have reversed their course and are now buying. After selling in August, September and October and the first half of November, FPIs are now buying again.
The reason, a fall in US Treasury Yields to 4.45% - it had touched 5% in recent weeks, and perhaps lesser so, ongoing geopolitical tensions in the Middle East.
Lower yields in the US means money will seek higher yields elsewhere, including emerging markets like India. Though, FPIs have been selling across Asia in recent months.
FPIs have bought ₹1,433 crore worth of Indian equities and the total inflow stands at ₹15,375 crore as of November 17, taking into account debt, hybrid, debt-VRR, and equities, according to National Securities Depository Ltd (NSDL) data, Mint quoted.. 
Person Loans Will Get Steeper, Will That Solve The Problem? 
State Bank of India (SBI.NS), India's largest bank has said that it expects minimal impact on its capital ratios following the Reserve Bank's tighter rules for personal loans, its chairman told Reuters in a phone interview.
The impact of the increased risk weight on personal loans, including credit cards, will be 55-60 basis points (bps), Dinesh Kumar Khara said on Friday.
SBI's capital adequacy ratio stood at 14.28% as of September end.
The Reserve Bank's move to raise risk weightages followed a rapid growth in the banking system's unsecured personal loan portfolio from Rs 60,000 crore in 2019 to Rs 130,000 crore currently. Credit cards have also grown fast. 
The higher capital requirement will make loans costlier and crimp growth, bankers and analysts said.
So the bottomline is that personal loan costs will go up somewhat. Or they may even not, by much, particularly if banks absorb the costs in the competitive search for customers.
The question to me is, will it matter either way?
The RBI is cracking down and increasing risk-weights on banks' unsecured personal loans and consumer durable loans from 100% to 125%, and risk-weights on credit cards have been increased from 125% to 150%, among others addressing two issues, at least as I could see.
First, of course, is the bank's balance sheet problem.
Second, when it comes to small personal loans, there is a social and economic problem that has been highlighted. 
The propensity of people to go for high degree of loans in a way that their lifestyles are altered is something for policy makers to think about as well.
Living in debt is not easy, particularly if you are starting out in life, as many are, and getting into debt, at some level or the other.
To the extent, the RBI seems to have done the only thing it can do, which is to make money essentially costlier.
Am not sure this will solve the problem though because at these levels, high costs can get staggered into more EMIs or longer durations.
And that is precisely what will happen.
The other question is the role fintech companies play.
Fintech companies bring efficiency into the system. At one level it is needed. But at another level, it evidently contributes to borrowers to overleveraged or stretch.
The ease of getting a loan with a click of a button or a tap on the screen on my mobile is addictive and transforming.
The issue is not whether these borrowers can repay or not. Quite likely they will. The issue is that this is a way of living they are being in some ways pulled into which is unfortunate.
Remember, we are not talking of loans to buy immovable assets or even cars and 2 wheelers.
Eventually, people must decide in their own best interests how much to borrow, how much to live beyond their means if they are and where to stop.
The role of efficiency and the role of fintechs, must be examined more closely. The baby should not be thrown out with the bathwater but closer scrutiny must follow. Merely raising the cost of capital is not enough.

Govt finalises PLI for Dell, HP, among others to make hardware in India.
We haven't spoken of electronics and local manufacturing for a few weeks. One reason is the flip flop we saw which alternated between banning imports of laptops to then monitoring them in a funny sequence of events which was quite unnecessary and could have been thought through.
Anyway, the government has now approved investments by 27 companies including Dell (DELL.N), HP (HPQ.N) and Foxconn (2317.TW) under its $2 billion incentive scheme to manufacture IT hardware domestically, Reuters is reporting.
Information technology minister Ashwini Vaishnaw said the companies are expected to invest $360 million collectively, while creating 50,000 jobs in the sector.
Approvals have also been granted to domestic manufacturers including Dixon Technologies (DIXONS) and VVDN, the minister said.
In May, the Government had doubled the value of the incentive scheme to spur domestic production of laptops and tablets, following a lukewarm response to a previous programme.
India is targeting an annual output worth $300 billion in the global electronics supply chain by 2026.
GreenWashing Here We Come
A surprisingly large number of products and services make some kind of a green promise in their advertising.
This is called greenwashing and broadly refers to false, deceptive, misleading environmental claims about products, services, processes, brands or operations as a whole, or claims that omit or hide information, to give the impression they are less harmful or more beneficial to the environment than they really are.
This is now important because consumers obviously are not just attracted to green promises and pledges but also pay premiums are or increasingly willing to do so.
India's Advertising Standards Council of India (ASCI) has come out with draft guidelines to set final guidelines on what advertisers can and cannot say when making a green promise.
The move could not of course have been more timely.
The draft guidelines for instance say that comparative claims like "greener" or "friendlier" can be justified.
Importantly, the draft says, environmental claims must be based on the full life cycle of the advertised product or service, unless the advertisement states otherwise, and must make clear the limits of the life cycle. 
It also says that unless clear from context, an environmental claim should specify whether it refers to the product, the product's packaging, a service, or just to a portion of the product, package, or service. 
And there is much  more. I reached out to Manisha Kapoor, CEO of ASCI and began by asking her, what prompted these guidelines at this point.
---
SAM ALTMAN
And the big news over the weekend. OpenAI shocked the world, from tech geeks and users to venture investors when it ousted  Chief Executive Officer Sam Altman who had emerged as the face of artificial intelligence following the viral success of his company's chatbot, ChatGPT.
Till this surprise board ejection happened, most people would have been surprised to hear that Sam Altman and his company were not one and the same thing. 
OpenAI by the way was valued at $86 billion valuation. The shock didn't end with Altman, who by the way, has met PM Narendra Modi in India. 
Several people, including OpenAI President Greg Brockman, have resigned and now the latest news is that the board is facing investor pressure to reinstate Altman and there's a possibility the board itself resigns in the coming days, Bloomberg reported.
OpenAI's decision to fire Altman followed wide-ranging disagreements between the chief executive and his board including differences of opinion on AI safety, the speed of development of the technology and the commercialization of the company, Bloomberg reported. 
Altman's ambitions may have also played a role. Altman has been looking to raise tens of billions of dollars from Middle Eastern sovereign wealth funds to create an AI chip startup, according to a person with knowledge of the investment proposal. 
Altman was also courting SoftBank Group Corp. chairman Masayoshi Son for a multibillion-dollar investment in a new company to make AI-oriented hardware in partnership with former Apple designer Jony Ive. 
The board may have been put off by Altman raising funds off of OpenAI's name and these new companies not sharing the same governance model as OpenAI, the person said.
Despite being OpenAI's biggest backer by far, Microsoft Corp. had only a few minutes' advance notice about Altman's firing, said a person familiar with the matter. 
Microsoft CEO Satya Nadella was blindsided by the board's decision, according to people familiar with the situation, and has been in touch with Altman and pledged to support him in whatever steps he takes next. The tech giant bet billions on OpenAI and used its partnership with the startup to add AI features to many of its best-known software products and seemingly leap ahead of rivals like Alphabet Inc.'s Google in the artificial intelligence arms race. 
Nadella said in a blog post they had a long-term agreement with OpenAI with full access to everything we need to deliver on our innovation agenda and an exciting product roadmap; and remain committed to our partnership.
Whichever way this goes, the importance of AI cannot be reemphasised.
Whether Altman returns or starts something else, which would be similar, possibly, independently or otherwise, the fact is that the world is seeing the worse side of AIs, think deep fakes on your phone to start with and is still grappling with how to address it or control it.
This is a dangerous place to be in and it calls for leadership and statesmanship by the companies that hold or innovate on AI as well as regulators and public policy makers.
Thailand Ups The Ante
Indian tourists are in for another set of deals, but in Thailand.
After offering free visa on arrivals to Indian citizens, Thailand is now lining up hundreds of cultural and sporting events, and may waive visa requirements for travellers from more European countries, as it works to induce holidaymakers to stay longer and spend more, Bloomberg reported.
There will also be about 3,000 events like music concerts, marathons and other cultural festivities organised through to next year to draw tourists, he said.
Prime Minister Srettha Thavisin who became prime minister in August, has identified tourism as a "quick win" to accelerate Thailand's economic growth. His administration has temporarily waived visa requirements for travellers from Russia, China, Kazakhstan, India and Taiwan, and ordered airlines to add more routes while streamlining airport operations to cut waiting time for visitors. 
It also plans to allow nightlife entertainment venues in some areas of Bangkok, Phuket, Chiang Mai and Chonburi to operate until 4 a.m. starting next month.
Now of course this is only partly about Thailand, it is also about what it takes to attract tourists and Governments are going all out. 
Thailand wants to touch its 40 million tourist mark. It hit preCovid and is still a way from there. It is currently at around 23 million tourists as of November second week.
But Thailand is also worried about lower spending and wants to incentivise tourists to spend more.
These are both insights for Indian tourism policy makers to work on, as indeed, those down the line, from airlines to hotels and the hospitality industry at large.
---
India's wait for an ICC trophy continued on Sunday as they fell to Australia by 6 wickets in the World Cup final at the Narendra Modi stadium in Ahmedabad with opener Travis Head scoring a century to take the Aussies to their 6th title.
Chasing 240, Australia openers went hell for leather getting 15 off Jasprit Bumrah's first over before David Warner was dismissed by Mohammed Shami.
Mitchell Marsh also got going but he was sent back by Bumrah for 15 as the Aussies went down to 41/2. Steve Smith would follow suit with just 4 as Bumrah nabbed his second.