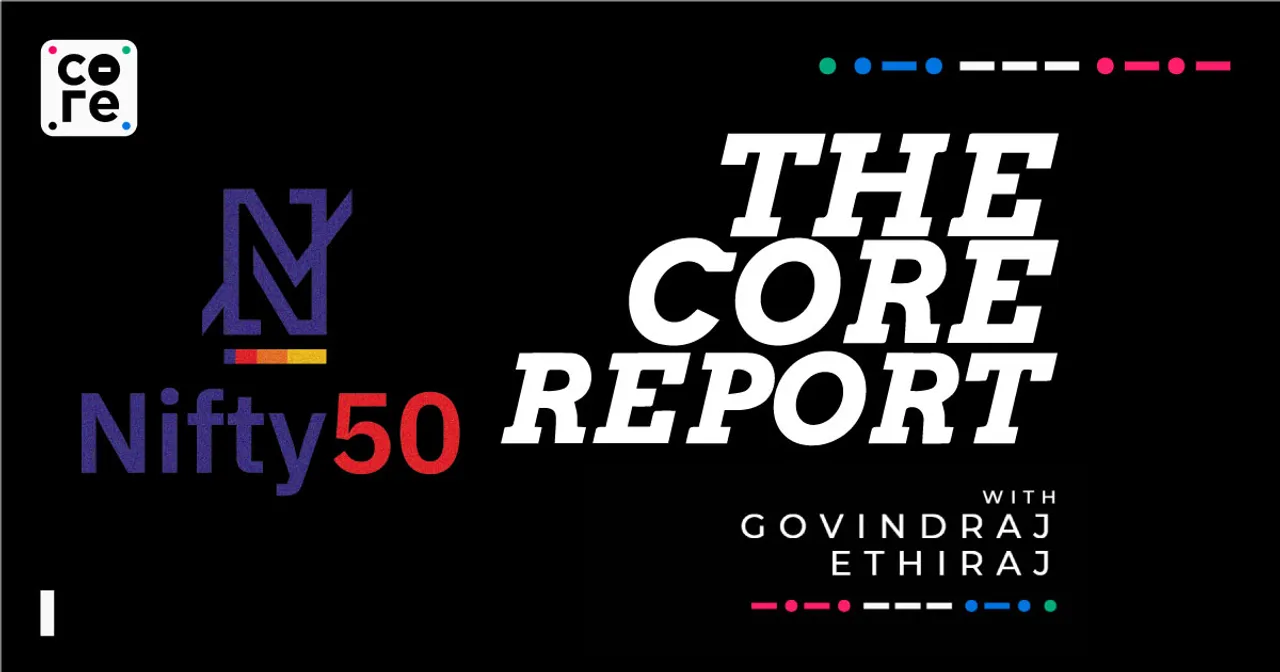 On today's episode, financial journalist Govindraj Ethiraj talks to Mahesh Uppal, telecom analyst and lawyer as well as Neil Shah, Vice President at Counterpoint Research.

---
Our Top Reports For Today
[00:50]

 

The Nifty50 holds 20,000.
[01:56]

 

How Supersmart 23-year olds are managing money and accounts from Adani to Byjus
[05:26]

 

Elon Musk's satellite internet service Starlink attacked for denying Ukraine access at a key moment, do we need it for connectivity in India?
[15:52] What does an Iphone15 Made and Sold in India mean for the country's electronics ecosystem
---
NOTE: This transcript contains only the host's monologue and does not include any interviews or discussions that might be within the podcast. Please refer to the episode audio if you wish to quote the people interviewed. Email [email protected] for any queries.
---
The NIFTY HOLDS ABOVE 20,000
The mid cap stock scare seems to have abated for now. 
The BSE Sensex gained 246 points to end at 67,467 levels, while the Nifty50 ended at 20,070, up 77 points. This is the first time the Nifty is closing above 20,000, a psychological mark for many active market participants.
The broader markets, too, rebounded today after falling up to 4 percent on Tuesday. The BSE MidCap and SmallCap indices gained 0.2 per cent and 0.85 per cent, respectively.
The gains are largely attributed to retail inflation moderating to 6.83 per cent in August from a 15-month high of 7.44 per cent in July. Core inflation at 4.8 per cent remained in line with the market's expectations.
And India's factory output rose to a five-month high of 5.7 per cent in July, up from 3.7 per cent in June, driven by strong growth in mining and power.

---
Super Smart Young People
24 and 27 years of age is the golden band to do well, particularly in finance, audits and money management, I am increasingly feeling. 
Some time ago, research firm Hindenburg had questioned the Adani group's decision to give a big audit mandate for Adani Enterprises and Adani Total Gas to a firm where the auditors who signed off were only around 24 years old then and 28 now. The audit firm has resigned recently. 
Fast forward to another 23-year-old.
Bloomberg is reporting, quoting a lawsuit, that education firm Byju's last year transferred more than half a billion dollars to Camshaft Capital Fund, an investment firm founded by one William C. Morton when he was just 23 years old. 
Moreover, Byju's allegedly hid - not my language - $533 million in an obscure three-year-old hedge fund that once said its principal place of business was an IHOP pancake restaurant in Miami, according to lenders trying to recover the cash.
If you want to know what an IHOP restaurant is like, you can visit one in Gurgaon or Mumbai.
Morton, the 23-year-old's fund received the money despite an apparent lack of formal training in investing, according to the lenders. What's more, luxury cars — a 2023 Ferrari Roma, a 2020 Lamborghini Huracán EVO, and a 2014 Rolls-Royce Wraith — have been registered in Morton's name since the transfer occurred, according to court papers, says Bloomberg
So cool. Or maybe what else do you do when you have a million dollars in your hand in Miami.
Lenders to Byju are saying the $533 million is collateral for a $1.2 billion loan. The two sides have been trading accusations about the loan, with lenders claiming it is in default and Byju's accusing lenders of predatory tactics.
"Byju's has gone to great lengths to conceal the whereabouts of borrower's $533 million for the admitted purpose of hindering and delaying" creditors, they argued in Miami-Dade County court filings.
Bloomberg says Byju's sent the money to Camshaft even though the hedge fund appears to cater to smaller clients. Camshaft accepts as little as $50,000 — "an extremely low threshold for a hedge fund," lenders said in their court filing.
In a 2020 Securities and Exchange Commission filing, Camshaft listed its principal business address as 285 NW 42nd Ave. 
Far from a typical office, that building is currently home to an IHOP. The diner in Miami's Little Havana district is surrounded by a drive-through car wash and a strip mall that hosts a massage parlour and a sandwich shop.
An employee on shift on a slow Tuesday afternoon served two families who sipped juice and munched on burgers while Blake Shelton's "God's Country" played in the restaurant. "A hedge fund? No," the server, Ana, said with wide eyes.
"If I had somebody coming in every day, or regularly, I'd recognize them," she said.
She said she'd never heard of Morton, Camshaft Capital Fund, or Byju's and that the address had been home to the IHOP for decades. The missing cash has been at the heart of the lenders' actions. The company had a right to transfer the money under the loan agreement, Byju's lawyer said.
Byju's was valued at more than $20 billion last year when it considered merging with a special-purpose acquisition company.
Internet Connectivity & Musk & Starlink
Elon Musk made news once again when it emerged that he had refused to allow Ukraine to use Starlink internet services to launch a surprise attack on Russian forces in Crimea last September.
Excerpts of a new biography of Musk published by The Washington Post last week revealed that the Ukrainians in September 2022 had asked for the Starlink support to attack Russian naval vessels based at the Crimean port of Sevastopol, according to Associated Press. 
Musk had refused due to concerns that Russia would launch a nuclear attack in response. Russia seized Crimea from Ukraine in 2014 and claims it as its territory.
Now, Starlink has also applied for permission to launch services in India and reports last week suggested that the company was on the last mile of securing them.
Whether or how Starlink might control access is a slightly different issue in India since authorities regularly switch off internet connectivity in areas where trouble is either brewing or raging.
Quite possibly, the same restrictions will apply to a satellite based internet system as well, at least the part that is working in India.
Satellite internet is supposed to go to places current networks can't go or find it challenging. Many remote parts of India would qualify.
Which brings me to the question. Where is India very broadly on data and high speed data and internet networks. Remember, we have an ambitious 5G plan running and being driven by telecom majors like Reliance Jio and Airtel.
And finally, where does the satellite fit in all this? To understand this, I reached out to Mahesh Uppal, telecom analyst and lawyer and began by asking him how he was looking at internet connectivity in India at this point as a whole ?
---
Speaking of Starlink and Musk, India's commerce minister Piyush Goyal said yesterday that Tesla Inc is planning to source automobile components worth $1.7-1.9 billion this year, Union Commerce Minister Piyush Goyal.
The quantum of imports will be around double as compared to auto parts worth $1 billion imported by Tesla from India last year, Goyal said, while addressing the annual convention of Automotive Component Manufacturers Association (ACMA).
IPHONE 15
Speaking  about manufacturing in India, the iPhone 15 will be available in India in a few days. The phone itself is making news in India because this is the first time the latest generation of iPhones will be made and sold in India, not all but a fair number, from what we understand.
This of course is good news because it represents a step forward or leap in assembling capability and electronics manufacture. 
So where do we stand now on the value chain and also in the context of the many announcements we have seen from the likes of Foxconn..
To understand that, I reached out to Neil Shah, Vice President at Counterpoint Research which tracks electronics and conductor manufacture and began by asking him how we were reading the iPhone15 manufacturing development.
---
Meanwhile, the iPhone15  starts at a price of Rs 79,900 for the 128GB model The iPhone 15 Pro starts at a price of Rs 1,34,900 and the iPhone 15 Pro Max starts at Rs 1,59,900 for a 256 GB model. It goes upto Rs 199,000 for a 1TB model. Imagine paying nearly Rs 2 lakh for a mobile phone.
The Apple iPhone 15 Pro and Pro Max get a new titanium frame which could make them the lightest that Apple has ever built. Another hardware improvement is the new A17 Pro chipset. 
Apple says the battery life remains the same and the Pro models can deliver video playback time of up to 29 hours. 
I must of course inform you, in full transparency, that I am not an iPhone user though I am reliably informed it works well in certain conditions. I do of course welcome the USB C port, which is already there on the iPad incidentally. 
And Another Big Land Deal In Mumbai
The Nusli Wadia Group-owned Bombay Dyeing and Manufacturing Co.'s board has approved the sale of a land parcel of about 22 acres in Mumbai's Worli to Goisu Realty Pvt. for Rs 5,200 crore. 
The sale will help Bombay Dyeing extinguish all its borrowings and pay dividends in the future, it is learnt.
Goisu Realty is a subsidiary of Sumitomo Realty & Development Co and Sumitomo has been snapping up several land parcels and projects across the country. Late last year, a Nikkei report said Sumitomo would invest $3.5 billion in office projects across India.

Upon shareholders' approval, Bombay Dyeing will receive about Rs 4,675 crore from the buyer for Phase I, the company said in an exchange filing. 
You might not know this but Axis Bank's headquarters and towers are actually inside this land parcel in Worli.
The Core Report has reliably learnt that while the Wadias have sold the land parcel except the Axis Bank HQ, Axis Bank will have right of way into the building.
---
And finally, speaking of property, the Reserve Bank of India (RBI), has released revised norms under which lenders have to release original property documents to borrowers within 30 days of full repayment of a loan. Failing to do so will attract a penalty of Rs 5,000 per day, which the lender would have to pay to the borrower, the RBI said.
The central bank's revised norms for lenders shall be applicable from December 1, 2023.

That's it from me for today. Have a great day and see you tomorrow. Don't forget to log in at www.thecore.in