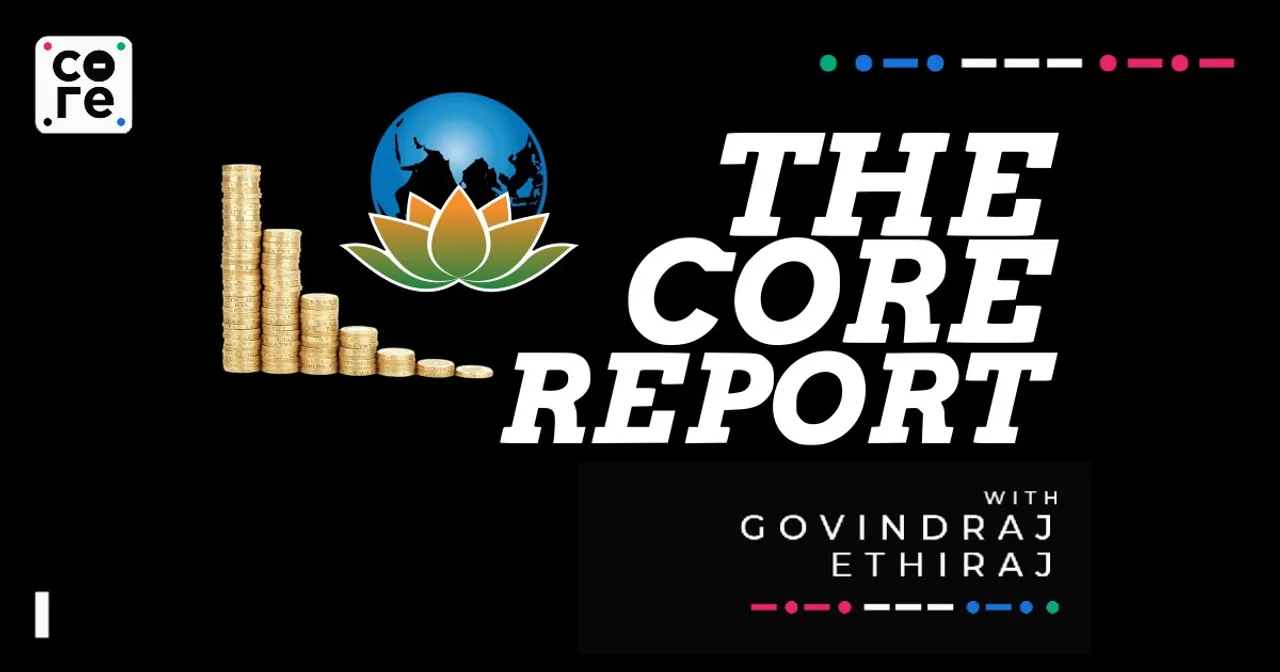 On today's episode, financial journalist Govindraj Ethiraj talks to Hemindra Hazari, A commentator with a specialisation in banking and economy research as well as Siraj Hussain, former Agricultural Secretary to the Government of India.

---
Our Top Reports For Today
[00:46]

 

Prime Minister Modi highlights inflation as a global challenge
[03:52]

 

Countries are growing food to export to India
[15:23]

 

Uday Kotak steps down as CEO of Kotak Bank.
[23:36]

 

As Jio Finance flexes muscles, Bajaj Finances announces expansion
---
NOTE: This transcript contains only the host's monologue and does not include any interviews or discussions that might be within the podcast. Please refer to the episode audio if you wish to quote the people interviewed. Email [email protected] for any queries.
---
PM Modi Warns of Inflation
Prime minister Modi said inflation is a key issue the world faces on the eve of the G20 summit that kicks off this week in Delhi.
He said inflation is a key issue that the world faces even as he highlighted India's efforts  in the space of renewables, fighting disasters and debt management.
Our G20 Presidency engaged the G20 Finance Ministers and Central Bank Governors. It was recognized that timely and clear communication of policy stances by Central Banks is crucial. This can ensure that policies taken by each country to combat inflation do not lead to negative repercussions in other countries, he said.
He also pointed out, significantly, that emphasis was also placed on enabling countries to share policy experiences on how they tackle the challenges associated with food and energy price volatility especially since food and energy markets are closely interconnected.
Food prices and food inflation are obviously important and live issues in India. And we will touch upon an aspect of food shortages shortly. 
Mr Modi also said as international taxation is concerned, India used the G20 forum to provide a strong impetus to achieve significant progress on Pillar One, including the delivery of a text of a Multilateral Convention.
This Convention will allow countries and jurisdictions to move forward with historic, major reform of the international tax system.
Mr Modi also pointed out the setting up of the International Solar Alliance and took the initiative to bring countries together under the vision of 'One World One Sun One Grid'. 
Elsewhere on energy, he said "Our principle is simple - diversity is our best bet, whether in society or in terms of our energy mix. There are no one-size-fits-all solutions. Given the different pathways countries are on, our pathways for energy transition will be different." Coal, oil and gas make up for almost two-thirds of the world's energy consumption. And replacing them can't happen overnight.
"Despite having 17 percent of the world's population, India's historic share in cumulative emissions has been less than five per cent.," Modi said.
He also spoke of the Coalition for Disaster Resilience so that countries across the world, especially developing countries, learn from each other and build infrastructure that is resilient even during disasters.
If you are a regular listener of The Core Report, you would of course know this, because we spoke to Amit Prothi, India head of the CDRI, well, just last week !
Mr Modi also touched upon the debt crisis being a matter of great concern for the world, especially developing countries. 
First, countries that are going through a debt crisis or have gone through it, have begun to give greater importance to financial discipline.
Second, others who have seen some countries facing tough times due to the debt crisis are conscious of avoiding the same missteps.
To accelerate global debt restructuring efforts, the Global Sovereign Debt Roundtable, a joint initiative of the IMF, World Bank and the G20 Presidency was launched earlier this year. This will strengthen communication among key stakeholders and facilitate effective debt treatment.
Sequencing is important.
Two months ago, HDFC the mortgage giant merged with HDFC Bank, its offspring that was born much later into its existence. In 1994 to be specific, in contrast to HDFCs year of birth, 1977.
Just after the merger, an interesting thing happened. Three stalwarts in the now merged company, Deepak Parekh, Chairman, Keki Mistry, Vice Chairman and Renu Karnad, Executive Director, all stepped down from their roles in early July. Mistry and Karnad joined the merged board but as non-executive directors but Parekh was out altogether.
The HDFC-HDFC Bank and Kotak Bank trajectories are different but the similarity is interesting nonetheless,  particularly the fact that the three stalwarts stepped down in a single day.
The 64-year-old Uday Kotak wrote out - quite literally - his resignation on Saturday on sheets of blank paper without even a letterhead on September 1. The move to resign  was anticipated but not so soon. The check out date was December 31.
As things stand, Uday Kotak cannot continue as CEO of Kotak Bank beyond December and has to step away from executive roles. 
He gave two broad reasons for his move, including in later interviews. First is sequencing. He said he wanted to ensure that Dipak Gupta, a Kotak Bank stalwart had the opportunity to stay in an executive role were the Reserve Bank to accept Kotak Bank's recommendation of Gupta being CEO. Though we don't know which names Kotak Bank has recommended as successors.
Else, as things stand, both he, Dipak Gupta and the non-executive chairman Prakash Apte will leave on December 31. Which is three of them. 
Uday Kotak also said he wanted to leave after fulfilling his responsibilities, which included the approval of the financial accounts for FY23 at the AGM on August 19.
The RBI takes a final call on who will become CEO of a bank based on recommendations of names sent by the bank, in this case Kotak Bank to them. The options desired by the regulator are both internal and external. Though  Bloomberg news last month put out a story saying the RBI was pressuring Kotak to get outside candidates.
Some more background. A few years ago, Uday Kotak took the Reserve Bank of India to court on the issue of not bringing down his stake in the bank to 15 percent within the stipulated time. 
The RBI then modified the rules to let promoters keep 26 percent in the banks they founded. Which is where he is presently.
The RBI issued guidelines in 2021, capping the term of an MD and CEO of a bank at 15 years after which he/she will have to take a three-year cooling-off. In these 3-years, the person cannot have any role in the bank, the RBI had said. Do note that Uday Kotak is now back as non executive director so the current status would suggest that he may not want to return as CEO, even later. But then all this is largely to fulfil the RBI's wishes, which may change.
Either way, Uday Kotak, Prakash Apte and Dipak Gupta not being there as new year dawns on 1st January 2024  is a continuity gap for sure. 
Uday Kotak also said he wanted to sync all this with family commitments including an upcoming marriage of his son.
In saying this, he did demonstrate a more personal or even soft side, which is somewhat rare for founders and CEOs to do, particularly male.
He also said what most parents, whether billionaires or not, would like to say at times like this even if they hold themselves back. Which is that they want to spend time with family in moments like this, even as age and time is evidently catching up.
Whether you believe him or not is upto you of course. 
Now, come the more operational issues. We spoke of the transition at Kotak Bank a few weeks ago and whether or not Uday Kotak would fully let go.
At this point, he is continuing on the board of Kotak Bank and is of course the single largest shareholder. There are no family members on the board at least now.
Uday Kotak's staying on in the board, being something that most shareholders would like to see, is not something the Reserve Bank would be very comfortable with since it implies indirect control even if in a non executive capacity.
Be that as it may, shareholders would like continuity in more ways than one. Even the system needs it. The price of going from stable founder to maverick CEO, if that happens, would be high, particularly when people's money and savings are involved.
Incidentally, Uday Kotak pointed out the day before that an investment of ₹10,000 within his company in 1985 would be worth around ₹300 crore today.
I reached out to Hemindra Hazari, who has been tracking the issue of boards and leadership in banks from a governance point of view. I began by asking him what he thought of the timing of Uday Kotak's move.
---
Markets & Beyond
Meanwhile, just to remind you that the markets were higher over the weekend.  The BSE Sensex was up  556 points to settle at 65,387 levels on Friday and the Nifty50 ended at 19,435, up 182 points.
Wheat, Rice & Now Tur Dal
When you sit down to have dal with your rice next time, there is a ⅕ chance it was grown in east Africa before travelling to your table.
Between rice, wheat and dal or pulses, India's staple foods are increasingly in the midst of new forces of demand and supply, global and local and influenced by a range of factors including climate change and  geopolitics.
Back to pulses. They are a key staple in Indian food and cooking. Of which dal or tur dal is an important one. Pulses are also key sources of proteins in our protein deficient country.
Researchers at the International Food Policy Research Institute (IFPRI) have pointed out the average Indian diet has excessive consumption of cereals but is deficient in proteins, fruits, and vegetables. 
Rural India consumes only 194 grams of protein a day, against the recommended 459 grams. Urban Indians consume 242 grams. 
Speaking of supply, India's imports of  tur are however rising steadily, having doubled in just the last three years. Some 20% of India's tourism, for example, comes via imports.
More interestingly, African countries like Mozambique, Malawi and Sudan are now specifically growing tur for export to India.
But in return as you know India has banned exports of rice to these and other countries. 
​​Rice contributes as much as 60% of the total calorie intake for people in parts of Southeast Asia and Africa.
Rice prices are now at a 15-year high in Asia.
Back to pulses,  India produced about 28 million tonnes of pulses in 2022-23. Some 22.5% of this are tur and urad dals.
So between rice, wheat and now dal, things are increasingly seeming to be up in the air when it comes to availability and prices .
So where are we placed in the food sweepstakes right now and how could this rice-wheat-pulses equation evolve ? I reached out to SIraj Hussain, former Agricultural Secretary to the Government of India and began by asking him about tur imports.
---
Jio Financial Flexes, Bajaj Finance
Bajaj Finance has said it will scale up activity in the Business to Business (B2B) segment or essentially retail customers, both by volume and value, by adding up to 1,000 cities in the next three years. This would grow its presence to 5,000 cities, the company told Business Standard newspaper.
The company is expanding its network in Uttar Pradesh (UP), Eastern and North Eastern parts of the country. Four years ago, the company was in only 15 cities in UP; today, it is in 450 cities and eventually plans to be in 700 cities in the state, Anup Saha, executive director, BFL, told Business Standard.
Its total lending branches have grown to 3,828 in June 2023 from 2,408 in June 2020.
While B2B accounts for 90 per cent of its customers, it constitutes only 10 percent of its assets under management (AUM), given that the tenor of such loans is shorter. It is called B2B because it is driven through relationships with dealers and presence at counters in their stores. The B2B segment comprises retail lending for consumer electronics, durables, and lifestyle products space, the Business Standard said.
While, several brokerages have acknowledged the risk from Jio Financial, they continue to bet on Bajaj Finance for several reasons.
Earlier, Bank of America Securities said it was led by Bajaj Finance's focus on diversification and proactive action on unsecured growth. The company reiterated its focus on profitable growth with a target to reach 3-4% share in total system credit, according to BofA. 
The key growth levers in focus are customer acquisition and new loan acceleration on capacity buildup, new product launches, and a potential launch of electronic data capture system and payment gateway, it said.
Foreign brokerage Nomura India said concerns about Jio Financial Services (JFS) are overdone, according to reports. 
Nomura India said setting up a successful unsecured business is relatively difficult for an NBFC, given low ticket size and inferior customer quality, adding that JFS's execution capabilities would only be clear in the medium term.
Bajaj Finance, once spun off from Bajaj Auto in a family linked demerger effort, has AUM of ₹2.5 lakh crore and has a target of achieving an AUM of ₹4tn.
---
Some interesting international news before I go.
Foxconn has been in the news in India as a lead investor in the electronics manufacturing space, including for Apple products.
News now is that Foxconn Technology Group's billionaire founder Terry Gou resigned from his position on the company's board as he ramps up his campaign to become president of Taiwan, Bloomberg is reporting.
Gou stepped down as a director of the company he founded in 1974 due to "personal reasons," according to a statement from Foxconn Saturday. Foxconn thanked Gou, who remains its largest shareholder, for his contribution to the group and the global electronics industry.
Taiwan in general is seen as looking more closely at India investment opportunities. Foxconn is one, visible, name but more are on the anvil, including in semiconductors.
Watch this space.
That's it from me for today. Have a great week ahead and see you soon. Do log into www.thecore.in and check out our website and stay connected with all the latest business news analysis.
Bye for now.