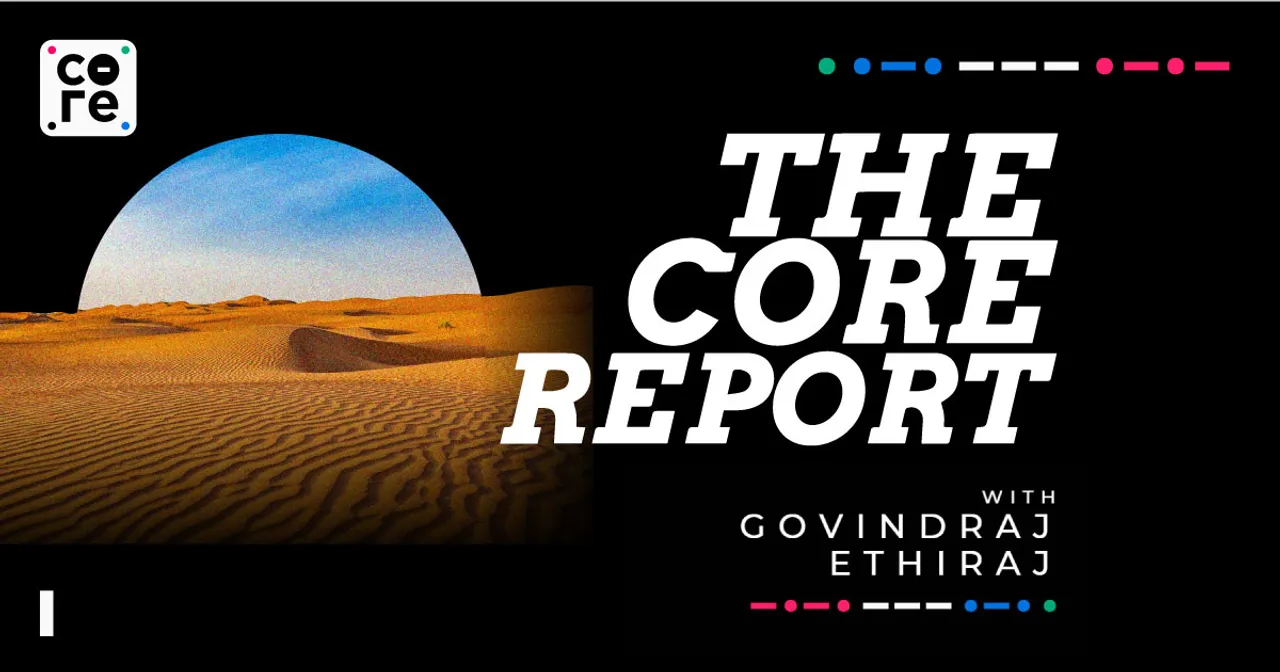 On today's episode, financial journalist Govindraj Ethiraj brings you the latest in business and manufacturing..

---
Our Top Reports For Today
[00:00]

 

Stories Of The Day 
[01:00]

 

Middle East Tensions have little impact on India, says Crisil in exhaustive research report.
[05:05]

 

West Texas Intermediate Crude falls below $80 a barrel, in sign that global demand is weak.
[08:25]

 

India's fast-moving consumer goods (FMCG) industry reported a 9% year-on-year jump in September quarter sales, says NielsenIQ
[11:54]

 

Singapore Airlines posts second highest quarterly profits, Europe fares set to drop after revenge travel phase seems to end.
[14:12]

 

Understanding Supply Chains Of Aluminium and Copper with Satish Pai, MD, Hindalco

 

(An Excerpt from The Core Report Weekend Edition)
---
NOTE: This transcript contains only the host's monologue and does not include any interviews or discussions that might be within the podcast. Please refer to the episode audio if you wish to quote the people interviewed. Email [email protected] for any queries.
---
Oil Prices Fall
West Texas Intermediate Crude fell below $80 a barrel for the first time in more than two months accompanied by a drop in broader financial markets and the dollar strengthened after a US Fed official said it's too soon to declare victory over inflation.
Oil prices went down despite Saudi Arabia and Russia renewing their promise to cut supplies into the end of the year.
Though their moves nor the tensions in the middle east have really affected oil prices with the focus now having shifted back to consumption or demand and the lack of enough of it.
"The market is completely discounting any risk of disruption coming from elevated geopolitical risks," said Daniel Hynes, a commodity strategist at ANZ Group Holdings Ltd told Bloomberg News.
Europe's weak economic growth is weighing on manufacturing, cutting demand for diesel and naphtha, according to Wood Mackenzie Ltd. 
Back in Indian markets, stocks closed with not much change on Tuesday after a three-day rally, tracking Asian markets.  
The BSE Sensex closed at 64,942 levels, down 16 points, while the Nifty50 ended at 19,407-mark, down 5 points. 
Both the Nifty 50 and Sensex rose over 2% each in the last three sessions following the U.S. Federal Reserve's rate pause and improved rate outlook.
Middle East Impact On India
Meanwhile, Crisil Ratings has put out the most likely first and detailed economic impact assessment of the Middle East tensions on India, concluding that the impact is negligible at this point.
The conflict in the Middle East, confined mainly to the Gaza region now, has caused only negligible disruption in India's trade so far, Crisil has said, adding that some sectors like fertilisers and diamonds — both cut and polished — may see a slight, but manageable, impact, while for most others impact will be insignificant.
India's trade with Israel is relatively low, accounting for 1.9% of total exports and 0.3% of total imports last fiscal. In numbers, India's exports to Israel are at $8.4 billion and imports from Israel are at $2.3 billion. 
Merchandise exports mainly comprise polished diamonds and petroleum products, including refined hydrocarbons, while imports largely comprise industrial equipment, fertilisers, rough diamonds and precious stones. 
For domestic diamond polishers, Israel is primarily a trading hub. Exports to the country were ~5% of total diamond exports from India last fiscal. Additionally, ~2% of all roughs imported are from Israel. 
Israel is a major global producer of muriate of potash (MoP) and among the top three countries that India imports from, accounting for ~25% of all MoP imports last fiscal. 
However, the share of MoP (as final product or as an  ingredient in other fertilisers) remains low at ~10% of domestic fertiliser consumption. Additionally, India's ability to source from other countries lowers the supply risk.
Gold prices have of course risen, though the middle east conflict may not be the only reason.
Nevertheless, since early October, gold prices have surged 13-15% to over Rs 60,000 per 10 gm.
Crisil has also worked out the linked impact of oil prices rising but since Brent crude is below $84 a barrel, there is no immediate cause for concern.
A rise in crude oil prices will obviously affect sectors such as aviation, automotives, paints, tyres, cement, chemicals, synthetic textiles and flexible packaging. 
Finally, Crisil ratings says any spread of the conflict leading to disruption of operations at major ports can have some impact.
Consumer Goods Does Well In Rural
India's fast-moving consumer goods (FMCG) industry reported a 9% year-on-year jump in September quarter sales and an 8.6% rise in volumes, reflecting  a positive consumption pattern pan-India, according to market research agency NIQ (NielsenIQ).
Rural markets are showing signs of recovery, with consumption picking up during the September quarter compared to a year ago, Nielsen said on  Tuesday, adding urban markets are maintaining a stable rate of consumption growth, wire agency reports said.
Rural markets showed continued recovery during the quarter, with sales volumes rising 6.4% from 4% in the June-quarter, the market research firm said.
Rural market volumes had fallen roughly 2%-5% in the preceding four quarters.
Slower price increases, a decline in unemployment and the government's decision to cut cooking gas prices improved consumers' willingness to spend, said Satish Pillai, Managing Director at NIQ India.
Unemployment eased in September to 7.1% but rose again in October to over 10%, according to data from the Centre For Monitoring Indian Economy.
An increase in consumer spending on discretionary categories like personal care and home care products suggests that rural consumers are beginning to spend on items beyond essentials, the report said.
While these numbers must be accurate, some of the signals are slightly conflicting, for example while uneven monsoons have affected sentiment and consumption in some areas, in other areas, like two wheelers they are indeed picking up. 
One thing is clear that the pandemic effect has largely ended and all demand and consumption numbers can be understood in isolation or clearly in comparison to pre pandemic numbers.
A slightly different indicator here. E-commerce major Amazon India on Tuesday said its 2023 festive sale is the best in its 13 years of operations in the country fuelled by a strong demand.
Online sales by the e-commerce industry during this festive season are expected to witness 18-20 per cent growth to reach Rs 90,000 crore, according to market research firm Redseer Strategy Consultants, quoted in the Business Standard. 
The first four days of this year's festive season sales by e-tailers showed a 16 per cent year-on-year growth, reaching a gross merchandise value (GMV) of Rs 29,000 crore.
The government-backed Open Network for Digital Commerce (ONDC) has also reached a new high in respect of retail orders, mostly for food, beverages and groceries during this festive season, reports said.
"This is the best year festival sale in every parameter," Amazon's director (consumer electronics, personal computing, and large appliances) said.
Amazon said it did not find any slowdown in rural buying indicating a revival in demand which was facing sluggishness post Covid.
Marketeers are at an interesting juncture right now. They are benefiting from the festival season spikes - remember this is an extended festival season - and at the same time wondering what will happen towards the end of the month, when the festival season would have ended.
Onion Prices Shoot Up.
After tomatoes, it's onions again.
Onion prices have risen nearly 75% in the first week of November compared with the previous month. 
"Daily food prices from the National Horticulture Board is indicating a 10.9% MoM rise in onion prices in October, which is being countered by a 9.3% decline in tomato prices. Potato prices are also showing a mild decline in October. Overall vegetable prices, on a CPI-weighted basis, are showing a mild positive increase on a month-on-month basis," Gaura Sengupta, economist, IDFC First Bank told The Economic Times.
Onions have a 0.64% weight in the retail inflation basket, whereas tomatoes have a lower 0.57% weight in the inflation basket.
"Retail prices are up by 30-40% y-o-y basis, so the impact can be around 0.19-0.24% in October," said Madan Sabnavis, chief economist, Bank of Baroda.
However, economists contend that a repeat of the July-August period, when inflation rose beyond the Reserve Bank of India's upper band target of 6%, is not possible.
"The disruption in supply isn't as steep as it was in the case of tomatoes. Seasonally, onion prices tend to rise in October and November and then decline in December or January," economists said.
"The government has swung into action, announcing export duties on onions, minimum export prices and offloading buffer stocks, although prices are yet to cool," said Nomura economists.
Despite falling prices, food inflation averaged 6.6% in September; a stress in onion prices is expected to keep food prices high.
The government will release October inflation data on November 13.
Delhi Pollution Levels
Elsewhere, citizens of Delhi continued to battle severe pollution.
The Supreme Court ordered authorities in the states surrounding New Delhi on Tuesday to stop farmers burning crop residue which could contribute 40-50% of total pollution levels or particulate matter 2.5 in these months.
Air quality dips every year ahead of winter, when calm and cold winds trap pollutants from sources including vehicles, industries, construction dust, and agricultural waste burning.
The court has issued similar orders in past years but these orders have had limited effect as state authorities report inability to control the burning despite fines and sometimes due to farmers' hostility towards officials.
Delhi authorities have stopped local construction, closed primary schools till Nov. 10 and have imposed restrictions on use of vehicles next week.
At 2 p.m. on Tuesday, the real time air quality index stood at 306, a level categorised as 'hazardous' by Swiss group IQAir.
"We direct the state government of Punjab and adjacent states to Delhi - Haryana, Rajasthan and Uttar Pradesh - to ensure that crop (residue) burning is stopped forthwith," Supreme Court judge Justice Sanjay Kishan Kaul said, Reuters reported.
Farmers in Punjab and Haryana usually burn crop stubble left behind after rice is harvested in late October or early November to quickly clear their fields before planting wheat crops.
Airline News 
Singapore Airlines Ltd. shrugged off rising fuel costs to deliver its second-biggest quarterly profit on record as demand kept airfares high.
Net income in the second quarter through September climbed 27% from a year earlier to S$707 million or $522 million), the carrier said in a statement Tuesday. Revenue rose 4.3% to S$4.7 billion.
Demand remains strong in the rebound from Covid — including low-cost unit Scoot, Singapore Airlines' passenger traffic was up 42% from a year earlier. Group capacity is expected to reach about 92% of pre-pandemic levels on average in December.
Fuel costs are rising, for Singapore Airlines, like for the rest. The price of oil soared about 28% during the quarter, squeezing airlines as jet fuel is one of their biggest costs. 
Singapore Airlines said its net fuel costs rose 13.6% but passenger load factor, an indicator of how full planes are, was 88.6%, up 2 percentage points from the same period last year, according to Bloomberg.
More In Aviation
You could breathe a sigh of relief, for now. 
Flying to Europe in 2024 without spending a fortune is in the cards after a long stretch of sky-high prices, says the Wall Street Journal.
The report refers to flights to and fro from the United States but the low fare environment, if it kicks in, should benefit India too. Reminder, it's 2024 we are talking about.
The reason is airlines have added new routes between the U.S. and Europe and announced plans to increase flights on some routes next spring and summer. The added capacity means travellers can get a break from the run of high airfares in the past couple of years. 
But deals now exist that didn't before, and industry watchers say they expect more to come.
Some airfares stand at or below pre pandemic levels, according to a recent analysis of flight prices by Thrifty Traveler. Booking premium seats with miles for flights next spring and summer also looks to be getting easier, Potter says, another sign of sagging demand.
On that optimistic note that you could fly west without selling your family jewels, have a great day ahead.