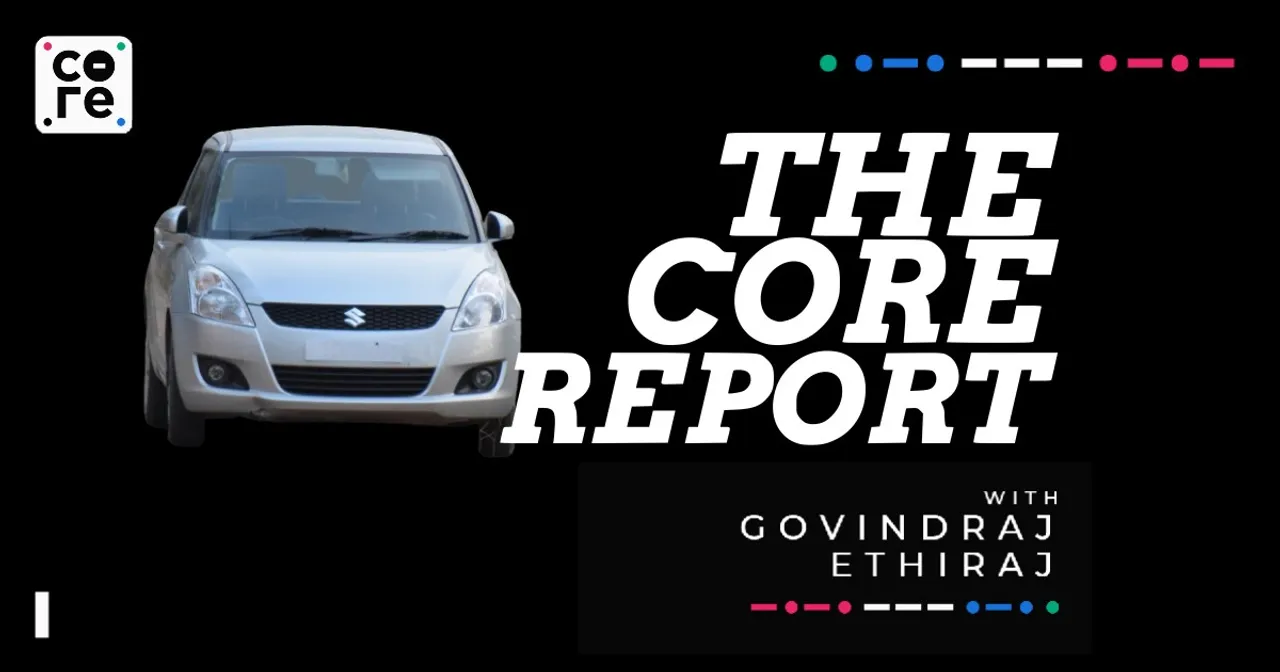 On today's episode, financial journalist Govindraj Ethiraj talks to Nir Linchevski, a 20-year veteran of Israel's VC/PE ecosystem and Managing Partner at Israel Secondary Funds which manages over half a billion dollars across three funds.

---
Our Top Reports For Today
[00:00]

 

Stories Of The Day
[01:00]

 

GST collections steady around 162,000 crore.
[02:14]

 

Jet fuel and commercial LPG prices increase, will other hikes follow?
[04:05]

 

Maruti hits record sales in September, Vedanta to split into 6
[06:13]

 

Markets
[07:54]

 

Why tech startup investment in Israel is falling?

 

with Nir Linchevski
[16:01]

 

Decoding Macro Signals with DK Joshi (A Weekend Edition Excerpt)
[18:44]

 

Alcohol or not?

 

CEO's Diet with Dr. Nandita Iyer
---
NOTE: This transcript contains only the host's monologue and does not include any interviews or discussions that might be within the podcast. Please refer to the episode audio if you wish to quote the people interviewed. Email [email protected] for any queries.
---
GST Collections
Gross Goods and Service tax collections have gone over Rs 162,000 crore in September, around 10% over the same period last year.
Gross GST revenue collected last month was Rs 1,62,712 crore. Of this, Central GST was Rs 29,818 crore, State GST was Rs 37,657 crore, Integrated GST was Rs 83,623 crore (including Rs 41,145 crore collected on import of goods) and cess was Rs 11,613 crore (including Rs 881 crore collected on import of goods).
The revenue in September 2023 was 10 per cent higher than the GST revenue of Rs 1.47 trillion in the same month last year, the finance ministry said in a statement.
"During the month, revenues from domestic transactions (including import of services) are 14 per cent higher than the revenues from these sources during the same month last year. It is for the fourth time that gross GST collection has crossed Rs 1.60 trillion mark in FY 2023-24," it said.
Overall, GST collections are hovering around the same level in recent months or most of this calendar year. 
Incidentally, in April GST collections had hit a high of around Rs 187,000 crore and not gone back to that level after that.
So if you were looking for any significant growth trends as represented by goods and service tax collections, there is no clear trend showing right now.
Elsewhere, global oil prices have paused and are not racing towards the much dreaded $100 mark per barrel, at least not yet.
While oil cools its heels at just below $95 a barrel, back home, jet fuel or ATF prices on Sunday were hiked by 5 per cent -- the fourth straight monthly increase since July. In four increases, ATF prices have gone up by a record Rs 29,391.08 per kl to around Rs 118,000 per kilo litre, though prices vary by city. Surprisingly, Mumbai is cheaper than Delhi though it is more expensive for retail petrol and diesel.
Jet fuel makes up for 40 per cent of an airline's operating cost and does not augur well for the airline industry, including in India whose fortunes can swing quite suddenly. 
On the other hand, commercial cooking gas (LPG) rates were raised by Rs 209 per 19-kg cylinder. Before you jump, the price of domestic LPG - or used in household kitchens - is unchanged at Rs 903 per 14.2-kg cylinder. And there are additional subsidies over that in some cases.
You may recall the diversion of LPG cylinders meant for home use to commercial use, like restaurants is a recurring controversy.
Of course, the big question is will there be hikes down the line in retail fuels as well, like petrol and diesel, already prohibitively high though not so prohibitive so as to really slow consumption.
The answer, we don't know as of now. Though consumers have been paying the same prices despite crude oil having touched $67 in March but also the same to be fair when it touched around $117 in May last year.
Speaking of fuel and petrol, Maruti Suzuki India (MSI) on Sunday said its total wholesales increased 3 per cent year-on-year to 1,81,343 units in September, its best ever in a month.
In September, the company said the sales of its entry level cars -- Alto and S-Presso -- stood at 10,351 units, down 65 per cent from the year-ago period.
Sales of compact cars also declined to 68,552 units last month from 72,176 units in September 2022.
However, in keeping with the larger SUV trend, or craze across the country, Utility vehicle dispatches jumped 82 per cent to 59,271 units last month from 32,574 units in September last year.
Among other corporate news, mining and metals major Vedanta said it is splitting itself into 6 companies to unlock value.
In some ways it is logical, very rarely have companies survived housing diverse businesses, though thematically similar in the same company.
Elsewhere, Reliance has spun off recently or a little earlier, its telecom, retail and now financial services ventures and distanced them from its oil to chemicals pillar.
The Anil Agarwal-promoted Vedanta Ltd on Friday said its board had approved a pure-play, asset-owner business model that would ultimately result in six separate listed firms. 
The restructuring is expected to be completed in 12-15 months, company executives said.
The proposed plan entails five new listed firms — Vedanta Aluminium, Vedanta Oil & Gas, Vedanta Power, Vedanta Steel and Ferrous Materials, and Vedanta Base Metals — in addition to Vedanta Ltd. "We believe (the demerger) will unlock value and potential for faster growth in each vertical," said Agarwal, chairman of Vedanta Ltd.
Vedanta Ltd is expected to act as an incubator and house the shareholding in Hindustan Zinc and some of the company's new businesses, including nickel, facor and the display glass, and semiconductor.
"The demerger will entail a vertical split; for every one share of Vedanta Ltd, the shareholders will additionally receive one share of each of the five newly listed companies," the company said. 
MARKETS
The markets are closed today and there are no major cues coming internationally except that the United States averted a shut down of the Government at the very last moment, in a development that is a somewhat frequent occurrence now, though no less nail biting each time.
Overall, the third quarter did not go very well for emerging markets thanks to a stronger dollar and surging US yields apart from of course China which has seen outflows.. 
Emerging-market stocks just posted their worst quarter in a year, wiping out the majority of 2023's gains. Currencies aren't far behind, a Bloomberg analysis says.
Back home, it's never been a better time to…raise funds.
The number of initial public offerings (IPOs) launched during the first half of 2023-24 (H1FY24) was the highest in almost 16 years. As many as 31 IPOs raised a cumulative Rs 26,272 crore in this period, according to Prime Database, quoted by Business Standard.
 During the April-September 2007 bull run in contrast, 48 IPOs totalling Rs 21,243 crore were launched.
That was also the last bull run which did not end very well, though for reasons and triggers outside India.
The total number of deals in H1FY24 was 2.2 times that of the same period of the last fiscal year, but the amount raised was 26 percent lower. 
In H1FY23, IPOs worth Rs 35,456 crore were launched, with LIC's Rs 21,000 crore offer boosting the tally.
Investment in Israeli Tech Startups Is Declining, Why?
From Indian IPOs to a market everyone in the world watches since it is a barometer of sorts for technology..
Investment in Israeli tech startups declined for the seventh consecutive quarter, according to new data that also showed a sharper drop in funding than other global hubs, Bloomberg is reporting.
Tech startups raised $1.7 billion in the third quarter, 10% down from the previous three months and 40% less than the year-earlier period, according to a report by the Israel-based Startup Nation Policy Institute. 
In the first nine months of 2023, tech investment in Israel was down 63% from a year earlier, compared with a 43% drop in the US and a 48% decline in Europe, Bloomberg said.
While the global slowdown was the main cause of the decline, Bloomberg quoted the report saying political instability in Israel probably contributed to the country's sharper drop in investment. Israel has been rocked by nine months of protests over government plans to weaken the country's judiciary.
It also said the number of both local and foreign venture capital funds active in Israel has slumped this year. One-third of Israeli funds and more than 40% of foreign funds that were previously active in the country have yet to invest this year.
While this could be the case of reverting to a baseline because Israel had seen higher flows I reached out to Nir Linchevski, a 20-year veteran of Israel's VC/PE ecosystem and Managing Partner at Israel Secondary Funds which manages over half a billion dollars across three funds, which is invested in startups and venture capital funds to get a more ringside view from Tel Aviv, as it happens.
I began by asking him why tech investments in Israel were slowing down and whether that was linked to the political instability in the country.
---
CEO's Diet Interview
And before I go, for our CEO Diet segment, Dr. Nandita Iyer spoke with my colleague and  producer Joshua Thomas about all the effects Alcohol has on our body and our health, and alcohol substitutes for social occasions. For the full article you can find the link in the description