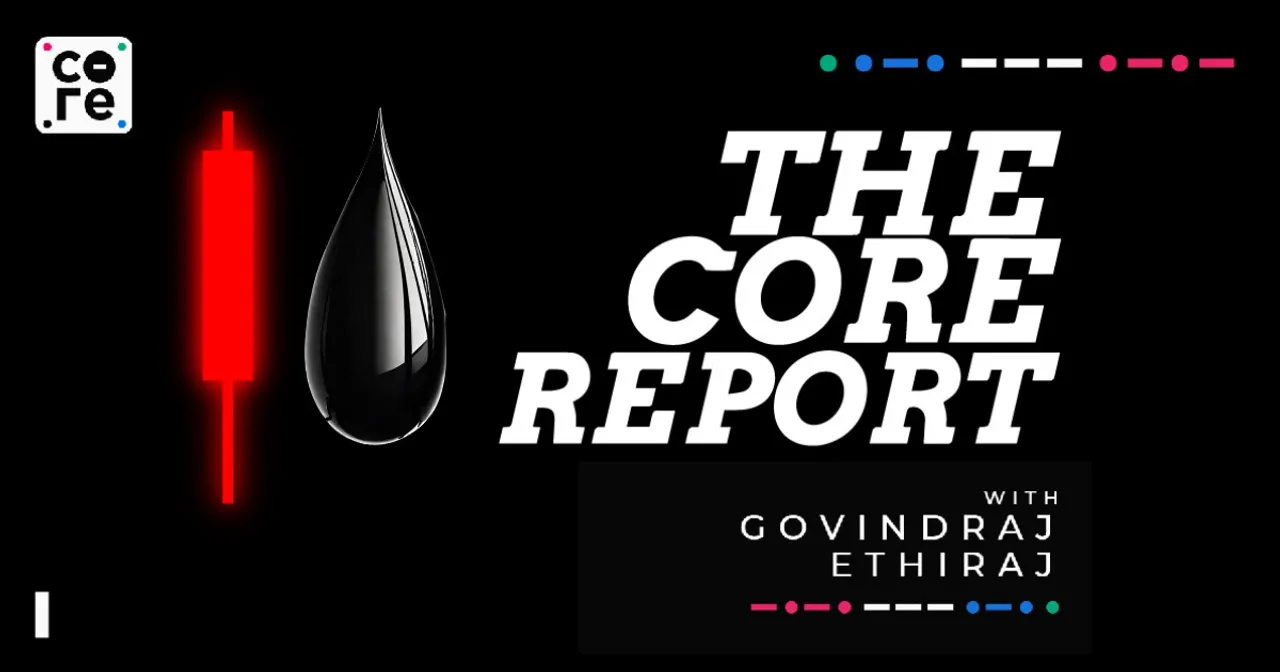 On today's episode, financial journalist Govindraj Ethiraj talks to Crisil Chief Economist D K Joshi as well as sports and cricket journalist and commentator Ayaz Memon.

---
Our Top Reports For Today
[00:00]

 

Stories Of The Day 
[01:00]

 

Markets and oil turn nervous as Israel threats ground invasion of Gaza
[03:07]

 

India imports tomatoes from Nepal but does not reciprocate with rice. Smugglers take over.
[09:24]

 

Inflation is down to 5%, was it by accident or design and what is the prognosis then?

 

with DK Joshi
[15:37]

 

130,000 people in person and 35 million people watched India-Pak match online. What's next after the grand show?

 

with Ayaz Memon
[20:58]

 

Unilever man becomes New Zealand Prime Minister
---
NOTE: This transcript contains only the host's monologue and does not include any interviews or discussions that might be within the podcast. Please refer to the episode audio if you wish to quote the people interviewed. Email [email protected] for any queries.
---
Markets & Currency
Markets are now bracing for a difficult week as investors grapple between multiple signals, ranging from a potentially widening war and thus oil prices and then interest rates.
On Friday the 13th, the Indian markets ended down. The  BSE Sensex ended at 66,283 levels today, down 126 points while the Nifty50 ended at 19,751, down 43 points. The Sensex was positive for the week, up 287 points though.
The markets seem more directionless rather than nervous which would of course be quite understandable.
More results are expected this week as we are in the midst of the second quarter earnings season. We've already discussed IT company results which have disappointed the street. 
Oil is now a matter of concern. Brent crude was up almost 6% on Friday, crossing $90 a barrel and closer to $91 a barrel after investors appeared to be considering a worsening of the crisis in the middle east and the Israel-Hamas war.
Last week, oil prices held their ground on the fact that there was no supply impact caused by the present conflict in the middle east.
But a larger war, including a likely ground invasion - as opposed to the air invasion so far - by Israel or Gaza is increasing nervousness..
Foreign portfolio investors have pulled out roughly Rs 10,000 crore  from Indian equities this month thanks to increasing US bond yields.
The Indian rupee is low but against a strong dollar which is affecting many currencies, also because of high interest rates or the likelihood of them going up further  in the United States and of course treasury yields of bonds that the Government sells.
The rupee ended at 83.26 on Friday, down for a third consecutive week. 
India's forex reserves are falling by the way.
Last week, they were down for the fifth continuous week to $584 billion. This was in itself nothing to worry about but contrasted with its all time high of $645 billion in October 2021.
A Story Of Tomatoes And Rice
Coming up is a policy hour, except it is not an hour and it is not about policy alone else I know this is when you will switch to some Top 20 music selections.
On July 20, India banned exports of non-basmati rice, the rice most Indians eat, wherever they are in the world. India controls 40% of global rice exports so this hit several countries badly.
Stated or not, the reason was the perception that unpredictable monsoons might hit rice output and thus prices, not the best thing to happen ahead of the festival season and state elections.
A few weeks later, a fresh order was issued, this time to fix a floor price for basmati rice exports because of the suspicion, apparently, that exporters were exporting non basmati rice as basmati rice. So what should have been going for lets say $1,200 a tonne - which is the floor price by the way was going for maybe $300 a tonne. That could not have thus been basmati rice hence the floor.
Anyway, Indian ingenuity.
But then there is no end to it, of ingenuity that is.
A flourishing smuggling operation has apparently opened up on the India Nepal border where dozens of carriers take 10 kg of rice across largely open borders and sell them for a premium on the other side.
Ram Prasad, a rice carrier, told PTI, "The Nepali merchants have set up small warehouses along the border where we deliver the smuggled rice. The warehouses are emptied every week and the collected rice is moved to a bigger warehouse." The carriers do most of the work at the crack of dawn, travelling up to one kilometre from their homes to deliver the rice. They carry rice bags weighing 10 kg or more.
And the reason this becomes worthwhile. Rice prices shot up 3-4 times in Nepal after India's export ban.
Officials told PTI, more than 111.2 tonnes of rice being smuggled into Nepal has been seized by the Sashastra Seema Bal (SSB) and police in the last four months.
Amazingly, earlier India reached out to Nepal to send us tomatoes, which they did.  Remember in late July and early August  tomatoes were ruling at Rs 300 per kg and thereabouts in some cities and more then, towards the end of August and early September, they were being dumped on the roads. 
Anyway, Nepal did help with some tomato consignments but it does not appear India reciprocated with rice.
 Kathmandu Post reported in mid August that Nepal had formally asked the Indian government to make an exception and unshackle grain and sugar shipments to Nepal in view of the upcoming festive season. The year before, Nepal imported around 1.4 million tonnes of rice from India.
"Last week, we requested the Indian government through the foreign ministry to supply grains and sugar. We are yet to hear from the southern neighbour," said Ramchandra Tiwari, joint-secretary at the industry ministry to the Kathmandu Post mid August.
India did announce towards the end of August it was starting to ship selectively on a country to country level, but to Singapore, Mauritius and even Bhutan.
The exemption for UAE which includes Dubai came in the last week of September.
So Nepal is not part of this list for reasons I am not aware.
Hence, presumably the smugglers are having a field day, quite literally.
Laptops
Speaking Of Smuggling and Flip Flops
On 3 August the Government announced that all laptop imports would be banned and sending everyone including obviously laptop manufacturers like Apple, Samsung, Lenovo and HP into a tizzy, more for the suddenness of the announcement rather than the intent.
Since that announcement,  the Government has been walking backwards, almost step by step as everyone watches.
The Commerce Ministry has now said that there are "no restrictions as such." on imports of laptops and such.
And that they would only be monitoring. Which is of course strange. As I would expect that they were monitoring earlier as well, if nothing else at least for the data. 
Anyway, commerce Secretary Sunil Barthwal told news agencies that importers of laptop devices would be on a "close watch" in terms of the import source and that there are "no restrictions on laptop imports".
Tyres Don't TIire
Speaking of smuggling and exports
An ostensible and perhaps rightful reason for the laptop ban, at least in thought, if not execution was to obviously slow down imports, including from China.
This approach has obviously worked in other industries. So much so that the more than a century old Japanese tyre maker Yokohama for instance has said that they are betting on local production in India for a "sustainable and competitive" business model in the country, according to India CEO Harinder Singh. 
Yokohama Rubber company, which has been present in the country since 2007 is coming up with a new plant in Visakhapatnam in addition to its existing plant in Bahadurgarh, Haryana.
"While we still import certain high-end tyres, like run-flat tyres commonly found on luxury vehicles from our overseas manufacturing bases, our commitment to localising production in India is unwavering," SIngh said.
In what surely will be music to the Government's ears, Singh said the company supports the government's decision to ban tyre imports into the country.
"Yokohama India supports this decision and recognises the importance of investing in local production which reduces costs, lead times and dependency on imports and making it more sustainable," he said.
In 2020, the government imposed curbs on imports of certain new pneumatic tyres used in motor cars, buses, lorries and motorcycles in a move to promote domestic manufacturing.
Tyre companies can now import only a small number of tyres into the country under a limited import licence, which was not the case before 2020.
Inflation, What Is The Outlook?
Inflation numbers last week were a surprise for all, coming in at 5.02% or just 5%. In contrast to the 6.83% in August, this was indeed a steep fall.
Food prices fell, by the way, from a 26% inflation level in August to just 3.4% in September. Cereals were a little lower too, at 10.9% as compared to 11.85% in the previous month. Pulses which include the dals were higher though at 16.3% as compared to 13% in August.
Adding it up, it was obvious that falling vegetable prices were an important reason for inflation going down.
The question of course now is if it will hold and how.
More importantly, to what extent does lower inflation reflect the effective use of tools and strategy on the part of the Government and to what extent is it driven by external factors.
I reached out to Crisil Chief Economist D K JOshi and began by asking him whether this was just a flash in the pan ?
---
Record Numbers Watch India-Pak Match
The World Cup has some way to go and things will only start hotting up at the semi finals in this roughly 6-week tournament.
The biggest match to watch was however the India-Pakistan match in Ahmedabad on Saturday which was seen live by a record 130,000 people in the city and some 35 million people online. 
Numbers for television audiences are still awaited.
Will this strong showing of audiences and viewers continue, which will also be a reflection of the monetisation strength of the current series and the predictions towards it, including the Rs 20,000 crore figure that BOB Research computed.
I reached out to noted sports and cricket journalist and commentator Ayaz Menon and began by asking him what was next, now that the India-Pakistan grand match was over.
---
Unilever Man Becomes New Zealand PM
And before I go, just three years after entering politics, former businessman Christopher Luxon is set to lead New Zealand to the right as prime minister-elect, ending six years of Labour-led centre-left government.
Luxon was earlier Ceo of Air New Zealand and became the leader of National Party at the end of 2021, boosting its popularity until winning Saturday's general election.
Luxon also held senior roles in global consumer goods firm Unilever and said he would use the skills he brought to managing businesses to improve New Zealand.
He worked for 18 years for Unilever in Australia, Britain, Canada and the US, before returning home to lead Air New Zealand. He was last CEO of the Canadian operation for Unilever.
"I'm a person who likes to bring teams together and make sure that I get the best out of that team and use all the skills in that team, so that's my mode."
The Guardian quotes him saying he spent time with consumers everywhere he went, a classic Unilever approach to market immersion for juniors and seniors alike.
A millionaire father of two with several homes across the country, Luxon is learning the Maori language and is a Taylor Swift fan, quoting her in televised debates and interviews.