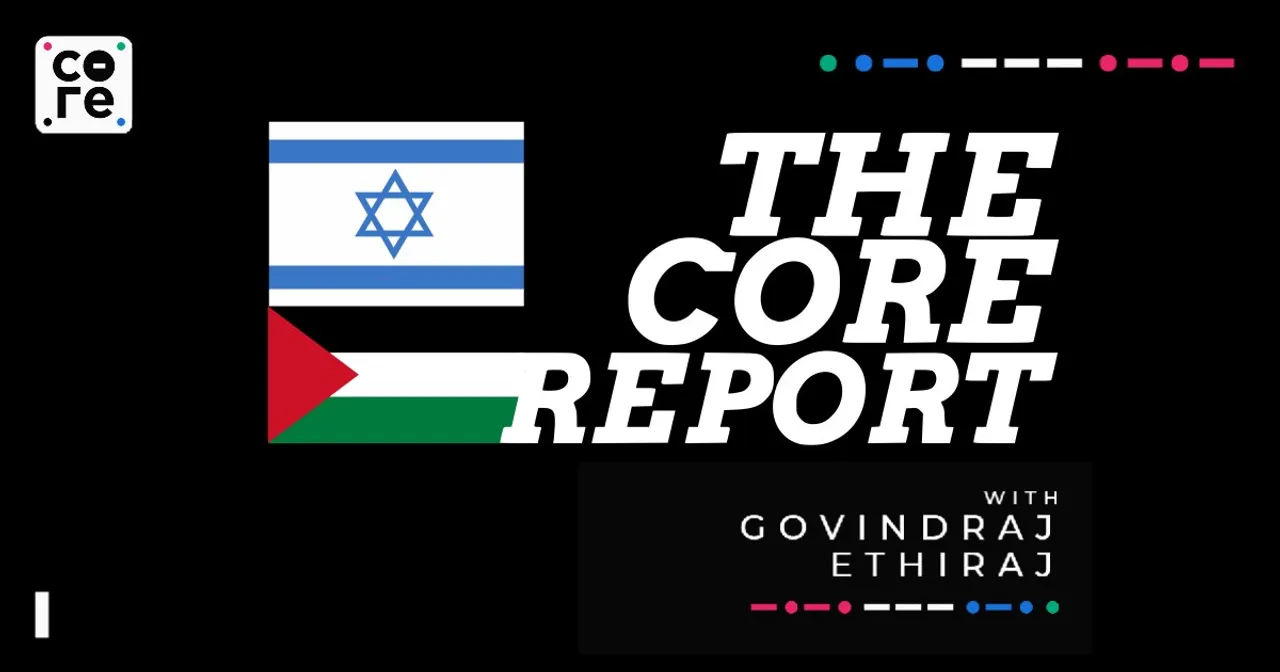 On today's episode, financial journalist Govindraj Ethiraj talks to economist Brinda Jagirdar, economic affairs writer and columnist Shankkar Aiyar as well as Karan Taurani, media analyst and Senior VP at Mumbai-based Elara Capital. 
---
Our Top Reports For Today
[00:00]

 

Stories Of The Day
[00:50]

 

Markets brace for middle east tension impact, second  quarter results
[04:44]

 

Credit policy held interest rates for now, what is the RBI's strategy? with economist Brinda Jagirdar
[9:05]

 

The Bihar Caste Survey, What Is the economic impact, with Shankkar Aiyar
[15:34]

 

The Real World Cup Numbers, what's different from more and how are we measuring better, with Karan Taurani of Elara Capital
---
NOTE: This transcript contains only the host's monologue and does not include any interviews or discussions that might be within the podcast. Please refer to the episode audio if you wish to quote the people interviewed. Email [email protected] for any queries.
---
The Markets Brace For Impact
Before we come to this week, overall markets last week and on Friday, where were we ? Well, the Reserve Bank of India kept rates unchanged and we will come to that shortly.
Last week overall was positive for the stock markets after drifting down for the previous two weeks.
On Friday the Sensex gained 364 points to end at 65,996, while the Nifty50 closed at 19,654, higher by 108 points. But if you looked at the week as a whole, the Sensex gained 167 points at 65,996, and the Nifty50 rose 15 points to 19,654.
Foreign Portfolio investors (FPIs) are still selling in October, having sold stocks worth Rs 8,000 crore in the first week of October after selling around Rs 14,767 crore in September.  From March this year to August, FPIs invested around Rs 174,000 crore.
As we have been discussing, the dollar is very strong and US bond yields are at record highs, causing money to flow back to those assets.
This week is results week, yes it's that time of the quarter again, which is the July-September quarter for the financial year 2023-24.
The IT companies are usually the first to go and TCS will put out its results on October 11, followed by HCL Tech, Infosys and others on October 12. The general expectation is of a steady earnings growth and IT companies are not expected to deliver any positive surprises.
Speaking of surprises, there aren't any in the IPO market. After the initial rush, the pace of new offerings has slowed down this month. There will be only one IPO opening for subscription this week while most companies that launched public issues towards the end of last month are set to list on the exchanges.
Jamnagar-based Arvind and Company Shipping Agency is the only initial public offering opening for subscription next week on October 12, with an offer price of Rs 45 per share, in the SME segment. Arvind & Co has a fleet of marine vessels like Cargo barges, flat top barges and ancillary equipment for the construction industry. 
Hamas Attacks Israel. 
Meanwhile, if you are tracking the news, Israel came under attack by Hamas militants at the Gaza strip on Saturday, several hundreds are believed to have died on both sides in the ensuing fighting.
Oil prices could of course be the first casualty of any tension in this region but it appears from all reports that there is no immediate threat to supplies and thus, limited impact on prices at least at this point.
Oil itself has been through quite a journey, hitting $94 on its way to projections of $100 a barrel and then back below $85 a barrel, all in a few weeks.
The only cause of concern is if Iran, who supports Hamas, gets pulled into the war with Israel. That could change a lot of things. Iran's shipments, according to Bloomberg, are at a 5 year high and are obviously playing a role in stabilising oil prices as they are.
Meanwhile, Bloomberg reported that major equities gauges in the region fell Sunday, led by a 7% drop on Israel's benchmark TA-35 stock index, its biggest loss in more than three years. The Tadawul All Share Index in Riyadh fell 1.2% while stocks in Qatar and Kuwait also weakened. Egypt's EGX30 gauge declined as much as 5.4%.
Back home, Air India on Sunday said it has cancelled its flights to and from Tel Aviv till Oct. 14.
The airline will extend all possible support to passengers who have confirmed bookings on any flight during this period, the spokesperson added.
Air India operates five weekly flights to Tel Aviv from the national capital. The service is on Monday, Tuesday, Thursday, Saturday and Sunday.
The Reserve Bank holds rates, what is the strategy?
It was mostly expected, including by The Core Report, that interest rates would not be touched by the Reserve Bank of India in its monetary policy on Friday, October 6.
The RBI and the Monetary Policy Committee (MPC) kept the policy repo rate unchanged at 6.50%. The Bank Rate stands at 6.75%.
 Since interest rates began going up, the repo rate has been hiked by 250 bps, The last raise happened in February this year when rates were raised by 25 bp to 6.5%.
When one thinks of interest rates, one usually thinks of home loans and other consumer loans. The overall housing market as we have been discussing here, including last week, continues to remain very strong though premium housing is now doing better than affordable housing. 
Or put differently, a lot of people are getting pushed out of the real estate market at the affordable end of housing thanks to inflation and possibly incomes not rising as we discussed with Knight Frank economist Vivek Rathi last week.
The Reserve Bank of India  maintained an inflation and GDP growth forecast for FY24 at 5.4 per cent and 6.5 per cent.
To get a sense on what the RBI's strategy was and how we should view it as consumers and businesses, I reached out to Brinda Jaghirdar, economist and former Head of Economic Research at State Bank of India and began by asking her what she was reading from the RBI governor's statements.
---
The Caste Census and Its Economic Impact
​​The Bihar government on Monday released data from a controversial caste-based survey that said nearly 63.1 per cent of the state's 131 million population belong to backward classes and nearly 85 per cent belong to either a backward or extremely backward class, or a Scheduled Caste / Tribe.
Specifically, 36 per cent of the state is from an extremely backward class, 27.1 percent is from a backward class, 19.7 per cent is from a Scheduled Caste and 1.7 per cent is from a Scheduled Tribe. The general category, including so-called upper castes, account for 15.5 per cent. Brahmins constitute just 3.66 per cent of Bihar's people.
To get a sense on what this caste survey means from an economic policy perspective and in the context of the fact that we are yet to have a Census, the last being 2011, I reached out to well known economic affairs writer and columnist Shankkar Aiyar.
And I began by asking him what the Bihar Caste census was telling us.
---
The World Cup!
World Cup cricket kicked off on October 5 with the first match having been played in Ahmedabad between England and New Zealand.
The stadium looked a little empty or was too large to host a match, the first of 48 by the way, without a player from the sub continent.
Nevertheless, there are some other aspects of this World Cup that are different and will thus provide a strong consumption spike across sectors. For one, the matches are all being played in Indian Standard Time.
India is hosting the World Cup after 12 years and for the first time, is hosting all the matches solo.
There is definitely a lot more number crunching in and around the World Cup's business impact that is happening and then there are some new elements, like the presence of food aggregator platforms which help bring food to you quickly as you stare transfixed at the television screen, presumably.
Or are stuck in a traffic jam en route to the venue.
How much has changed since the last World Cup and to what extent are the numbers potentially high because of the clash with the festival season which is seeing its own bump up ?
And then what kind of foods and snacks would benefit more ? 
I reached out to Karan Taurani, media analyst and Senior VP at Mumbai-based Elara Capital and began by asking him, "Are we able to better measure the spends and impact this time?
---
Indonesia's Fires Burn Again
Indonesia's neighbours including Singapore and Malaysia have complained  that smoke from the burning of forest fires is making the air unhealthy to them.
Haze is a recurring problem in Southeast Asia and mostly originates from natural or man-made fires in Indonesia and Malaysia during the dry season. Many of the blazes result from illegal burning to clear farmland for cash crops such as palm oil, a practice that persists despite years of government efforts to stamp it out, Bloomberg is reporting.
"When there is fire, there will be smoke, and if there is wind it can get anywhere," the president, known as Jokowi, told reporters in Jakarta on Saturday. "I have ordered the military chief and the police to handle every hotspot, however small, immediately."
Singapore's 24-hour PSI air pollution readings in the centre and east of the island rose above 100 on Saturday, a level described as "unhealthy," according to the National Environment Agency website. They dropped to 96 by 2 p.m. on Sunday.
And then there is the El Nino effect because rains are delayed here.
Fires are often the worst at the height of the dry season in August and September, but in El Nino years, the delayed rains allow the burning to spread into October and beyond.