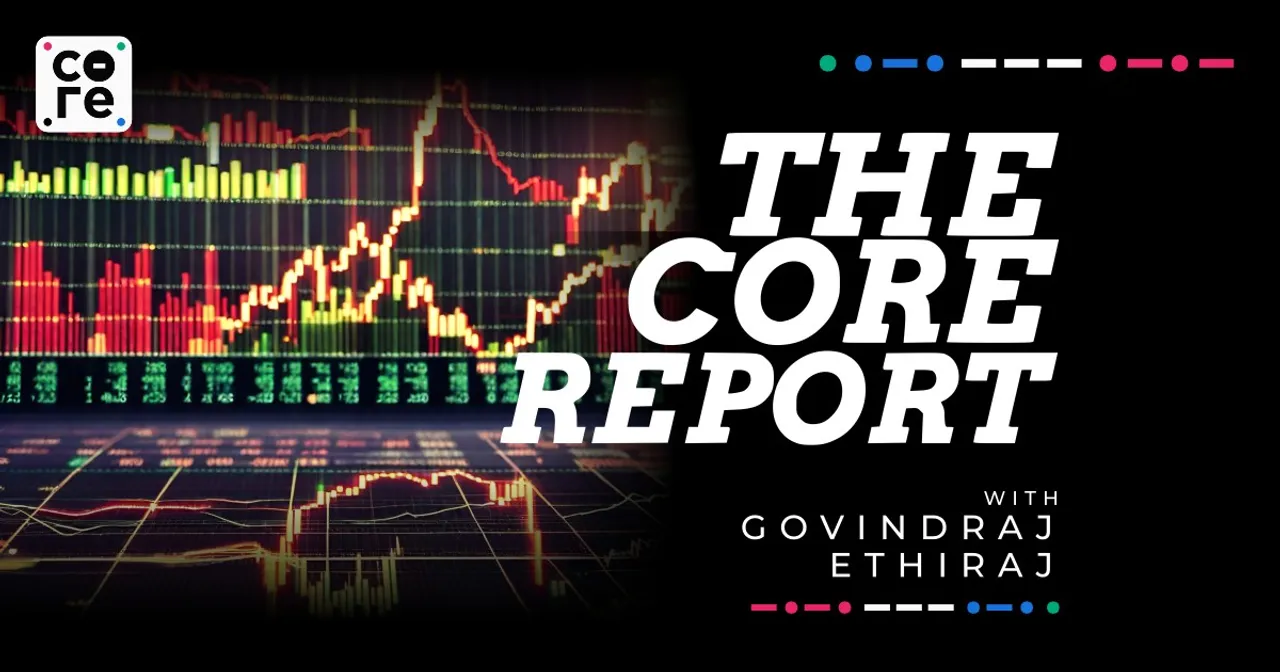 On today's episode, financial journalist Govindraj Ethiraj talks to Economic journalist and author Shankkar Aiyar. 
---
Our Top Reports For Today
[00:00]

 

Stories Of The Day
[01:00]

 

Israel's ground invasion of Gaza begins, markets wait for cues from the Middle East.
[07:42]

 

Luxury home sales are on the tear, double in many cities in last 9 months
[09:15]

 

Governments have figured 7,000 new ways of targeting voters, central and state. 
[17:08]

 

In what must be a new record for a bribe, an aviation regulator is accused of taking an aircraft for one .
[19:46]

 

Mumbai bids a goodbye to its iconic Premier Padmini yellow and black taxi.
---
NOTE: This transcript contains only the host's monologue and does not include any interviews or discussions that might be within the podcast. Please refer to the episode audio if you wish to quote the people interviewed. Email [email protected] for any queries.
---
MARKETS Wait For Middle East Cues
Israel has begun its ground invasion of Gaza, a move that markets were watching and waiting to see in the last week since Israel had begun amassing troops on the border.
The impact on crude has been limited so far, holding around $90.5 a barrel, up from previous days but not yet as sharply as one would have thought.
Bloomberg meanwhile reported that Middle Eastern markets that opened on Sunday showed little sign of panic as trading began a day after Israel started its ground invasion of Gaza.
Israel's TA-35 stock index rose 1.6% as of 12:10 p.m. in Tel Aviv, headed for its first gain in three trading days. The index is down nearly 11% since Israel declared war after a Hamas infiltration on Oct. 7. 
Investors are looking for signs that the conflict could expand and the likelihood of other countries including Iran getting drawn in.
Back home, last week ended well though it did not start or run as well.
Stocks finally broke a 6-day losing streak on Friday as the Sensex closed at 63,783 levels (up 635 points) while the Nifty 50 closed at 19,047 (up 190 points).
Earlier, in the six days, the benchmark Sensex crashed 3,280 points and the Nifty50 fell 954 points.  
Foreign Portfolio Investors (FPIs) have pulled out over Rs 20,300 crore from Indian equities this month so far, thanks to both the rising yields in US Treasuries and of course tensions in the middle east. 
Foreign Portfolio Investors (FPIs) had turned net sellers in September and pulled out Rs 14,767 crore.
Before the outflow, FPIs bought equities worth Rs 1.74 lakh crore in the six months from March to August 2023.
Interestingly, FPI have stepped up in the debt market, investing around Rs 6,080 crore into the debt market, according to reports.
This is results season and to some extent the quality of corporate results from the second quarter will set the tone for the markets, to the extent they can outweigh the factors we spoke off earlier.
One big one that came out last week was Reliance Industries (RIL) which reported a 30%  YoY rise in consolidated net profit to Rs 19,878 crore for the September 2023 quarter.
Gross revenue rose 1.2% YoY to Rs 255,996 crore. 
Reuters said Reliance's quarterly profits were weaker-than-expected as a fall in crude prices hit revenue from fuel sales and hurt its mainstay oil-to-chemicals (O2C) business.
Reliance relies heavily on its O2C business to make money despite its aggressive expansion into retail, telecom and green energy.
The conglomerate saw its refinery margins touch record levels last year as it consumed a lot of cheaper Russian crude and exported refined fuel to Europe. That benefit has since waned, said Reuters.
Reliance Chairman Mukesh Ambani said weak global demand and supply overhang continued to impact downstream margins. The growth of the oil and gas business is particularly noteworthy with production from the KGD6 block ramping up," he  said. KG stands for Krishna Godavari in eastern India by the way.
Car maker Maruti meanwhile reported a record strong quarter on profits at Rs 3717 crore, above analyst estimates, thanks to larger and more expensive vehicles, including the likes of the seven-seater 'Ertiga' whose volumes have shot up sharply in keeping with the overall consumer demand for SUVs.
ONIONS, ONCE AGAIN A TARIFF TOOL
From oil to onions. 
We touched upon it. Last week, it was the turn of onion prices, once again you could argue, to shoot up.
Well, the government on Saturday imposed a minimum export price (MEP) of $800 a tonne ( ₹67 a kg) on onion exports between 29 October and 31 December to obviously prevent onions from being exported.
Supply has become erratic and thus have prices because of delays in the arrival of kharif onions, which are now expected to hit the market from Maharashtra, the leading grower, in December.
Kharif means monsoon and autumn being the period when the crops are sown and usually runs between June and October.
Onion prices have shot up more than 50% in the past two weeks to ₹80 a kg in the retail markets of Delhi. In Maharashtra's Lasalgaon, India's onion-trade hub, prices increased 58% in two weeks to ₹38 a kg on Tuesday. Average prices in key onion growing districts of Maharashtra are in the range of ₹45 to ₹48 a kg.
Additionally, the sowing of kharif onions in Karnataka and Andhra Pradesh has been low as farmers incurred losses over the past two years. Below-normal rainfall in these states has further reduced onion production.
LIke in most other cases, the Government has resorted to either a ceiling or ban on exports.
For example, in the case of rice, depending on the type of rice, it is a ban (non basmati) and price floor (basmati). In the case of wheat too, there are price ceilings and now onions.
The use of this tool obviously is an easy one compared to everything else, which focuses on storage, something that we have not cracked successfully, obviously because of lack of sufficient incentives or the clamour for more.
I wonder sometimes, if we treat, let's say something like semiconductor manufacture and rightly so, and offer 50% Government subsidies and even more to private players to set up chip making assemblies, perhaps we can do that much or more to set up a cold chain.
It would surely help avoid the rising stress levels ahead of elections for policy makers.
LUXURY HOMES ON A TEAR
Luxury homes continue to grow faster than affordable homes now, after the tide turned a few months ago.
The last nine months saw a 115% rise in luxury home sales over the previous year, a new report from real estate consulting firm Anarock says.
Luxury homes are pegged at costing more than Rs 1.5 crore and some 84,000 such units were sold in the top 7 cities in the January to September period, as compared to around 39,000 in the same period last year.
The share of luxury homes of the total units sold has risen 24%, from 14% the previous year.
Mumbai, NCR and Hyderabad top the list. Hyderabad grew 260% in luxury homes, from around 3700 units to 13,630 units, a sign of supply as much as demand.
None of the top 7 cities saw any slowdown in luxury housing sales, Anarock Group chairman Anuj Puri, adding that actually they all went into overdrive.
While strong sales are obviously good for the construction and real estate industry, the rush to buy real estate at this pace deserves closer examination and to what extent is it seen as a hedge against inflation or a reflection of more wealth creation.
There is nothing concerning as such as about any of this, except of course the level of indebtedness which is clearly rising across the economy.
India's New 7,000 Types of Freebies
Election freebies to voters, existing and potential is almost as old as elections itself.
The problem in India has always been a spray and pray approach which is to offer subsidies and benefits to wide swathes of the populace and then of course win their hearts.
That has worked but the efficacy of that has obviously always been questioned.
This is changing.
Economic journalist and author Shankkar Aiyyar in a new column in The New Indian Express titled Assembly polls reduced to contest of cash and freebies contrasts the old approach of wooing voters across segments giving way to targeted promises. 
In this, he says, the woman voter has emerged as a game changer. States are racing to up the ante with promises for the affection of women voters. 
In Madhya Pradesh the promise of Rs 1,500 to women by the Congress saw the Shivraj Chouhan regime hike cash transfer under the Ladli Behna scheme from Rs 1,000 to Rs 1,500 and promised to raise it further to Rs 3,000 per month. In Rajasthan the Ashok Gehlot government has promised an annual allowance of Rs 10,000 to women. In Telangana K Chandrasekhar Rao has promised Rs 3,000 a month to women from eligible households.
Most amazingly, the expansion of cash transfers is visible in the registration of over 7,000 codes by states on the National Payments Corporation portal.
Each code reflects one kind of subsidy or benefit. The lion's share is obviously the states which have more than 6,500 such codes.
The challenge of implementing poll promises is visible on state budgets—Karnataka, for instance, had to set aside Rs 52,000 crore to pay for its guarantees issued before the elections. 
But the larger question at least to me at this point is this. With sharper targeting and the resultant efficiency in the welfare system, are we reducing the spends or using the efficiency to grow even further.
I began by asking Shankkar Aiywar how the Freebie or Welfare bill has grown ?
---
PLANES AS BRIBES
As scale and ingenuity in bribes and kickbacks go, this must set a global record of sorts. 
A director in India's civil aviation regulator DGCA has been accused of 
using his position to take three aircraft as bribes from flying schools and in turn leasing the planes to different schools on a monthly lease rental of Rs 90 lakh each, a whistleblower letter, details of which was verified by the Economic Times has said.
Let me repeat the relevant point to you. The bribe is an aircraft, or a whole aircraft, actually three whole aircraft.
Not cash, not bitcoin, not benami property, gold, diamonds or a fleet of luxury cars. But an aircraft.
Following the complaint, the official has been transferred from his position and an investigation has been started against him by the vigilance wing of DGCA, says the ET.
India's flying schools have seen several accidents in recent years, caused apparently or primarily by a lack of maintenance of aircraft or not adhering to DGCA laws.
Five aircraft of Redbird Aviation, the largest flight school, have crash landed in the last six months due to engine failure. Investigations have found that the planes were not maintained properly and the trainers were not complying with critical safety rules of DGCA.
Turns out the official charged with seeking planes as bribes is a  trained pilot himself and was the only person who had expertise in training aircraft in DGCA. Due to this, he has been responsible for regulating flight schools for over the last seven years.
TAKING FLIGHT
Speaking of flight and taking flight, Roughly 42,000 migrants from India have crossed the southern United States border illegally during the fiscal year starting last October through September, according to data compiled by U.S. Customs and Border Protection, reports the Wall Street Journal. 
That is more than double the number from the same period the prior year, when crossings by Indians hit a historic high. An additional 1,600 have crossed from the northern border illegally—four times the number who crossed in the last three years combined. 
Since 2007, the total number of illegal border crossings by Indians in a fiscal year has exceeded 5,000 only four times. Indians nearly all turn themselves in to Border Patrol, rather than being arrested while evading capture, because they want to ask for asylum in the U.S, says the WSJ.
KAALI PEELI CABS
Mumbai's trademark Premier Padmini black and yellow taxis or kaali peeli taxis are going off the roads.
Whether in Bollywood films or folklore, the Premier Padmini taxis have stood out as an identifier of the city and its dependability, across sun, rain and storm. At least on most days.
A transport department official told the Times of India the last Premier Padmini was registered as a black-and-yellow taxi at the Tardeo RTO, on October 29, 2003. As the age limit for cabs in the city is 20 years, the city officially won't have a Premier Padmini taxi from Monday. 
A.L. Quadros, the general secretary of the Mumbai Taximen's Union told the Times of India that the journey of Premier Padmini taxis began in 1964 with the 'Fiat-1100 Delight' model, known for its 1200-cc engine and steering-mounted gear shifter. 
The model underwent rebranding in the 1970s, transitioning to "Premier President" and ultimately "Premier Padmini." This iconic car, manufactured by Premier Automobile Limited (PAL), retained its name until production ceased in 2001.
In more recent years, spare parts have been an issue for now rattling Premier Padminis and taxi drivers have transitioned to brands like Hyundai and Maruti Suzuki.