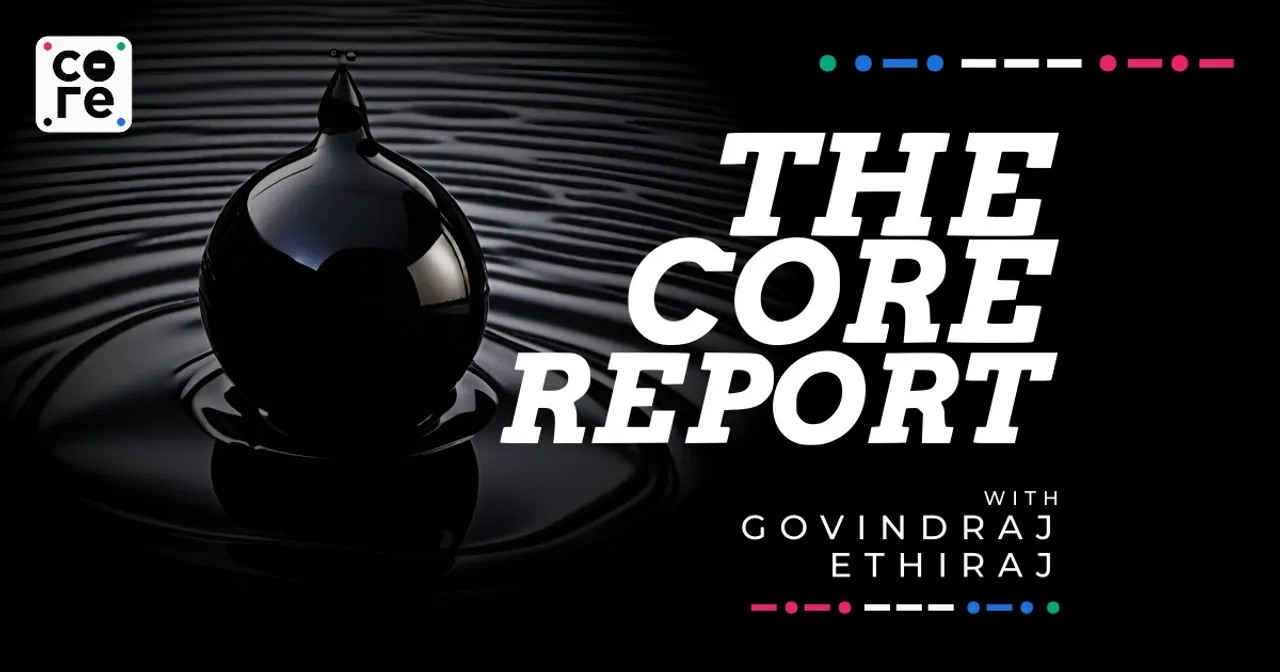 On today's episode, financial journalist Govindraj Ethiraj talks to Tushar Jani (in an excerpt from the weekend edition), founder of Blue Dart Express Ltd and Blue Dart Aviation and currently Chairman of Cargo Service Centre (CSC) India.

---
Our Top Reports For Today
[00:00]

 

Stories Of The Day
[01:05]

 

Markets adapt to Israel invasion and bet on limited impact. Oil below $88 a barrel and stocks are up
[02:39]

 

Foreign portfolio investor Chris Wood of Jeffries says Indian markets could take a 25% knock if the Modi Govt did not return in the next elections
[05:16]

 

Air freight capacity of India grows to accomodate increasing high value cargo
[08:17]

 

As wealth grows, so must desire to protect it. Indians are buying locks worth Rs 22,000 each
[10:42]

 

Tech giants are making a come back
---
NOTE: This transcript contains only the host's monologue and does not include any interviews or discussions that might be within the podcast. Please refer to the episode audio if you wish to quote the people interviewed. Email [email protected] for any queries.
---
Markets Are Up
Markets were clearly waiting for the certainty of an invasion by Israel into Gaza as opposed to the uncertainty of not knowing what shape or form it would take or how wide it would be, at least at this point.
Stocks rose around the world, oil fell 3% while Treasuries retreated as Israel's ground incursion into Gaza appeared less extensive than some investors had feared, Bloomberg also reported.
"Israel moved forces into Gaza over the weekend but the operation isn't as large as feared (yet) and that's helping to slightly reduce geopolitical anxiety," Tom Essaye, a former Merrill Lynch trader who founded The Sevens Report newsletter, told Bloomberg. 
Facebook parent Meta Platforms Inc. led the gains in the mega cap space, though Tesla Inc. fell 3%. 
Ten-year US yields rose six basis points to 4.90%. The dollar fell against all of its developed-market peers. The yen climbed after a Nikkei report that the Bank of Japan will consider letting 10-year yields exceed 1%.
But to sum up, Israel's heightened push into the Gaza Strip has not and may not attract significant military retaliation from Iran or its proxies, reducing worries that crude supplies may be interrupted in the region.
Back home, the  BSE Sensex surged 330 points to close at 64,113 while the Nifty50 closed at 19,141, higher by 94 points.
---
Meanwhile, in a somewhat unusual warning, the oft-quoted Christopher Wood, global head of equity strategy at Jefferies said Indian stock markets could see 25 per cent correction in 2024, if the Narendra Modi-led Bharatiya Janata Party (BJP) does not return to power in a working majority after the general elections scheduled for 2024. 
This, he said, is the biggest risk for the Indian stock markets as things stand. As a strategy, he suggests that investors should stay put for now, and 'buy the dips'.
Wood was speaking at the Business Standard BFSI Summit 2023
He did say India is the best domestic equity story among EMs, which has been accentuated by the problems in China, he would not take a leveraged trade on India before the general elections.
However, global investors have barely invested in Indian equities, he said.
Even emerging market (EM) investors, according to him, are moderately 'overweight' in India.
"Investors should be structurally invested here as tactically the markets have done well. Midcaps, obviously, are expensive, and India will be vulnerable to a Wall Street-correlated correction caused by higher bond yields," Wood cautioned.
He also pointed out, interestingly, that the market regulator should make it easier for foreign investors to invest here. "Most EMs are easier to invest for foreign investors than India," Wood said at the BS Summit.
Of course markets like continuity including political continuity in a country like India where too many policy reforms are dependent on Governments.
On the other hand, a 25% knock seems to sound a little excessive, almost like the markets are riding majorly on political factors and less on sound fundamentals of companies, businesses and the economy. Perhaps there was a context in which he said this but I did not get it.
On the other hand, at the same BFSI Summit, the chief investment officer for Axis Mutual Fund Ashish Gupta said there was no direct correlation currently between market performance and general elections.
According to him, post-elections, India should not worry about the market but worry about the long-term outlook.
"There are high expectations, increased global uncertainty in geo-politics. We need to be mindful of this rather than the upcoming elections," said Gupta.
Another chief investment officer (CIO) (Equity) of Nippon India MF told Business Standard that in elections or no elections, the challenge today is near-term expectations of whether it is earnings or returns. "People are investing in equity funds with high return expectations. That's a challenge," he said.
FREIGHTERS OUT OF INDIA
India exported around $448 billion of goods last year. Some of the most highest value added goods here went by air, both in the belly of aircraft and on freighters.
Products like speciality chemicals, or drugs in which India has a strong market share have been riding in freighters and depending, on the product, inside the belly of passenger aircraft.
Or vaccines, which everyone now knows about, as Tushar Jani of SCA Group and co-founder of Blue Dart - now sold to DHL - told me in my conversation with him in The Core Report weekend edition.
He also said how Air India was now able to take cargo from New York to Dubai via Delhi in reasonable times and obviously very attractive costs against a consignment going directly from NY to Dubai.
Health Is Big Business
Health is and will continue to be big business, amidst among other things, shifts in lifestyle and disease patterns and of course increasing affordability for better care.
The problem of course has always been the relatively fragmented nature of the healthcare delivery sector, including hospitals. Which of course has been changing in recent years.
Private equity firm Blackstone said on Monday it is acquiring a majority or 72% stake in Hyderabad-based CARE Hospitals from Evercare, a platform of TPG RISE funds, for USD 700 million (around Rs 5,827 crore).
This will mark Blackstone's entry into India's healthcare services sector. 
CARE Hospitals and TPG will in turn acquire an 80 per cent stake in Kerala-brd KIMSHEALTH for around $400 million, a source confirmed to Business Standard.
Blackstone will put in USD 300 million and TPG the rest USD 100 million as part of the arrangement, taking Blackstone's commitment to USD 1 billion, Business Standard reported.
The combined platform will have more than 4,000 beds. 
LOCKING IN AT 22,000
We have heard of premiumisation in products, but we  may have missed this one and it should be hardly surprising that with all the wealth creation around, people are investing in pricier and cooler locks to secure their wealth and of course for peace of mind.
"We are seeing rapid revenue growth through premiumisation and that is true for both our mechanical and digital locks," Shyam Motwani, Business Head, Godrej Locks & Architectural Fittings and Systems told Economic Times.
The sales growth in premium locks is a high double-digit growth; anywhere around 14 to 16 per cent and in some cases even 18 per cent, he told ET.
"If you look at a good premium rim lock then that costs up to Rs 10,500 per piece and digital locks start at Rs 11,000 and go up to Rs 22,000," he said.
Godrej Locks is of course growing, also because the real estate business is. Couple that with home renovation and demand is growing steadily. 
One new thing that people are opting for when it comes to locks. Digital locks. People in India can afford now, there is a lot of money, the Godrej official told ET.
TECH GIANTS ARE MAKING A COME BACK
The tech giants are shaking off the post pandemic blues. Microsoft, Amazon, Meta and Alphabet, parent of Google, all  last week delivered quarterly reports showing strong growth and improving margins in areas from digital advertising to e-commerce to cloud computing, the WSJ reported.
They are also starting to see some initial payoff from big investments in artificial intelligence, while trying to assure Wall Street that more wins are ahead. 
Average revenue for those four companies last quarter rose by about 13% from a year earlier, the fastest rate since the final quarter of 2021, said the WSJ.
The technology industry is looking strong once again after things looked shaky for the best part of two years which saw it slashing staff and cutting costs, thanks to some excessive growth bets taken during the pandemic. 
The early earnings results show the post pandemic hangover may have run its course, the WSJ said.
Pollution Crackdown
Mumbai's civic body the BMC issued a "stop work" notice to a unit of listed real estate company Prestige Group in north east Mumbai for apparently failing to comply with guidelines to curb air pollution in the city. 
The builder said it is "working expeditiously" to ensure that the norms are followed, Moneycontrol reported.
The Brihanmumbai Municipal Corporation (BMC) had issued the anti-pollution guidelines earlier in October after the air quality in the country's financial hub worsened over the past few months.
"You are hereby directed to procure and install adequate sprinklers and smog guns within 15 and 30 days, respectively, from issuance of the said guidelines from October 25, 2023," the BMC said. "You are hereby directed to stop the ongoing construction work immediately till the faithful compliance of all guidelines at the site."
There are 6,000 construction sites in Mumbai and many of these are also publicly owned, for example the always delayed metro work which has ripped up half the city or the coastal road project which has torn apart what was left, among others.
Catching hold of a well known company like Prestige is good signalling, assuming of course the others are also being cracked down upon. Somehow I am not getting the sense, or the rest are very good in compliance.
That's it from me for now.