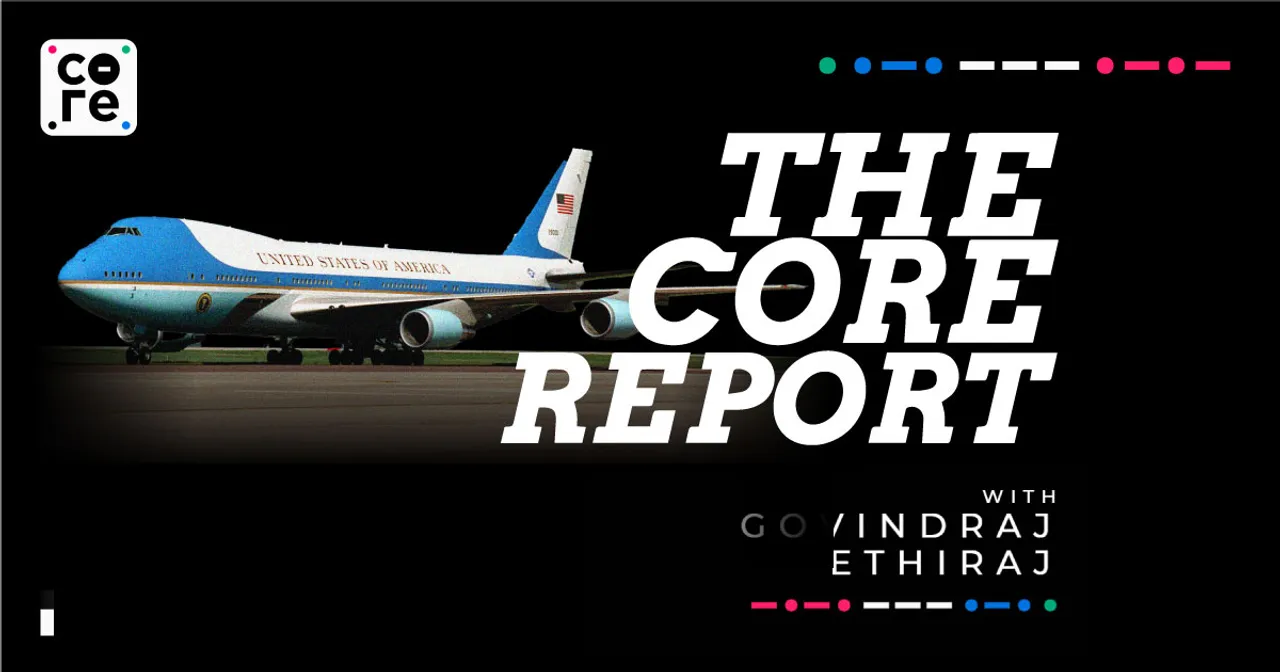 On today's episode, financial journalist Govindraj Ethiraj talks to Siraj Hussain, former Agriculture Secretary to the Government of India and columnist on agricultural issues as well as Rajneesh Singh, Managing partner, at Simply HR Solutions.

---
Our Top Reports For Today
[00:00]

 

Stories Of The Day 
[01:00]

 

Joe Biden's Visit To Israel fails to Calm Fears After Gaza Hospital Attack, Oil Jumps to $93
[02:05]

 

JP Morgan bets on India manufacturing story, says will be 3rd largest economy in 2030.
[06:05]

 

It's three months since the Rice Exports were banned, have the outcomes been achieved,

 

with Siraj Hussain
[15:06]

 

IT giant TCS mandates a dress code, do companies need one,

 

with Rajneesh Singh
---
NOTE: This transcript contains only the host's monologue and does not include any interviews or discussions that might be within the podcast. Please refer to the episode audio if you wish to quote the people interviewed. Email [email protected] for any queries.
---
Biden's Israel Trip Fails To Calm Markets
US President Joe Biden's arrival in Israel early Wednesday and meeting with Israeli PM Benjamin Netanyahu did little to calm the markets, particularly oil which shot up after a missile strike tore apart a hospital in Gaza and killed hundreds.
Brent futures rose 3% to trade near $93 a barrel. Iran's foreign minister called for a full and immediate boycott of Israel by Muslim countries, including an oil embargo on the country.
The oil embargo in itself is not the trigger as much as the fear of the hostilities in the region escalating and more countries getting drawn in.
Leaders of Jordan, Egypt and the Palestinian Authority cancelled a summit with US President Joe Biden making his job in securing peace in the region more difficult. 
Not surprisingly, stocks back home saw selling pressure even as bond yields rose. The BSE Sensex dropped  551 points to close at 65,877. The Nifty50, on the other hand closed at 19,671, down 141 points.
The Bulls Or At Least The Bullish Reports Are Back
This time it was JP Morgan again, whose managing director of Asia Pacific equity research, James Sullivan, said that India will become the world's third-largest economy by 2027, with its gross domestic product (GDP) more than doubling to $7 trillion by 2030.
He told CNBC-TV18  that he saw very strong long-term tactical drivers that make India a key overweight from a structural perspective.
Sullivan said that the manufacturing contribution to India's GDP may rise to nearly 25 per cent from 17 per cent, and exports to more than double, to over a trillion dollars.
He added, "From a longer-term perspective, we see massive changes in the overall structure of the Indian economy, which present clear opportunities for sector selection within what we think will be a strong overall market."
Last month, JP Morgan announced that Indian government bonds would be a part of its  Government Bond Index-Emerging Markets (GBI-EM) global index suite from June 2024.
The quantum of flows thanks to this development could be $24 billion over the year after June 2024. JPM Government Bond Index-EM Global diversified Index has assets under management of about $200 billion. 
RESULTS SEASON
IT major Wipro posted a marginal increase of 0.1 per cent in its profit for the second quarter of the current financial year (Q2FY24) to Rs 2,667 crore year-on-year (y-o-y), the company told exchanges.
Wipro's results are in keeping with the general gloominess in Indian IT, reeling from the after effects of a slowing spending in the major markets of US and Europe.
The company's gross revenue came at Rs 22,520 crore for Q2, a decrease of 0.1 per cent compared to the same quarter in the previous year.
Net income for the quarter was at Rs 2,650 crore, a decrease of 0.5%.
Thierry Delaporte, CEO and Managing Director said Wipro was training and reskilling its  people for an AI-driven future. 
WIpro's headcount declined for the fourth consecutive quarter, ending the September quarter with 5,051 fewer employees than in the previous quarter. 
With this, the company's headcount stands at 2,44,707, said MoneyControl. 
The IT industry is reporting a decrease in net headcount, with a cumulative decline of over 16,000 employees across TCS, Infosys, and HCLTech. 
Among these, Infosys experienced the most significant reduction, with a net headcount decline of 7,530, said MoneyControl.
We have more on the IT industry and a new dress code for TCS coming up shortly.
Meanwhile, Bajaj Auto reported brighter results, posting a standalone net profit for the quarter ended September stood at Rs 1,836 crore, which is higher by 20% compared to the same quarter last year.
Revenue from operations rose 6% year-on-year to Rs 10,777 crore in the reporting period as against Rs 10,203 crore in the corresponding period of previous year.
The company said revenue growth was driven by double-digit volume growth, with strong domestic sales as well as improving export performance. 
Margin for the quarter came in at 19.8% thanks to a better realisation and a richer product mix, which made up for the investment mode on electric scooters.
RICE AND SUGAR
It's almost 3 months since India banned the export of non basmati rice. India controlled roughly 40% of global rice trade in 2022 and the move affected many countries, including the diaspora who are used to this particular rice.
The Government also set a floor price for basmati exports at $1,200 a tonne in order to prevent non basmati rice being passed off at lower prices. The Government had banned exports of broken rice, another category of rice, last year itself.
The Government has then allowed exports of non basmati rice to some countries on a country to country basis, like UAE, Singapore and Bhutan.
One clear objective of the ban in July was obviously to rein in potentially shooting prices thanks in turn to uncertain monsoons and an expected higher demand in the festival season.
Three months on, has the rice ban specifically or generally achieved its objectives and what are the takeaways from a policy and policy prescription point of view as much as our understanding of it.
I reached out to Siraj Hussain, former Agriculture Secretary to the Government of India and columnist on agricultural issues with several publications and began by asking him what we had achieved with the current export ban strategy ?
---
SUGAR BAN
We spoke of wheat prices going up yesterday, the ban on wheat exports and of course rice exports and now are learning, as we have been discussing and to some extent speculating that restrictions on sugar exports will extend beyond October.
Sugar prices in India are near a 7-year high and production is forecast to drop 3.3% to 31.7 million tons in 2023/24 because of patchy monsoon rains in the top cane growing states, Maharashtra and Karnataka.
India is the second largest sugar producer in the world and is trying to control, as in other commodities, prices at this time by increasing supplies. 
Export of raw sugar, white sugar, refined sugar and organic sugar under some codes would be restricted beyond October, according to a notification issued on Wednesday by the Directorate General of Foreign Trade (DGFT).
India's sugar export restrictions have been in place for the past two years. During this time, India allocated export quotas to mills.
In the last season that ended on Sept. 30, India allowed mills to export only 6.2 million metric tons of sugar, after permitting them to sell a record 11.1 million tonnes in 2021/22, Reuters is reporting.
"The export restriction was expected. Instead of the usual one-year limit, this time the government has imposed an indefinite export restriction," a Mumbai-based dealer with a global trade house told Reuters.
Meanwhile, the Government put out total horticulture production numbers for 2022-23 estimated to be 351.92 million tonnes, an increase of about 4.74 million tonnes as compared to the year 2021-22.
Meanwhile, MoneyControl is reporting that final estimates of major crops for the year 2022-23, released by the Department of Agriculture and Farmers Welfare put total production of food grain at a record 329 million tonnes (mt), higher by approximately 14 million tonnes of 315 mt during the season 2021-22.
Total rice production was estimated at a record 135 mt, higher by 6.2 mt than the previous year's rice production. Production of wheat on the other hand is estimated at a record 110 mt. It is higher by 2.8 mt than the previous year's production.
INFORMAL DRESSING
Tata Consultancy Services (TCS) has ended work from home for most of its employees, making it mandatory for them to show up in office five days a week. 
Now, asking people to show up in the office when many have not seen the face of one is obviously one part of the challenge. Or is it something else?
Financial Express has reported that the company is keen to facilitate their assimilation into the workforce. To that end, TCS has asked all employees to follow its dress code while working from the office, Financial Express has reported.
"This is key to creating the right impact with stakeholders globally. The dress code policy gives clear guidance on the right attire while carrying out official responsibilities and duties," the email read.
"A large number of our associates have joined us in the last two years and have been working in a virtual or hybrid mode, and it is our responsibility to ensure they are well integrated – working from the office is key to internalise the TCS values and the TCS way," it said. 
There are three categories which go into pretty minute detail which range from what is allowed and what is not.
On monday to thursday business casuals which include formal full sleeved shirts to saris and salwars or local attire. Footwear is also defined which includes formal shoes and flats, and heels.
Ties are optional.
T shirts, jeans and sports shoes, sneakers are not allowed from Monday to thursday.
Shorts and half pants, kurtas and mini skirts are not allowed on all days, including spaghetti tops.
Formal wear and client visits involving TCS employees outside are clearly defined and are quite simply, formal.
I reached out to Rajneesh Singh, Managing partner, at Simply HR Solutions who has led Group HR functions in several large Indian and global multinational organisations and began by asking him how he was reading this HR diktat.
---
A TCS senior employee told me we already have always had a dress code. It was enforced even earlier. Now, given that people are coming back to office they have started to enforce it (as in the past).
When I joined TCS in the 90s, we had to wear a tie. I don't think a dress code makes sense … but I would expect my team to dress neatly and to add to that - maintain general hygiene. 
In Germany, the German Managers sent us back if we were not wearing a suit.
---
WILMA. The New Aircraft Boarding Sequence. 
Speaking about diktats of a different kind, here is something that frequent travellers would be keen to hear.
Later this month, United Airlines, which flies in the United States and connects many destinations in the world from there, will implement a boarding process that puts window-seat passengers in economy class on the plane ahead of their peers in the middle and the aisle, according to an internal memo obtained by The Washington Post.
So which means if you are in a window seat in economy, you will board first via a boarding group that will be assigned to you and will show up on your boarding pass.
United will still use a preboarding system for certain customers, such as those with disabilities, unaccompanied minors and active duty military,the Washington Post says. 
First-class and business-class passengers will follow. Then window, exit row seats and non revenue passengers will board, followed by middle and aisle seats. The last boarding group is reserved for basic economy on domestic flights, as well as those who don't have a boarding group on their pass, according to the memo.
Officials wrote in the memo that the process would save the airline up to two minutes of boarding time. 
Which is a long time given that a single aircraft will do several flights and destinations in a day.
United first unveiled the WILMA (which stands for window-middle-aisle) boarding system in 2017 but had paused it and has now resumed with added technology.
Do we need something similar in India ? Yes because usually it takes long for airlines to herd passengers into the sections they should be standing in.
This is usually compounded by the fact that many passengers except on some sectors like Mumbai, Delhi and Bangalore are not frequent fliers.
Moreover, different airlines have different boarding systems. Indigo, which is the largest, has a different boarding approach from say Vistara.
Also, Vistara is a full service airline as is Air India and calls out their premium passengers first, as most airlines would.
Nevertheless, United's approach or experiment is worth watching.