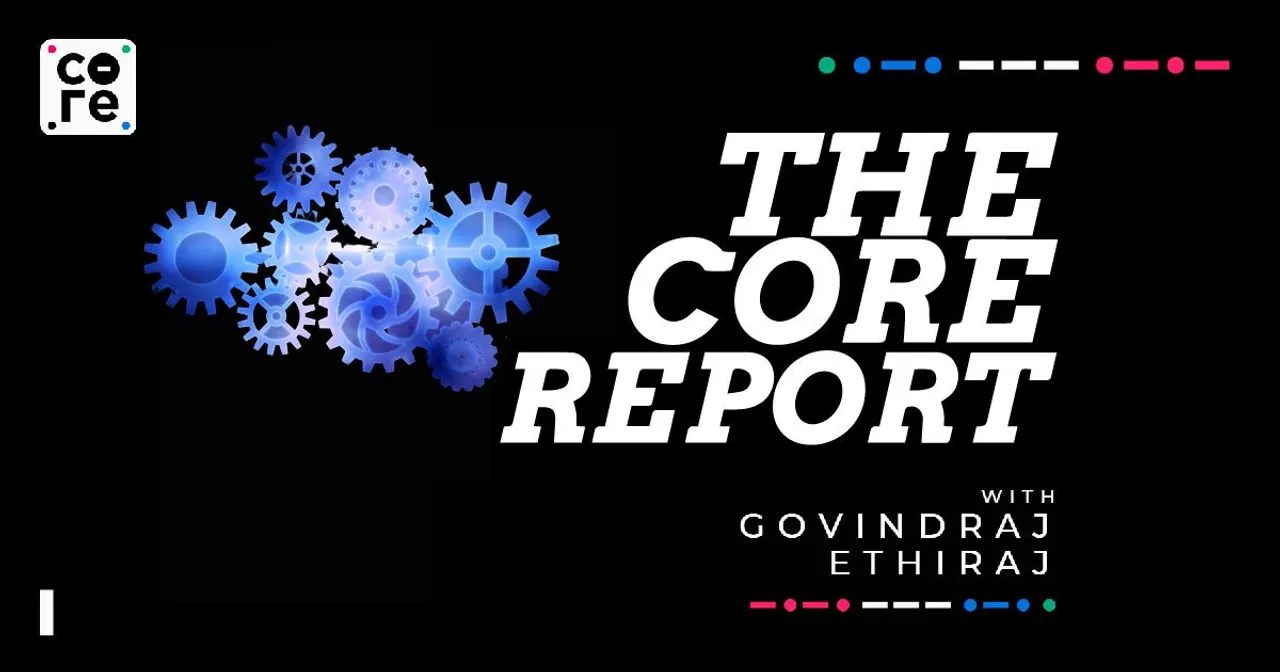 On today's episode, financial journalist Govindraj Ethiraj talks to Murali Neelakantan, a lawyer who has worked as global general counsel with brands like Cipla and Glenmark Laboratories in the past; as well as Vanita Kohli Khandekar, well known media analyst and contributing editor with the Business Standard.
---
<00:45> A deadly train disaster in eastern India. The railway's fine line between safety and speed.
<04:01> The Government once again bans cocktail drugs, 14 this time with Murali Neelakantan
<12:36> India's manufacturing incentives are not working like they should
<17:57> Streaming is going gang busters, but here's a surprise with Vanita Kohli Khandekar
---
TRANSCRIPT
NOTE: This transcript contains only the host's monologue and does not include any interviews or discussions that might be within the podcast. Please refer to the episode audio if you wish to quote the people interviewed. Email [email protected] for any queries.
Good morning, it's Monday morning, the 5th of June and I'm Govindraj Ethiraj with The Core Report, coming to you from Mumbai, India's financial capital.
A deadly train disaster in eastern India. The railway's fine line between safety and speed.
India's manufacturing incentives are not working as they should
The government once again bans cocktail drugs, 14 this time. Why is this happening?
Streaming is going gangbusters, but here's a surprise... wait.
Before we start off… I would be remiss in not mentioning the tragic rail accident on Saturday evening near Kolkata that have, at last count, led to some 275 people dying. The accident involved three different trains, of which one was a stationary goods train.
The two trains were the Chennai-bound Coromandel Express and the Kolkata or Howrah-bound Howrah Superfast Express from Bangalore.
Railway accidents tend to get politicised quickly in India, owing to several reasons, the key one being the railways are government owned and in turn the track and signalling as well as rolling stock or the trains that run on the tracks. And there is a cabinet-level railway minister to run it all.
Railway ministers have been prominent and recent ones have included Mamata Banerjee, Nitish Kumar and Lalu Prasad Yadav, the first being chief ministers of West Bengal and Bihar right now and Yadav of Bihar much earlier. The present one is Ashwini Vaisnaw, a bureaucrat and technocrat who has worked in government and in the private sector including in firms like General Electric.
Investigations are on to establish what caused the accident, including I suppose if human error or role was involved.
As that happens, one obviously hopes that while the Railways will refocus their energies on the maintenance and modernisation of track and signalling, they don't lose focus on speed.
Remember, both the trains that collided on Friday were running at over 100 kmph as they are supposed to.
B Rajaram, who succeeded E Sreedharan at the Konkan Railway Corporation which manages the 741 km west coastline from Mumbai to Mangalore, once told me in an interview that making trains run fast was a challenge.
It is always easier to go slow because it will be safer, he said. At that point, he wanted trains on the Konkan Railway to do the Mumbai-Goa run in eight hours or so. The trains could do it but the railway bureaucracy resisted all through. And eventually, the time was extended.
The government is rightly trying to speed up trains, including with the Vande Bharat series. The political capital being extracted from each launch may be a little excessive but faster trains are welcome, as are more comfortable ones, as speed eventually links to economic growth and more specifically, pulling people and freight back from roads which are often faster. There are 18 Vande Bharat trains with more lined up and are typically day trains.
It is indeed unfortunate that trips between Mumbai and Bangalore can still take almost the same time as they did 40 years ago which is close to 24 hours.
Rajaram had an interesting and counterintuitive management insight. He felt that increasing the speeds of trains, accounting for safety, of course, made things run more efficiently. "People in the railway system are more alert and careful when trains are running faster."
That, he felt, could apply to any organisation stepping up the pace so to speak.
Meanwhile, a Vande Bharat train - the 19th - was scheduled to be launched between Mumbai and Goa on Saturday and complete the journey in 7 hours 50 minutes, the kind of time Rajaram was aiming for around 20 years ago.
The launch was cancelled, understandably after the big accident in Odisha.
Hopefully, it will on track soon and safely. And fast.
Strong Medicine Again
The Government has banned 14 fixed-dose combination or FDC drugs on the grounds that there is no therapeutic justification for these medicines.
A notification by the Health Ministry says that it is necessary to prohibit the manufacture, sale or distribution of these FDC under the Drugs and Cosmetics Act of 1940 in the larger public interest.
Interestingly, Bloomberg News reported almost at the same time that US inspectors have in recent months uncovered wide-ranging lapses at factories run by some of India's biggest pharmaceutical firms.
Dozens of drugmakers were issued notices and warning letters by the US Food and Drug Administration, which is increasing visits to Indian factories after the lifting of Covid-19 restrictions last year.
The Bloomberg report said inspectors detailed unsanitary conditions in manufacturing plants and poorly trained staff; shredded paperwork and under-investigated customer complaints; and evidence of exporting contaminated drugs to the US.
Back to the Indian ban, an FDC is typically a combination of two or more active ingredients - a pharmaceutical term - into a single drug formulation.
Common one is nimesulide and paracetamol, used for pain and fever.
Another one, amoxicillin and bromhexine used for respiratory tract infections is also banned.
And finally, codeine-based formulations are used for runny nose, cough and common cold symptoms.
From what I could see, only some of these combinations involve drugs made by any of the major companies.
For example, Dolamide by Sun Pharmaceuticals, Sumo by Alkem Laboratories and Nimica Plus by IPCA Labs in the nimesulide + paracetamol category.
You may have come across brands like Codeine, Oscodin, Rexyl B and Moxbro, reflecting some of the combinations I mentioned earlier. But the value is high, estimates I came across put them at several thousands of crores. The Business Standard says codeine-based formulations alone constitute roughly a Rs 1000 crore market.
The Government has been cracking down on FDCs for some time now, in March 2016, it banned 343 FDCs.
Veteran healthcare industry journalist Vikar Dandekar told me these cocktails get approvals from state-level authorities, mostly without the need to do bioequivalence studies.
So, this ban is a band-aid, not a lasting solution he says and unless such drugs are approved by a single centralised drug administration, there is no guarantee such products will not come back. Also, many companies may go to court and get stay orders, as they did last time.
To get another perspective, I am joined by Murali Neelakantan, a lawyer who has worked as global general counsel with brands like Cipla and Glenmark Laboratories in the past.
What Ails Indian Manufacturing Again?
Something is ailing Indian manufacturing. And it's not for the lack of trying. Let's look at the outcome of one attempt.
Prices of electric two-wheelers went up from last week June 1 as a lower subsidy structure came into effect with prices going up between Rs 10,000 and Rs 40,000. For scooters that earlier sold for Rs 80,000 and Rs 100,000, this is very sharp.
The government and its Ministry of Heavy Industries last month restructured the Faster Adoption and Manufacturing of Electric Vehicles (FAME) scheme.
The new structure has reduced the subsidy per electric two-wheeler from 40% to 15% of the ex-factory price or from Rs 15,000/kWh to Rs 10,000/kWh.
Under the earlier structure, some electric two-wheelers were getting a subsidy of up to Rs 60,000 and now companies would have to absorb or pass on the subsidy loss.
Companies like Bajaj Auto raised prices by Rs 22,000 and Ather Energy by 10,000. Evidently, some companies are absorbing a larger part of the losses while others are passing it on, or making consumers bear the difference.
Elsewhere, Samsung Electronics may not receive incentives worth Rs 900 crore which it claimed for achieving additional sales worth Rs 15,000 crore in the fiscal year 2020-21, the Economic Times reported.
To be eligible for these incentives Samsung had to produce handsets with a factory cost exceeding Rs 15,000 approximately.
Apparently, some discrepancies were discovered in the company's invoices and the payout was withheld, an Economic Times report said.
The ET report also quotes government officials saying that the discrepancy as it were has been addressed and subsequent invoices were fine but it was unlikely that Samsung would be able to get that Rs 900 crore.
Manufacturing incentive schemes can be quite complex and vary from industry to industry. The mobile handset PLI scheme started in August 2020 and had an outlay of around Rs 41,000 crore over 5 years offering graded incentives or cashback worth 6% of incremental sales in the beginning and dropping thereafter.
For Samsung, the 6% cashback translated into Rs 900 crore, according to the same reports.
Both electric vehicles and phones have one thing in common here, which is that the Government has found problems in the way the scheme has been used or misused as it happened with the 2-wheeler companies where they were clearly found to have violated localisation norms and had to return money, including to their consumers. And then saw the PLI or incentive scheme being prematurely pulled back.
The PLI scheme has always faced some pushback. The arguments for it are fairly obvious, having it means incentivising the industry to manufacture more, faster and locally. And in the process galvanise further India's domestic end-to-end manufacturing ecosystem and create more jobs.
The money obviously goes to private hands and that makes some uncomfortable. Since taxes are already low and there are other industrial attractions. More importantly, the fear that incentives could make that part of the industry uncompetitive.
It is definitely a source of discomfort to everyone if companies are found to be playing fast and loose with incentives, as the two-wheeler companies have clearly done. Samsung specifically may have made some genuine errors or the Government is perhaps being rigid but all this leaves a bad taste in the mouth, to put it mildly.
The macro view goes like this. Columnist TN Ninan in the Business Standard for instance argued earlier that PLI schemes are worth the investment because they are an infinitesimally small part of overall GDP and worth even the small returns they could generate which they surely would.
On the face of it, it makes sense. Even though some like former Reserve Bank of India governor Raghuram Rajan and now a Professor of Finance at Chicago Booth.
But there is a larger problem that TN Ninan himself pointed out over the weekend. Despite all the Make In India emphasis and the supporting tariff regime, manufacturing is not growing.
On the contrary, at 1.3% for 2022-23, it is slower for all segments of the economy including agriculture which grew at 4%.
It is a funny developing economy in which manufacturing is slower than even agriculture he points out, including in the last four years which should a time period that ought to have balanced out for Covid impact.
Amazingly, in the latest quarter of last year or between January and March 2023, agriculture was 25% bigger than manufacturing.
This TN Ninan says its the exact opposite of what was intended when the Government pushed Make in India, including of course the physical infrastructure investments.
Maybe we are still adjusting to post Covid shifts, including sustained income inequality. And maybe it will eventually pan out or there is something wrong with the data.
But in more ways than one, we seem to be back to the drawing board once again in search of ways to improve India's manufacturing output.
Of course, this is not the end of the story and I will be back with more.
Is it Streaming or Good Old Television ?
Some 32 million watched IPL simultaneously on Reliance-owned Jio Cinema, an app that runs on mobiles as well as television sets.
This is a record as were the overall IPL numbers, a testament to cricket, the format and the viewing of it.
Disney Star, the official TV broadcaster, said it got almost 496 million viewers until the finals..with a 44% increase in ratings for IPL playoffs compared to the previous year.
JioCinema, the official digital streaming partner of IPL had said 120 million unique viewers tuned in for the IPL finals which if you were also watching were marred by rains and delays.
What does this tell us about the way Indians are consuming entertainment and sports? Is it becoming more mobile-led or does classic broadcast continue to hold sway and more importantly what are the trends going forward? To speak on this, I am joined by Vanita Kohli Khandekar, a well-known media analyst and contributing editor with Business Standard newspaper.