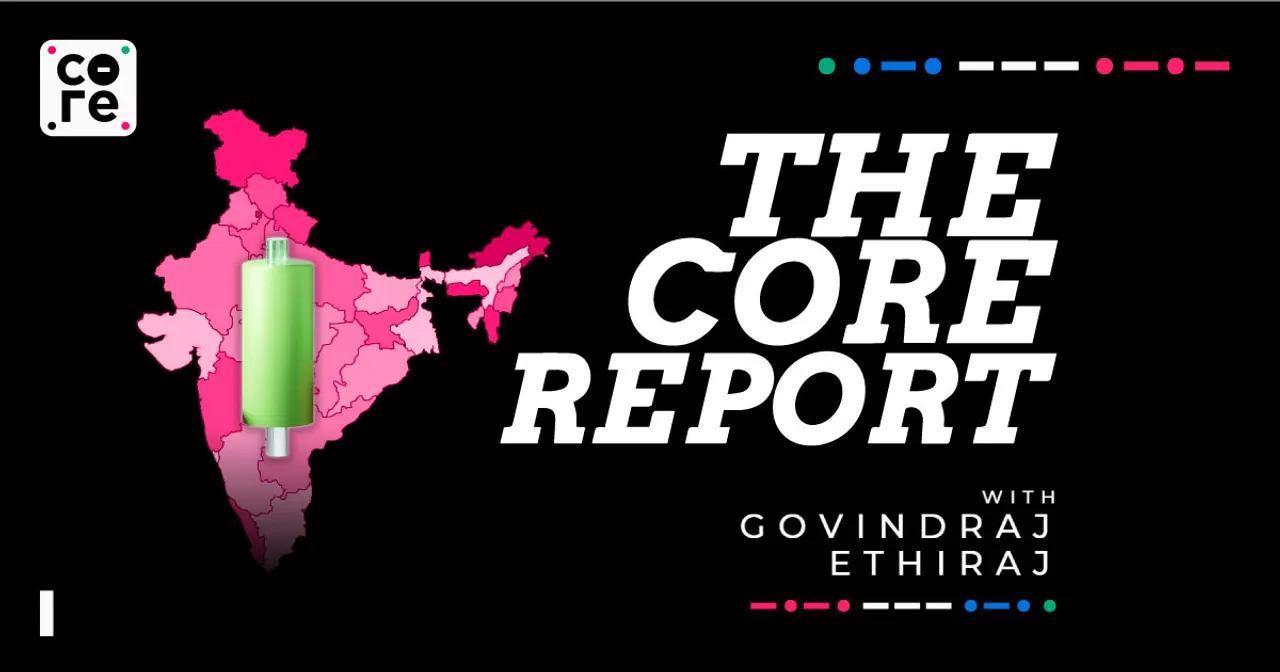 On today's episode, financial journalist Govindraj Ethiraj talks to Akshay D'Souza, Chief of growth and insights at Bizom.

---
Our Top Reports For Today
[00:00]

 

Stories Of The Day 
[01:00]

 

Indian markets follow global signals on low inflation, Sensex rises 742 points
[03:31]

 

A sharp rise in gold imports, almost 100% drives up India's trade deficit to record high
[04:46]

 

After expressing concern over small loans, RBI bars Bajaj Finance from lending under two categories
[06:17]

 

Retail consumption data is mixed but Indians are gifting more than ever before
[14:54]

 

A legendary hotelier who set the Indian luxury benchmark is no more
---
NOTE: This transcript contains only the host's monologue and does not include any interviews or discussions that might be within the podcast. Please refer to the episode audio if you wish to quote the people interviewed. Email [email protected] for any queries.
---
MSCI Expands
India's stunning knock against New Zealand, came later in the day but the markets seem to have set the pace, to use the odd cricketing analogy.
Lower inflation numbers from the United States and India fired up the BSE Sensex 742 points to end at 65,676 levels on Wednesday with the Nifty50, on the other hand, surged 232 points to close at 19,676. Both indices hit one-month highs and the Nifty closed at its highest level in approximately a month.
Low inflation numbers mean the anticipation that interest rates won't rise further and money will flow into or back into stocks as opposed to safe and high interest bearing US Government bonds.
The rally was global though, with several markets moving up. The  MSCI world equity index, which tracks shares in 49 countries, rose 0.5% to its highest since mid-September, following a positive session in Europe and a rally across Asia, aided by a report of stimulus in China, Reuters reported
More on MSCI in a moment.
Elsewhere, oil too was holding at $82 a barrel, even as Israeli troops entered deeper into Gaza and onground fighting intensified.
MSCI also raised India's weightage in its Global Standard (Emerging Markets) index to 16.3% from 15.9% on Tuesday, a move likely to increase the flow of foreign funds after a two-year lull.
India has the second-highest weightage in the index after China's near-30%, and could see a surge in inflows thanks to this move. 
MSCI added nine Indian stocks to the index and will bring the country's stock count in the index to 131, with changes coming into effect from market close on Nov. 30. No Indian stocks were deleted to accommodate the new additions.
On the other hand, as we have been mentioning in the Core Report, FPIs are net sellers in India since September, along with many other countries like China, Taiwan, Malaysia, Thailand, Indonesia and South Korea. 
The contrast in India is quite sharp, almost $5.7 billion of net buying each month in May, June and July this year and then falling, with over $5 billion flowed out in September, October and a bit of November.
The larger question of course is whether we could see a reversal now. While the bullish statements continue to pour forth and we quite faithfully document them, the hard money has to follow.
Trade Deficit Widens
India's merchandise trade deficit in October widened to a record level, partly due to a sharp rise in gold imports during the festival season, trade ministry officials said on Wednesday and Reuters reported.
The trade deficit widened to $31.46 billion last month, much higher than economists' expectation of $20.50 billion, according to a Reuters poll.
Merchandise exports stood at $33.57 billion, while imports shot up to $65.03 billion, compared with exports of $31.60 billion and imports of $57.91 billion in October last year, government data showed.
Gold imports leapt in October 95% year-on-year, a commerce ministry official said. In October, gold imports totalled $7.23 billion, according to Reuters calculation.
Services exports in October were $28.70 billion while in September, services exports were$29.37 billion.
RBI Asks Bajaj Finance
The Reserve Bank of India (RBI) on November 15 asked Bajaj Finance to stop sanction and disbursal of loans under its two lending products with immediate effect.
These are eCOM and Insta EMI Card.
The action is on account of non adherence to Digital lending guidelines of Reserve Bank of India, the regulatory body said.
The central bank further said that these supervisory restrictions will be reviewed upon the rectification of the deficiencies to their satisfaction.
The RBI has been expressing caution over the rise of small loans in India.
Delinquencies for loans under 50,000 rupees were at 8.1% as of June 2023, Reuters quoted data from credit bureau CRIF Highmark. 
This is well above the 1.4% bad loan ratio for all retail loans as of March 2023, according to the latest RBI data.
The rise in small loans has sharply outpaced overall bank credit growth of about 15% over the past year.
The total value of loans below 10,000 rupees grew 37% in the financial year ending March 31, 2023, while loans of 10,000-50,000 rupees rose 48%, Reuters reported. 
Investor favourite Bajaj Finance is considered the largest lender for financing discretionary spends across consumer electronics, furniture, and digital products across the country.
Parts Of Consumer Goods Growth Slow Down, Gifting Is On The Rise
Sales of fast-moving consumer goods (FMCG) saw a mixed October as corner stores stocked up for  Diwali and an extended festival season, according to the data by retail intelligence firm Bizom which connects with 250,000 distributors and touches around 8 million retailers across India.
The key insights are that rural growth that has been soft so far is seeing a rise in Diwali.
Segments like commodities which could be over 40% of total FMCG value have seen a 27% drop thanks to some extent to lower prices of edible oils. Remember, low edible oil prices are also keeping overall food inflation levels low.
Overall, segments like confectionary, beverage and packaged foods have done well, as have gifting which is linked to these categories.
In itself, gifting seems to have risen and more of that shortly, in some ways, at the cost of other categories.
Simply put, did we buy less soaps and toothpaste and other food products so we could spend on gifts including confectionery last month ? Quite possibly.
Personal care spending is down though at 3.8%.
I reached out to Akshay D'Souza, chief of growth and insights at Bizom to get a handle on last month's numbers and began by asking him what were his larger takeaways.
Legendary Hotelier PRS Oberoi Is No More 
Great hoteliers usually have great vision. They have the foresight, backed with considerable guts to find new locations, new environments and then go onto create blends of luxury and opulence for people who are willing to pay the premium for them
Ajit Kerkar, who was Chairman of Indian Hotels or the Taj Group and is credited with taking the Taj Group from a single property across Gateway of India and the harbour in Mumbai to hundreds of locations world over.
Before Kerkar went to Goa and set up the first Taj Hotels there around 1973, the beachside state was more of a hippy's paradise, unknown in many ways to most Indians. Today, it's perhaps too known and struggles with success and reconstruction.
Like Kerkar found Goa and adopted it - he belonged to the state, PRS Oberoi brought luxury to Jaipur and Udaipur with Raj Vilas in 1997 and Udaivilas in Udaipur a few years later, at levels never seen before, at prices that could not be imagined.
In Oberoi's passing on 14 November, India has lost a great hotelier and visionary.
There are writers on hospitality whose eloquence and understanding I will shortly defer to but suffice to say that Oberoi set a global benchmark in luxury which has been and continues to be respected and revered. 
Kerkar and the Taj Group he built came a long way and is bigger today but Oberoi set new standards and refused to join the quantity race in the chain founded by his father Rai Bahadur Mohan Singh Oberoi with two properties in Delhi.
Here is an excerpt of a conversation between well known journalist and writer Vir Sanghvi and PRS Oberoi from 2010 on CNBC focussing on the Rajvilas in Udaipur, a property that perhaps best epitomises the Oberoi brand and trademark.
---
And in cricket, batter Virat Kohli created history on Wednesday (November 15) as he became the first batter in international cricket to hit fifty hundreds in ODI cricket. 
Kohli hit the century against New Zealand in the first semi-final of the ICC Cricket World Cup 2023 at the Wankhede Stadium in Mumbai. He reached the milestone in 106 balls. After equalling legendary Sachin Tendulkar's record for most centuries (49) in ODIs at the Eden Gardens against South Africa, Kohli reached the milestone in his 291st ODI.