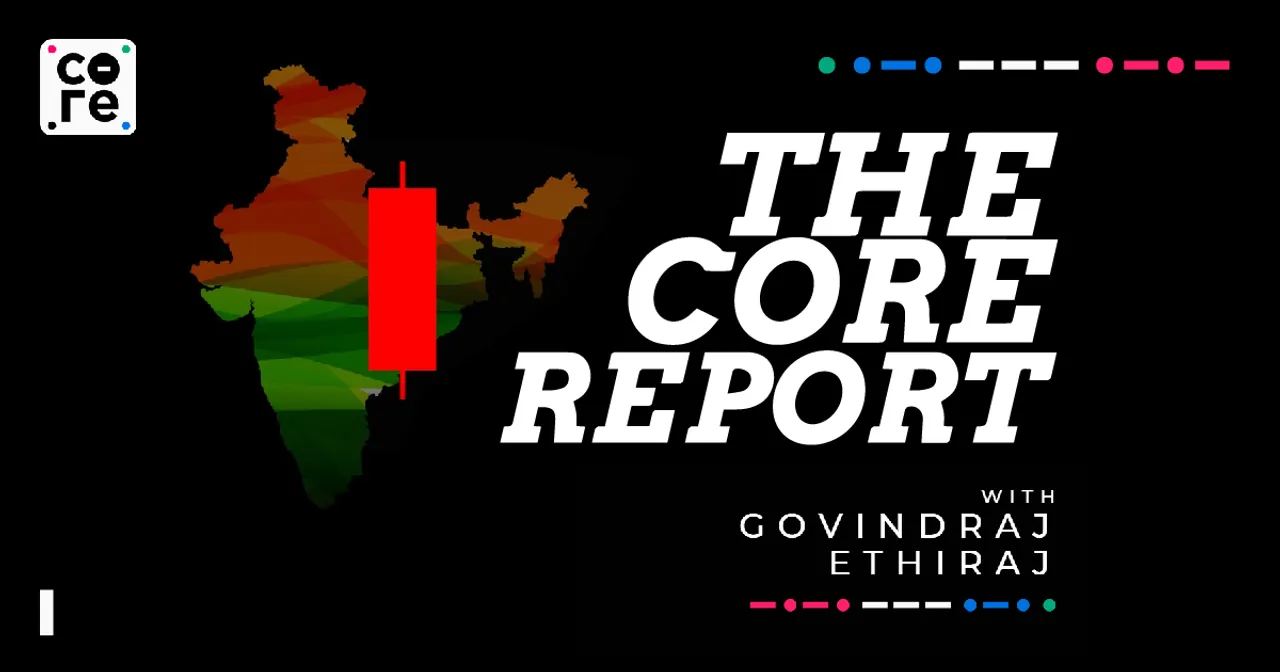 On today's episode, financial journalist Govindraj Ethiraj talks to veteran market analyst Ambarish Baliga as well as Madan Sabnavis, Chief Economist, Bank of Baroda.

---
Our Top Reports For Today
[00:00]

 

Stories Of The Day
[01:00]

 

Indian markets face worst brunt of middle east tensions, strong US treasuries, fall again. 
[08:28]

 

Post pandemic sales spikes in durables and consumer products thanks to pent-up demand are finally fading. What's Next?
[20:04]

 

Now, it's the turn of onion prices to shoot up. 
[22:17]

 

Daal fry diplomacy might work as India ramps up imports of lentils from Canada
[25:10] AI and ChatGPT are really cool but they are also really expensive to install.
---
NOTE: This transcript contains only the host's monologue and does not include any interviews or discussions that might be within the podcast. Please refer to the episode audio if you wish to quote the people interviewed. Email [email protected] for any queries.
---
Indian Markets
The Indian markets fell for the sixth consecutive day on Thursday even as tensions continued to grip the Middle East and US Treasury Yields were edging higher back towards the 5% mark, a figure the whole financial world is presently transfixed with.
The BSE Sensex saw a big dip, falling 901 points, or 1.41 per cent, to end at 63,148. The NSE's Nifty50, ended at 18,857, falling 265 points or also 1.41 per cent. I usually don't use percentages for index falls but this is also to give you a sense on relative terms.
To recap, the Nifty 50 has fallen almost 4% since the beginning of October, which is its worst performance during a month since June 2022. 
The US 10-year T-Bill is already at a 16-year high. 
U.S. Treasury yields were heading back towards 5% on Thursday, dragging shares around the world to multi-month lows, Reuters reported. 
That's not all. We said just yesterday that while all the economists and researchers were projecting the US economy to slow down, it has actually been doing the opposite.
The figures are bearing that out.
The US economy grew at the fastest pace in nearly two years last quarter, fueled by a surge in consumer spending.
US Gross domestic product accelerated to a 4.9% annualised rate, more than double the second-quarter pace, according to the government's preliminary estimate Thursday. The economy's main growth engine — personal spending — jumped 4%, also the most since 2021, reported Bloomberg.
The reason I also mention this is because export oriented sectors including of course IT Services have been closely watching the US economy to see how things shape up, given that demand has been slowing down,  at least in some sectors like banking and financial services.
Back home, Indian markets seem to be taking a bigger beating than the rest of the world for the same driving factors, war tensions and high US treasury yields.
Why is that happening? I reached out to veteran market analyst Ambarish Baliga and began by asking why were Indian markets falling more than the rest ? 
---
Get Ready For The Post Pandemic Consumption Reset 
Consumption of durables and fast moving consumer goods is down sharply in most cases from the post pandemic, pent-up demand driven high of 2022.
The question of course is at what point it will settle.
Some quick figures. Refrigerators grew at 51% in the 5-month period April - August 2022 while it was down that is a - 2.5% in the same period this year in 2023. 
Washing machines grew 40% last year, down to 2.7% this year. Mobile phones grew 29% last year and were at -20% this year. We spoke the day before about how many Indians were buying used phones whose sales were going up even as sales of new phones, particularly smartphones, were dropping.
In very specific consumer products, shampoo grew around 4% last year and was down 18% this year.
Soft drinks grew 46% last year and were down 4.8% this year.
One category that grew smartly all through reflecting of course a big bump up in consumption was…wine which grew 17% last year and 24% this year. Cheers to that. Though spirits overall grew 19% last  year and only 1.2% this year.
So this is obviously the base effect phenomenon. Numbers were so low in 2021 that the jump in 2022 seemed higher and it was actually higher as well because, as we said, pent up demand.
The question of course is where will consumption levels settle, lower than the number they should have been accounting for a normal single to double digit growth or higher.
Either way, this is the reset in data and real terms many have been warning us about.
I reached out to Madan Sabnavis, Chief Economist and author of this report from Bank of Baroda Research and began by asking him why numbers were falling so sharply ?
Onion Prices Jump 60%
Prices of some vegetables are running away again, just as we thought everything was coming under control, including the action of slapping high export duties, in this case on onions.
Average wholesale price of onions at the benchmark Lasalgaon APMC in Maharashtra have jumped close to 60% in the last fortnight, rising 18% in the last one week, the Economic Times is reporting. 
The maximum price for the best quality onion touched Rs 50/kg in Delhi on Wednesday as well as in some markets of Maharashtra. Onion prices are expected to continue to rise till December, when the new kharif crop is expected to hit the markets after a delay of nearly two months.
"The average price of onions in Ahmednagar market has increased from about Rs 35/kg about around 10 days ago to Rs 45/kg now," the head of Association of Onion Traders of Ahmednagar District, told The Economic Times. 
The average wholesale prices in most of the onion growing districts of Maharashtra are now ruling between Rs 45-48/kg.

The government had imposed a duty of 40% on export of onions on August 25 when the prices started rising due to delayed and lower sowing of the kharif crop. 
And yet, prices are going up now, more than a month later.
It is quite likely that exporters have invoiced onions at lower prices and thus not losing out at the international market.
The same thing happened with basmati rice forcing the Government to set a floor price for exports.
The larger issue seems to be the price signalling caused by constraining supply or flows, in this case by tightening exports.
Whether in rice or onion, it does not seem to quite work.
Daal Fry Diplomacy
Meanwhile, India has been receiving steady supplies of lentils from its top supplier Canada, helping increase imports in the first 10 months of 2023, a senior government official told Reuters on Thursday.
India imported 1.09 million metric tons of lentils, including 463,000 tons from Canada, during January to October, the official said.  
Canada is India's main import source of lentils, a protein-rich staple used to make dal curry.  Canada was the biggest supplier of lentils to India in the last financial year, accounting for more than half of India's total lentil imports, Reuters reported.  
Indian buyers slowed purchases last month after ties between India and Canada deteriorated after New Delhi and Ottawa expelled each other's diplomats following the murder of a man wanted as a terrorist in India in Canada in June.  
India has already said it will start issuing some visas, like business visas to Canadians wanting to visit India.
The reverse is what people will watch out for, given that some 41 Canadian consular officials and diplomats who would process visas for students and others have left the house and the country.
India consumes around 2.4 million metric tons of lentils annually, but local production falls short at 1.6 million tons.  
Hopefully, some good daal fry, possibly with rice and rotis will bring matters back to even keel. 
Facebook Parent Meta Reports Solid Top And Bottom Line
Meta Platforms  reported its largest quarterly revenue since going public more than a decade ago as demand for advertising picked up and the company continued to reap the benefits of cutting costs and developing new AI technology, the WSJ is reporting.
Meta's sales increased to $34.1 billion, up more than 23% compared with a year ago. That represents Meta's third quarter in a row of rising revenue after the company saw its business shrink for most of 2022. 
The 23% increase is Meta's largest year-to-year growth in revenue since the third quarter of 2021. 
Advertising represents 98.5% of Meta's revenue in the quarter. The company's advertising revenue rose to $33.6 billion, though ad prices fell year on year.
Meta said Facebook's daily-active-user base increased to 2.09 billion users, up from 2.06 billion the previous quarter. 
The company's fortunes have begun to turn around during what Chief Executive Mark Zuckerberg has called a "year of efficiency." 
Investors have been encouraged by improvements to the company's ad-targeting capabilities and advancements in artificial intelligence.
Ai  Is Cool But Also Expensive
Speaking of AI, tech companies are touting new AI technology that can spit out business memos or computer code. They are still figuring out how those products will generate a profit, the WSJ is reporting..
Generative artificial-intelligence tools are unproven and expensive to operate, requiring muscular servers with expensive chips that consume lots of power. 
Microsoft has lost money on one of its first generative AI products, a person with knowledge of the figures told WSJ. 
It and Google are now launching AI-backed upgrades to their software with higher price tags.
Zoom  has tried to mitigate costs by sometimes using a simpler AI it developed in-house. Adobe and others are putting caps on monthly usage and charging based on consumption.
"A lot of the customers I've talked to are unhappy about the cost that they are seeing for running some of these models," said Adam Selipsky, the chief executive of Amazon.com's cloud division, Amazon Web Services, speaking of the industry broadly. 
It will take time for companies and consumers to understand how they want to use AI and what they are willing to pay for it, said Chris Young, Microsoft's head of corporate strategy.
"We're clearly at a place where now we've got to translate the excitement and the interest level into true adoption," he told the WSJ.
Goodbye To Lightning, Hold On
Apple AirPods will phase out lightning jacks and bring in USB C. 
Finally, you might say since the iPhone 15 already has it.
But this will only happen later next year as Apple gets set to phase out both the second-generation and third-generation AirPods later next year, according to sources who told Bloomberg. 
They'll be replaced with two fourth-generation AirPods that are priced similarly to the current versions but are more differentiated.
Apple will differentiate the two options by including noise cancellation in the higher-end version. That model will also get an updated charging case that includes speakers for Find My alerts, matching the current AirPods Pro. Those alerts make it easier for users to find their case when it gets lost.
And most importantly, USB-C.
Before I go, do catch Tushar Jani, veteran logistics entrepreneur and founder of BlueDart, the courier company which was acquired by DHL.
On where India is on the logistics journey and it is going.
On that note, I wish you a great weekend.