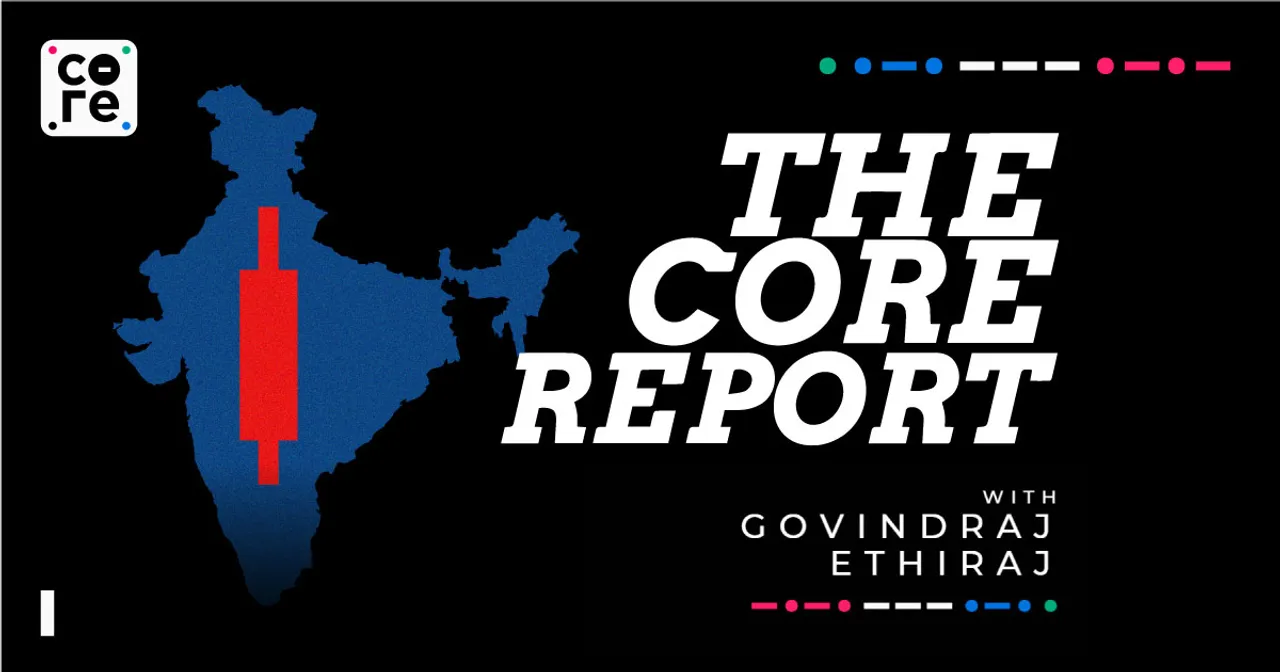 On today's episode, financial journalist Govindraj Ethiraj talks to Dhairyashil Patil, the Kolhapur based president of the The All India Consumer Products Distributors Federation (which represents some 400,000 distributors) as well as Tarun Pathak, Research Director at technology research company Counterpoint Research.

---
Our Top Reports For Today
[00:00]

 

Stories Of The Day
[00:50]

 

Indian markets in steep fall as middle east tensions stay. US treasury rates rise. Oil holds at $92.
[04:16]

 

Disney gets set to pack its bags to leave India with Reliance likely to buy assets
[06:27]

 

Regional consumer brands are edging out entrenched multinationals, once again
[17:42]

 

Smartphone sales are falling in India, used phones sales rise
---
NOTE: This transcript contains only the host's monologue and does not include any interviews or discussions that might be within the podcast. Please refer to the episode audio if you wish to quote the people interviewed. Email [email protected] for any queries.
---
Markets & World
We went into trade and markets on Monday with a mix of fear and volatility, the words we used in the headline as well.
The prediction came true unfortunately. 
Oil is now a whisker below $92 a barrel, up 8% since the October 7 attack by Hamas on Israel.  But stock markets took a bigger tumble.
Indian markets dropped for the fourth consecutive day. The BSE Sensex tumbled a sharp 826 points to end at 64,572 levels and a three month low, while the Nifty50 closed at 19,282, lower by 261 points, also its worst session in more than 7 months. 
The good news if any is that foreign portfolio investors have turned net buyers, at least on Monday.
Global markets are still nervously poised waiting to see if Israel invades Gaza and what that would lead to as the move is very likely to draw in more countries into the war.
Most present efforts appear to be focussed on ensuring aid reaches the civilian population in Gaza and thus postponing what seems at this point the inevitable.
But that is not the only reason equity markets are under pressure.
The big number everyone is watching is the yield on 10 year US treasuries or Government bonds.
The  yield on the 10-year U.S. Treasury note hit 5% for the first time in 16 years. 
The 10-year yield rose to within a few thousandths of a percentage point of 5% last week following an unexpectedly strong retail-sales report and comments from Federal Reserve Chair Jerome Powell, the WSJ is reporting.
The 10-year yield reached as high as 5.021%, according to Tradeweb, up from roughly 3.8% at the start of the year.
Yields, which rise when bond prices fall, have climbed since the start of 2022, when investors began worrying in earnest that the Fed might raise interest rates to fight inflation, said the WSJ adding in recent weeks, the selloff has only grown more intense.
Still, 10-year Treasuries above 5% are a buy for Morgan Stanley Investment Management, which sees yields overshooting the firm's fair value above that level, says Bloomberg.
Back home, the Indian rupee is still weak, ending 7 paise lower against the US dollar on Monday dragged by sharp losses in domestic equities and a surge in US bond yields. 
The local currency ended at 83.19 a dollar against Friday's close of 83.12. The all time low was Rs 83.29 last month.
US treasury yields are putting currencies across the region under pressure. 
Indonesia rupiah is also fighting for cover, despite interest rate hikes there.
The Indonesian currency has been the worst performer among Asian peers in October, slumping 3.1%.
The Malaysian ringgit as we mentioned yesterday has fallen to its lowest level since the 1997-1998 Asian financial crisis. 
The ringgit is the worst performer in Asia in 2023 after the yen, having dropped by more than 8 per cent against the greenback, the Straits Times reported.
 Back to oil for a moment, oil major Chevron said it would buy Hess in an all-stock deal worth $53 billion, the second major oil tie-up this month following Exxon Mobil's $60 billion deal to buy Pioneer Natural Resources, the WSJ is reporting.
The larger point here is that oil companies are betting on a sustained appetite for oil for some time, at least decades according to the WSJ.
Disney starts to pack its bags to leave India
After Viacom which gently exited India - it is a minority stake holder in its joint venture with Reliance, it is now the turn of Disney who has been looking to exit its substantial India business.
The buyer is likely to be Reliance Industries who could in a stock and cash deal buy into Walt Disney's India operations, Bloomberg is reporting. 
Disney may sell a controlling stake in the Disney Star business, which it values at around $10 billion, as opposed to piecemeal transactions weighed earlier, sources told Bloomberg, adding Reliance views the assets at between $7 billion to $8 billion.
Disney's intent to sell its India assets has been known for some time and negotiations with various potential partners and investors have been on for a while. The intent followed a statement by Disney Chairman Bob Iger to this effect a few months ago.
The acquisition could be announced as early as next month with some of Reliance's media units merged into Disney Star, the sources told Bloomberg.
Acquiring Disney will give Reliance and Jio a massive hold over the lucrative cricket viewership rights, in both television which is still very strong and streaming, across all the major franchises, including of course the India Premier League for which Reliance owns the digital rights but Disney the television rights, as of now.
American companies like Disney, Viacom in entertainment and General Motors and Ford in automotive are exiting India mostly because of pressures back home and the urge to consolidate elsewhere. General Motors and Ford of course threw in the towel a few years ago.
Disney for example is investing heavily in its amusement and theme park business but back home.
That of course leaves Sony in the fray, which is not an American company, along with the OTT majors like Netflix and Amazon, all of whom are faced off against Reliance who is combining entertainment assets with rapidly expanding telecom infrastructure.
REGIONAL FMCG FIRMS GAIN OVER LARGER ONES
Nirma, a washing powder named after entrepreneur Karsanbhai Patel's daughter, was in the 1990s and 2000s seen as a symbol of determined Indian resistance to multinational brands, notably Hindustan Unilever and Procter & Gamble.
While Nirma has survived, it has the same girl on the cover, a tribute to Karsanbhai's daughter, many other brands folded up or folded in. Like Kwality, a prominent ice cream brand sold to HUL as did Kisan the jam. Karsanbhai's daughter Nirma incidentally died in a car accident and he named the washing powder after her.
Fast forward. In more recent years, a common GST which meant a more unified national market made it easy for large companies to push their brands more seamlessly.
A crop of old and new entrepreneurs have begun to battle the big giants again, fighting pitched battles from their home turfs quite literally, with new and highly localised products which consumers are welcoming, as opposed to the more standardised national brands.
Like I mentioned, some of the brands are indeed old and have been around but have revved up for this round of battle. They are joined by newer ones including many direct to commerce brands who have also gone offline.
Both HUL and ITC have said in recent investor presentations that regional brands are gaining momentum, said Business Standard newspaper. To me, the admission itself is surprising if not shocking. 
HUL said in tea for example, regional brands grew 1.4x times while in detergents, regional brands gained 6 times faster. HUL CEO Rohit Jawa said in a post earnings conference call last week where his company had really lost shares was in the space where they were encountering local players which have just increased. 
ITC has said that local brands in noodles, biscuits, snacks and soaps were putting pressure on them.
Business Standard quotes Kantar Worldpanel, a consumer insights company, saying even in areas like female hygiene including sanitary napkins, tampons among others, small brands have increased from 22 to 26%.
Interestingly, one example it quoted a company called Balaji Gippy noodles which offered a 70 gm of noodles at a price of Rs 10 and a more desi version of Maggi with more masala.
I Googled Balaji and found that it was started as Balaji Wafers & Sandwich as a canteen in a cinema hall and a girls school in Rajkot in 1976. We will hear  more about Balaji shortly. 
I reached out to Dairyashil Patil, the Kolhapur based president of The All India Consumer Products Distributors Federation which represents some 400,000 distributors and stockists and began by asking him why or how regional brands were gaining so much traction right now..
---
Incidentally, Dairyashil was referring to the accidental demise of Parag Desai, part of the founding family and director at the Rs 2,000 crore Ahmedabad-headquartered Wagh Bakri Tea Group, a popular tea brand. Wagh Bakri was founded in 1892 and has passed through several generations already.
Sales of SmartPhones Are Falling Sharply
There are some 900 million mobile phone users in India, of which roughly 275   million are feature phone users or phones that are not smartphones and the balance 626 that is million are smartphone users.
Now, the sales numbers of smartphones in recent years are interesting.
Sales peaked around 167 million in 2021, owing largely to a pent-up demand post pandemic.
Since then, they have been falling.
This year, smartphone sales are unlikely to cross 145 million, give or take.
While smartphone sales are falling, the market for used phones is rising with used phones now making up 20% of the smartphone market, as compared to 15% before the pandemic.
The reason for this is clearly affordability, inflationary pressures on incomes and of course phones lasting longer. And finally, many consumers are waiting for 5G which we will come to.
So why are smartphone sales falling at a time you would think they are rising and what could change there. To understand this, I reached out to Tarun Pathak, Research Director at technology research company Counterpoint Research and began by asking him why smartphone sales were falling ?
---
Thats it from me, have a great day and Dussehra which is also a bank and markets holiday though we will be there as always at 6 am tomorrow. Subscribe to get notified!