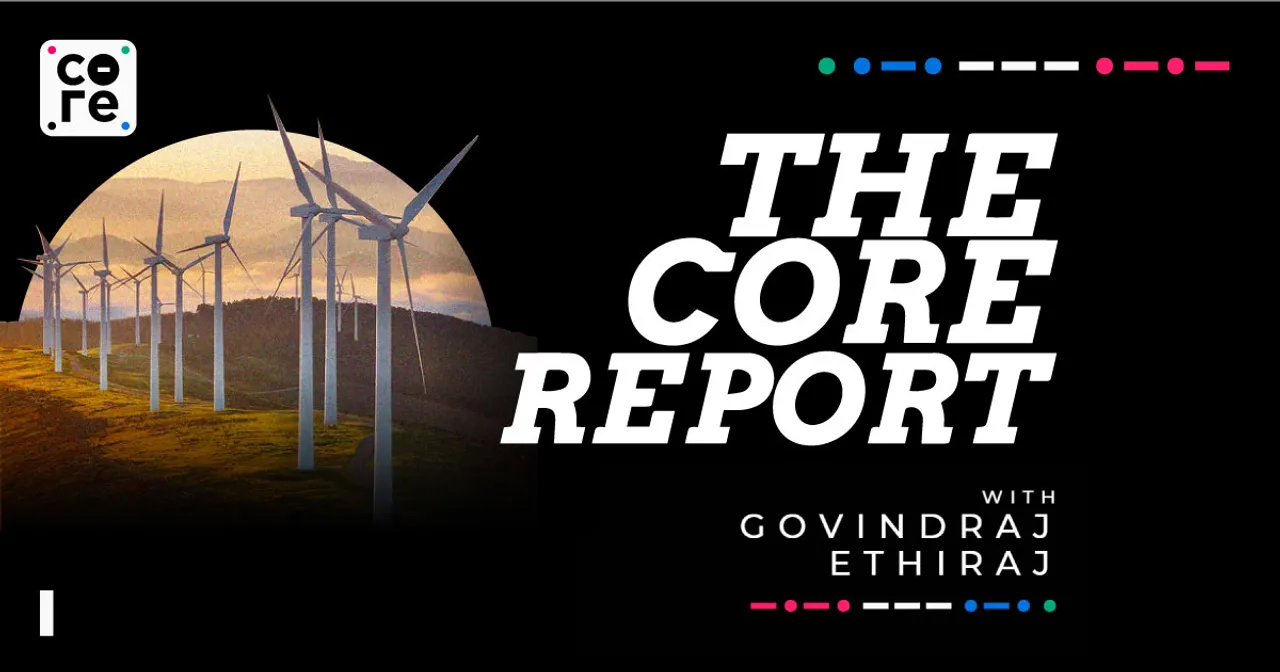 On today's episode, financial journalist Govindraj Ethiraj talks to Vinay Rustagi of CRISIL Research and earlier MD of Bridge To India Energy.

---
Our Top Reports For Today
[00:00]

 

Stories Of The Day
[01:00]

 

Sharp drops in oil demand forecasts push prices lower, markets are steady.
[03:03]

 

Is it a problem if one company owns too many ports ?
[07:46]

 

Indian companies are building almost 40% of the country's renewable energy capacity for own consumption.
[18:04]

 

India's well to do open up their purses, homes costing Rs 4 crore double in sales.
[19:55]

 

Tesla may launch in India but by importing the car from Germany
---
NOTE: This transcript contains only the host's monologue and does not include any interviews or discussions that might be within the podcast. Please refer to the episode audio if you wish to quote the people interviewed. Email [email protected] for any queries.
---
Oil
Oil is continuing to fall on weak demand forecasts coming in including a drop in US gasoline consumption.
American gasoline demand will drop to a 20-year low next year on a per-capita basis, according to a US government report, with prices at the pump and inflation likely causing a reduction in discretionary driving, Bloomberg reported.
As we have discussed in The Core Report, the attention has shifted from possible supply bottlenecks owing to the Israel-Hamas war and its potential widening in the region to know whether there is sufficient demand.
Crude oil is now around $81 a barrel. 
Oil has fallen sharply in the last three weeks following the first week of tensions in the middle east set off by a terror attack by Hamas against Israel on October 7, now a month ago.
The markets are also unsure of China's economy, the world's biggest importer, and renewed doubts on whether the US Fed has finished tightening interest rates. 
With so many mixed signals, it was another range bound day in the Indian bourses with no specific news driving stocks one way or the other. 
In the markets, the Sensex ended at 64,976, up 33 points while the Nifty50 shut shop at 19,444, up 37 points.
Meanwhile, folks in Indian stock markets are looking at the new Hindu year or Samvat 2080 and start from next week.
The Samvat that went past or Samvat 2079 saw the Sensex hit an all-time high at 67,927 in September, and the Nifty hit an all time high of 20,222. Seems long ago, doesn't it !
So, the indices have still gained 10% and 16% so something to be happy about in the festival season. 
Port Mechanics
The United States has said it will provide $553 million in financing for a port terminal in Sri Lanka's capital being developed by the Adani Group, in an evident effort to curtail China's influence in South Asia.
The funding from International Development Finance Corp. underscores renewed US and Indian efforts to loosen Beijing's sway over Sri Lanka after Colombo borrowed heavily to splurge on Chinese port and highway projects before its economic meltdown last year, Bloomberg reported. 
The deepwater West Container Terminal in Colombo is the US government agency's largest infrastructure investment in Asia, and among its biggest globally. 
It will bolster Sri Lanka's economic growth and "its regional economic integration, including with India, a key partner to both countries," DFC said in a statement.
"It is a high priority for the US to be active in the Indo-Pacific region," Scott Nathan, the DFC's chief executive officer, told reporters and Bloomberg in Colombo Wednesday. "It is obviously the engine of economic growth for the world."
China had invested about $2.2 billion in the island nation as of the end of last year, its biggest foreign direct investor. 
Colombo's port is one of the busiest in the Indian Ocean, given its proximity to the international shipping routes. Nearly half of all container ships pass through its waters. The DFC said it's been operating at more than 90% utilisation for two years and needs new capacity.
The port project, set to be operational by December 2024, will entail a total capital expenditure of $1 billion, he said, adding that dredging work was complete.
Now, some interesting background.
A week or so ago, the Indian Express carried an interesting report that said how from one big port, Mundra, in 2001, the Adani Group today has grown to be the largest private operator with as many as 14 ports and terminals handling a quarter of all cargo passing  through the country's ports.
This expansion, much of it through acquisitions — six in the last 10 years — has caused concern in the Government, the Express reported, computing that  along India's 5,422-km coastline, Adani has a presence every 500 km on an average, from just a blip on the country's far western end 10 years ago.
The group's market share in total cargo handled has nearly tripled from around 9 per cent in 2013 to about 24 per cent in 2023; that of Central govt-controlled ports dropped to around 54.5 percent from 58.5 percent in 2013.
Amongst ports that are not under the Central government, Adani's market share has crossed the 50 per cent mark.
All this gives Adani Ports and Special Economic Zone Ltd (APSEZ), the port operator and logistics company, a coastal network that rivals that of the Central government-controlled 12 ports.
There is nothing to dispute in the facts of this as such, except to say straight away that Government owned or controlled ports have been doing a particularly poor job of managing ports and is precisely why they have been rightly leasing out their capacity for private operators to manage.
The only other private player by the way in India is DP World or Dubai Ports which currently operates five container terminals in India, 2 in Mumbai, one in Mundra (yes, alongside Adani) Cochin and Chennai with another one at Tuna Tekra near Kandla in Gujrat coming up.
The question I feel people don't always ask, if it were not Adani who. Not many players have tried to get into the port business because mostly they tried and ran away. Projects like Vadinar in Maharashtra can get stuck for decades if not longer.
Second, between Dubai Ports and an Indian player who would you prefer controlled critical port capacity in India or a hop across in Sri Lanka.
Incidentally, Dubai Ports at least in India used to be P&O Ports belonging to P&O or Peninsular and Oriental, a British company, started almost two hundred years ago.
Dubai Ports bought P&O Ports in 2006 and thus acquired P & O assets in several countries including in India and some 6 major terminals in the United States.
By the way, there was an uproar over the fact that an Arab company would own US assets, in light of 9/11.
DP World had to soon sell its US assets, at that time to AIG.
The moral of the story, I guess, is geopolitics is something to think about before other things.   
India Inc Is Adding Capacity
One of India's largest renewable power generation companies, in a manner of speaking, is…Infosys.
Yes, it does more than write code in shiny glass and steel offices.
A few days ago, we spoke of Amazon in India now managing or generating some 1.1 GW or 1100 MW of power generation capacity across the country.
Traditionally, companies who made big, dirty stuff like steel also set up power plants alongside because they wanted reliable power, clean power and of course power.
But things are changing. A quest for a green label and a rush to meet ESG standards and appear friendly to green institutional investors in the new world is making more and more companies invest in their own renewable capacity. And of course it is cheaper too.
So much so that Vinay Rustagi of Crisil Research and earlier MD of Bridge To India Energy tells me that an amazing 40% of renewable energy capacity investments in India are coming from companies setting up their own capacity.
What started as a trickle of investments five years ago is a flood of sorts.
Some of the companies are manufacturing companies like Tata Steel, ArcelorMittal and jSW but they include Infosys, ITC and Amazon as well.
I reached out to Rustagi, who quoted figures from the Crisil's Infrastructure Yearbook for 2023 which showed that in the next seven years,renewable capacity (excluding hydro) is expected to see strong additions of 290-300 GW until fiscal 2030 at a CAGR of 18%. Of this, solar and wind will see the largest addition at 180-190 GW and 55-60 GW, respectively.
I began by asking Rustagi how he was seeing the renewable power landscape.

---
Luxury Home Sales Double In A Year
Sales of luxury homes in India, priced Rs 4 crore or above, rose 97 per cent in the first nine months of 2023 compared to the same period last year, a report by real estate consultancy CBRE released on Wednesday showed. 
The report said that  affordability is no longer the sole decisive factor for home buyers as health & safety, sustainability, and integration of smart home technologies have also started to emerge as key to home purchase decisions.
If people can buy locks worth Rs 22,000 as we discussed on The Core Report, it is evident that in this space, affordability is not a driving factor.
In the top seven cities in India, 9,200 luxury homes were sold this year, compared to 4,700 units last year.
In its "India Market Monitor Q3 2023", the consultancy said that the home sales in the festive season this year are expected to be the highest in three years, reported the Business Standard. 
The report added that Delhi-NCR, Mumbai, and Hyderabad emerged as the top three markets dominating sales, cumulatively accounting for nearly 90 per cent of the total luxury housing sales across the top seven cities. Delhi was at 37%, Mumbai at 35%. 
Sales of affordable homes are slowing down in India, as are sales of entry level cars going by the latest numbers suggesting people are not able to put together the base contribution for a house or a car.
This could be linked as much to slowing income, perception of inflation or a general sense of uncertainty about the future.
Tesla
Many countries, including India are waiting expectedly for Tesla to firm up its local manufacturing plans. India is taking additional steps going by reports not without reason. 
A Tesla manufacturing plant is a badge of honour of sorts for foreign direct investment and will also create a technological benchmark which could make the whole EV space even more attractive than what it is.
That is at least the theory.
News now coming in suggests that Tesla will begin its first phase in India with direct imports from its German Gigafactory near Berlin. This is a little peculiar and I will come to that shortly.
Germany is where by the way Tesla started making Model Y in March last year and then ramped up capacity. Model Ys cost around Rs 38 Lakhs there.
The Moneycontrol report focuses on the fact that Tesla is being dissuaded from importing from China and instead being asked to import from Germany.
Meanwhile, Reuters has separately reported that Tesla plans to build a 25,000-euro ($26,838) car or Rs 22 Lakh car at its factory near Berlin, in an attempt to obviously create a more mass model product. 
Reuters said the source who declined to be named, did not say when production would begin.
So the Rs 22 lakh car which should have been manufactured in India, going by hopes raised in various earlier reports, of course all off the record, will now likely come from Germany.
We of course don't know when this Rs 22 lakh car will actually be produced in Germany because the Model Y is more highly priced. 
But given Tesla's general speed of execution, it could be in months, assuming the ship is indeed sailing in that direction. 
If the model was going to be imported fully than what was all this song and dance about, one might ask.
Of course, the other development, as reported by Reuters, is that India might slash duties quite dramatically to accommodate Tesla.
Currently, India imposes a 100 percent customs tax on imported cars (of all powertrains) with Cost, Insurance and Freight (CIF) value exceeding US$ 40,000. For vehicles with CIF below $ 40,000,  buyers are charged 60 percent import duty.
Tesla is likely seeking a customs duty cut on import of electric vehicles - Completely Built Up (CBU) from Germany, and the Government apparently feels that it is fine since several luxury carmakers, such as Mercedes, BMW, Audi etc., are based out of Germany.
Another googly is that since luxury electric SUVs are gaining a lot of traction in Europe and India it will be more prudent to launch Model Y in India in the initial phase than the Model 3 sedan which is made in the US and China, according to the same Moneycontrol report. 
This is around Rs 38 Lakh there, so double that by the time it lands and hits the road.
Either way, while all-out effort to get Tesla is good in a way since it demonstrates commitment to manufacturing, I am sure other automakers who have been here for decades surely hope similar love comes their way now and then.
Grounded Aircraft
India's largest carrier Indigo has said it expects to ground more than 30 planes in the fourth quarter due to issues related to its Pratt & Whitney engines which power most of its Airbus A320 aircraft.
Indigo already has grounded 40 aircraft for similar issues and reasons.
Indigo operated 334 planes as of Sept. 30 and is furiously leasing aircraft to keep its commitments to investors on expanding capacity and of course make up for the aircraft that are getting grounded. 
India has close to 130 aircraft grounded across Indian airports including the earlier lot of Indigo and airlines like GoFirst whose entire fleet is down. If we were to add the fresh lot, it could be close to 150-160 aircraft on ground, that is calculating at this point. 
India has roughly 700 aircraft flying, including the grounded ones.
Meanwhile, some ungrounding news.
Air India plans to reinstate most of its roughly  30 'long-grounded' aircraft fleet. These were apparently grounded around the time of the takeover by the Tata Group around two years ago, sources told the Financial Express.
Some 28 of these, including Boeing 787s, 777s, and some narrowbody Airbus A320 type aircraft, have already been made airworthy, the FE has learnt.
The refurbishments include fixing seats and inflight systems, the latter I can personally attest to the non-existence or non-working of, even on long haul flights. Though I can attest that these were not working or generally being unresponsive on a New York - Delhi longhaul last year, after the Tatas took over.
Hopefully, the aircraft and the airline will be more welcoming when they return to active duty.