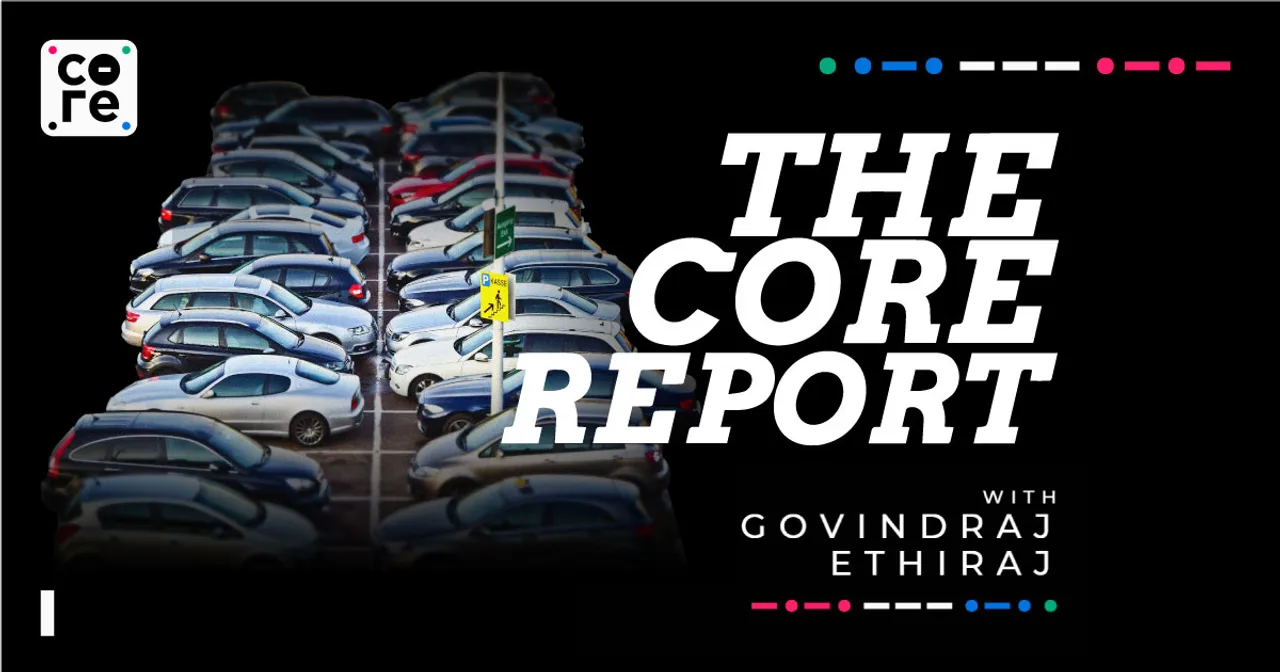 On today's episode, financial journalist Govindraj Ethiraj talks to Vivek Rathi, Director, Research at Knight Frank.

---
Our Top Reports For Today
[00:00]

 

Stories Of The Day 
[00:55]

 

India's 2nd Quarter GDP will surprise on the upside, says RBI Governor.
[04:06]

 

Foreign portfolio investors are selling Asia outside of China too.
[07:15]

 

Mumbai hits an all time record for October home sales, outlook still strong. 
[15:59]

 

Comparing banks to tech companies is demeaning; Citi India Chief
[17:33] Thailand throws open borders for Indian tourists, offers free visas.
---
NOTE: This transcript contains only the host's monologue and does not include any interviews or discussions that might be within the podcast. Please refer to the episode audio if you wish to quote the people interviewed. Email [email protected] for any queries.
---
India's GDP Growth On Upside
Reserve Bank governor Shaktikanta Das has a penchant to drop hints to numbers which clearly he knows more about, possibly in an attempt to assuage fears, in this case, of a slowing economy.
So when he says so, he means so, going by own experience of his utterances.
India's second-quarter gross domestic product (GDP) growth figure, in all probability, will surprise everyone on the upside, he said on Monday at the Business Standard BFSI Insight Summit 2023.
"Looking at the momentum of economic activity, looking at a few early indicators, I can say that the second quarter GDP number, as and when it is released, at the end of November, in all probability will surprise everyone on the upside."
India recorded GDP growth of 7.8 per cent in the April-June quarter of 2023-24 against 13.1 per cent in the year-ago period, according to the National Statistical Data (NSO).
India remains the fastest-growing major economy as China's GDP growth in the April-June quarter was 6.3 per cent.
Das told the Business Standard the biggest challenge to the global economy is the evolving geopolitics and its fallout with regard to financial markets and global growth. "New flashpoints are developing, new geopolitical conflict points are evolving. So, geopolitics today poses the biggest risk for growth not just for India, but for the world as a whole."
In early October, ​​the International Monetary Fund (IMF) raised its 2023-24 GDP growth forecast for India for the second time in three months, to 6.3% 20 basis points higher than what it had forecast in late July.
MARKETS
Markets are cooling off once again as they evaluate the outcome of the Israeli invasion of Gaza which they have broadly discounted for now.
The invasion itself is picking up pace and to some extent goes against the original market expectation that there would not be one.
Nevertheless, markets are steady and oil is still holding around $88 a barrel.
The World Bank meanwhile said on Monday it expected global oil prices to average $90 a barrel in the fourth quarter and fall to an average of $81 next year as slowing growth eases demand, but warned that an escalation of the latest Middle East conflict could spike prices significantly higher.
The World Bank's latest Commodity Markets Outlook report noted that oil prices have risen only about 6% since the start of the Israel-Hamas war, while prices of agricultural commodities, most metals and other commodities "have barely budged."
The World Bank's "large disruption" scenario approximates the impact of the 1973 Arab oil embargo, shrinking the global oil supply by 6 million to 8 million bpd. This would initially drive up prices to $140 to $157 a barrel, a jump of up to 75%, reported Reuters.
Back home, the BSE Sensex ended 238 points lower at 63,875 levels, while the Nifty50 closed at 19,080, down 61 points. 
Meanwhile, global funds are offloading emerging Asia equities outside of China in droves as broader risk appetite cools amid concerns over a stronger dollar, higher borrowing costs and geopolitical tensions, Bloomberg is reporting.
Foreign investors have dumped nearly $11 billion of shares in October, taking the three-month selloff to about $27 billion, according to latest data compiled by Bloomberg. 
That's the longest bout of selling since last June when the Federal Reserve's tightening cycle and lockdowns in major Chinese cities were spooking investors.
Foreigners have pulled more than $4 billion worth of shares from Taiwan this month, while redeeming more than $2 billion from Korean and Indian markets. 
Meanwhile, China's stock market also continues to see outflows amid persistent concerns about the health of the property sector as well as the weak broader economic recovery, said Bloomberg.
GOLD PRICES ARE TOO HIGH TO BUY
Back home, Gold prices near record highs could dampen demand in India during the peak festival season and lead to the lowest purchase volumes in three years, the World Gold Council (WGC) said on Tuesday.
Indian gold consumption in the July-September quarter rose 10 per cent to 210.2 metric tons, as both jewellery and investment demand improved due to a correction in local prices, he said.
India is the world's second-largest gold consumer, and a drop in purchases could limit a rally in global prices. 
On the flip side, falling demand for gold imports could also help narrow India's trade deficit and support the rupee.
Gold smuggling, going by the number of seizures, is increasing in step with higher import duties though. 
Gold demand in India usually strengthens towards the end of the year, alongwith the wedding season and Diwali and Dusherra, when bullion buying is considered auspicious.
Local gold prices jumped this week to 61,396 rupees per 10 grams, near the all-time high of 61,845 rupees hit earlier this year. Last year, prices in the December quarter were nearly 20 per cent lower than this year.
In the December quarter, demand is expected to be lower than last year's 276.3 metric tons.
In 2023, demand could fall to around 700 metric tons, the lowest in three years, down from 774.1 metric tons a year ago.
Higher gold prices have been prompting some people to sell their old jewellery and coins, leading to a jump in scrap supplies by 37 per cent from a year ago to 91.6 tons in the first nine months, the WGC data showed.
REAL ESTATE BOOM
Yesterday, we spoke of how luxury properties are on a tear across the country with cities like Hyderabad leading the pack. Luxury homes continue to grow faster than affordable homes now, after the tide turned a few months ago. 
The last 9 months has seen a 115% rise in luxury home sales over the previous year, real estate consulting firm Anarock had said. Luxury homes are pegged at costing more than Rs 1.5 crore and some 84,000 units were sold in the top 7 cities, compared to 39,000 in the same period last year.
New numbers out for Mumbai from real estate consulting firm Knight Frank say Mumbai saw its highest October performance ever, with a 25% increase in registrations and 15% increase in stamp duty collection .
Mumbai city (area under BMC jurisdiction) in October 2023 is estimated to have registered 10,523 properties. 
Property registrations reflect both new as well as resale and are hitting all time highs all over. 
Of the overall registered properties, residential units constitute 80%, the remaining 20% constitute non-residential assets.
Like elsewhere and is increasingly the case now, properties more than Rs 1 crore are selling more, touching 56% in October 2023, or more than half, compared to 50% last year.
The state Government is raking it in with stamp duty, up 25% year to date at Rs 9,221 crore. 
High property prices coupled with higher interest rates has impacted property registrations below the INR 1 cr threshold. However, registrations for properties valued at 1 cr and above are unfazed. 
I reached out to Vivek Rathi, Director, Research, Knight Frank and began by asking him if prices were rising everywhere, was it a reflection of inflation or sheer demand ?
---
Comparing Banks to Tech companies is demeaning: Citi India Chief
Citibank India CEO Ashish Khullar has said that technology is critical to any industry, but we wouldn't like to become technology companies. 
Speaking to Business Standard's Tamal Bandyopadhyay at the Business Standard BFSI Summit in Mumbai, Khullar said, "I find it demeaning to compare what banks do and what technology companies do. Banks build a relationship of trust with their customers. We use technology as an enabler."
He added: "Two-thirds of Citi's total technology analytics is done out of India."
Amitabh Chaudhry, managing director and chief executive officer (CEO) of Axis Bank, said that the banking sector is serving its customers using technology.
"In the current market space, we are servicing our customers in terms of technology-oriented services. However, in order to focus more on technology, we need more tech-savvy people who can combine tech and banking together.
There is much more to this theme of trust and banking and what technology can do and cannot and I promise to pick this up in coming days, more so given the distortion in understanding what banking is about at a fundamental level.
For now, let me sum it up here, somewhat differently.
I once asked former RBI Governor Y V Reddy who he visualised when framing policy, including setting interest rates or more specifically in the context of banking regulation and oversight.
"I only think of the man on the road, the ordinary person, the poor person," he said.
THAILAND OPENS UP BORDERS
Thailand will waive visas for travellers from India for six months ahead of the year-end holiday period in a fresh attempt to  boost tourist arrivals.
Sri Lanka had announced a similar move a few weeks ago for Indian and other tourists.
Tourists from India as well as Taiwan will be able to enter Thailand without a visa between Nov. 10 and May 10 this year, Prime Minister Srettha Thavisin told reporters on Tuesday. 
Thailand had previously waived visa requirements for travellers from China and Kazakhstan for five months until Feb. 29.
Thailand has hit a pre-pandemic record of 40 million tourists and has already crossed 20 million this year and expects to touch 29 million this year and 34 million next year, according to different reports.
India in contrast for the same year that is 2019 stood at around 11 million.
Indias' outbound tourists had touched around 21 million last year and had touched 27 million in 2019.
While the visa waiver will obviously encourage Indians to head there in greater numbers and also potentially relook at Vietnam, another hot destination for holidaying Indians, the issue at hand is obviously India's own tourist inflows and why they are not rising as fast.
The year 2022 saw around 6.2 million foreign tourists. This number will definitely be higher in 2023 but not what a country of India's size should be content with. 
India's own inbound tourism policies are not the friendliest despite laudable efforts to introduce e visas and the like.
The earlier introduction of overseas citizen of India cards et al help in bringing NRIs but they are not necessarily classic tourists in terms of spending and boosting the local economy as they are more aligned to families here.
This year will not be easy on international tourism, particularly after the Israel-Hamas war and tension in the middle east. Many travellers, including from Europe, have cancelled their trips to the east.
The massive production around the G20 across many cities in the country was supposed to do many things and maybe it did but it surely does not look like it did anything to help tourism flows.
And finally, speaking of east-bound flights, Air-India said it will launch its direct flight service from Mumbai to Melbourne in Australia, starting December 15.
This will be the first non-stop between Mumbai and Australia, in this case Melbourne.
The flight services on the new route will be operated three-times-a-week. Air India currently operates daily flights to Melbourne and Sydney from Delhi, flying 28 times every week between India and Australia.
That's it from me.