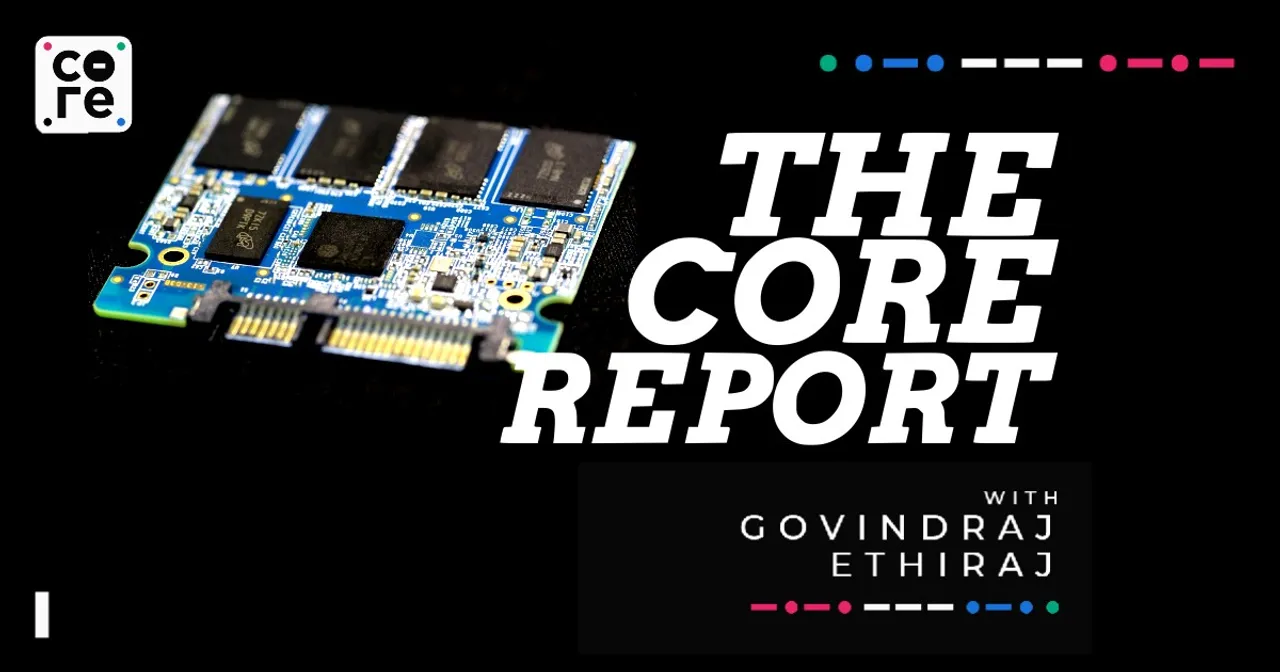 On today's episode, financial journalist Govindraj Ethiraj talks to Varun Manwani, Director of Sahasra Electronics as well as Dipti Deshpande, Director and Principal Economist at rating agency Crisil.

---
Our Top Reports For Today
<01:16>

 

India's first semiconductor chip company starts production, to launch commercially next month. A Core Report Exclusive
<14:00>

 

Why India's urban poor are more hit by food inflation. And Even Spices Are Not Spared. With Crisil's Dipti Deshpande.
<21:53>

 

The Sabzi Mandi that must be the Government's Ministry of Agriculture.
<24:56>

 

A nuclear scientist and heiress wins a gender battle at Murugappa Group.
<26:59> Hmm..even the World Bank wants people to come back to work.
---
NOTE: This transcript contains only the host's monologue and does not include any interviews or discussions that might be within the podcast. Please refer to the episode audio if you wish to quote the people interviewed. Email [email protected] for any queries.
---
Breaking Now: India's First Chip Manufacturer Gets Going
Delhi-based Sahasra Electronics is set to commercially launch the first Made in India memory chips next month. 
This would also mean that Sahasra's chips would launch off of Micron, which has announced a $2.7 billion semiconductor assembly and testing plant scheduled to roll by end of next year.
The company has traditionally produced a range of electronics equipment including pen drives and solid state drives used either outside or inside computers for memory storage.
The present semiconductor project got going on January 21 and test runs have been taking place since March. In its current form, Sahasra is more an outsourced semiconductor assembly and test (OSAT) company, which means it assembles and packages chips for other brands after importing the wafers..
Sahasra had originally qualified for a 25% capital subsidy under the Scheme for Promotion of Manufacturing of Electronic Components and Semiconductors (SPECS). As of late last year, some 32 applications with a total project cost of Rs.11,130 crore and with a potential to create 32,000 jobs were approved. 
Sahasra currently has 2 printed circuit board fabrication facilities and also a LED lighting facility, among others. And of course now the semiconductor assembling plant.
I caught up with Varun Manwani, Director of Sahasra Electronics and began by asking him to define what his company would bring to market next month and where it stands in the chip making ecosystem.
---
Moody's Investor and Other Financial News
Major news last week. Rating agency Moody's Investors Service reaffirmed the Government of India's credit rating at 'Baa3'. The outlook remains stable.
"The affirmation and stable outlook are driven by Moody's view that India's economy is likely to continue to grow rapidly by international standards, although potential growth has come down in the past 7-10 years," it said.
Which also means obviously that Moody's is not upgrading India's ratings as many would have hoped or expected given the general bullishness elsewhere, particularly among international investment banks in India.
The financial sector continues to strengthen, alleviating much of the economic and contingent liability risks that had previously driven downward rating pressure, the rating agency said.
"The Baa3 rating and stable outlook also take into account a curtailment of civil society and political dissent, compounded by rising domestic political risk," the agency said.
Moody's expects India's economic growth to outpace all other G20 economies through, at least, the next two years, driven by domestic demand. In turn, high growth by international standards will support a gradual increase in currently low income levels, which will contribute to economic strength, said the ratings agency.
The government's ongoing emphasis on infrastructure development, mirrored in the increasing share of capital expenditure in the Union budget, has led to tangible improvement in logistics performance and the quality of trade and transport-related infrastructure, the ratings agency said.
"India's fiscal strength remains a key weakness in the sovereign credit profile, balancing high economic strength," the ratings agency said.
In the stock markets…
The S&P BSE Sensex  closed at 64,949, down 202 points on Friday while the Nifty50, ended at 19,310, down 55 points.
All this is of course to give you where we left off last week. 
And Jio Financial Services (JFS), the financial subsidiary of Mukesh Ambani-controlled conglomerate Reliance Industries Ltd (RIL), is set to be listed on the stock exchanges today, that is August 21, 2023. 
RIL spun off JFS last month, introducing it to the market with a valuation of around $20 billion. At that point, there was little or no business in the company, except for some treasury income.
​​Food Inflation Hits Urban Poor
Urban poor have been the most impacted by 15-month high consumer price inflation (CPI) in July, Crisil Market intelligence and analytics had said last week. 
"Poorest segment in urban areas faced the highest inflation rate in July," said the note, released days after official data said that the headline inflation accelerated to 7.44 per cent for July.
The poorest segment in both urban and rural areas faced a higher inflation burden than their high-income counterparts, as food inflation accelerated sharply," the Crisil note added.
Speaking of food inflation, while we have been tracking vegetable price rises, now at 37% and pulses which are your dals at 13%, did you know that spices are also up around 22% ?
Spices are getting spicier.
Tomatoes, onions and now spices. It does not get tougher for Indian households.
To return to the urban poor, the poorest segment in urban areas faced a higher burden than their counterparts in rural areas, as both food (12.3% in urban vs 11% in rural) and fuel inflation (4.4% vs 3.3%) was higher in the former than the latter. 
I reached out to Dipti Deshpande, Director and Principal Economist at rating agency Crisil to get some additional insights on the raging inflation levels we are seeing and what could change and when ?
---
Meanwhile, the most active trader in the vegetables and cereals market is the Government itself. 
I can almost imagine a war room meeting at Krishi Bhavan in Delhi, home to the Ministry of Agriculture and Farmers Welfare where prices of onions, tomatoes and various spices are being bandied back and forth culminating quite rapidly in various duties being slapped on or exports being banned.
This of course would be a normal day at work at a Ministry of Agriculture but the speed and alacrity of our tariff-based responses across agricultural products, from rice to wheat and now onions seems a little, well, like shooting from the hip.
News now coming in is that the Government, via the National Cooperative Consumers' Federation of India Limited (NCCF) will sell onions to consumers at a subsidised rate of ₹25 per kg through retail outlets and mobile vans from Monday. 
Earlier, It imposed a 40% duty on onion exports on Saturday.
In general, to come back to the war room at the Krishi Bhavan, for sure, stress levels rise as India's festival season which starts in a few months comes closer.
Speaking of food inflation, not surprisingly, agriculture stocks are beating their global peers this quarter. Exposure to the sector is a good hedge for inflation, some investors told Bloomberg.
An index tracking total returns from select agricultural producers has outperformed the broader MSCI World Index by about three percentage points since the start of July, data compiled by Bloomberg show. The industry has outperformed as a gauge of food commodity prices posted its biggest gain in 16 months last month.
Some exposure is advised to food stocks, similar to what is usually given to the oil sector, as a form of insurance, said Marc Elliott, energy transition investment specialist at Union Bancaire Privee in Geneva. "Investing in agricultural names is perhaps a good way to hedge against climate change and certain geopolitical risks."
Gender Battle Ends
A long standing succession and ownership battle within Chennai's Murugappa family , triggered by Valli Arunachalam, has ended.
The Murugappa family owns a spate of listed companies like Cholamandalam Finance, Coromandel International, EID Parry, Tube Investments and Sakthi Gears.
Valli Arrunachalam is the great-granddaughter of Murugappa Group founder Dewan Bahadur A M Murugappa Chettiar. 
She is also second-cousin to Murugappa Group's Executive Chairman MM Murugappan, and cousin to former executive chairman A Vellayan.
Arunachalam has been fighting a long-standing battle for recognition as her father's heir and had reportedly proposed her name for the directorship in the group's holding company Ambadi Investments three years ago in proportion to her holding, according to reports.
The group has frowned on taking women on board, quite literally, going by reports and by accusations in the public domain by Ms Arunachalam.
The Murugappa family has agreed to settle the disputes between the family branch of the late MV Murugappan (including Valli Arunachalam and Vellachi Murugappan), on one side, and the rest of the family members, on the other side, which arose post the demise of late MV Murugappan.
Along with settling the disputes, Valli Arunachalam's legal proceedings against Murugappa Family will be withdrawn. "The family members are committed to undertake the necessary transactions to effect the family arrangement within the next 90 days," the group said.
Valli Arunachalam has a PhD in nuclear engineering from Texas A&M University and has worked in Texas Instruments and Motorola in the US. 
She also helped set up a leading edge semiconductor fabrication plant in the USA and transferred technology to Europe and Asia and presently provides technical due diligence and advisory services for M&A, and high technology equipment and product manufacturing companies. 
All of which might come handy were she to embark on a fresh semiconductor venture on her own for reasons discussed earlier in today's show.
Back To Work!
The World Bank is asking staff to return to office. Predictably, this has led to some grumbling, although the development lender is giving employees more money for commuting and childcare.
Ajay Banga, the new president of the Washington-based bank, is pushing ahead with plans to have employees work in the office four days a week by Sept. 5.
Banga took charge at the World Bank in June so the new diktat has come barely 2 months after his joining. Banga earlier worked at General Atlantic and was President and CEO of Mastercard. 
"We need greater interaction, collaboration and physical proximity," Banga and top officials said in the memo. "It will require us to sit around a table, meet new people in the halls, brainstorm ideas over lunch and bond over a coffee."
Last week, Bloomberg reported that Amazon.com Inc. is cracking down on US workers who have ignored its return-to-office guidelines.
Some US employees at Amazon received an email this week stating that they are not meeting the company's expectation of spending at least three days a week in the office.
Amazon is not the only employer clamping down on those shirking offices in favour of remote work. International Business Machines Corp.'s Arvind Krishna said in May promotions will be harder to come by for those who aren't in the office.
Last week again, Zoom Video Communications Inc, whose video-conferencing software facilitated the switch to remote work during the Covid-19 pandemic, said employees who live near an office must be on-site two days a week.
The fact that Zoom was calling employees back was of course an interesting twist in the tale given that its software was encouraging companies and their employees to do the opposite. 
"As we further ramp up on hybrid work, we've decided to make another change and end our No Internal Meeting Wednesdays," Zoom's CEO said in the memo. "We move fast, and this effort has become more of a barrier to collaboration than it was intended. And as an increasingly global company, no Internal Meeting Wednesday creates a lack of clarity for Zoomies working across multiple time zones."