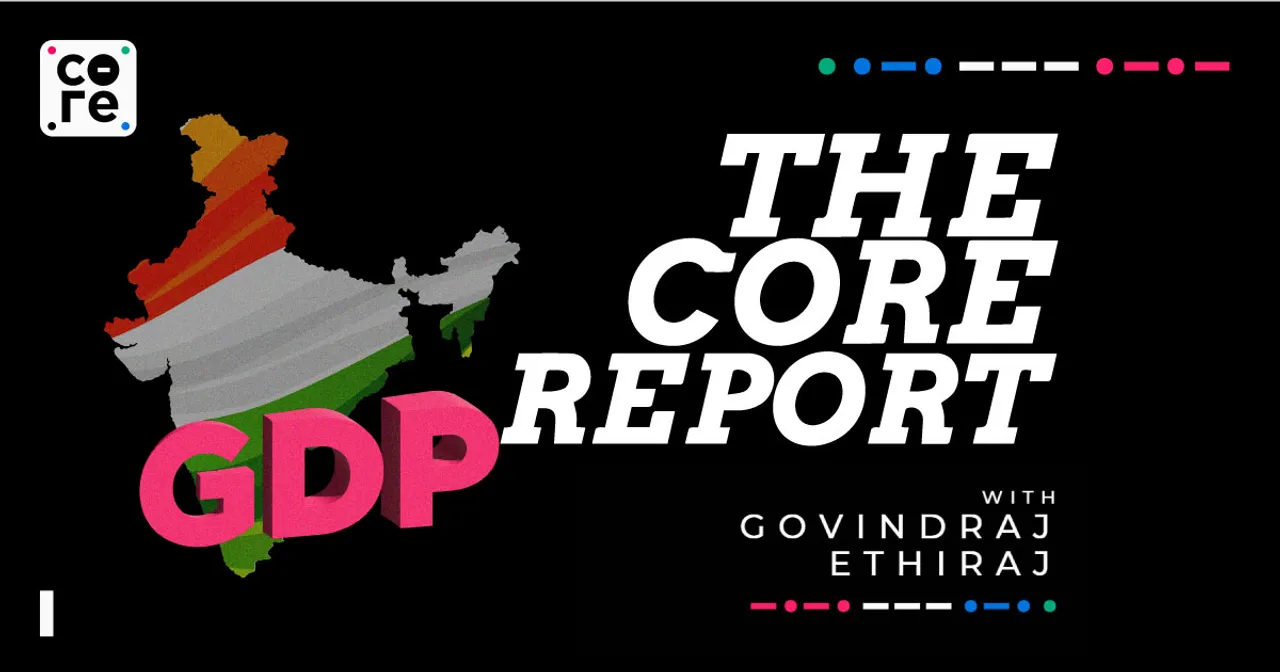 On today's episode, financial journalist Govindraj Ethiraj talks to Aditi Nayar, Chief Economist at rating agency ICRA as well as Vivek Rathi, Director Research at Knight Frank. 

---
Our Top Reports For Today
<01:00>

 

India's first quarter GDP is at 7.8%, below most forecasts.
<08:49>

 

An investigative journalism report points more fingers at Adani shareholding.
<14:21>

 

Mumbai sees record property sales in August, as prices set to rise further
<21:46>

 

Why is Indian IT sounding despondent while global banks are stepping up spending. An excerpt of The Core Report Weekend Edition
---
NOTE: This transcript contains only the host's monologue and does not include any interviews or discussions that might be within the podcast. Please refer to the episode audio if you wish to quote the people interviewed. Email [email protected] for any queries.
---
GDP is at 7.8%, lower than RBI and other estimates
The hard data on gross domestic product or GDP growth for the first quarter of this financial year seems to be going against the general wave of bullishness touted by the Government's many arms and affiliates, including the Reserve Bank of India which had pegged the GDP growth rate for the June quarter at 8%
Indian gross domestic product (GDP) grew by 7.8 per cent in the quarter that ended on June 30, data released by the Ministry of Statistics and Programme Implementation (MoSPI) on Thursday showed. 
In the April-June quarter last year, the GDP growth rate was 13.1 per cent. In the previous quarter, which ended on March 31, Indian GDP had recorded a growth rate of 6.1 per cent. 
In its recent bi-monthly monetary policy announcement, the Reserve Bank of India (RBI) had pegged the GDP growth rate for the June quarter at 8 per cent. 
The contact-intensive sectors including trade, hotels, transport and communication did well, seeing a growth of 9.2 per cent in the June quarter of the current financial year. The number has seen a marginal increase from the last quarter when it stood at 9.1 per cent.
The real estate and financial sector also moved up by 12.2 per cent on a yearly basis. The numbers for the construction, mining and manufacturing sectors stood at 7.9 per cent, 5.8 per cent and 4.7 per cent respectively. More on real estate and Mumbai shortly. Private consumption, which accounted for 57.3 percent of GDP share, grew 6 per cent in the first quarter of FY24.
India's chief economic advisor V. Anantha Nageswaran termed the first quarter GDP growth of 7.8% as a "good number" and said that the government is comfortable maintaining GDP growth target of 6.5% for FY24. 
To understand how we can see these numbers in the present and future context and also to put it in perspective, I reached out to Aditi Nayar, Chief Economist at rating agency ICRA.
---
Meanwhile, the stock markets yesterday, the BSE Sensex ended at 64,831, down 256 points while the Nifty50, meanwhile, ended at 19,254, down 94 points.

An investigative Journalism initiative goes after the Adanis
In the first instalment of the Panama Papers, German newspaper Süddeutsche Zeitung received the documents and were shared by the International Consortium of Investigative Journalists (ICIJ) with the Organised Crime and Corruption Reporting Project (OCCRP). 
Based on the Panama Papers of which there were two key instalments, India's enforcement directorate launched several investigations and seized assets including Rs 2.74 crore from a Kolkata based business family a few months ago.
Similarly, it seized three immovable properties worth Rs 41 crore in Mumbai in connection with the investigation against a Mumbai based businessman and his family members under the provisions of Foreign Exchange Management Act (FEMA). 
In the earlier case, the Indian economic investigation agency credited the Panama Papers and the name of the Mumbai businessman was also in the Panama Papers. These were just two instances, among many of reporting emanating from or linked to the OCCRP.
In March 2016, the Kremlin accused a group of international journalists of preparing an "information attack" on President Vladimir Putin's wealth and his ties to billionaire oligarchs in Russia.
The International Consortium of Investigative Journalists was seeking comment on dozens of questions concerning "Putin personally" as well as "information about his family, childhood friends," and business allies Kremlin spokesman Dmitry Peskov told reporters on a conference call Monday, according to a report then.
Yesterday, the Adani Group in India refuted  allegations that a just out OCCRP report put out in conjunction with the Guardian and the Financial Times, both UK-based which claimed to have more direct evidence showing how offshore companies had seemingly manipulated or boosted share prices of Adani Group companies in India between 2013-18.
The Adani response began to flow a little before, though not formally, in anticipation of the OCCRP report, presumably triggered by questions that would have been sent seeking clarification. 
Actually, there were only a few more details following up from the Hindenburg Research report in January this year which pretty much suggested the same thing. The Hindenburg Research report of course knocked the stuffing out of the company's stock prices earlier this year, over a $100 billion in value.
Both reports refer to individuals, both running funds out of Mauritius in turn investing mostly in Adani stocks. 
The latest report refers to one Chang Chung-Ling and one Nasser Ali Shaban Ahli as family associates who began setting up offshore shell companies in Mauritius, the British Virgin Islands and the United Arab Emirates in 2010.
Funds controlled by the two through multiple layers allegedly invested in Adani stocks in India pushing up prices including selling at peaks.
At many points, the combined holding of these funds and the Adani family would cross the 75% threshold permitted for promoters or founders to own and hence would be a violation of Sebi regulations.
The Adanis have however never declared these funds to be their own.
Establishing the trail of fund flow is difficult but should not be that challenging for a regulator or regulators in India or overseas.
The SEBI seems to be struggling with this and unable to source information which the OCCRP appears to have done, at least with these two entities in question.
The Adani's have said all their publicly listed entities are in compliance with all applicable laws, including the regulation relating to public share holdings and PMLA .
The problem of course is that the Adanis are trying to fight legally or respond as such for a misdemeanour if so which is more technical.
It is a different matter that some allege that funds have flown out of the country into offshore companies and have come back through this route. But that is not proven.
As it stands, this is in some ways another opportunity for the Adanis to open up on who their investors are and settle with the regulators on the shareholding level infractions if so. Maybe nothing will come out of such a show and tell operation but the effort needs to be there.
Possibly, demonstrating who these international investors are and making them available to answer questions freely. And then creating an institutional structure that is consistently transparent on who their investors are, even as they come and go. Like bringing in a depository trust as an external manager. It's been done before by the way.
This of course is very easily said but the Adanis know best that it is not Soros who is amongst the many funders of OCCRP, the opposition politicians or anti-national media - as some would prefer it- that really benefit but their own reputation as a trustworthy company or stocks  that is taking repeated and pretty hard knocks.
It is not without reason that there is not much institutional investor holding in Adani Group companies, including by Indian mutual funds. For a group that has such a strong exposure to India's infrastructure story that is surely surprising if not shocking to the Adani's themselves.
Maybe, they don't care because they are so convinced that Soros is running a campaign against them - though that would not explain the Panama Papers - or they are too far down the road to make peace and any admission at this stage might be counterproductive at many levels. 
Possibly, but it is never too late. If it's the future they are looking at and not the past.
Mumbai city is rocking it
Mumbai city saw sales of over 10,550 properties in August, likely the highest ever in history. 
This is the fifth month this year that there have been sales of more than 10,000 properties but what happened in August has surprised real estate watchers and analysts in the country.
It represents, among other things, the increase in sheer volume of sales and purchases of property and of course at prices higher than anywhere else in India.
This will contribute to a revenue of Rs 790 crore, real estate consulting firm Knight Frank said yesterday.
This also showcases a 23% surge in registrations and revenue compared to the preceding year. Of the total block, 80% were residential and 20% were non residential assets.
The first eight months saw some 83,263 properties being sold.
To understand why Mumbai city was seeing such massive transactions and what it reflected intrinsically about the property market and more importantly what the price forecast and outlook was looking like, I reached out to Vivek Rathi, Director Research at Knight Frank and began by asking him what was happening in the city of Mumbai ?
---
Some consumer product news as an extension perhaps to our daily rice and wheat updates and perhaps time to talk about a Plan B
Nestle has said it is widening its millet-based product basket in sync with the worldwide push for these "nutri-cereals" and government campaigns.
It has launched bajra-based Masala Millet—the latest addition to its Rs 100 crore Nestle a+ brand. Nestle also wants to tap into the Generation Z consumer base, which tends to have a greater intention to buy healthy snacks, and possibly get a larger share of the wallet.
"Millet, as a category, will take time to grow and is not going to suddenly unlock huge opportunities," said Suresh Narayanan, chairman and managing director at Nestle India, during a media briefing on Thursday.
"However, Gen Z is very conscious of what they eat, and to that extent, I am hopeful that they would choose these kinds of products, which are good not just for their health but also for the planet," he said.
The company will test-market the product in the Delhi-NCR region and parts of South India before making it available nationwide. It is being produced in Kerala at a third-party manufacturing facility.
Available in two variants—Tangy Tomato and Veggie Masala.
It has been developed under the guidance of the Indian Institute of Millets Research.
---
And finally, before I go, it's been a while since Vineet Nayar, no relation to Aditi Nayar, who I just spoke to, stepped down as CEO of HCL, the IT major, to run among other things a nation wide child focussed student initiative via his foundation the Sampark Foundation.
He is however connected with some of the big challenges facing the IT industry including the big one, how will it adapt to the new forces of digital and AI. 
In a candid conversation, one point he brought up was, why is it that Indian IT is sounding bearish and on the defensive while many global banks including in the US are stepping up their spends. What explains this seeming contradiction ? Look out for this and more in the Core Report Weekend Edition tomorrow Saturday on Spotify and Apple and on YouTube for video.
That's it from me for now, have a great day ahead and see you soon and do visit us at www.thecore.in for in depth reports and of course your not to be missed daily newsletter by our fine team led by Rohini Chatterji.
Bye for now.