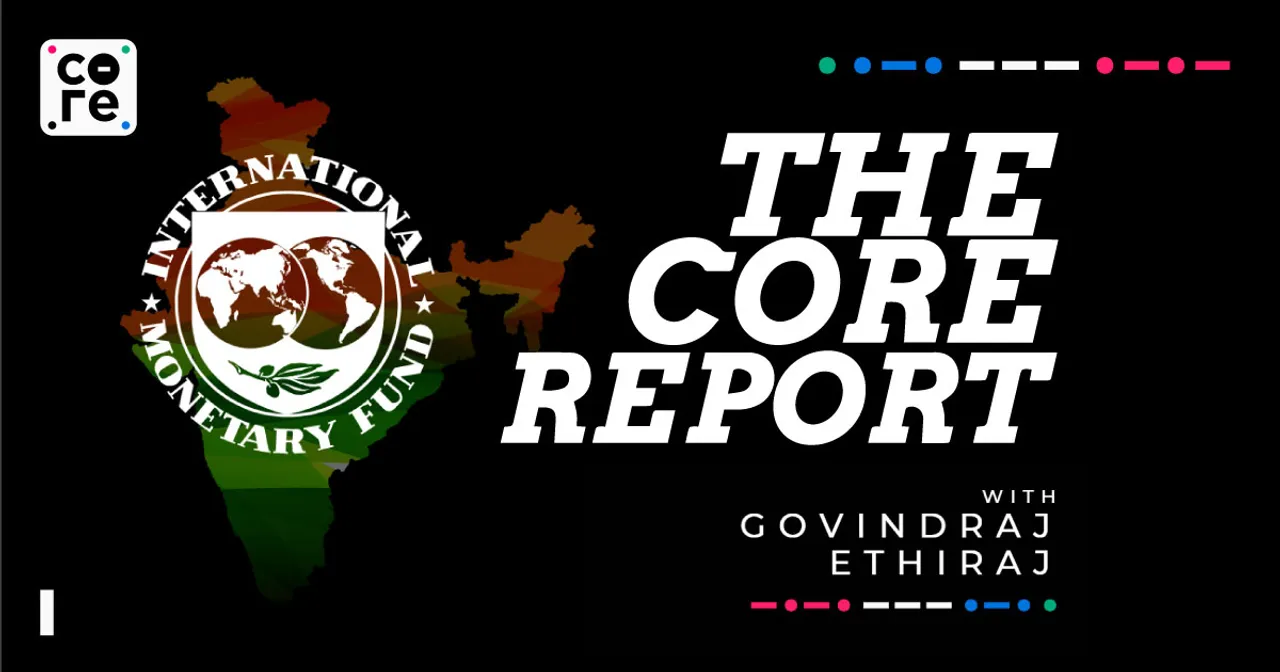 On today's episode, financial journalist Govindraj Ethiraj talks to  Sheetal Sapale, vice president commercial at PharmaRack. We also feature an excerpt from our Weekend Edition featuring Anshuman Magazine, Chairman & CEO of India, South East Asia, Middle East, and Africa at CBRE. 
---
Our Top Reports For Today
[00:00]

 

Stories Of The Day
[00:50]

 

Israel-Hamas war escalates, markets stable for now.
[02:31]

 

The IMF has raised FY24 India growth projection to 6.3 per cent
[06:58]

 

Sales of anti-infective drugs reveal fresh weather led disease patterns. 
[15:51]

 

Stockholm to ban petrol and diesel cars in city centre
---
NOTE: This transcript contains only the host's monologue and does not include any interviews or discussions that might be within the podcast. Please refer to the episode audio if you wish to quote the people interviewed. Email [email protected] for any queries.
---
Markets hold out
The Israel-Hamas war did not weigh in on Indian markets today as other financial and local factors took over. The S&P BSE Sensex jumped 567 points to end at 66,079, while the Nifty50 ended at 19,690, higher by 178 points.
Oil too held on after it rose in the last 48 hours, now around $87 a barrel as there appeared to be no impact on supply at this point. The rise was however the highest in the last six months. 
Meanwhile, record sales, particularly of more  expensive homes, has pushed India's real estate stock benchmark to its highest in 15 years on Tuesday..
The Nifty Realty index rose 4.6% to 609.90 points, the highest since Sept. 12, 2008.
Two of the 10 listed real estate players in the index rose to their highest level over a 52-week period, with another at a record high, according to website BQ Prime.
During Q3 2023 (July – September 2023), these markets saw a surge in demand with sales of 82,612 residential units recording a growth of 12% YoY.  This in volume terms was a six-year high in quarterly sales volumes.
The mid and the high – end category of residential properties saw a further rise in sales momentum in Q3 2023.  Properties costing over Rs 1 crore saw a YoY rise of 39% while the mid segment at Rs 50 lakh to Rs 1 crore saw a rise of 14% YoY in Q3 2023. 
IMF Raises India Growth Projections
The International Monetary Fund (IMF) on Tuesday raised its FY24 growth projection for India by 20 basis points to 6.3 per cent, citing stronger-than-expected consumption between April and June.
The IMF's latest World Economic Outlook (WEO) kept its global growth forecast unchanged at 3 per cent for 2023 while paring down the 2024 projection by 10 basis points to 2.9 per cent.
"Growth in India is projected to remain strong, at 6.3 per cent in both 2023 (FY24) and 2024 (FY25), with an upward revision of 0.2 percentage point for 2023 (FY24), reflecting stronger-than-expected consumption during April-June," said IMF.
In its July WEO, the IMF had projected a growth rate of 6.1 per cent for India in FY24, a 0.2 percentage point upward revision compared with the April projection driven by strong domestic investment.
Earlier this month, the World Bank too said its economic growth forecast for India remains at 6.3 per cent, underpinned by strong investment growth.
Both the finance ministry and Reserve Bank of India (RBI) have retained their 6.5 per cent GDP growth estimate for FY24.
BARCLAYS AND 8%
Speaking of growth and the inevitable China comparison, investment bank Barclays has said that in order for India to become the biggest driver for global growth, even overtaking China, it would need to target an 8 percent growth. 
According to Barclay's analysts, India's growth has outperformed the rest of the world, achieving robust expansion with relatively low inflation and it is on the way to achieve at least 6 percent GDP growth, while keeping broad macro stability intact.
But a key question, the report says, is whether authorities can "encourage more rapid growth without compromising India's hard-won macro stability that has dominated India's growth ambitions since the start of the Ukraine-Russia war".
"Amid considerable economic turbulence in the rest of the world, India has been an island of relatively better macro outcomes in the past two years. On the surface, India is once again poised to be the fastest-growing major economy in the medium term, as global growth is expected to be weaker through 2023-2024 (compared to historical levels)," the report says, as quoted by Moneycontrol.
Barclays argues the government should nudge nominal savings rate closer to 32.3 percent of GDP against the current 30.2 percent and incremental growth in the workforce of 3.5 percent per annum against the 1 percent now, including through "increased female participation.
Interestingly, the report also says that capacity constraints highlight the need for greater investment to return to traditional sectors. Additionally, the report calls for more public investment to "drive the structural shift upwards in overall investment and push the GDP growth rate closer to 8 percent".
Results Season
Results season is kicking off as I mentioned yesterday.
The big number out today and something everyone will be watching to see how Indian IT is doing is TCS. There is an interesting work from home element in the company's 
Broadly, consensus estimates suggest TCS is likely to clock a revenue of Rs 60,353 crore as compared with Rs 59,381 crore in the first quarter and , according to Bloomberg with net profits expected to rise 3% sequentially to Rs 11,409 crore.
Markets will also look to see how the deal book is looking like and its share buy back, the fifth in six years, an indicator of how the company is using and more importantly not using the cash in its books.
TCS incidentally wants all employees to return to office and end the work from home era. This means that overhead costs will increase but I am guessing that TCS, like many other companies, are concluding that collaboration and engagement are more critical for medium to long term growth and success than the short term gains that may be achieved in saving costs because of working out of home.
TCS is the country's largest private sector employer so that is a lot of people moving back, though many are back on many days.
Drug Sales Show New Infection Trends
India's anti-infectives segment has grown in September, thanks to illnesses arising out of further shifting weather patterns.
Seasonal weather shifts and thus illnesses  are of course common but do remember we are looking at it year on year. So September last year, coming out of monsoon for example, should be the same as this year.
Except it is not.
Drugs in the Antibacterials and Antivirals segments grew in the month of Sep'23 by 2% and 9% respectively, says a report from Pharmaceutical research firm Pharma Rac in Mumbai.. 
Among the top 80% contributing therapies, the anti-infectives segment has demonstrated a significant pick up in the month of Sep '23 in both price and volumes followed by price driven growths of Gastrointestinal, Respiratory, Pain/Analgesics medications. 
Moreover, anti-asthma and COPD products in the respiratory segments have also grown mainly due to a rise in allergies because of exposure to pollen, and other allergens. 
A surge of dengue cases in several parts of India has contributed to increased use of Carica papaya combinations by a value growth of 38%. 
I reached out to Sheetal Sapale, vice president commercial at PharmaRack and began by asking her what was driving the jump in anti-infectives in the month of September this year ?
---
Many India's To One Tokyo
Did you know that Tokyo and greater Tokyo has roughly 1 billion square feet of commercial office space.
Guess what the figure is for all of India ? Well, it is 800 million square feet.
That one figure obviously illustrates the contrast and obviously the opportunity.
India is adding anywhere from 40 to 45 million square feet of new office space every year, and that is increasing the entire office supply. 
Much of the 800 million square feet too has come in the last 5-7 years. Before that, the market was less than half the size, Anshuman Magazine, Chairman of CB Richard Ellis, one of the world's largest real estate companies told me in a conversation on The Core Report Weekend Edition.
I asked him about the trends he was seeing not just in office real estate but also in areas like retail and logistics both of which are growing across the country, though Bangalore seems to be leading the office space market.
---
StockHolm Bans Petrol & Diesel
And before I go, the news is that Stockholm plans to ban petrol and diesel cars in part of the city starting in 2025 in a bid to crack down on pollution.
An area of about 20 blocks that straddles the Swedish capital's finance area and main shopping drags will only allow electric cars, some hybrid trucks and fuel-cell vehicles, according to reports quoted by Bloomberg. An expansion of the zone could be decided in the first half of 2025.
Stockholm could be the first major capital to introduce such a wide prohibition and goes further than plans by Paris, Athens and Madrid to ban diesel cars. Other cities, including London, have introduced low-emission zones that include daily fees for entering the city centre in older combustion engines.
Elsewhere, Brussels in December banned non-essential and non-local car traffic on 10 key streets in the city's core. In August, London completed one of the world's most ambitious vehicle emissions policies by expanding its ultra low emissions zone. 
I have just one question. When will we do something similar in Lower Parel, Mumbai ? 
That's it from me, bye for now