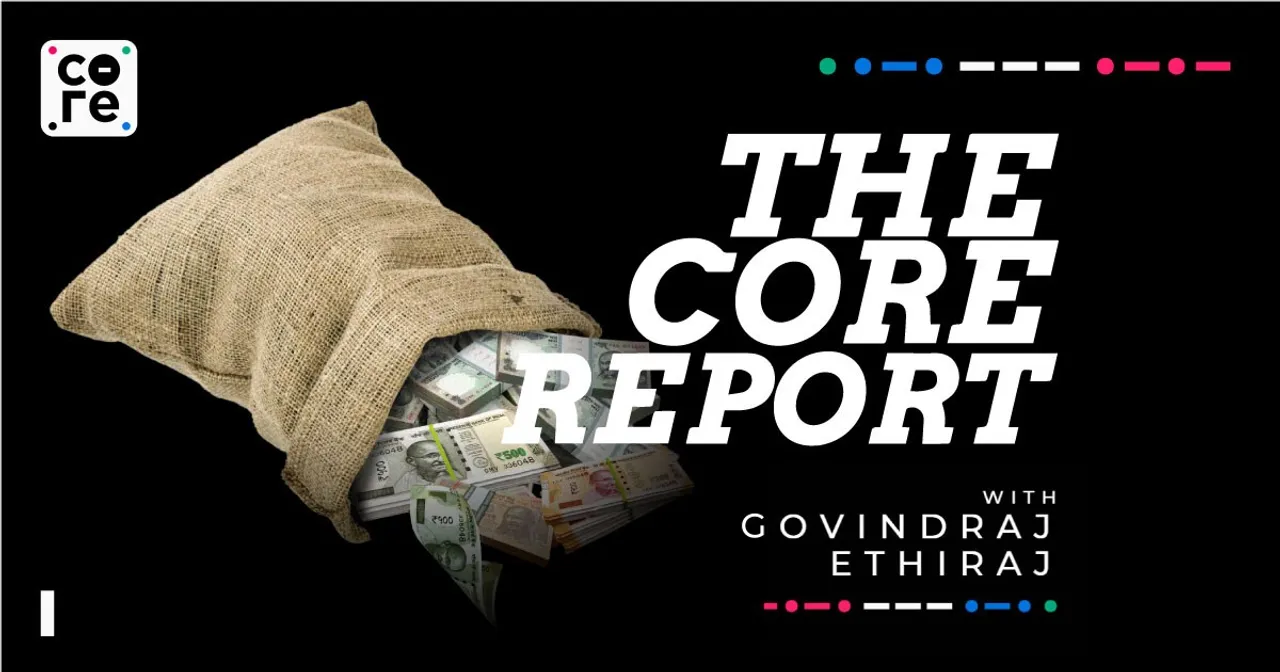 On today's episode, financial journalist Govindraj Ethiraj talks to Prithviraj Kothari, president of the India Bullion and Jewellers Association as well as Piyush Tewari, Founder and CEO of SaveLife Foundation (an organisation which works in road safety, both in policy support as well as illustrative ground interventions in crash prevention and post crash response).

---
Our Top Reports For Today
[00:00]

 

Stories Of The Day 
[01:00]

 

India's goods & service tax or GST Collections are at second highest level seen so far, touch Rs 172,000 crore
[05:38]

 

Unemployment rate jumps to 10.5%, says CMIE
[07:12]

 

Highest customs rate in history on gold bullion lead to Rs 10 lakh per kg difference in prices between international and domestic
[

14:58

]

 

India recorded the highest number of road fatalities at over 168,000 last year. Why is this happening despite new vehicles and roads
---
NOTE: This transcript contains only the host's monologue and does not include any interviews or discussions that might be within the podcast. Please refer to the episode audio if you wish to quote the people interviewed. Email [email protected] for any queries.
---
GST Numbers Rise
India's goods and services tax (GST) collections rose to Rs 172,000 crore in October, up 13 per cent year-on-year, which officials attributed to stricter anti-evasion measures and improved compliance.
This is the second-highest collection ever, next only to April this year, the Finance Ministry said on Wednesday while releasing the monthly GST figures.
Maharashtra, Karnataka, Tamil Nadu and Gujarat lead the pack in terms of GST collections in India.
The average gross monthly GST collection in the current financial year is around Rs 166,000 crore, a figure we at The Core Report have referred to in the past. The Government is saying this is a 11% increase year on year though there have been some unusually high months like April 2023 when they touched Rs 187,000 crore which of course was a record.
Deloitte India partner M S Mani told the Business Standard that the significant growth in  GST collections over recent months is not only due to strong underlying economic factors but also the efforts of tax authorities in using tools to compare data sets for identifying short payments and evasion.
Of the total gross collection of Rs 172,000 crore, Rs 30,062 crore is Central GST, Rs 38,171 crore is State GST, Rs 91,315 crore (including Rs 42,127 crore collected on imports) is IGST, and Rs 12,456 crore (including Rs 1,294 crore collected on imports) is cess.
Yes, GST does include a substantial amount collected on imports which of course tells you something about the high tariff walls and what would happen if they were not there both in the long and short term.
"Revenue from domestic transactions, including import of services, is also 13 per cent higher compared to the revenues from these sources during the same month last year," Mani told BS.
Markets
GST Collections may be strong but other indicators were not. The rupee hit a record low yesterday against the US dollar, thanks to broadly the same reason, high US treasury yields and of course the strong dollar itself which is pushing down currencies across the world.
The rupee closed at an all time low of Rs 83.33, its previous lifetime low being 83.29 hit in October last year. On Tuesday, the rupee settled at 83.24 against the American currency.
The Sensex ended 284 points lower at 63,591 and the Nifty50 settled with a loss of 90 points at 18,981 or below 19,000. The dream figure for most Nifty50 chasers was 20,000 which will obviously take some effort to get back to.
Meanwhile, The markets and currency might be down but car sales continue to go through the proverbial roof.
Maruti Suzuki recorded its highest-ever monthly sales, selling 199,217 units in October 2023, the company told the exchanges. This number includes both exports and domestic sales.
Utility vehicle or SUV sales for the company stood at 59,147 units in October 2023, which was almost double the 30,971 units sold in October 2022. 
Utility vehicles of Maruti Suzuki include Brezza, Ertiga. As we have discussed in The Core Report earlier, SUV sales are fast outpacing sedan or regular car sales and driving up overall numbers.
Compact car sales  of models like Swift and Dzire also registered an uptick in sales, with 80,662 units sold in October 2023 against 73,685 units sold during the same period a year ago. 
Meanwhile, India's manufacturing activity fell to an eight-month low in October, with new orders rising at their slowest pace in a year, a private survey showed.
The India Manufacturing Purchasing Managers' Index stood at 55.5 in October, compared with 57.5 in September, according to S&P Global. A print above 50 means expansion, while a reading below 50 indicates contraction.
While output continued to increase in October, the data signalled a deceleration in growth since September. The rate of expansion was the softest in a year, with consumer goods especially affected.
Unemployment Hits 2-year High
India's unemployment rate climbed to the highest in more than two years in October as joblessness in rural areas increased, according to the CMIE.
The overall rate rose to 10.05% last month from 7.09% in September, data from the Centre for Monitoring Indian Economy Ltd. showed, the highest since May 2021. Rural unemployment jumped to 10.82% from 6.2%, while the urban rate eased slightly to 8.44%, reported Bloomberg.
The government's country-wide unemployment rate is only published annually, and a rate for urban areas every quarter. The most recent official report, released in October, puts the unemployment rate for the country at 3.2% for 2022-2023, reports Bloomberg adding that economists rely on CMIE data for a better assessment of the labour market. 
The figures are based on monthly surveys of more than 170,000 households.
The CMIE data shows nearly 10 million people entered the job market in October in the hopes of finding some work.
Elsewhere, there are some stress signs in areas like IT services which are cutting back on hiring and downsizing perhaps for the first time in two or three decades.
While the numbers are in tens of thousands for downsizing, these are in the top few listed companies.
India is seeing historically high differences between imported and domestic gold prices.
Just yesterday, we spoke of how gold prices near record highs could dampen demand in India during the peak festival season and lead to lower volumes, at least compared to recent years, according to the World Gold Council (WGC).
Indian gold consumption in the July-September quarter rose 10 per cent to 210.2 metric tons, as both jewellery and investment demand improved due to a correction in local prices, he said.
But this is unlikely to continue with India being  the world's second-largest gold consumer, and a drop in purchases could limit a rally in global prices. 
Gold smuggling, going by the number of seizures, is increasing in step with higher import duties though. 
Gold demand in India usually strengthens towards the end of the year, alongwith the wedding season and Diwali and Dusherra, when bullion buying is considered auspicious.
Local gold prices jumped this week to 61,396 rupees per 10 grams, near the all-time high of 61,845 rupees hit earlier this year. Last year, prices in the December quarter were nearly 20 per cent lower than this year.
The magic number at least right now seems to be around Rs 60,000 per 10 gm of gold, below which more buyers would come back. Else, people sell old jewellery.
I reached out to Prithviraj Kothari, president of the more than a century old India Bullion and Jewellers Association and began by asking him how gold prices were doing in the last year and what triggers they were responding to right now ?
---
Road Accidents Fatalities At All Time High
Road accidents in India claimed a record 168,491 lives last year across some 460,000 mishaps.
Figures from the Ministry of Road Transport and Highways' annual report on road accidents released on Tuesday said states and Union Territories (UTs) reported 461,312 incidents in 2022, which caused injuries to 443,366 people. 
There was an increase of around 11.9 per cent in accidents, 9.4 per cent in fatalities, and 15.3 per cent in injuries compared to 2012.
"The report underscores the urgency of adopting a comprehensive approach to address the contributing factors to these accidents, including speeding, reckless driving, drunken driving, and non-compliance with traffic regulations. It is crucial that we strengthen enforcement mechanisms, enhance driver education and trai-ning programmes, and invest in improving the condition of roads and vehicles," the highways ministry said in a statement. 
While India has seen more road accidents in previous years, 12 years to be precise, the number of fatalities are the highest in the last. 
The second-highest number of deaths took place in 2019 — 10,000 fewer than 2022.
While deaths as compared to the num­ber of vehicle re­gistrations have reduced over the past decades, if that's any consolation, 2022 also saw the hi­g­hest number of deaths vis-à-vis Ind­ian pop­ul­at­i­on, with 12.2 casualties per one lakh people.
Remember, we just spoke about car sales hitting record highs, which means more people are driving than ever before. Which is something desirable in a broader economic sense but not if people are not careful.
The annual report is based on data sent by police departments of states/UTs in formats as provided by the United Nations Economic and Social Commission for Asia and the Pacific under the Asia Pacific Road Accident Database project.
I reached out to Piyush Tewari, Founder and CEO of SaveLife Foundation, an organisation he founded in 2008 when his cousin died in a road crash.
Tiwari, who used to work in private equity earlier, discovered that 50% of all road crash deaths in India could be prevented if victims received timely care. Save Life works both in policy support as well as illustrative ground interventions in crash prevention and post crash response and is based out of Delhi.
I began by asking him why the fatality numbers were rising so rapidly despite the perceived increase in car safety or focus on the theme ?
---
Do check out Piyush's website savelifefoundation.org and support this or the larger cause in whichever way you can. including spreading awareness.