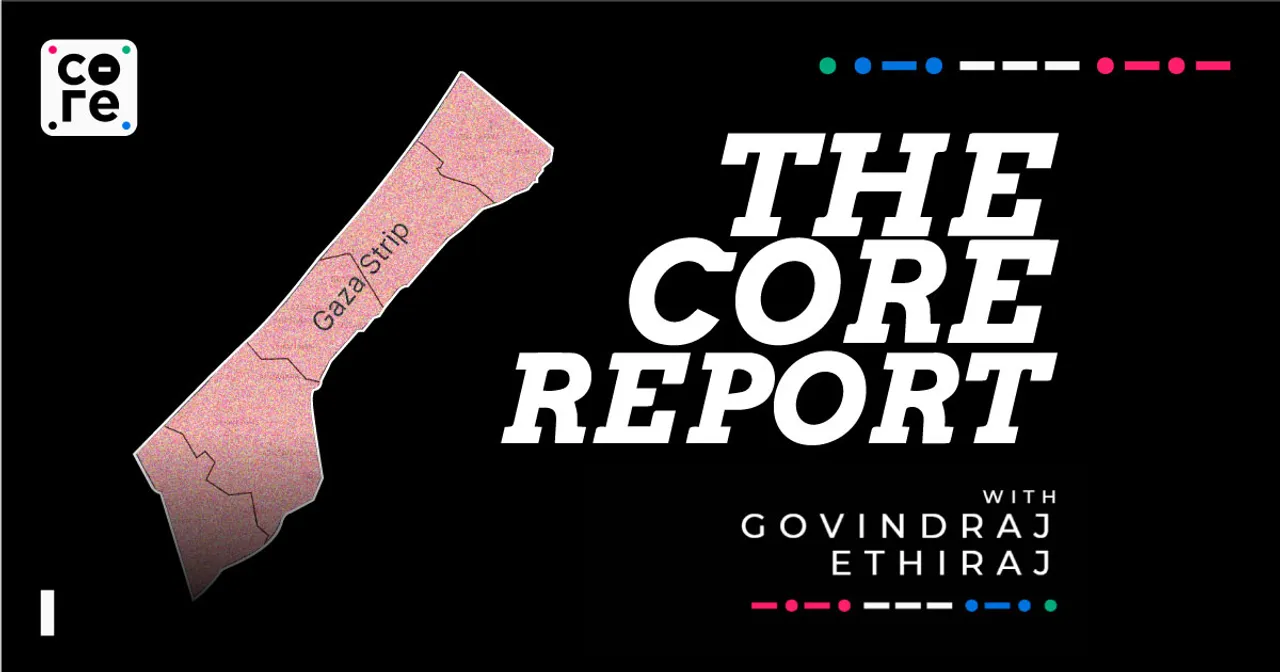 On today's episode, financial journalist Govindraj Ethiraj talks to M S Mani, Senior Partner at Deloitte, Haskins and Sells.

---
Our Top Reports For Today
[00:00]

 

Stories Of The day
[01:05]

 

Anxiety grips Indian stocks but global markets and oil steady as diplomatic efforts in the middle east step up.
[02:55]

 

GST notices including gaming companies now worth more than Rs 100,000 crore
[12:35]

 

For many young Indians, their first car is a super luxury one. 
[17:02]

 

Smuggled gold seizures have gone up 43% in the last 6 months.
[18:44]

 

Fewer tourists are visiting India compared to pre pandemic peaks but more Indians are going overseas than before.
[20:48]

 

YouTube Revenue jumps 12% for quarter, Microsofts cloud business 29%
---
NOTE: This transcript contains only the host's monologue and does not include any interviews or discussions that might be within the podcast. Please refer to the episode audio if you wish to quote the people interviewed. Email [email protected] for any queries.
---
Markets start slipping
Indian shares posted their longest daily losing run in nearly eight months on Wednesday as worries over the intensifying conflict in the Middle East and fluctuations in U.S. bond yields made investors nervous.
While the markets have been weak since the day of the Hamas attack against Israel on October 7, in India the last five days have seen wariness give way to some fear.
Markets fell for the fifth day on Wednesday with the BSE Sensex falling 523 points to end at 64,049, while the Nifty50 fell 160 points to close at 19,122.
The Sensex has lost nearly 3 per cent thus far in October, and down almost 6 per cent from its 52-week high level of 67927.23 hit on September 15, 2023.
India's Nifty has fallen 2.70% since the start of the Israel-Hamas military conflict on Oct. 7.
Meanwhile, crude was little changed near $88 a barrel, after trading closer to $94 late last week. 
The US and Saudi Arabia agreed to pursue diplomatic efforts to maintain stability across the Middle East, the White House said Tuesday, helping to ease fears of major disruptions to the oil market, Bloomberg reported
Crude spiked in the initial stages of the war on concerns the conflict would escalate, potentially threatening exports from Iran and risking attacks on tankers in key shipping routes. Those fears have ebbed in recent sessions, with growing calls within Israel to rethink the scope of a ground invasion of Gaza.
"The risk of an escalation cannot be ruled out, but economic concerns weigh on prices in the short term," ING analysts Warren Patterson and Ewa Manthey said in a report, quoted by Bloomberg.
---
GST NOTICES CROSS 100,000 CRORE
The number of GST notices flying around the country is increasing and so is the amount by the day. 
The gaming industry alone has been slapped with over a Rs 100,000 crore worth of notices asking for retrospective tax, Reuters is reporting.
The Core has been reporting how some players like the Delta Group alone have got tax notices worth over Rs 23,000 crore.
But several other companies are also getting notices, for periods going back. 
One reason for these notices is that the Income Tax department wants to beat the statute of limitations date
The Business Standard reports that the Centre is expecting to recover evaded goods and services tax (GST) of over Rs 50,000 crore, more than double compared to FY23.
This could be the highest ever annual tax recovery, they said. So far during FY24, the GST authorities have found Rs 136000 crore  has been evaded. Of this, Rs 14,108 crore has been recovered. During 2022-23, an evasion of Rs 101,000 crore was detected and Rs 21,000 crore was recovered.
A significant amount is expected to be recovered from wrongful input tax credit claims by insurance companies, GST payment on expat services under the reverse charge mechanism, clandestine clearances of tobacco products, and deals in immovable properties.
So why are the notices coming now?
The key reason as we have discussed earlier on the Core is the limitation period or statute of limitations for such notices for the assessment year 2018-19 set to end on December 31 and thus there is still time for more notices. 
These are what is known as non-fraud cases, for fraud cases the time limit is longer and 5 years as opposed to three here.
Back to gaming, in August this year, the GST authority imposed a 28% tax on online gaming companies on the total funds deposited to play online games.
Meanwhile, Delta has got interim relief from the Bombay HC on Rs 16,194 crore of tax notices against it. The court directed the Directorate General of GST Intelligence, Hyderabad, not to pass orders in the alleged tax shortfall of Rs 16,194 crore without prior permission of the court, according to an exchange filing on Tuesday.
So there are two questions, one specific and one larger. I reached out to M S Mani, Senior Partner at Deloitte, Haskins and Sells and began by asking him about the reasons for the fresh surge of notices in recent days and also his impressions on whether we were reaching peak compliance.
---
Luxury Car Buyers Getting Younger
Luxury car owners in India are getting younger, and more and more professionals are buying them. This is opposed to the earlier norm of only wealthy families owning luxury vehicles, the Business Standard is reporting
 Vikram Pawah, president, BMW Group India told the newspaper that  the customer base of luxury cars has evolved tremendously in the last decade. "Apart from wealthy families, a new group of achievers has emerged in India. They have a global outlook, are well-travelled, and have an eye for luxury products. With the rise in disposable income, they are not hesitant to spend on luxury products and services," Pawah said.
There is, quite expectedly and in keeping with global trends, a post pandemic effect playing out here. And I will come to the global trend in a moment.
Pawah told the Business Standard that since the pandemic there is a greater realisation among people that they would like to live life to the fullest and enjoy the best things. Moreover, personal mobility is on the rise.  
"We have also seen a rise in first and second-generation buyers over the last two to three years. The pandemic has pushed people to live life to the fullest and adopt a luxury lifestyle. This has fuelled growth in the category of salaried individuals buying our cars," the CEO of AUDI told Business Standard.
 Around 59 per cent of BMW buyers (in the luxury class) are aged between 31 and 45 years, and 35 per cent of its buyers are existing customers. 
In the premium segment, around 62 per cent are aged between 31-45 years, and around 80 per cent of customers are those upgrading from the near-premium or non-premium segment.
Meanwhile the average age of a Mercedes buyer has come down from 42 years to around 38 years. Of this, many are much younger customers aged around 30 years, the company told Business Standard.
Also, women buyers constitute around 15 percent of Mercedes customers. The share of salaried buyers is on the rise too – from just 8-9 per cent earlier, it has now increased to 14-15 per cent.
There is also an increase in the demand for luxury pre-owned cars. Our pre-owned luxury car retail business, Audi Approved: Plus, has grown by 63 per cent between January and September this year," Audi's official said.
According to industry estimates, around 70 per cent of luxury cars are bought by entrepreneurs and SME business owners and these are often bought in the company's name so that they can claim depreciation.
Meanwhile, in the United States, the Washington Post reports that robust spending — especially by the wealthiest Americans — is keeping the economic engine roaring far longer than many had anticipated. 
A healthy job market, extra pandemic savings, and soaring home and stock values have all made it possible for high-income households to continue shelling out, even as many lower- and middle-income families pull back.
A travel agent told the WP for the first time since she started her luxury travel business in 2017 she has seen no signs of a fall slowdown. In fact, people are returning from their summer getaways and immediately calling back up, ready to book their next $50,000 trip.
"Their balance sheets have by and large gotten much stronger, because of high asset values and higher equity values in their homes, and that seems to be supporting spending, an official of the Federal Reserve said adding this contrasts with with low-income families, who are pulling back now that federal stimulus and pandemic-era savings have run out, and middle-income families, who are "selectively trading down" by buying paper towels at the dollar store, for example, or produce at Walmart.
In all, Americans spent nearly $84 billion more in August than they did the month before, government data shows, with much of that spending concentrated in services such as housing, transportation and recreation. 
Amazingly, estimates suggest Americans still have an extra $1.7 trillion in extra pandemic savings, with the top 20 percent accounting for nearly $1 trillion of that balance. 
GOLD SMUGGLING ZOOMS
Meanwhile, back home, gold smuggling is increasing which we can infer at least partly by the fact that more of it is getting caught, suggesting where some of that spike in discretionary spending is going.
The seizure of smuggled gold increased by 43% between April and September in the current fiscal, as compared with the same period in 2022, BQ Prime is reporting.
In the first six months of the financial year 2023, the customs department has seized 2 tonnes, or 2,000 kilograms, of smuggled gold, compared to 1,400 kilograms seized in all of last year, a top official of the Central Board of Excise and Customs said.
Many of the seizures happened on the land borders of neighbouring countries and at major international airports.
The official also said there has been no change in duty structure versus last year but the increase in gold smuggling also depends on factors such as the differences in prices prevailing in international and domestic markets.
Incidentally, the Government increased the import duty on gold from 10.75 per cent to 15 per cent on June 30, 2022. 
The objective was to lower gold imports to check the widening current account deficit. Since then, imports have been falling. At least the official variety. 
Obviously smuggling is increasing, a policy lesson in economics if there was one since the dawn of economic liberalisation in India.
INDIANS RUSH OVERSEAS
Foreign tourists are not visiting India as much as before.
India is yet to touch pre-Covid levels when it comes to foreign tourists visiting the country. 
Latest data for August 2023, released by the Centre for Monitoring Indian Economy (CMIE), shows that the number of foreign tourists arriving in India has shrunk by 19.7 per cent compared to August 2019, when 0.8 million visited.
On the other hand, despite high fares, visa issues and what have you, Indians are rushing overseas. In August 2023, 2.5 million Indians travelled abroad – a 6 per cent jump from August 2019.  
Back to international arrivals, CMIE data shows that in February 2020, just before the pandemic struck, 1.02 million foreign tourists came to India. In August 2023, the number stood at 640,000.
The tourism ministry reiterated its goal of attracting 100 million international tourists earlier this month, while the government envisions a $1 trillion tourism economy for India in the long term.
Bangladesh remains India's largest source of foreign tourists, accounting for 23.7 percent of all arrivals. This is followed by the USA at 17%. 
Canada which is in the news is 4.1%
So if you take away neighbouring countries and then also visit families and relatives of Indians, the number would drop even more and quite sharply I suspect.
The overall low tourist arrivals are a source of worry.
One reason could be cost of course. Most good resorts across India are outpriced compared to, for example, southeast Asian peers.
There could be other reasons which I suspect but will explore with someone from the industry in coming days.
YouTube Revenue jumps 12% for quarter, Microsoft's cLoud Business 29%
Microsoft and Google-parent  both saw improvements to their core businesses during the September quarter according to results posted by both companies late Tuesday. 
Google's advertising revenue grew 9% year-over-year to $59.6 billion during the quarter, beating Wall Street's expectations and up notably from the 3% growth reported for the June period, the WSJ is reporting. 
That was helped by a notable pickup in YouTube's advertising revenue, which jumped 12% for its quickest pace in nearly two years. 
It probably isn't a coincidence that this was during a period in which Hollywood's crippling labour strikes resulted in fewer new TV shows and movies being released. 
Microsoft's much larger cloud business, where the company's Azure public cloud service saw revenue jump 29% to an estimated $16.7 billion during the same quarter while Google's cloud business revenue grew 22% year-over-year to $8.4 billion.