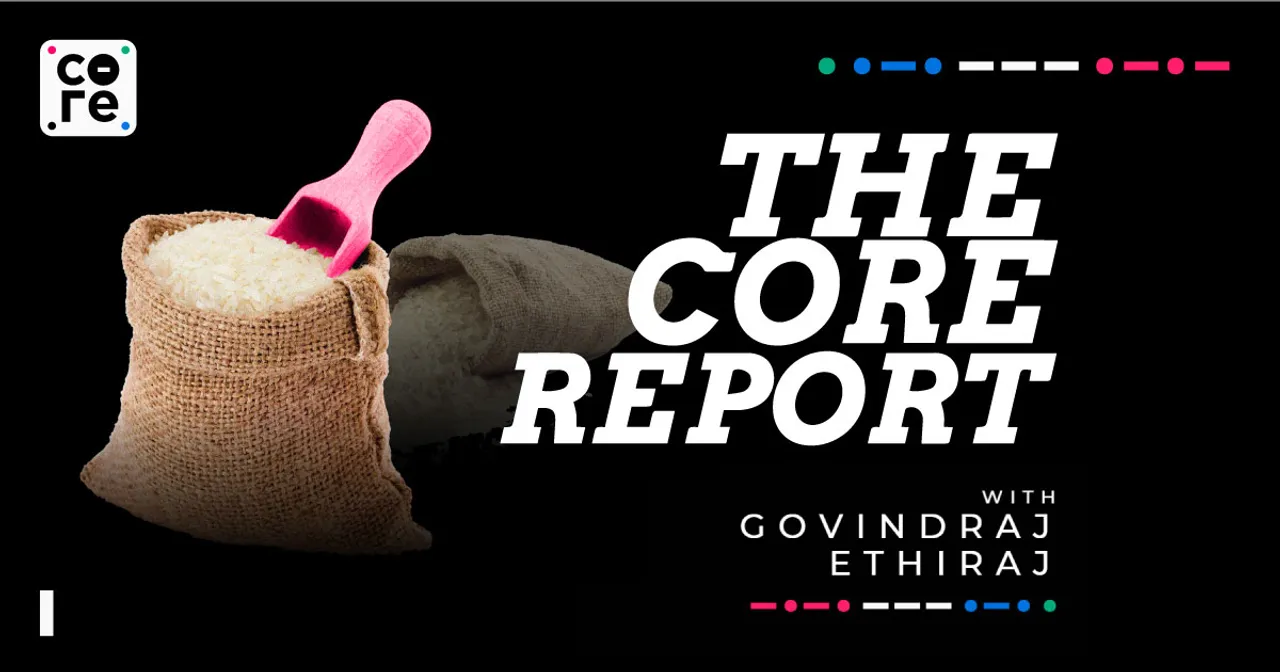 On today's episode, financial journalist Govindraj Ethiraj talks to Kunal Sodhani, Vice President, Global Trading Center at the Korean Shinhan Bank in Mumbai as well as Rajamani Krishnamurti, President of the Indian Stainless Steel Development Association (ISSDA).

---
Our Top Reports For Today
[00:00]

 

Stories Of The Day 
[01:00]

 

India vulnerable to recurring food price shocks, says Reserve Bank Governor.
[04:30]

 

Rupee hits a fresh low against the USD, what is keeping it down
[14:14]

 

Why Indian stainless steel manufacturers are upset with China?
[21:46]

 

From gyms and spas to skincare and supplements, wellness is a $5.6 trillion industry
---
NOTE: This transcript contains only the host's monologue and does not include any interviews or discussions that might be within the podcast. Please refer to the episode audio if you wish to quote the people interviewed. Email [email protected] for any queries.
---
India Vulnerable
India is vulnerable to "recurring and overlapping" food price shocks despite the recent moderation in inflation, the governor of the Reserve Bank of India (RBI) said on Thursday.
This appears to be an acknowledgement of a problem as well as an admission of sorts that the Government's best policy measures to manage food prices are not necessarily working out.
In almost all cases, including rice, wheat, sugar and even tomatoes, prices appear to respond only barely to Government actions, for instance banning of exports, in the case of non-basmati rice, to most countries.
It is not clear whether not banning would have caused prices to shoot up, though the public policy response, which is to protect domestic consumers, is fair.
"In these circumstances, monetary policy remains watchful and actively disinflationary to progressively align inflation to the target, while supporting growth," Shaktikanta Das said in a speech delivered in Japan, reported by agencies. 
India's retail inflation eased to a three-month low of 5.02% in September on the back of softer vegetable prices, but remained above the RBI's 4% target.
Retail inflation data for October is due Nov. 13.
The recent developments in West Asia have added to the "litany of challenges" for the global economy, the RBI chief said on Thursday, adding that the central bank has bolstered foreign exchange reserves to deal with potential eventualities.
India's growth remains on track, and its current account deficit "eminently manageable", while the balance sheets of banks and corporates are healthy, the RBI governor said.
The positive signalling from overseas did not help the rupee though, which sank to a fresh all time low of Rs 83.30 against the US Dollar. More on this in a bit. 
In the markets, which continue to be seeking direction, the indices ended lower with the BSE Sensex closing at 64,832, down 143 points while the Nifty50 shut shop at 19,395, lower by 48 points.
---
Meanwhile, the Government has said that strong GST collections seen in October are the result of economic activity and festive demand and not recovery from tax notices issued by the department, according to a top Central Board of Indirect Taxes and Customs' official.
Presumably, he was responding to said or whispered questions suggesting that tax collections would not have been high were it not for a sustained crackdown on defaulters and the like and the resultant fines and penalties collected from them, apart from prosecuting or jailing others.
The official also said that the Integrated Goods and Services Tax from imports has also risen. The department recorded Rs 1.72 lakh crore in collections in October for transactions that took place in September. This is the second highest figure recorded this fiscal, after the all-time highest April collections, which were at Rs 1.87 lakh crore.
The chairman said that the department would continue to nudge businesses to issue e-invoices for B2B transactions and would soon start sending advisories to non-compliant businesses.
The department has made e-invoicing mandatory for businesses while systematically reducing the financial threshold.
To come to the rupee now. 
It hit another record low against the U.S. dollar intraday and then recovered to close flat at Rs 83.29 against the U.S dollar on Thursday. It was equally if not more weak on Wednesday though on the decimal points.
That the rupee has been trading weak is of course known. As is the fact that several currencies worldwide including in Asia are under pressure from a strong dollar. The dollar itself is strong for reasons once again quite often articulated including high interest rates on Government bonds.
I thought it would be a good idea to do a quick wrap and a revisit to understand how things have been in currency markets, not right now but over the last few months before fast forwarding to the present and then taking a peek at the future.
I reached out to Kunal Sodhani, Vice President, Global Trading Center at the Korean Shinhan Bank in Mumbai and began by asking him to walk us through the broader triggers for the rupee's weakness in recent months.
---
Vodafone
Meanwhile, some good news from telecom company Vodafone.
The Bombay High Court has directed the Income Tax department to refund Rs 1,128 crore to Vodafone Idea Limited paid by the telecom operator in taxes for the assessment year 2016-2017.
The court passed its judgement on a petition filed by the Vodafone Idea Limited claiming the I-T department failed to refund the amount paid by it for the assessment year 2016-2017 which, it said, was in excess of the legitimate tax due on its income.
The Court also hauled up the Income tax department by saying laxity in this regard has a propensity to destroy and bring to naught any effective system put in place by the government for efficient and transparent administration of taxation laws and its regulations.
The court recommended a detailed enquiry to be initiated on the failure on part of the assessing officer concerned to act in accordance with provisions of the Income Tax Act.
The Court made several other similar observations but they seem to suggest that the IT Department dragged its feet and could not come up with a conclusive answer for why.
The larger point of course is that the delay and the fact that Vodafone had to go to court and fight it out for so many years is not the best ease of doing business advertisement.
Vodafone is not in the pink of health and fighting such cases, whether it is eventually proved wrong or right, would surely strain its resources and stretch the bandwidth of its management.
For the quarter ended September 2023, Vodafone Idea, the company as it is known as, reported net Sales at Rs 10,716.30 crore in September 2023 almost the same as last year while quarterly net loss stood at Rs. 8,737.90 crore in September 2023, higher than the previous year.
Steel Imports
Tata Steel which produces around 34 million tonnes of steel said India being a net importer of steel is a matter of concern.
 Tata Steel CEO & MD T V Narendran said Tuesday that it was a little bit of a concern because internationally steel prices are still a bit soft because of China.
Subsequently he made a pitch or a plea, depending on how you look at it, to the commerce minister Piyush Goyal for help from the Government.
Which I would read as higher import tariffs.
He was likely referring to India's steel imports which were higher at 0.46 million tonnes (MT) in October 2023, compared to exports of 0.24 MT, according to figures from SteelMint quoted by Business Standard.
Now, stainless steel is not the same as steel, as almost no steel or carbon steel goes into the making of stainless steel, but there are many similarities in the way the trade dynamics work including the role of a producer like China.
Their lobbying power, as I could see, is not in the same league as the bigger metal sectors. And of course, stainless steel if imported at a lower cost, means cheaper utensils for the aam Admi. 
So to dive into stainless steel for the purpose of today's discussion, India has around 6.5 million tonnes of stainless steel making capacity while the domestic market consumes around 4 million tonnes. Roughly 30% of this is imported. 
And, roughly 45% of Indian manufacturing capacity is idle, according to the industry. The largest player is Jindal Stainless who represents roughly half the industry's capacity, as I could see. The top three stainless steel producers in the world are Chinese, including state-owned and is possibly the reason they are able to dump steel at lower prices in markets like India. Most of the Top 10 too are Chinese, with Jindal being one exception.
I reached out to Rajamani Krishnamurti, President of the Indian Stainless Steel Development Association (ISSDA) to take us through the market dynamics at this point.
---
Wellness
Have you been spending more on spas, gyms, various supplements, medicines and what have you ?
My sense is mostly yes.
If your answer is a resounding yes, you would be pleased to note that wellness is now a big, global business with $5.6 trillion in revenue in 2022, according to a new report from the Global Wellness Institute, a leading industry group, reported by Bloomberg. 
Research from the nonprofit organisation said the industry has grown from $3.4 trillion in 2013; by 2027, it is expected to grow an additional 57%, to $8.5 trillion, about twice as large as Germany's gross domestic product.
What is wellness ?
Of course, it means many things to different people. 
For its report, GWI defined the industry as "the active pursuit of activities, choices and lifestyles that lead to a state of holistic health." 
In its research, GWI breaks down wellness into several wide categories, of which the largest—personal care and beauty—is valued at $1.08 trillion. That sub sector includes such things as skin care and salons for hair or nails.
As for who's spending the most on wellness, spending per capita is highest in North America, at $5,108 a year—far above Europe's $1,596. All those gym memberships, haircuts, vitamins, spa visits and yoga trips are adding up.
By the way, wellness also includes healthy eating, nutrition and weight loss, at $1.07 trillion; this does not include the rapidly growing market for prescription weight loss drugs such as Ozempic. 
Happy Dhanteras
Deepavali season, if I might call it that, kicks off today with Dhanteras, the day people worship Lord Dhanvantari and buy personal and household items.
It is considered highly auspicious to purchase property or gold, and silver on Dhanteras, as it is believed to attract good fortune and prosperity.
Mostly it is gold for which prices have eased off from the highs of around Rs 63,360 per 10 gm they hit a few weeks ago. A strong dollar is helping keep gold prices low incidentally.
The key thing to remember of course is to check for authenticity and hallmarking when it comes to buying coins and such.  
It is also important to buy gold from a trustworthy source or brand. Am sure you know this but no harm in reminding i guess. 
Instamojo Support Link
From sourcing guests, to digging for stories, to the recording, editing, mixing and distribution. 
if you enjoy our work, and feel like these stories have helped you in any way, do consider donating to us on the instamojo link in the description. And of course, thank you all for tuning in regularly. A podcast is nothing without its listeners.