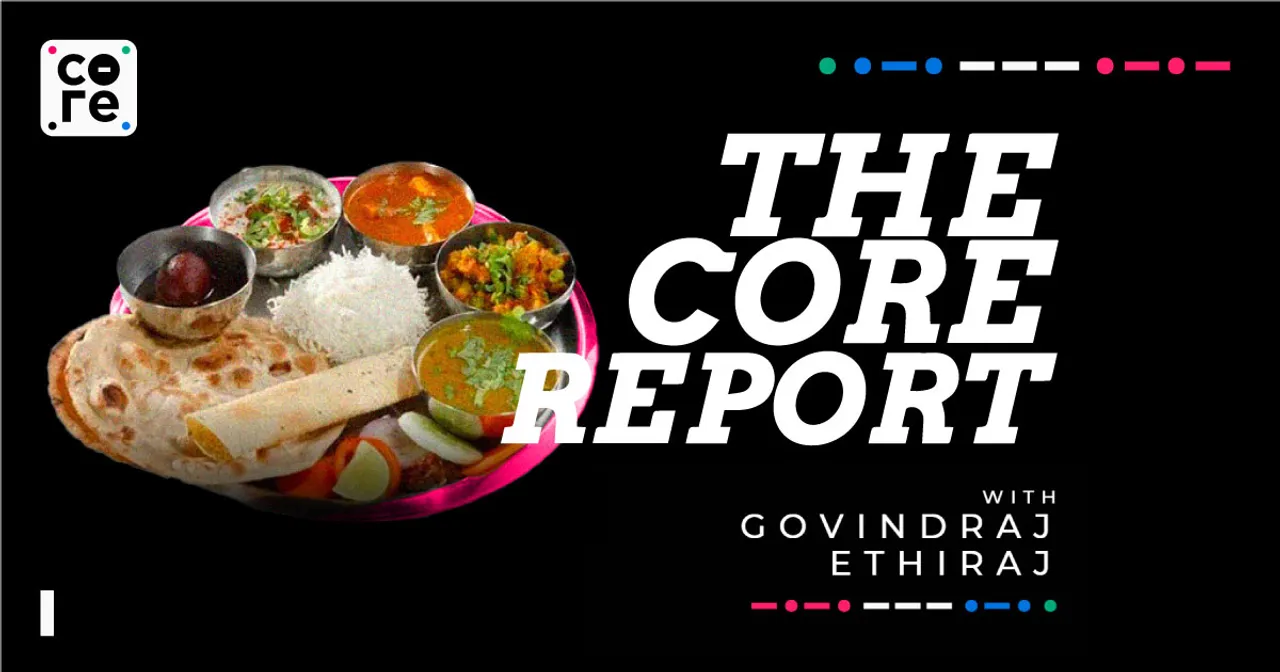 On today's episode, financial journalist Govindraj Ethiraj talks to Rahul Jain, Vice President at Dolat Capital & IT analyst as well as Nita Kapoor, CEO of The International Spirits & Wines Association of India (ISWAI).

---
Our Top Reports For Today
[00:00]

 

Stories Of The Day
[01:00]

 

Falling food prices bring down Inflation sharply to 5.02%.
[03:01]

 

Israel-Hamas war toll crosses 2,600. Indian markets pause again, oil steady, US treasury yields rise.
[05:11]

 

IT Companies start reporting expectedly weaker results, streets still disappointed. 
[14:08]

 

Jindal Bids For Go Air. Do conglomerates have a better chance at running airlines?
[25:43]

 

Most Indians like watching movies in theatres for the big screen experience and first day first show experience, says Survey.
---
NOTE: This transcript contains only the host's monologue and does not include any interviews or discussions that might be within the podcast. Please refer to the episode audio if you wish to quote the people interviewed. Email [email protected] for any queries.
---
Food prices bring down inflation
After all the stress of the last few months, India's consumer price index (CPI)-based inflation for September eased to 5.02 per cent as against 6.83 per cent in August, according to the data released by the National Statistical Office (NSO) on Thursday. 
Going by the table, food prices seem to have dropped the  most, from a 26% inflation level in August to just 3.4% in September.
Cereals were a little lower too, at 10.9% as compared to 11.85% in the previous month.
Pulses which include the dals were higher though at 16.3% as compared to 13% in August.
Spices were stubbornly holding at the same level at 23% while edible oils inched up a little, though still at a negative 14%.
Food and beverages were also down from around 9% to around 6.3%.
The inflation has come back to the Reserve Bank of India (RBI)'s comfort level of below 6 per cent after a gap of two months.
Inflation was at 7.56 per cent in September 2022. 
Food inflation fell to 6.56 per cent in September against 9.67  per cent in August. 
Rural inflation was on the higher side at 5.33 per cent, compared to urban inflation at 4.65 per cent in September. 
Meanwhile, the index of industrial production (IIP) growth for the month of August, not September, came at 10.3 per cent vs 5.7 per cent in July. For August 2023, the IIP growth rate was -0.7 per cent. 
The data released by the National Statistical Office (NSO) showed that the manufacturing sector's output increased by 9.3 per cent in August 2023. Mining production rose 12.3 per cent during the month under review. Power output grew 15.3 per cent in August 2023. 
All in all, enough data to give policy makers some breathing room and I can hear some sighs of relief.
Markets and War
It's not all good news elsewhere in the world though. The Israel-Hamas war has now claimed over 2,500 people on both sides as Israel jets now pound the Gaza strip.
Markets are still looking at the war as something that will not spread beyond this specific region, at least at this point which is why oil is broadly holding around $87 a barrel.
The good news, however, on a separate note is that the dollar has shown some signs of weakening. Bloomberg said before US inflation numbers came out last evening that a gauge of the dollar is set for the longest run of losses in over three years.
The gauge advanced for two straight quarters and reached the strongest in almost a year last week on bets that US interest rates may remain higher for longer.
And then Consumer prices rose 3.7% in September from a year earlier, marginally higher than forecast. The monthly gain was also a little higher than expected, with the index up 0.4% from August.
You might have noted that CPI figures in the US and India are being released on the same day.
Treasury yields rose after key inflation data that could determine whether the Federal Reserve raises interest rates again next month.
Weekly jobless claims, out at the same time as CPI, came in at 209,000, unchanged from the previous week's revised level, said the WSJ.
All this means that the Federal Reserve could still hike rates, as is being feared and as has been hinted or threatened, depending on how you see it. To bring down inflation of course.
Back home, benchmark indices snapped their two-day winning streak as weak quarterly results by Tata Consultancy Services (TCS) in Q2-FY24 took investor funds away from the IT pack. 
BSE Sensex ended at 66,408 levels, down 65 points. The Nifty50, meanwhile, was down 17 points at 19,794.
Tech Results Come In. Future Gazing
The tech results are now beginning to flow in. After TCS the day before, it was Infosys yesterday.
Infosys on Thursday reported a 3% year-on-year (YoY) growth in consolidated net profit for the quarter ended September to Rs 6,212 crore.  Consolidated revenue grew nearly 7% YoY to Rs 38,994 crore.
Importantly, the Bangalore-head quartered IT major trimmed its sales forecast for the year, reflecting the slowdown in spending by banks and others on information technology projects as well as battling inflation and higher interest rates in markets like the United States.
Revenue will grow between 1% to 2.5% in the year through March 2024, Infosys said Thursday in a statement. 
In July, it had already trimmed its growth forecast to a range of 1% to 3.5%. Analysts on average expect 5% growth.
Infosys is trying to move to higher-margin technologies as India's more than $245 billion software services sector struggles with a hazy growth outlook, Bloomberg said, adding that larger rival TCS reported quarterly profit that narrowly missed estimates, saying customers are conserving cash to prepare for a difficult period ahead. 
It said companies are postponing projects in the US and beyond, citing an uncertain economic outlook.
The Infosys board has recommended an interim dividend of Rs 18 per share.
"We had our highest large deals value at $7.7 billion in Q2, spread across all verticals and geographies," said Salil Parekh, CEO and MD of Infosys.
"Our Q2 operating margin of 21.2% demonstrates the early benefits of the recently unveiled margin improvement plan and is a clear reflection of our ability to continuously identify opportunities for improving operational efficiencies," said CFO Nilanjan Roy.
Interestingly, like Tata Consultancy Services, Infosys too reported a  further decline in attrition, a fresh sign that job hopping is slowing down, in the post pandemic phase. 
The attrition rate on a 12-month trailing basis was down to 14.6%, from 17.3% a quarter ago. And net staff headcount was down by 7,530 in the September quarter to 3,28,764.
American Depository Receipts (ADR) of Infosys plunged about 5% in pre-open trade on the New York Stock Exchange.  In the domestic market, the stock ended nearly 2% down at Rs 1,465.50 on the National Stock Exchange.
To get a sense on how the street was looking at the results so far and ahead, I reached out to Rahul Jain, Vice President at Dolat Capital & IT analyst and began by asking him whether he was surprised by any of the numbers so far?
---
Jindal Wants To Fly
Jindal Power (JPL), led by Naveen Jindal, has submitted an expression of interest (EoI) for Go First, the airline that has been shut since May this year and undergoing an insolvency process since then, the Business Standard is reporting.
Go First's resolution professional invited EoIs for the carrier's sale in July. Sources have confirmed that JPL has filed an EoI for Go First in the National Company Law Tribunal (NCLT). These sources have indicated that the company is currently evaluating the business and the offers on the table.
"The company believes that the aviation market in India needs more players to enhance competition and benefit Indian passengers. This EoI is solely to assess the feasibility of acquiring the business," mentioned one of the sources.
JPL is a part of the OP Jindal Group and possesses 3.4 gigawatt of thermal power generation assets. JPL is one of the companies owned by Naveen Jindal, the youngest son of O P Jindal, with Jindal Steel and Power being another prominent company in the group.
So here is the question. Should conglomerates get into highly tricky businesses like airlines ? 
Of course this is a question that keeps coming up but I somehow never tire of posing the question if only to see what's changing in the answers.
It's interesting that the entry of the Tata Group through Air Asia, Vistara and then Air India was the first major conglomerate to enter the aviation space at least in the post liberalisation era. Tatas of course owned Air India once upon a time and it is precisely this nostalgia that pulled them back into the fold, or mess, depending on how you look at it.
Loosely defined, I would argue that these are businesses which will survive if the airline does not do well though it could suck out capital which could have potentially gone elsewhere, like an electric car project or a battery project in the Tata Group.
Vijay Mallya too had other businesses  including the profitable United Spirits and stakes in other companies like Hoechst Pharmaceuticals which became Sanofi India in which he was director and chairman - later - for some 33 years. 
But the airline proved to be his achilles heel.
Earlier, it was mostly entrepreneurs from different backgrounds who set up airlines, perhaps the majority of them were from the travel and ticketing industry. Like Jet Airways earlier and Indigo now. Jet Airways did not survive and Indigo is doing well today.
Other founders included Damania, set up a poultry company entrepreneur and ModiLuft, set up by SK Modi, sibling of B K Modi who ran successful franchises like Modi Xerox and Modi Olivetti. Both Modiluft - the Luft was Lufthansa by the way - and Damania Airways don't exist.
There are some more examples here and there like Spicejet, which is also in trouble, but GoAir obviously came from the Nusli Wadia group which owns the successful Britannia and Bombay Dyeing companies. A possible fear that a Kingfisher like situation might emerge may have caused them to file for bankruptcy.
And then onto the newest airline, the 13 month old Akasa, which has been set up by a professional and first generation entrepreneur, Vinay Dube, a former Jet Airways and Go Air or Go First CEO who started off Akasa with investments from the late Rakesh Jhunjhunwala.
So to come back to Jindal. Yes, the airline industry can be tough.
Is there a success formula here? Both conglomerates and entrepreneurs have failed. Though most came from elsewhere, not unexpectedly because the sector only opened up in the last 30 years.
If Indigo reflects success, perhaps it is also to do with the hard focus on numbers, ruthless efficiency and talent at the top. And all of them keep a low profile.
BOOZE IT IS
If you love your single malts, you might obviously be aware that you constitute a small sliver of the alcohol market.
An Indian UK Free Trade Agreement is being negotiated and one of the outcomes expected is a reduction in duties on imported whiskey from 150%, yes 150% to something lower.
If that lower figure materialises, let's say 100% as is being rumoured, could that make a difference ?
I will come to that shortly. 
The International Spirits & Wines Association of India (ISWAI) is a representative body of the national and international premium spirits & wine brands in India and big names like Diageo, Bacardi, Campari, Moet Hennessy and Pernod Ricard, among others.
The ISWAI is distinct from the Confederation of Indian Alcoholic Beverage Companies which represent the big Indian companies and brands and of course the lion's share of the market.
The ISWAI's position is that if the FTA talks deliver a substantial reduction in India's 150% tariff on Scotch Whisky, exports of Scotch will undoubtedly be boosted, and consumers will have more choice as smaller producers enter the market.
It will also benefit India-Made Foreign Liquor (IMFL) brands by reducing import costs.
In 2022, the total Indian spirits market amounted to 367 million cases, with Indian whisky selling 234 million cases. Yes, so Indians by and large like the dark stuff. 
In comparison, Scotch Whisky accounted for sales of 8.1 million cases in India – less than 3% of the total whisky market."
Scotch Whisky is the world's most traded spirit, with worldwide consumption of 1.3 billion bottles. However, it is less than half the volume of Indian whisky production. 
I spoke with Nita Kapoor, CEO of the ISWAI and began by asking her how she 

---
LETS GO THE MOVIES
A survey has said that 98% of Indians believe that the real experience of a movie can only be brought alive on the big screen, a report released on Thursday showed. 
It added that 90 percent of Indians consider movie theatre as their usual go-to option for out-of-home leisure experiences.
This of course plays totally to my biases. Do bear in mind the survey is from online ticketing firm BookMyShow which obviously benefits if people buy tickets for something or the other as opposed to watching it on their large screen TVs at home.
BookMyShow released its "The CineFiles - Decoding India's favourite entertainment choice – Movies on the Big Screen" report based on a survey of 5,000 respondents on its platform across 650 cities in India. 
It showed that nearly two in every three Indians think of going to a movie theatre at least once every fortnight or more.
The main reason for the love of theatre is the experience it provides. "74 percent of respondents choose to watch a movie in the theatre for the immersive experience created by a larger screen and high audio quality," the report said and quoted by Business Standard.
"The first day, first shows continue as a sacred tradition for many fans, inspiring cheers, whistles and endless applause at the sight of beloved stars on the big screen," a BookMyShow official said adding that 35 percent of the GenZ audience, born between 1997 and 2012, opt for the first day, first show.