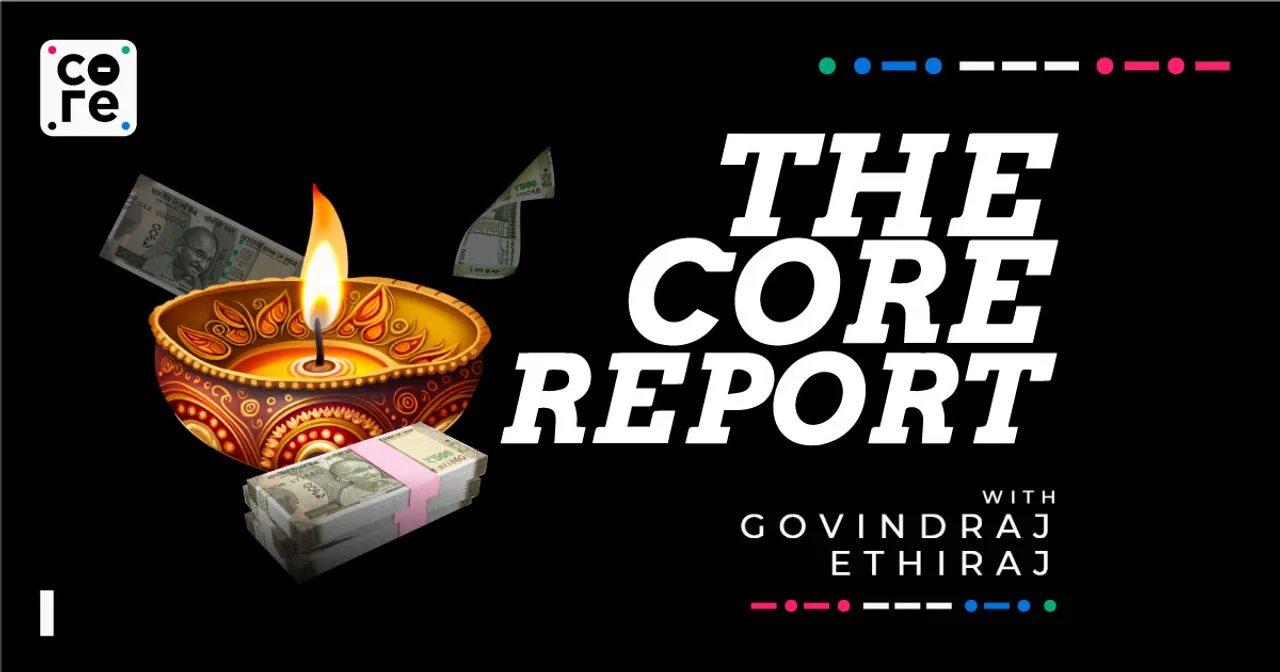 On today's episode, financial journalist Govindraj Ethiraj talks to Dhirendra Kumar, Founder and CEO of Value Research as well as Akshay DSouza, chief of growth and insights at Bizom.

---
Our Top Reports For Today
[00:00]

 

Stories Of The Day 
[00:50]

 

Indian markets hold gains, oil falls and markets rise
[12:25]

 

Rice and now sugar, all head for more fresh export controls
[13:55]

 

Ambani's son meets unexpected institutional voter resistance
[18:51]

 

Monsoon recovery pushes up demand for fast moving consumer goods, stores gear for festival rush
---
NOTE: This transcript contains only the host's monologue and does not include any interviews or discussions that might be within the podcast. Please refer to the episode audio if you wish to quote the people interviewed. Email [email protected] for any queries.
---
The Israel-Hamas war continues to rage with more than 2,000 dead on both sides though world markets, including oil, seem to be now putting fears aside.
Oil prices have now fallen below $87 a barrel and are holding in that region while the markets are looking stronger, also picking up on other cues.
The BSE Sensex closed 394 points higher at 66,473 while the NSE Nifty ended at 19,809, up 120 points. 
Speaking of oil, Exxon Mobil Corp has agreed to buy Pioneer Natural Resources Co. for $59.5 billion, the former's largest takeover in more than two decades, as it seeks to become the dominant producer of shale oil.
​​ If the deal goes through, the combination will make Exxon by far the biggest player in the Permian Basin of Texas and New Mexico and bring the company's daily production to nearly 4.5 million barrels of oil equivalent a day — 50% more than the next biggest supermajor, Bloomberg reported.
Back on the general markets, brokerage CLSA has increased its India allocations citing a supportive macro outlook. The brokerage owned by China's CITIC Securities has assigned a weightage of 18.2 per cent to India, 20 percent higher than the country's weight of 15.1 per cent in the MSCI All Country Asia Pacific ex Japan index.
"We posit that in combination, a strong credit impulse, favourable energy pricing, improving external balance dynamics, robust GDP [gross domestic product] and EPS [earnings per share] growth, increasing profitability, a supportive macro outlook, and additional capacity for non-resident asset accumulation will sustain the Indian equity momentum trade into 2024," CLSA has said in a note .
Earlier, CLSA had a 40 per cent underweight on India vis-à-vis its weightage in the MSCI index, in a report in Business Standard newspaper. 
CLSA said despite the positive, it struggles with "expensive valuation and relative lack of RBI policy flexibility." At 2.8 times, India's CAPE ratio, although lower than the peak of 3.1 times in October 2022, is still "distinctly unappealing", it said.
"India ranks as having among the least flexibility for interest rate accommodation versus EM peers on our monetary policy scorecard," it says, referring to emerging markets.
Last month, Nomura had upgraded its stance on the Indian market from 'neutral' to 'overweight'. 
Results Season
We talked about Tata Consultancy Services or TCS results coming up yesterday and they have.
TCS reported a 9% year on year consolidated net profit for the quarter ended September 2023 to Rs 11,342 crore.
Consolidated revenue grew nearly 8% YoY to Rs 59,692 crore.
The numbers that analysts were watching was the sequential number which is versus the previous quarter or April to June 2023
Sequentially, the growth was muted, with revenue rising a mere 0.5% and profit up 2.4%.
The board has recommended a second interim dividend of Rs 9 per share. The board has also approved buyback of shares worth Rs 17,000 crore at Rs 4,150 apiece.
In constant currency terms, revenue grew 2.8% YoY. Segment-wise, its banking, financial services, and insurance (BFSI) vertical saw less than a percent growth in revenue sequentially in the quarter to Rs 22,840 crore.

"Strong deal momentum delivered us a very large order book in Q2 – said K Krithivasan, Chief Executive Officer and Managing Director.
"The resilience of demand for our services, our clients' willingness to commit to long tenure programs, and their continued appetite for experimentation with Gen AI and other new technologies give us confidence in our longer-term growth prospects," the CEO said.
Interestingly and perhaps in keeping with the trend of job hopping levels slowing down in Indian IT, TCS saw attrition levels coming further down in the September quarter. The attrition rate on a 12-month trailing basis was 14.9% compared to 17.8% a quarter ago. TCS' total workforce stood at 608,985 as of September 30.
Mutual Funds Are Raking It In
Funds flow into Systematic Investment Plans (SIPs) reached an all-time high of Rs 16,402 crore in September, beating the earlier record of Rs 15,814 crore posted last month, according to the data from the Association of Mutual Funds in India (AMFI).
Exchange Traded Funds (ETFs) rallied the most with inflows shooting up to Rs 3,243 crore from Rs 1,863 crore month-on-month. 
Contribution to dividend and ELSS funds too jumped to Rs 255 crore and Rs 141 crore, though  corporate bond funds lost Rs 2,460 crore and Rs 111 crore respectively.
Equity mutual funds not surprisingly continued to see net inflows in September, the 31st month in a row. 
Midcap and smallcap funds are seeing good inflows,though lower than in recent months. 
The number of unique investors in mutual funds crossed 4 crore during the month under review.
----

RICE and Beyond
India, the world's top rice exporter, may extend an export levy on parboiled rice to control local prices, Bloomberg is reporting.  
The government is considering an extension to a 20% export levy, which is due to expire on Oct. 15, according to people familiar with the matter who asked not to be identified as the talks are confidential.
India has already banned non-basmati rice exports and is now allowing exports of this category to select countries. 
India is also expected to impose restrictions on sugar exports during the new season that started Oct. 1, and a decision will be made soon, Bloomberg reported, adding that officials said quotas for some overseas sales can be issued if domestic supply improves.
India has recorded its weakest monsoon in 5 years and while the overall rainfall numbers may have stabilised, the shifts within have caused a fair amount of distress.
India introduced a quota system in 2022-23 and restricted sugar exports to about 6 million tons after late rains reduced production, compared with an unrestricted 11 million tons a year earlier.
Late August, Reuters had reported that India is expected to ban mills from exporting sugar in the next season beginning October, halting shipments for the first time in seven years, as a lack of rain has cut cane yields.
India's absence from the world market would be likely to increase benchmark prices in New York and London that are already trading around highs.
Ambani Hits A Hurdle
It's almost sacrilegious to question anything that Ambani does..particularly on the board of the company.
One part of the reason is of course the lurking fear that they could come after you, in some way, shape or form. That may not have actually happened to anyone of course but these fears usually have a life of their own.
The other is that Reliance and the Ambanis do deliver to shareholder expectations and their actions, even if it means installing a 28-year old as an independent director of the company, must be good and thought through, even if there is little actual evidence for the same.
So Institutional Investor Advisory Services, the firm, has recommended shareholders vote against the 28-year-old Anant Ambani's appointment to the board of Reliance Industries Ltd.
This is relevant now because shareholders of the Mukesh Ambani-run conglomerate are set to vote on the appointment of his three children as non-executive, non-independent directors. The results of the vote will be announced on Oct. 30.
However, the advisory firm, in a note, while it advised against Anant Ambani has recommended voting for Isha Ambani and Akash Ambani. 
The advisory firm cited "Governance Matters" as the reason to vote against Mukesh Ambani's youngest son.
According to IiAS' voting guidelines, the firm recommends voting against the appointment or re-appointment of executive or non-executive non-independent directorial candidates if they have less than 10 years of work experience or are less than 30 years of age.
Anant Ambani is 28 years old and has been serving on the boards of Reliance Group companies, including Jio Platforms, since March 2020. 
He has also been on the boards of Reliance Retail Ventures Ltd. since May 2022 and Reliance New Energy and Reliance New Solar Energy since June 2021.
"At 28 years of age, his appointment as a non-executive, non-independent director does not align with our voting guidelines," the note said.
The company has clarified that the three Ambani siblings' appointment is expected to be effective before Dec. 31, 2023, it said.
"IiAS will make exceptions to this rule when the director is a first-generation promoter or founder."
Mukesh Ambani named his children on the board of the oil-to-telecom conglomerate in August after wife Nita Ambani stepped down.. Ambani said he will continue to perform his role as chairman and managing director for five more years. During this period, he will groom his children to transform Reliance into a green energy and digital conglomerate.
This is not the first time IIAS has weighed in.
Among other examples, two years ago, it recommended a vote against a resolution to appoint Rama Kirloskar, daughter of Sanjay Kirloskar citing a lack of experience. KIrloskar Brothers
That move led to heated exchanges between Sanjay Kirloskar and IIAS with the former saying IIAS had made exceptions to its rule which IIAS strenuously denied.
Their appointment of family members on boards of Indian companies, since that is the sample we are working with could have many reasons.
For example, in the case of Reliance, there is no benefit to the Ambanis as such by having more warm bodies on the board to fight any resolutions for legacy and sheer shareholding levels. Ambani owns around 50% in the company.
However there is definitely family dynamics at play.
The elevation of two siblings and not the third could create a problem, if only in external perception.
Though the two siblings in this case are older and above 30.
Mukesh Ambani has already said he will mentor his children in coming years to quite obviously a point where some kind of formal separation of roles if not companies will happen or can happen.
Well that's what happened between him and his own brother Anil Ambani in their infamous feud which led to the split of the company triggered in turn by the lack of a clear succession plan by father and group founder Dhirubhai Ambani.
The other question a shareholder could ask obviously is how competent is the person being nominated not just to become a director today but in the longer path ahead. The answer to that of course will have to wait a little.
Meanwhile, on the general topic of succession..the RPG Group announced the appointment of Anant Goenka as the vice chairperson of the conglomerate.
RPG Group companies include KEC International Ltd., Ceat, Zensar Technologies, RPG Life Sciences Ltd., Harrisons Malayalam Ltd., Raychem RPG Ltd. and Spencer International Hotels Ltd. Goenka will continue to serve as the vice chairperson of Ceat Ltd. and Zensar Technologies Ltd., the conglomerate said in a statement.
" "Anant's extensive experience, driving CEAT towards performance excellence over the past decade, will play a pivotal role in shaping the next wave of growth for the RPG Group. This era is defined by rapidly evolving technology and I believe Anant has the requisite skills and business instincts to herald change and make a difference in the way we adapt to technologies, markets, and consumers."," chairman Harsh Goenka said. 
He does not of course say at least as far as I could see that he is the father and he is referring to his son which is fine and the younger Goenka does have experience in his favour.
Monsoon renewal pushes up rural consumer goods sales
After a sharp fall in sales of fast moving consumer goods in August, last month of September saw a turnaround, according to data put together by retail measurement firm Bizom which tracks data from some 6 million stores across India.
In August, rural consumption was down 17% and in several product categories, the dip was more than 20%, all of this negative.
The monsoon recovery in September has boosted demand and perception of demand on the part of kirana stores or corner shops quite literally across India. Which is leading to increased stocking ahead of a potential festival season spike.
There are other shifting patterns as we are noticing across consumption points, including in drug sales as we mentioned yesterday, because remember if everything was normal then there should have been similar spikes last year ahead of the festival season too. But that is not quite the case. 
Overall sales increased by 4.9 per cent compared to the previous year. This growth was primarily driven by rural sales, which saw a 5.8 per cent increase year-on-year (Y-o-Y), while urban sales also grew by 3.2 percent during the same period.
Branded commodities like edible oils are doing better volumes but at much lower prices because edible oil prices have fallen almost 40-50% which in turn is one of the factors that has kept food inflation in check as we have pointed out earlier. 
Beverages that include aerated drinks and juices have also not done very well because, once again, of shifting temperature patterns.
All eyes are on Diwali now with stocking rising.
To understand where the demand was coming from and what the specific outlook was for the festival season, I reached out to Akshay D'Souza, chief of growth and insights at Bizom and I began by asking him what had spurred the turnaround.
---
And before I go, another bit of international or US news.
Mortgage rates in the US advanced last week to the highest level since 2000. The contract rate on a 30-year fixed mortgage rose by 14 basis points to 7.67% in the week ended Oct. 6, according to Mortgage Bankers Association data out Wednesday, quoted by Bloomberg.
This is the rate you could have bought a home in India two years ago though it's risen a little since then. In general, such a convergence between interest rates in India and US or UK would have been unthinkable a few years ago.
On that note..bye for now.